This post may contain affiliate links. Please read my disclosure.
Get the kids in the kitchen and make up a batch of this quick GHOST MUNCH for Halloween. It's a fun and spooky Halloween snack mix that everyone will love.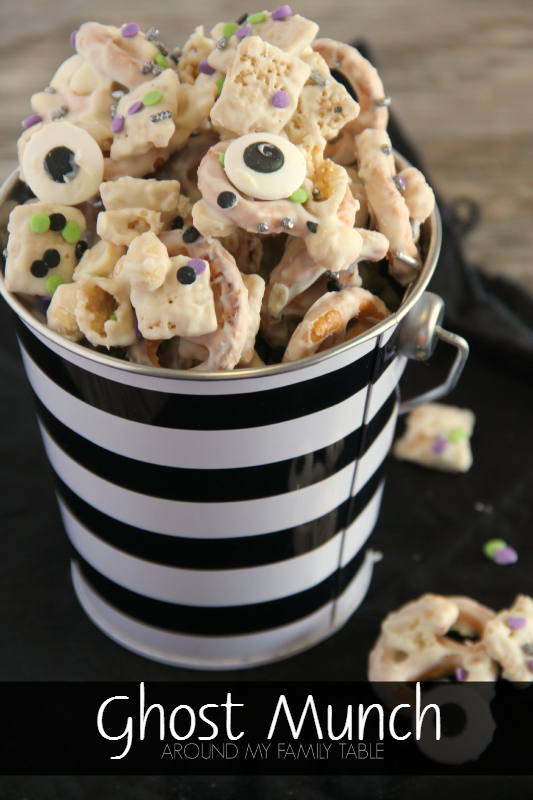 GHOST MUNCH
Last weekend, the kids and I started pulling things out of the pantry to make a snack. Well, wouldn't you know it….we ended up making this fun Halloween snack mix. It's a little spooky with the eyeballs, the sprinkles add some color, and the white chocolate makes it totally delish!
This halloween snack is gluten and dairy free, but it doesn't have to be. I just wanted everyone coming over to be able to enjoy the snack. Use regular pretzels and white chocolate if you don't need to worry about food allergies.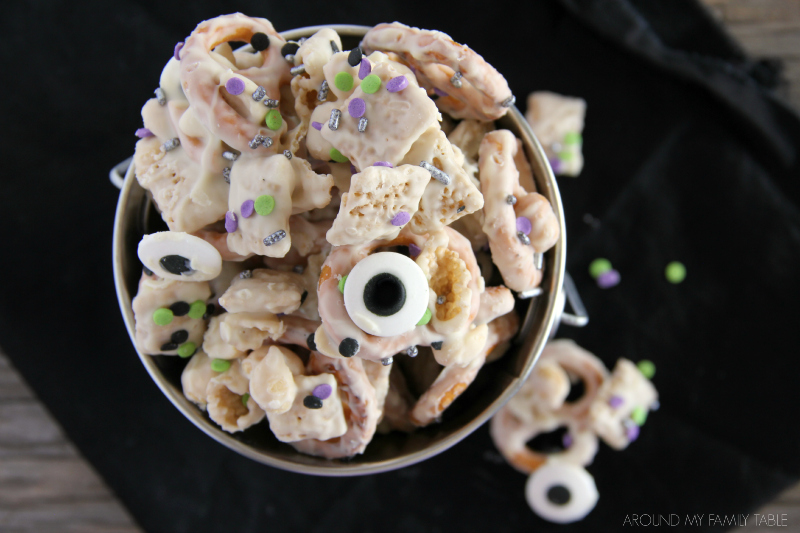 SPOOKY HALLOWEEN SNACK MIX
I love Halloween! There are so many fun treats, but this spooky Halloween snack mix is one of my favorites. It's so easy too. Just grab some pretzels, cereal, Halloween sprinkles, candy eyeballs then cover with white chocolate or white candy melts. So easy the kids can do it….so, get in the kitchen with your kids and make this mix. Have fun and go crazy! Look through your pantry and see what you come up with!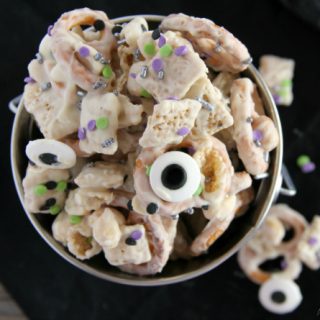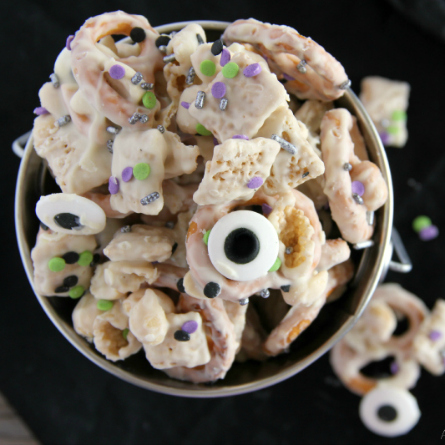 Ghost Munch
Total Time:
1 hour
12 minutes
Get the kids in the kitchen and make up a batch of this quick GHOST MUNCH for Halloween.
Ingredients
2 cups Chex cereal (rice or corn or both)
2 cups mini pretzels (I used gluten free)
1 cup peanuts
Halloween colored sprinkles
eyeball candies
10-12 oz white chocolate chips (dairy free or regular)
1 tablespoons shortening
Instructions
In a large mixing bowl combine chex, pretzels, & peanuts.
In a medium, microwave safe bowl melt white chocolate chips and shortening together in 30 second bursts. Stir in between bursts and repeat until melted and smooth. Pour melted chocolate over chex mix and gently stir until well coated.
Gently pour out in a single layer onto wax paper to cool. Immediately after pouring onto wax paper, add halloween sprinkles and eyeball candies.
Let cool. Store in a large ziptop baggie for up to 2 weeks.
Check out all these spooky Halloween Desserts!
Halloween Chocolate Cherry Hand Pies
Halloween Cinder Cake
Halloween Rice Crispy Treats
Spooky Spider Chocolate Cheese Ball
Puking Pumpkin Dessert Dip
Donut Spiders
Halloween Popcorn Bars
Chocolate Peanut Covered Caramel Apples
Candy Corn Truffle Bark
Mini Frankenstein Cheesecakes
Halloween Polka Dot Cupcakes
Ghost Munch
Halloween Cake Pops