This post may contain affiliate links. Please read my disclosure.
Look no further! I've found over 13 cute and creepy Halloween Cupcake Ideas. These are the absolute best Halloween Cupcakes for all of your party needs!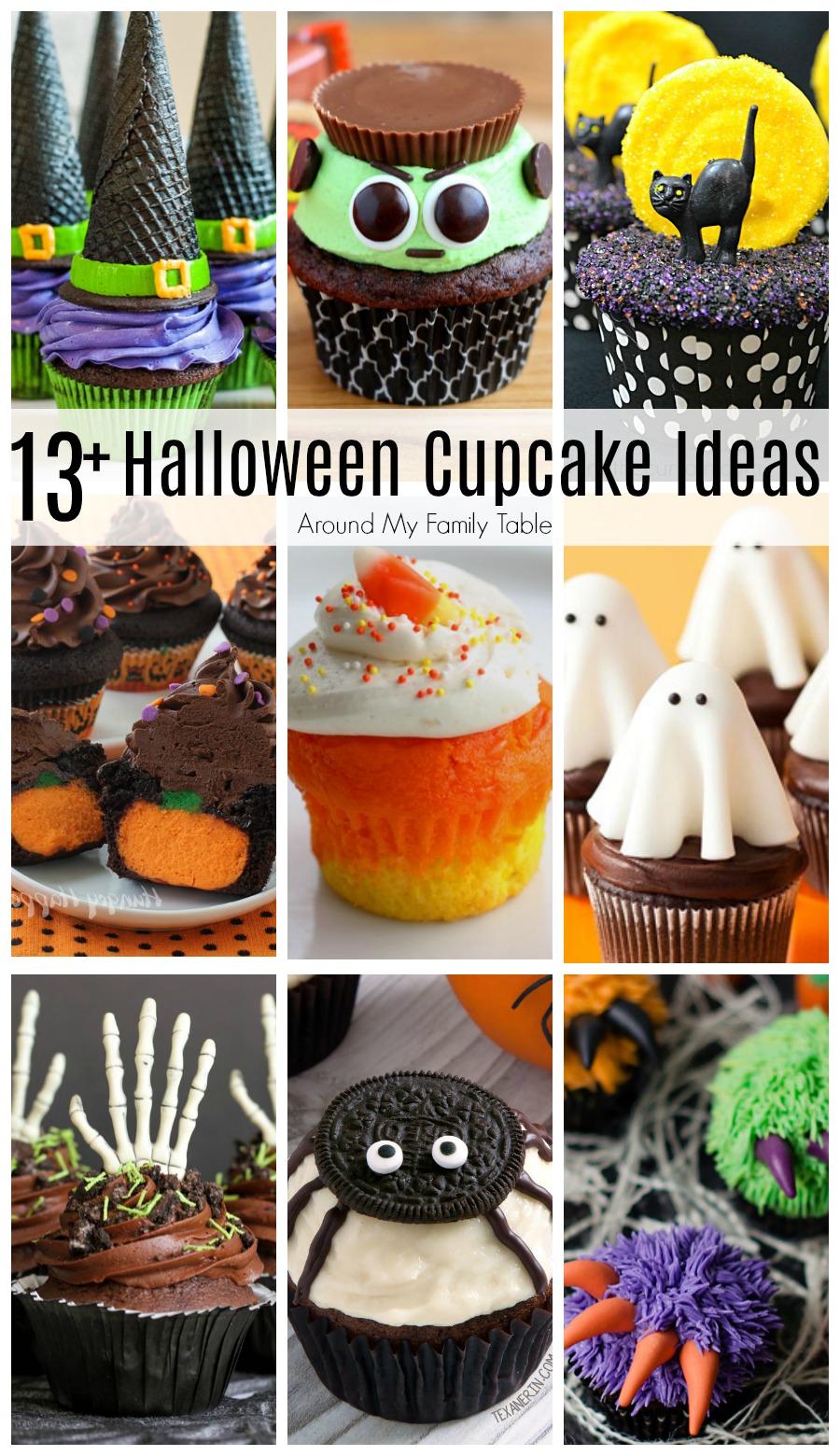 Halloween Cupcake Ideas
Halloween is such a fun holiday. There's not a lot of pressure or stress–just one simple night of costumes and candy, with a little bit of spookiness. In the weeks leading up to Halloween night, I love making themed goodies with my kids. And since I love baking and decorating cupcakes, I think Halloween is the perfect time to scare up some creative toppings. Regardless of you cake decorating skill level or experience, you are sure to find something in this roundup that will impress your friends and family, with these kid-friendly, simple Halloween sweets.
Cupcakes are the perfect party dessert since they are portioned into single servings already. No need to try to cut and plate several slices of cake during a party. No need to provide extra dishes that will need to be washed later on. They truly help make the job of hostess so easy. Plus, they just look so dang cute when carefully arranged on a festive platter!
So if you're throwing a Halloween party or bringing cupcakes in to work or school, you should be covered for Halloween cupcake ideas here. Set out several of these cupcakes on some cute stands for an adorable cupcake table!
These Halloween cupcake ideas will inspire you to make your own creations. Make sure to check out the Frankenstein Cupcake….it's so fun!!! They are sure to delight your little monsters. I have round up 13 of the best Halloween Cupcake ideas and thrown an extra in to insure a night of tasty terror in the kitchen. Give some of these super easy and fun Halloween treats a try!
Boo-Licious Brownie Treats
Halloween Candy Corn Cupcakes
Creepy Cupcakes
Spider Cupcakes with Glow-in-the-Dark Frosting
Candy Corn Cupcakes
Haunted Cupcakes
Monster Claw Cupcakes
Reese's Frankenstein Cupcakes
Tombstone Cupcakes
Mummy Halloween Cupcakes
Spider Cupcakes
Pumpkin Spice Pudding Cupcakes
Witch Hat Cupcakes
Ghost Cupcakes
Spiderweb Cupcakes
Cheesecake Pumpkin Stuffed Chocolate Cupcake