This post may contain affiliate links. Please read my disclosure.
These are the perfect Halloween Cookie Recipes for your October parties and get togethers!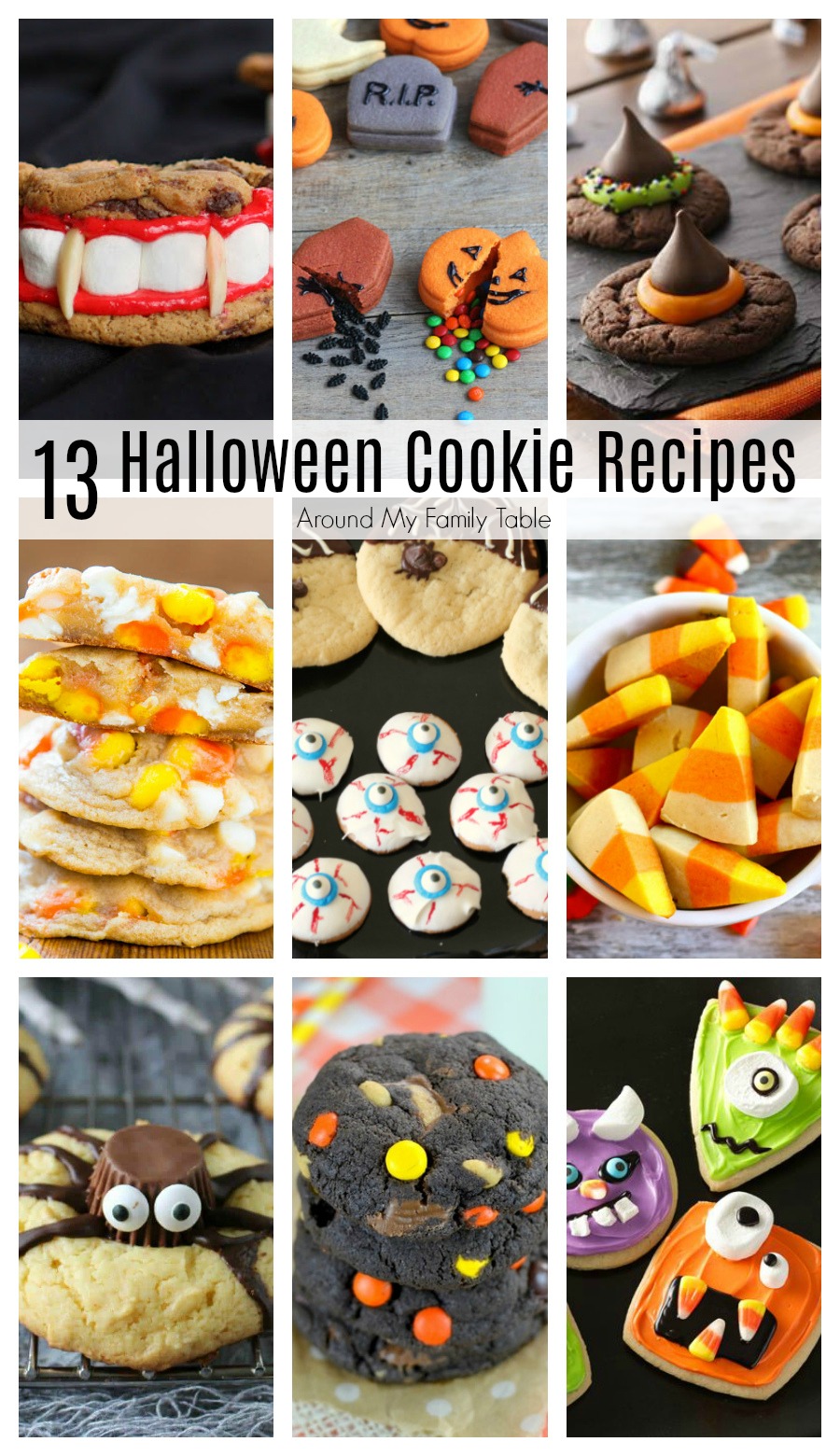 Halloween Cookie Recipes
I am loving all these fun Halloween ideas! Since I enjoy baking so much, I wanted to share these 13+ perfect Halloween Cookie Recipes with y'all. Anyone who knows me knows that Halloween is one of my favorite times of the year, I go all out on Halloween – the decorations, the costumes and of course, the food. That is why I absolutely adore these easy Halloween cookie recipes. They are super cute, crazy easy to make, and the kids go nuts for them!
My kids really like to help me make holiday cookies every year and these cookies are definitely a blast to make. We have so much fun together that we end up making several different ones and share them with friends. They also make perfect treats to take to the classroom Halloween party or to share in the breakroom at work.
If you have older kids, let them take the lead and get creative with the Wacky Monster Cookies or the Creepy Eye Cookies. If you have little ones, the Easy Halloween Sandwich Cookies or the Easy Witch Hat Cookies make a great choice to let them get involved in the baking.
These Halloween cookie recipes are sure to scare up some smiles with your ghosts and ghouls. Make up a batch to share at a halloween party or with your family. I have round up 13 of the best Halloween Cookie Recipes and thrown in a few more to satisfy your sweet tooth. What do you think? Which will you try first?
Easy Halloween Cookie Recipes
Halloween Pumpkin Cookies
Spider Web Halloween Cookies
Creepy Cookie Eyes
Easy Halloween Sandwich Cookies
Voodoo Doll Cookies
Candy Corn Cookies
Dracula's Dentures
Wacky Monster Cookies
Easy Witch Hat Cookies
Gooey Monster Cookies
Chocolate Reese's Cookies
Candy Corn and White Chocolate Soft Batch Cookies
Trick-or-Treat Cookies
Witches' Finger Cookies
Mummy Meringue
Easy Spider Cookies
EASY HALLOWEEN RECIPES YOU MIGHT ENJOY:
Spooky Candy Trees
Spiderweb Cookies
Monster Munch
Halloween Mickey Treats
Halloween Pretzel Bark