This post may contain affiliate links. Please read my disclosure.
Turn the classic candy corn into these cute and easy Halloween Candy Corn Cupcakes, ideal for class parties or any spooky event.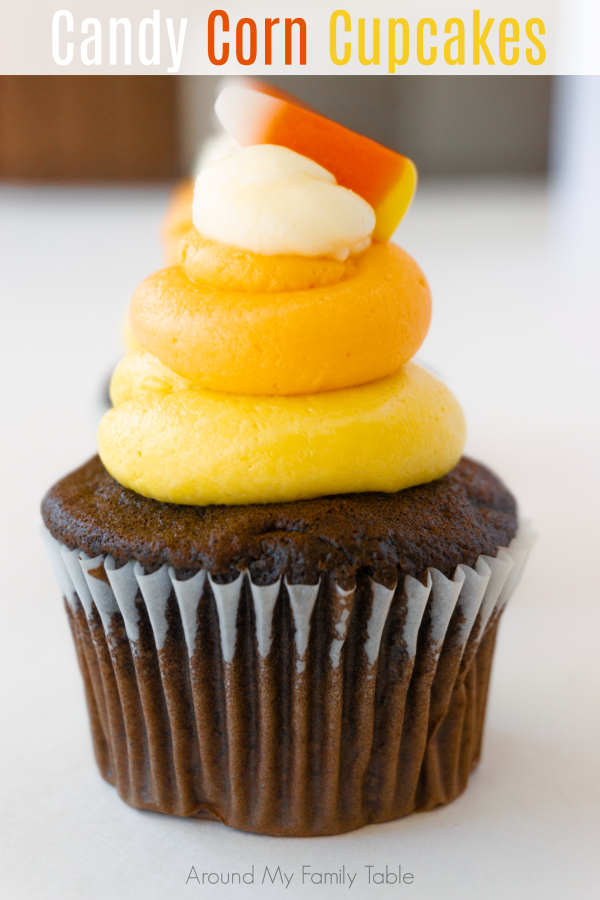 Halloween Candy Corn Cupcakes
What candy screams Halloween more than the candy corn? When bags of candy corn start popping up in the stores, you know that it's fall. I can't get enough and I love that they are constantly coming up with different combinations every year. I love the look of the classic candy corn colors on these delicious cupcakes. I used my Perfect Chocolate Cake recipe as the base and divided my buttercream into thirds before coloring it to match. I piped them with round tip 1A. So easy, y'all. The candy corn for the topper makes them so adorable.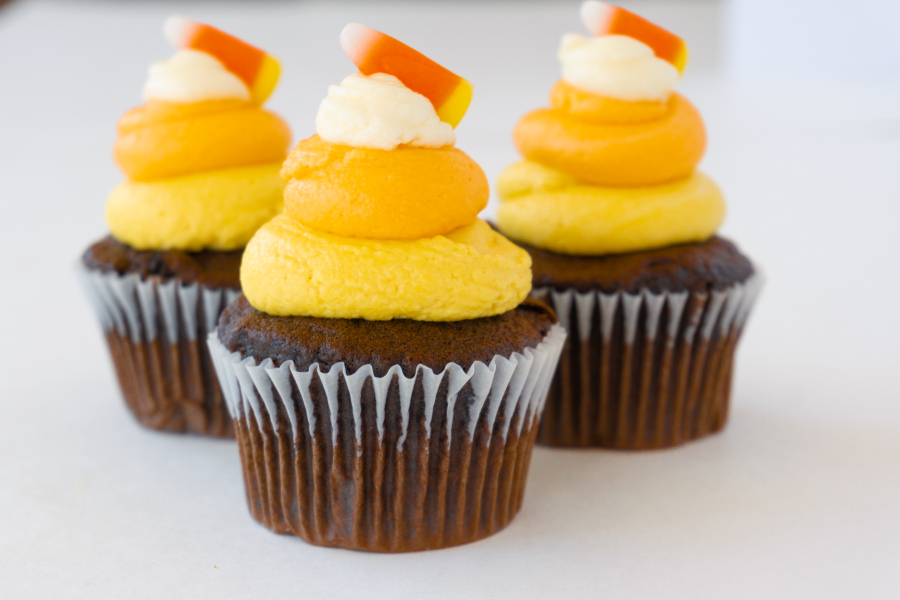 There's always some party happening around this time of year, be it class party or potluck. I swear there is a party every week from now until New Year's. It's insane…but these Candy Corn Cupcakes are sure to bring a smile to kids and adults alike. If you're like me and love anything to do with candy corn, you may also want to try my Chocolate Caramel Candy Corn Cookies, or my Candy Corn Rice Krispies Treats.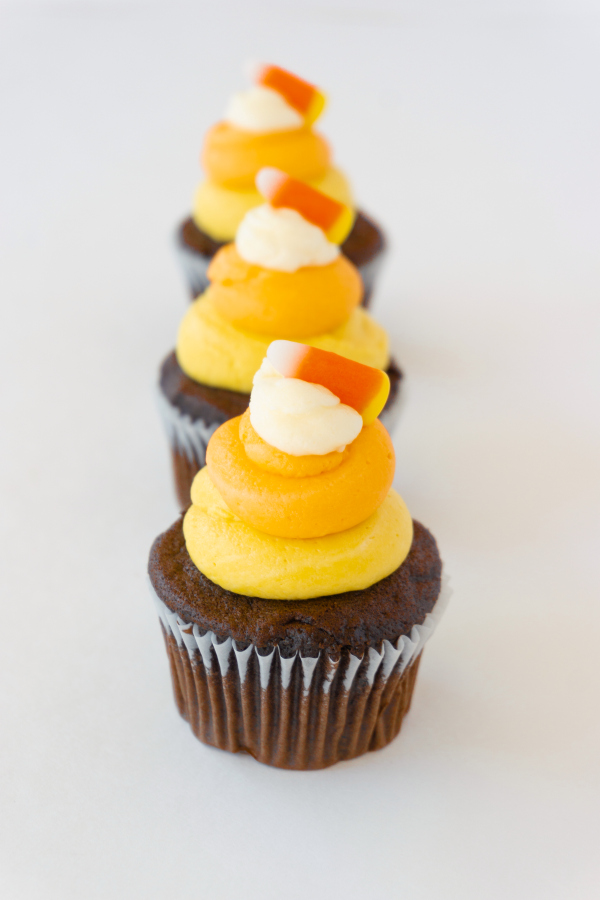 Easy Halloween Cupcakes
I love all those super gorgeous and amazing halloween cupcakes on Pinterest, but my life gets so crazy busy starting in October that I have to simplify. So I love to make things that don't take a long time or that have a ton of steps. I love these easy halloween cupcakes. Even if you aren't a huge candy corn fan, you'll still love the simple fall and halloween colors of these Candy Corn Cupcakes. The frosting is just my regular go-t0 almond buttercream frosting which everyone loves…especially with the chocolate cupcakes!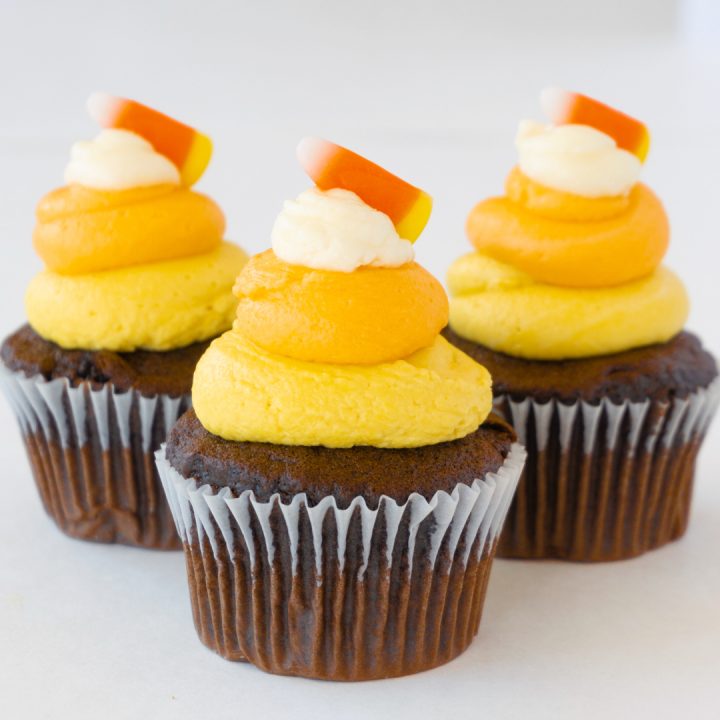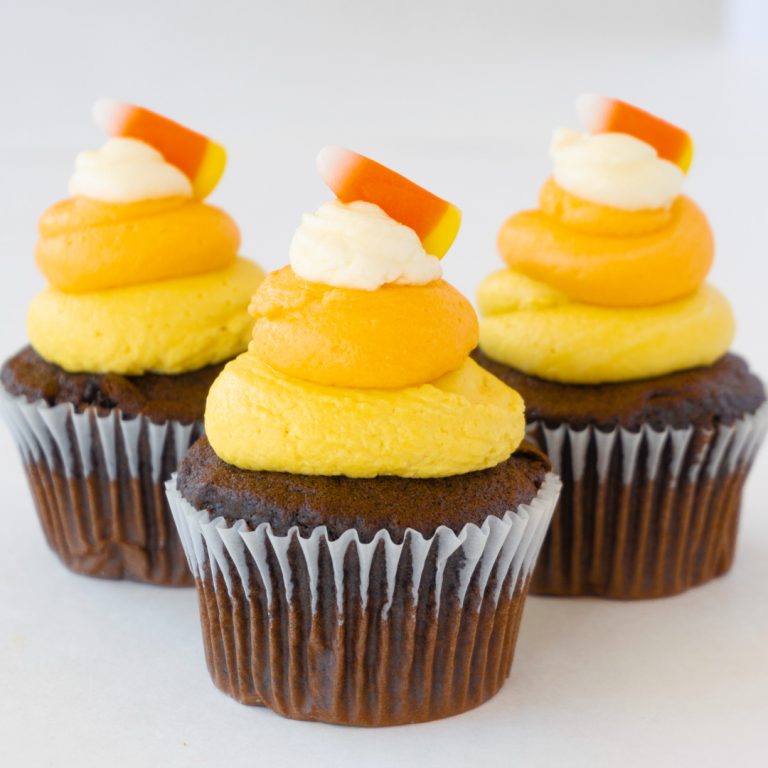 Halloween Candy Corn Cupcakes
Total Time:
1 hour
55 minutes
Turn the classic candy corn into these cute and easy Halloween Candy Corn Cupcakes, ideal for class parties or any spooky event.
Ingredients
CAKE
FROSTING
1/2 cup butter, softened
1/2 cup Shortening
2 tbls warm water (2-3)
1 tsp almond extract
1 lb confectioners sugar
yellow & orange gel dye
candy corn candies
Instructions
Prepare and bake cupcakes according to directions. Let cool completely before frosting.
While the cupcakes cool, prepare the frosting. Beat together butter, shortening, 1 tbsp of warm water, and almond until smooth and creamy. Beat in the sugar gradually on a low setting. Scrape sides of bowl as needed.
Mixture will be very thick. After all sugar is incorporated, add 1-2 more tbsp. of warm water and beat at medium/medium-high speed for 1-2 more minutes. Adding more warm water will continue to thin the frosting consistency and bring down the sweetness even more. Add as much as you like to get the appropriate flavor and consistency. Be careful because a little goes a long way, frosting should be able to hold it's shape, but not be too thick.
The frosting can also be made several days in advance and stored in an airtight container in the refrigerator. Bring to room temperature, then mix well before using. Leftovers should be refrigerated.
Get the look by diving frosting into three bowls and adding a few drops of orange color to one bowl and a few drops of yellow color to another bowl and leave the third bowl white. Stir each bowl well to combine.
Place a 1A decorating tip into a large piping bag (see note). Add yellow first and decorate cupcakes with large yellow layer of frosting. Repeat steps with a clean 1A tip and piping bag and the orange frosting. Make this layer slightly smaller in diameter than the yellow. Finish with a little dollop of white frosting with another 1A tip.
Top each cupcake with a piece of candy corn.
Notes
Since decorator tips and bags are so inexpensive, I like to have several of the same size tips and lots of disposable bags on hand to help the decorating go quicker. Otherwise, the tip and bag will need to be cleaned and dried completely between each layer of frosting.