This post may contain affiliate links. Please read my disclosure.
It's still a bit chilly here in the desert and nothing warms us up like a big bowl of soup. Of course, at the start of the new year I have our health on my mind so I threw together this healthy bean and sausage soup that is ready in a flash! I love 15 minute meals. They are perfect for busy nights, days when the kids are sick, or just because I want to go out but really should just cook at home.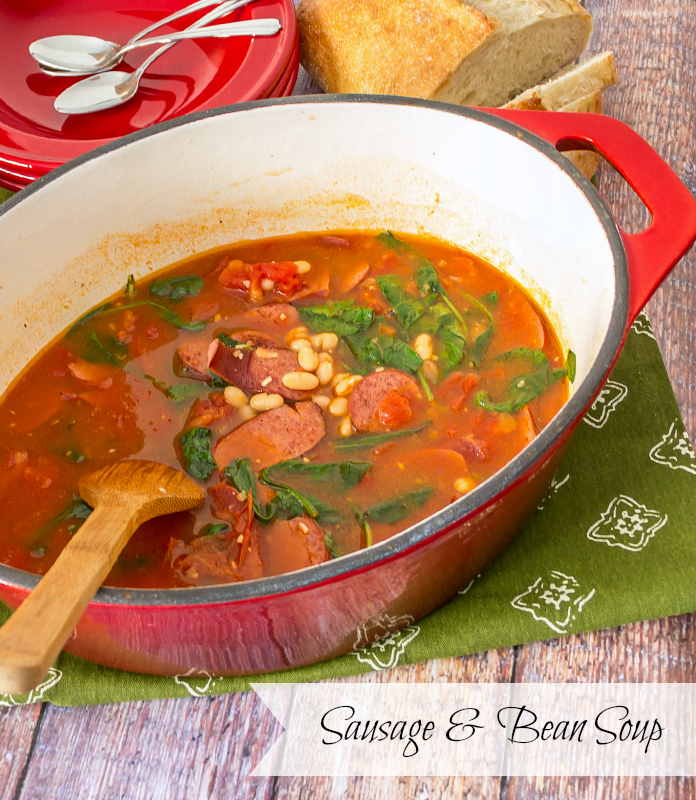 I vowed to not set formal New Year's resolutions this year….I always break them. However, I did sort of vow to cook more at home, eat normal portions, and eat less sugary foods (oh yes, I'm totally a sugar-oholic).
This healthy bean and sausage soup really is delicious and really is healthy. Instead of polish kielbasa, I opted for the turkey version. Plus those beans, veggies, and spinach are great choices for adding flavor, fiber, and bulk to the soup. The soup is naturally gluten free (double check your sausage though) and dairy free if you leave off the Parmesan garnish. Technically you could leave out the olive oil too, but it really adds the much needed fat to the dish, but since there is only one tablespoon it's totally fine to have it.
The soup was great, but Hubbyman and I both thought it needed some heat, so we added crushed red pepper. After adding some red pepper to each of our bowls we deemed it perfect!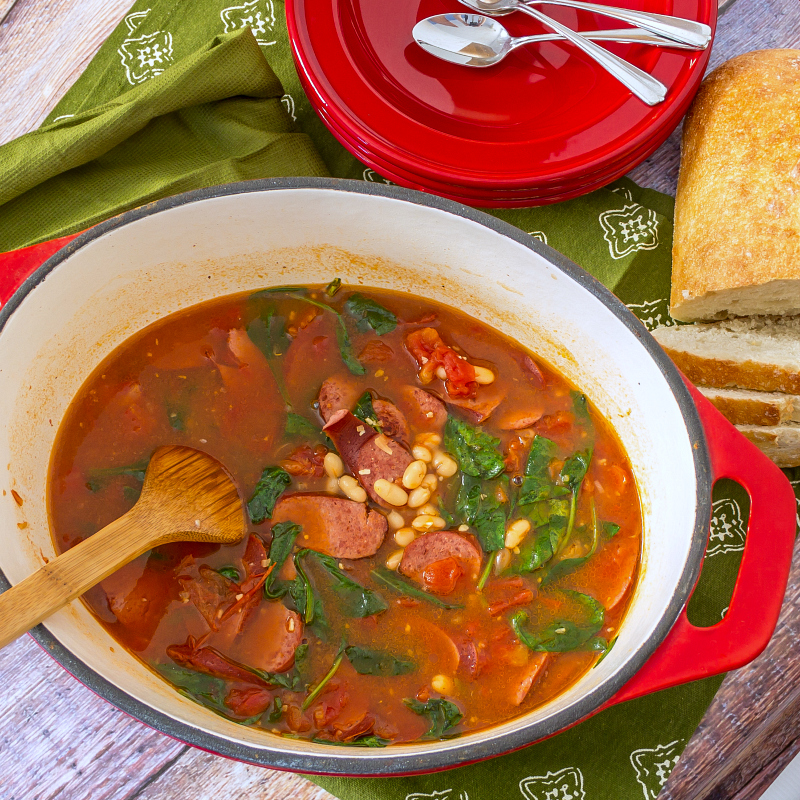 So tell me….what are some of your resolutions this year?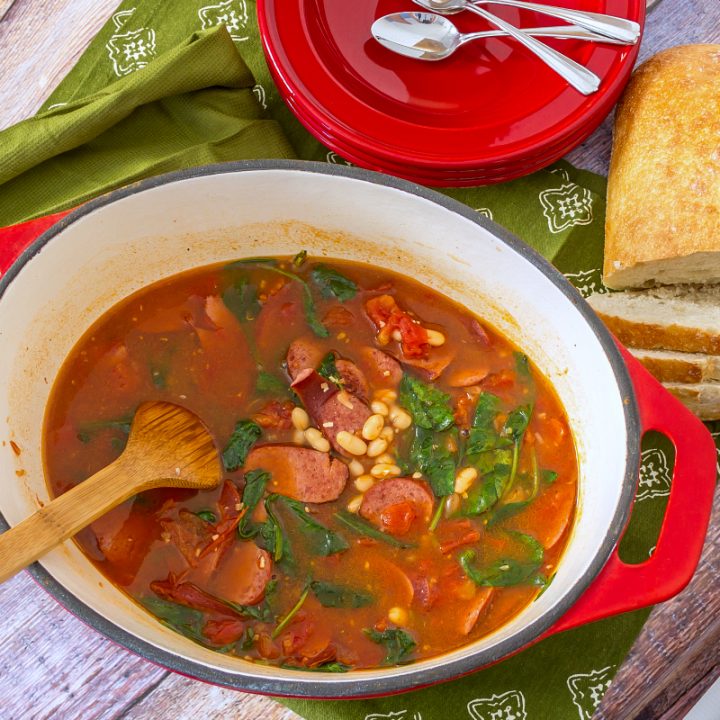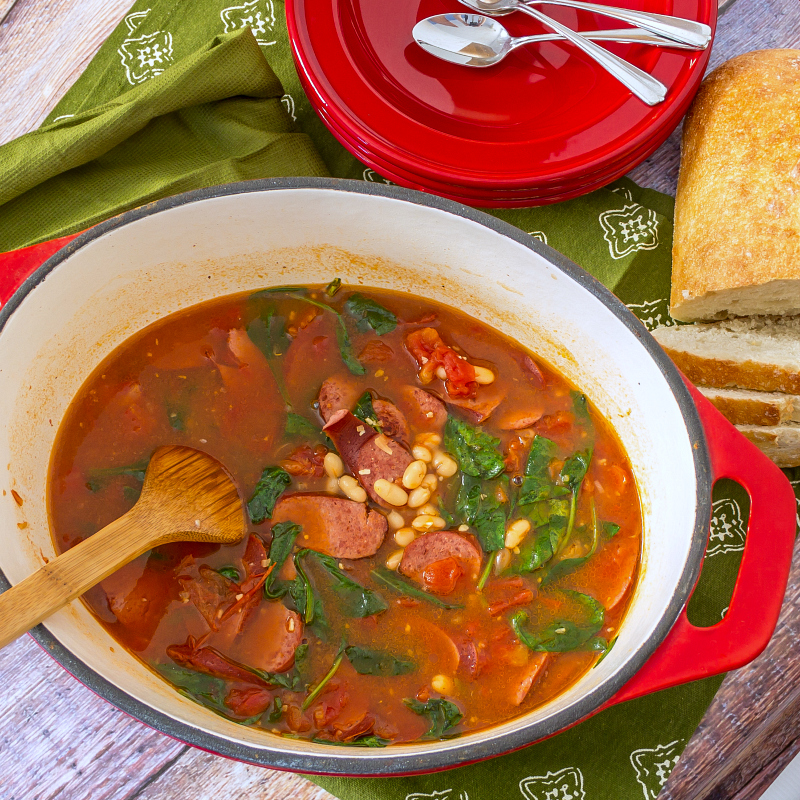 Healthy Bean and Sausage Soup
This healthy bean and sausage soup is the perfect dinner to make on a cold day. It's hearty, filling, and delicious!
Ingredients
1 tbls olive oil
1 (12-ounce) package fully-cooked turkey sausage, sliced
4 cloves garlic, finely minced
1/2 onion, finely minced
1 (14.5-oz) can cannellini beans, rinsed
1 (14.5-oz) can chicken broth (low sodium is best)
1 (14.5-oz) can diced tomatoes
1 cup (packed) spinach
kosher salt and black pepper
crushed red pepper flakes (opt)
Instructions
Heat oil in a large Dutch oven or saucepan over medium heat. Add the sausage and onions and cook until sausage is browned, stirring occasionally (about 2 to 3 minutes).
Stir in the garlic and cook for about 30 seconds more.
Add the beans, broth, and tomatoes and their liquid and bring to a slow boil.
Add spinach, then season (to taste) with salt and pepper. Simmer, stirring occasionally, until spinach is wilted, 2 to 3 minutes.
Serve with sourdough bread and grated Parmesan cheese if desired.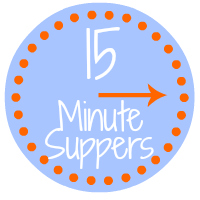 We are kicking off the new year with these wonderful 15 minute meal ideas from the #15MinuteSuppers bloggers. We are so excited to be continuing the series in 2014 and have some great plans for the year.
Follow 15 Minute Suppers on Facebook | Twitter | Instagram | Pinterest
and look for the #15MinuteSuppers hashtag too!
Spicy Honey Cashew Chicken from Better in Bulk
Paleo Baked Eggs from Confessions of an Overworked Mom
Healthy Bean & Sausage Soup from Around My Family Table
If you are a blogger and you'd like more info, please check out the 15 Minute Suppers website or ask to join the Facebook group to participate on Fridays…we'd love to have you join us.