This post may contain affiliate links. Please read my disclosure.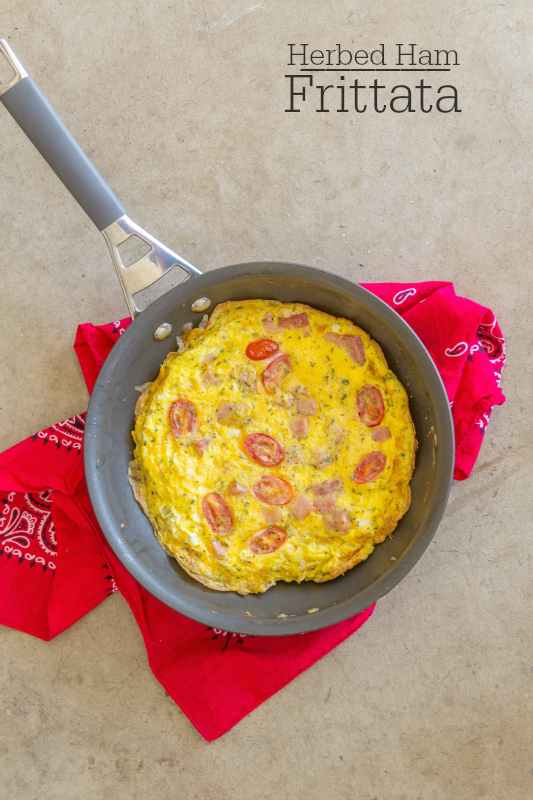 I'm so excited for today because it's Friday and I get to share another wonderful and quick supper with y'all. My family is in love with the Herbed Ham Frittata. It's full of great flavors and uses up lots of leftover ham from the holidays. I love making a huge ham for the holidays, just so I can make delicious leftover ham recipes for the following week.
One of the major differences between a frittata and a quiche is the lack of a crust. I also tend to think of quiches as more rich with the addition of cream or milk. A frittata is basically a giant open-faced omelet. But what makes this recipe super easy is the use of dried herbs were are some of my must-have pantry staples. Sure, fresh herbs are best..but they can be expensive and then you have to chop them too. Don't get me wrong..I do love fresh herbs and use them all the time, but sometimes I just need a super simple, cheap, and quick meal.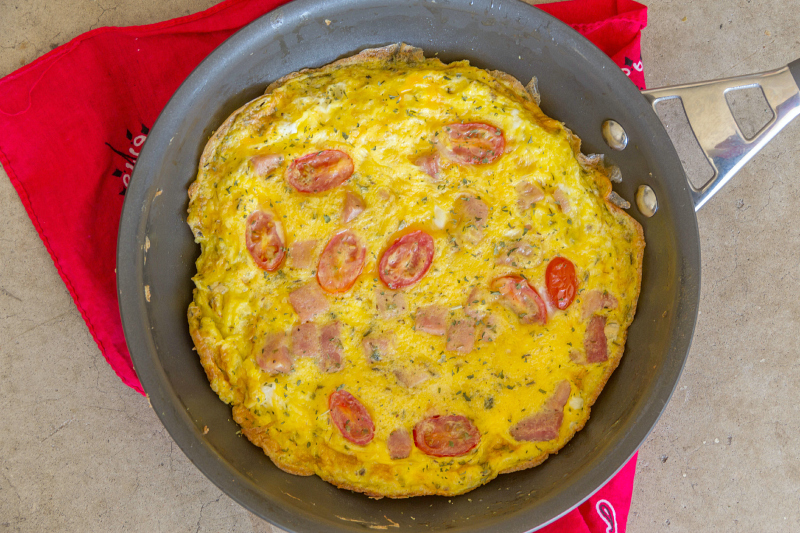 Herbed Ham Frittata
1 tbls butter
6 eggs
1/2 tsp dried parsley
1/4 tsp dried thyme
1/4 tsp garlic powder
1/4 tsp salt
1/2 cup diced fully cooked ham
5 grape tomatoes, halved
1/2 cup shredded cheese
Preheat broiler to high and melt butter in a 8 inch (oven safe) skillet over medium high heat.
Beat eggs, parsley, thyme, garlic powder, and salt in medium bowl with fork until well mixed.
Add ham to pan and let cook for a minute, stirring often. Then pour egg mixture into hot skillet; sprinkle with tomatoes and cheese. Reduce heat to medium. Cover and cook 8 to 10 minutes or until eggs are almost set.
Place pan under the broiler, with top 4-5 inches from heat, for about 2 minutes or until the eggs are fully set and the top is a light golden brown.
__________________________________________________________
Need more quick 15 minute recipe ideas? Check out these other great #15MinuteSuppers!
Follow 15 Minute Suppers on Facebook | Twitter | Instagram | Pinterest
and look for the #15MinuteSuppers hashtag too!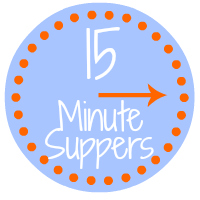 BLOGGERS: Would you like to join us at #15MinuteSuppers? We'd love to have you! Please check out the 15 Minute Suppers website or ask to join the Facebook group (for bloggers) to participate on Fridays…we'd love to have you join us.