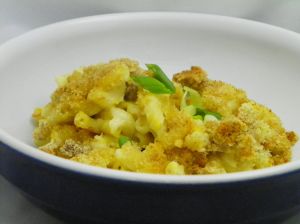 I hope you saved some ham from yesterday's Easter supper for today's leftover idea!  This is my family's favorite way to use up leftover ham.  It has the same comfort food feel as mac & cheese, but with a few different ingredients.
I have been making this for over ten year with all our leftovers and I cannot remember when the recipe came from…my guess is a magazine or newspaper article.  Anyway, it makes a ton so, I tend to split the recipe into 2 9×9 pans.  I cook one and freeze the other!
Ham & Mac Casserole
1 pound ham, cubed
1 large onion, diced
1 pound macaroni
8 ounces cheddar cheese, shredded
1 cup sour cream
1 can cream of chicken soup, 10 3/4 oz
1/4 cup butter, melted
1 cup bread crumbs
Heat oven to 400 F.
On stovetop, bring 4 qts of water to a boil.  Add onion and macaroni; cook for 8 minutes or until al dente, stirring occasionally.
Drain and return to pot.  Add ham, cheese, sour cream, and soup.  Pour into a 13x9x2 inch baking dish.  Sprinkle with bread crumbs and pour melted butter on top.
Bake at 400 F for 30 minutes or until heated and golden.  Let stand 5 minutes before serving.
Join the newsletter
Get Delicious & Seasonal Recipes in your INBOX every week.