This post may contain affiliate links. Please read my disclosure.
If fall had a flavor, it would be pumpkin butter. This Pumpkin Butter recipe is so easy and the cinnamon, nutmeg, and clove flavors have lots of time to develop and transform your pumpkin into something amazing.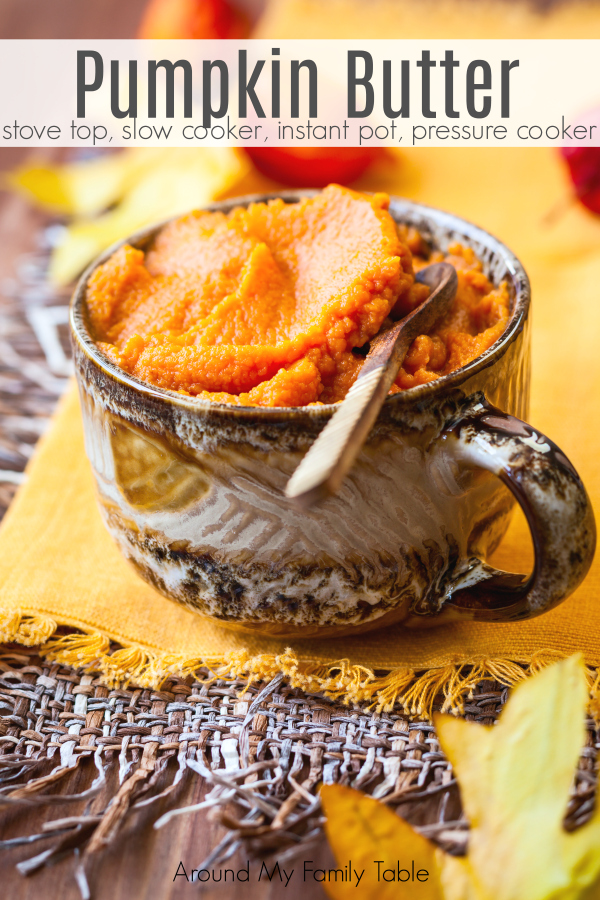 Slow Cooker Pumpkin Butter
So, you learned how to do just plain roasted pumpkin, but sometimes you just want to have something extra special for gifts or recipes. This is perfect!
When I make my Pumpkin Butter, I actually use my Secret Sweet Spice Blend, but I'm not quite ready to part with that recipe yet, so I've given you the next best thing…the ability to adjust the seasonings to your preference. YEAH!
Recipes Using Pumpkin Butter
Pumpkin Butter Sugar Cookies
Pumpkin Dip
Pumpkin Pancakes
Can You Can Pumpkin Butter
Yes! Yes you can can pumpkin butter, but it is a freezer method that is safe. Ladle hot pumpkin butter into hot jars, leaving 1/2-inch headspace. Clean the rim and let cool to room temperature. Place lids and bands on jars. Label jars and freeze for up to 1 year.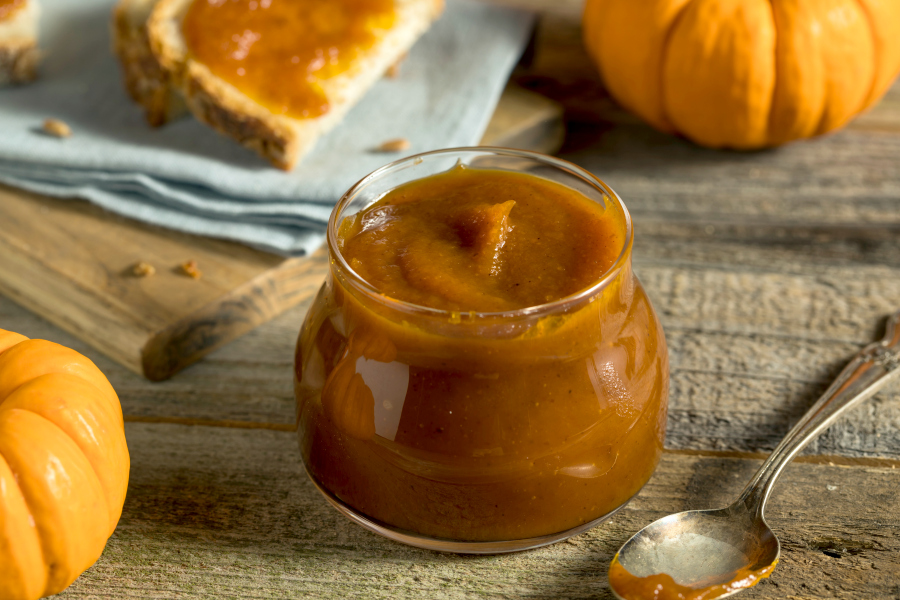 For all these versions, it's best to start with roasted pumpkin. It just adds so much flavor. All can be bagged or canned for freezing or used right away in recipes or just as a biscuit topping.
Slow Cooker Pumpkin Butter
By far, my favorite way to make pumpkin (or apple or pear) butter is in the slow cooker. Sure it takes longer, but the flavors deepen and develop so much that there really in so comparison.
Instant Pot Pumpkin Butter (pressure cooker)
Using a pressure cooker to make pumpkin butter is quick and easy, but there is no time for the flavors to really develop. It's fine in a pinch and if you need it fast. But if you have time and want something truly delicious, make it in the slow cooker.
StoveTop Pumpkin Butter
If I don't have time for the slow cooker method, I prefer just making on the stovetop. Stovetop pumpkin butter does require more watching and hands on time, but the flavors will develop a little and gives a much better flavor than the Instant Pot pumpkin butter.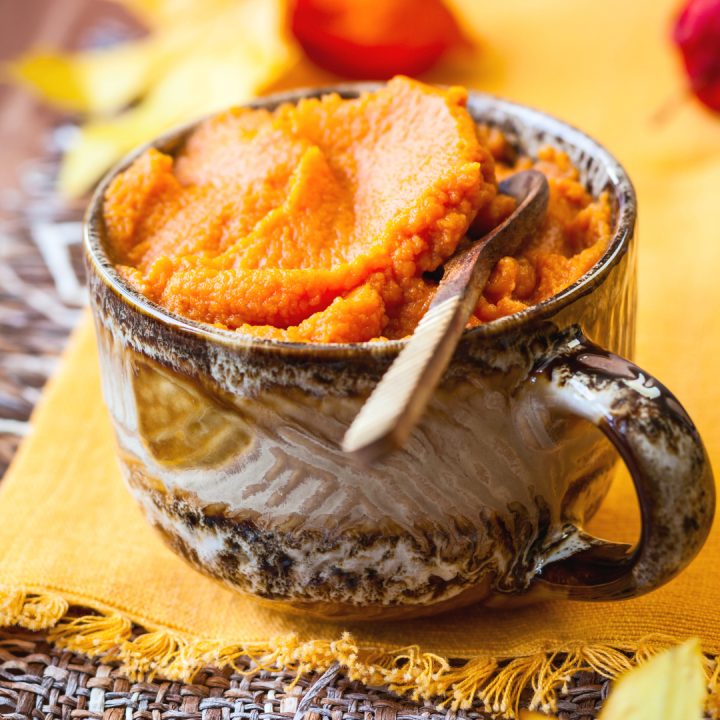 Pumpkin Butter
Additional Time:
5 hours
30 minutes
If fall had a flavor, it would be pumpkin butter.  This Slow Cooker Pumpkin Butter recipe is so easy to make! The cinnamon, nutmeg, and clove flavors have lots of time to develop and transform your pumpkin into something amazing.
Ingredients
4 lb pumpkin (mine was slightly bigger than a basketball)
1/3 cup brown sugar
2 tbsp ground cinnamon
1 tbsp ground nutmeg
1 tbsp ground cloves
Instructions
Preheat oven to 400 degrees F. Wash pumpkin, carefully cut in half. Scoop out all the stringy insides (saving the seeds in a separate bowl and discarding the rest). Cut pumpkin into quarters, place cut side down on to baking sheets. Bake for about 1 hour (this really depends on the size of your pumpkin).
When you can pierce it with a fork or knife easily, then remove it from the oven. Cool slightly. You should be able to easily remove the outer skin/peel now. Once the peel is removed, chop into large chunks and place into your slow cooker. Add remaining ingredients.
Cook on low for an hour and then start mashing with an immersion blender or a potato masher. Continue cooking for a couple hours on low with the lid slightly off, so that some of the extra moisture can escape. Mash every 45-60 minutes. Keep at it for about 4 hours or so. Mash one last time, until you reach your desired consistency, then you can bag for freezing or can it (I can mine, so start prepping my cans about 60-90 minutes before I want to be finished).
Notes
Stovetop: Add roasted pumpkin and other ingredients to a large saucepan or pot over medium-high heat and stir to combine. Once it begins bubbling, reduce heat to low and simmer. Cook, uncovered, for 30 minutes, stirring occasionally. Use an immersion blender, puree until very smooth.
InstantPot: (Note: the flavors don't develop as much in this quick pressure cooker method, but it's still good.) Add roasted pumpkin and the remaining ingredients to the pressure cooker. Cook 10 minutes under pressure. Use a natural release for 10 minutes (meaning allow it to sit undisturbed). Release the remaining pressure. Use an immersion blender, puree until very smooth.
Nutrition Information:
Yield:

16
Serving Size:

4 oz.
Amount Per Serving:
Calories:

43
Total Fat:

0g
Saturated Fat:

0g
Trans Fat:

0g
Unsaturated Fat:

0g
Cholesterol:

0mg
Sodium:

3mg
Carbohydrates:

11g
Fiber:

2g
Sugar:

6g
Protein:

1g
This nutritional information is an estimate may vary, depending on brand and type of ingredients used. It is not intended to replace the advice of a licensed dietician or physician.