This post may contain affiliate links. Please read my disclosure.
Bulgur Wheat is one of the easiest grains to cook and super simple for swapping out other grains. Learning How to Cook Bulgur Wheat properly has really opened up a whole new world of grains for my family.
Be sure to sign up for my email list….seasonal recipes in your inbox every week!

About
Bulgur wheat is high in fiber and protein with a light, nutty flavor. It's a great addition to pilafs, soups, baked goods, or even as a stuffing, but it is most commonly used in Tabbouleh. It is used mostly in European, Middle Eastern, and Indian cuisine. It is also known for having anti-inflammatory properties, cutting gallstone risks, and is a good source of minerals such as manganese.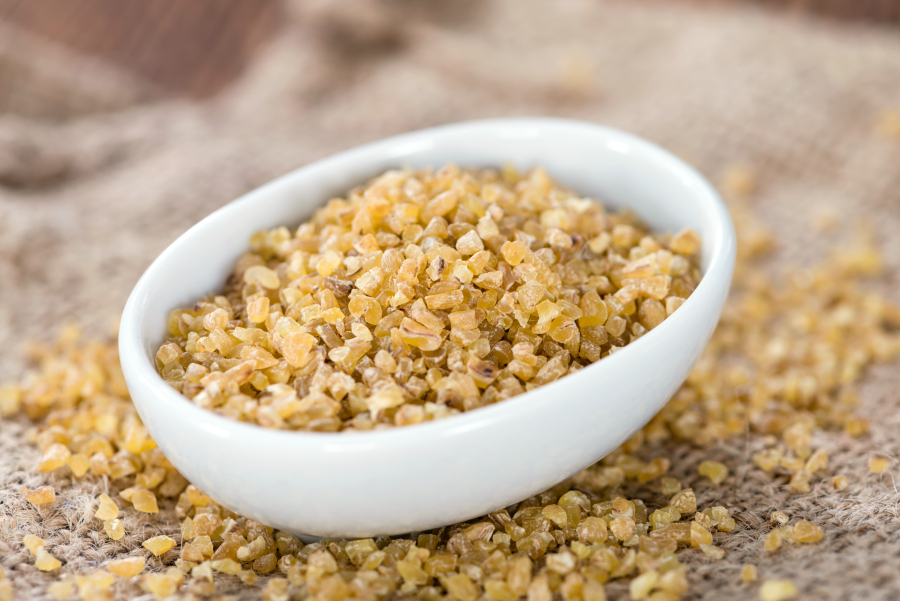 How to Cook Bulgur Wheat
Stovetop Bulgur Wheat
Bring 2 cups of water to a boil. Remove water from the heat, stir in 1 cup of uncooked bulgur wheat, and a pinch of kosher salt. Cover and let stand for 20 minutes. Drain off any excess liquid, fluff with a fork, and serve.
Presoak Bulgur Wheat
Place 1 cup Bulgur wheat in bowl. Add 1 cup boiling water, stir, and let stand for 1 hour. Drain off any excess liquid. Yields 2 to 2-1/2 cups.
Slow Cooker Bulgur Wheat
1 cup bulgur wheat, medium grind
2 cups water (or milk)
pinch of kosher salt
Grease the inside of a slow cooker with a tablespoon of butter. Add bulgur wheat with the amount of water and salt indicated on the package (usually a 2 to 1 ratio, or 2 cups of water per 1 cup of grain). Cover and cook on low for 6 to 8 hours.
For breakfast, use milk instead of water and add chopped apples and cinnamon, raisins and/or nuts.
**Special Notes**
Unlike rice and other grains, bulgur wheat doesn't need to be constantly on the stove to cook. This technique will steam the bulgur making it tender and fluffy.
Don't worry about adding too much water, it can always be drained off the bulgur at the end.
Use bulgur in place of couscous or rice in your favorite grain salad recipes. Stir a handful of bulgur into a leafy green salad to make it more filling.
Check out these delicious recipes using Bulgur Wheat:
Apple Pie Bulgur for Breakfast
Potluck Tabbouleh with Feta & Herbs
Moroccan Stuffed Red Peppers
__________________________________________
I'll be sharing tons of How to Cook guides, so I hope you'll pop over and see if there are any others that interest you. Also, you can follow the #howtocook_amft hashtag on Instagram and Twitter.
Be sure to follow me on Instagram and tag #amftrecipes when you share one of my recipes….so I can see all the wonderful recipes YOU make!
Connect with Around My Family Table!
Make sure to follow me on social media, so you never miss a post!
Facebook | Twitter | Pinterest | Instagram | Bloglovin' | Google+
Sign up to receive seasonal recipes once a week or
receive an email in your inbox for each new recipe: