This post may contain affiliate links. Please read my disclosure.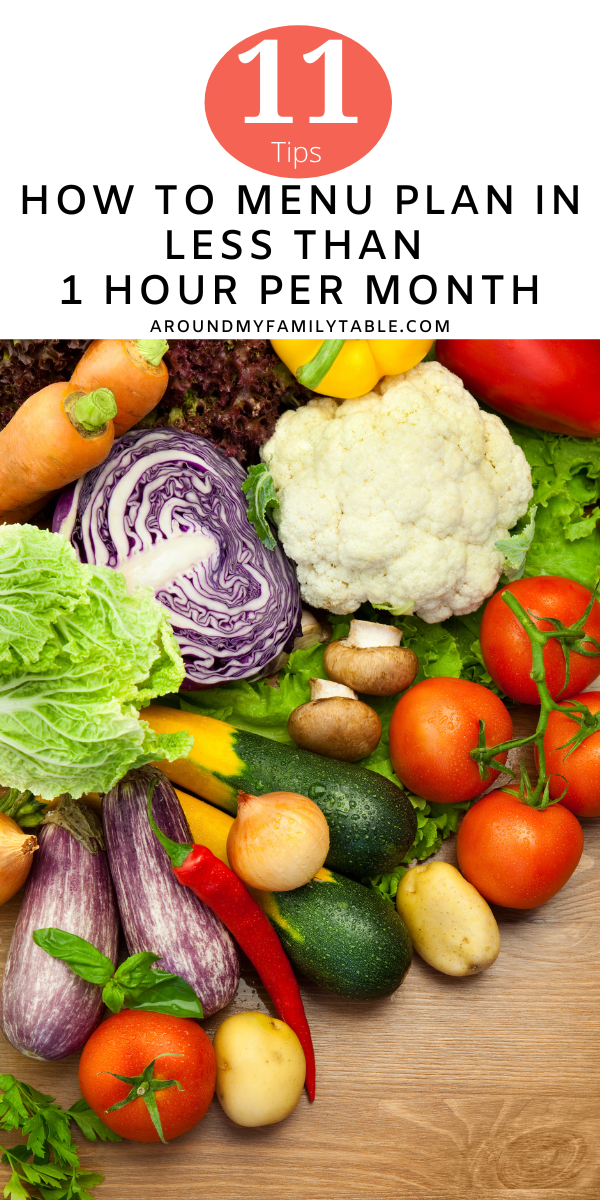 Menu planning for your family doesn't have to be hard or time consuming. I've pretty much perfected a system that I think you'll love too. Keep reading to learn how to menu plan in just one hour a month.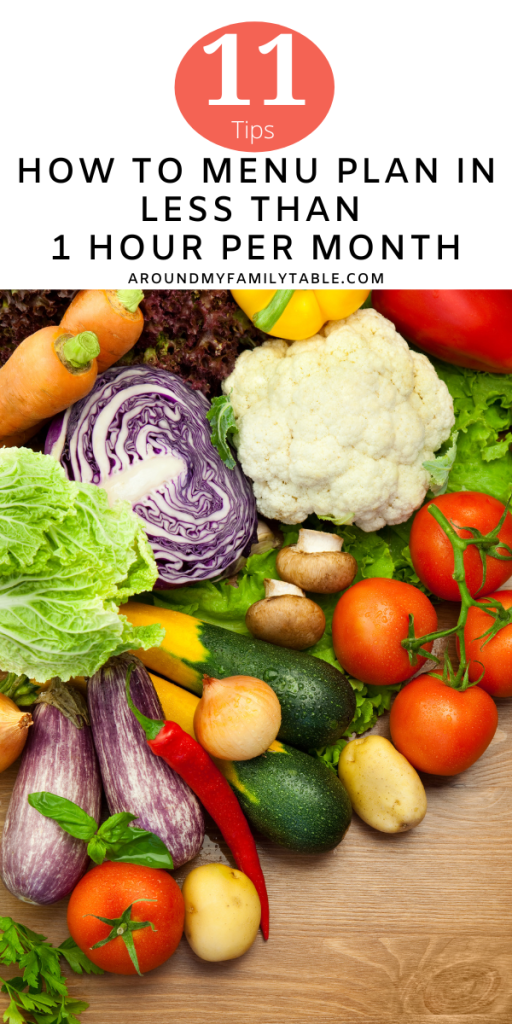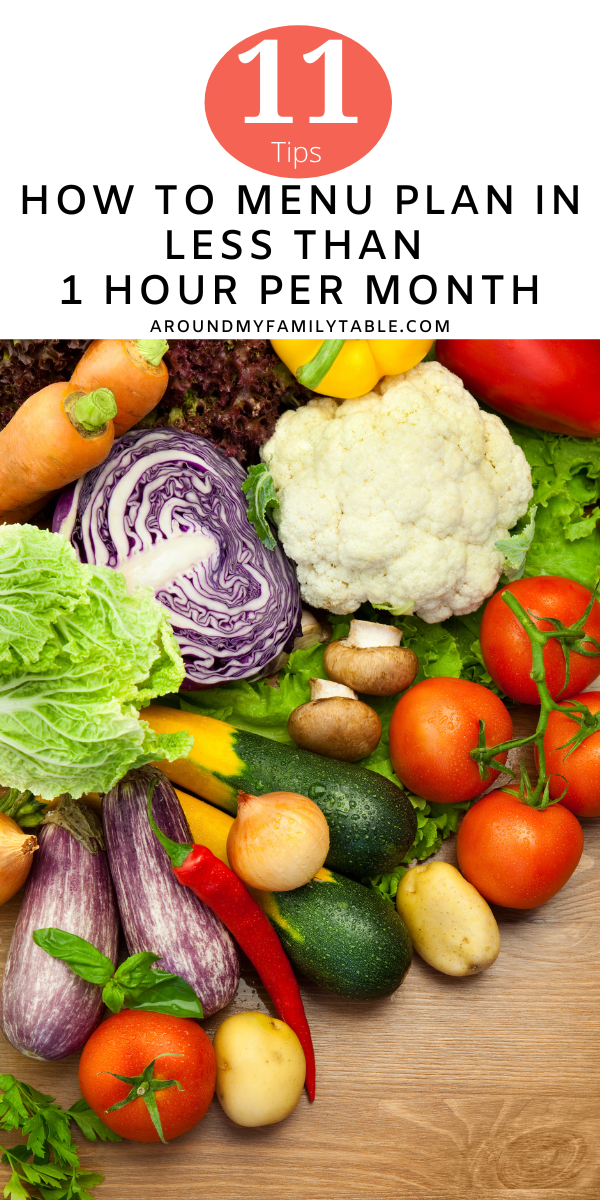 How to Menu Plan in Just One Hour a Month
I'm so excited to be finally talking about menu planning! Aren't you?
So, menu planning! It's almost a 4-letter word, right?!?! People talk about it the way they talk about that other "4-letter" word, budget! I can feel y'alls anxiety going up, but take some deep breaths and stay with me.
There are several methods for working on a menu plan such as, weekly, monthly, quarterly, capsule pantry. Here are a few questions to get you started on what might work for your family:
How often do you want to menu plan? weekly menu planning or monthly menu planning?
Do you want theme nights: Taco Tuesday, Slow Cooker Wednesday, Fish Friday, etc?
What about using leftovers?
Do you like bulk cooking?
Do you want to make Freezer Meals?
Menu Planning Made Easy
Menu planning doesn't have to be hard or time consuming. It can be done in as little as 4 hours/year. Yes, really! Realistically though, I spend about an hour a month because I prefer monthly menu planning. I've created two different menu plan templates for you to try, a monthly version and a weekly one. Try both templates and see which one you like better. I go back and forth on planning weekly and monthly, so it's nice to keep both on hand.
The hardest part is just getting started. The way I menu plan is constantly changing to fit our lives. Sometimes I do weekly, sometimes monthly…it really just depends on what's going on in each season of our lives.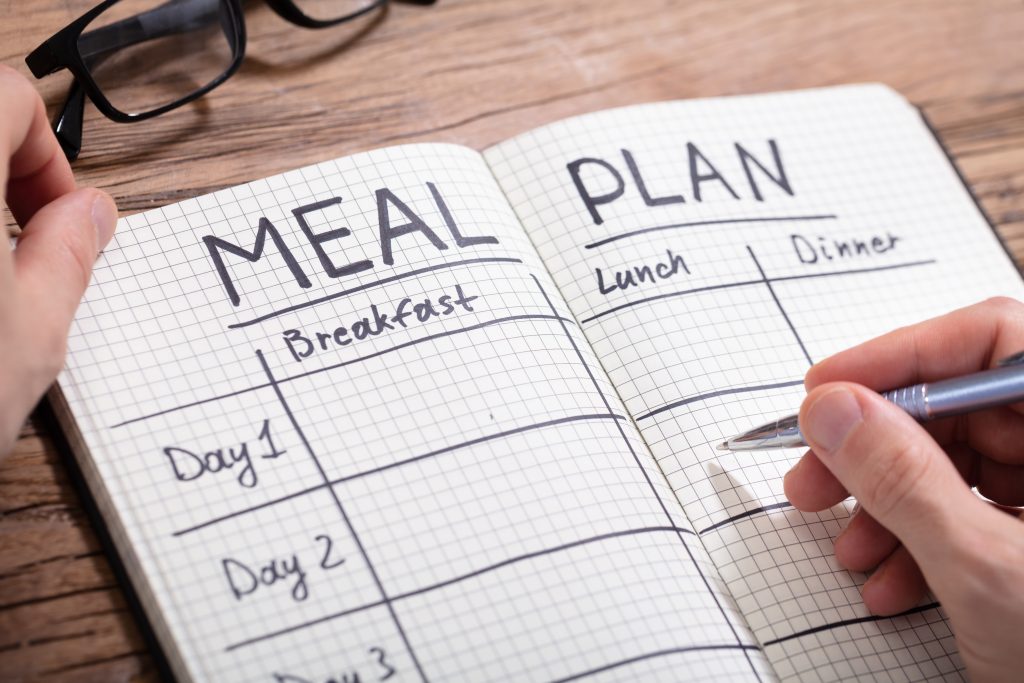 Here are a few tips that I've found useful:
Set a day each week (or one day each month) that you will ALWAYS menu plan (for me, it's the day the grocery ads comes out, but for you perhaps it's a weekend day).
Have some asparagus you didn't eat the week before…add a meal that you can use the asparagus up early in the week. Use the food you have in your fridge, freezer, pantry that needs to be used up. This will save money & time as well.
Next, add any meals you bought groceries for last week, but didn't make.
Mark off any nights that you won't be home for supper (events, date night, parties, etc). Either plan to eat out, plan a slow cooker meal, and don't forget to
Write in leftover nights and/or freezer meals for those crazy busy days (usually one per week).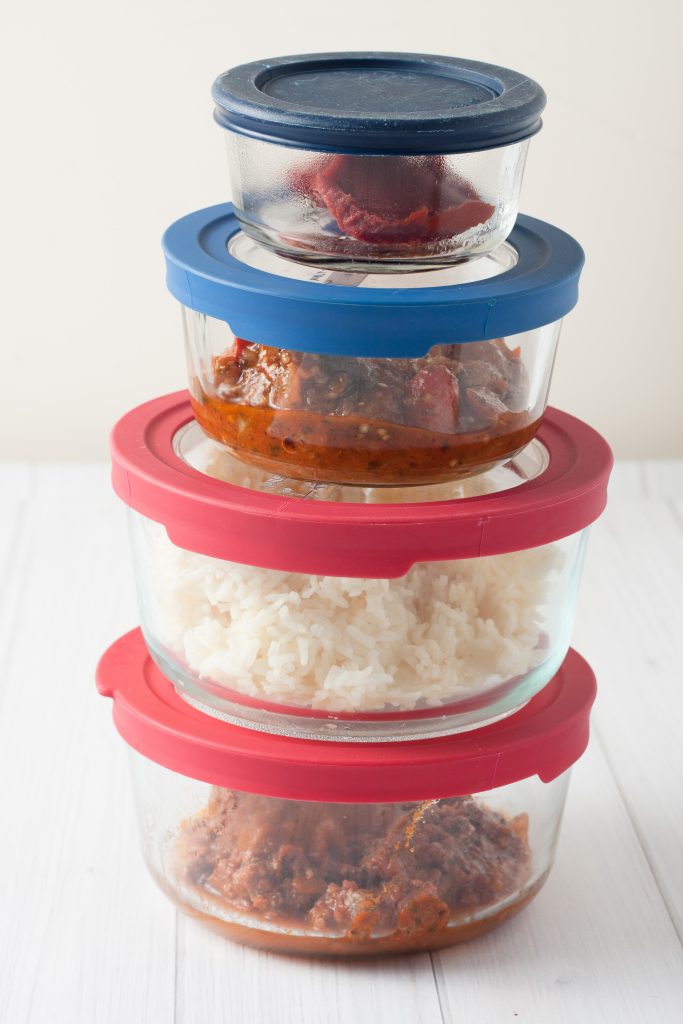 Now fill in the rest of the week or month with your favorite recipes. Look at the sale ads if you need to and find a protein you love, then make a meal with it. Chuck roast on sale….make a slow cooker pot roast. Salmon on sale…make Grilled Lemon Thyme Salmon.
If you like to be creative in the kitchen, add one or two days a month that you can experiment or try new recipes. Don't add too many "new recipe" days. They always take more brain power, sometimes new ingredients, or new techniques so make sure be creative on days when you have plenty of time
As you add a recipe to your plan, mark where to find it (url, cookbook, etc) or pull it from your household binder.
Add ALL the ingredients (yes ALL…I'll tell you why in a minute) to your shopping list.
Hang up your new plan and start to plan your grocery trip.
Take the shopping list and look it over. Do you think you have something already? Physically get up and go look to make sure you have enough. Nothing is worse than running out of ingredients half way through the week.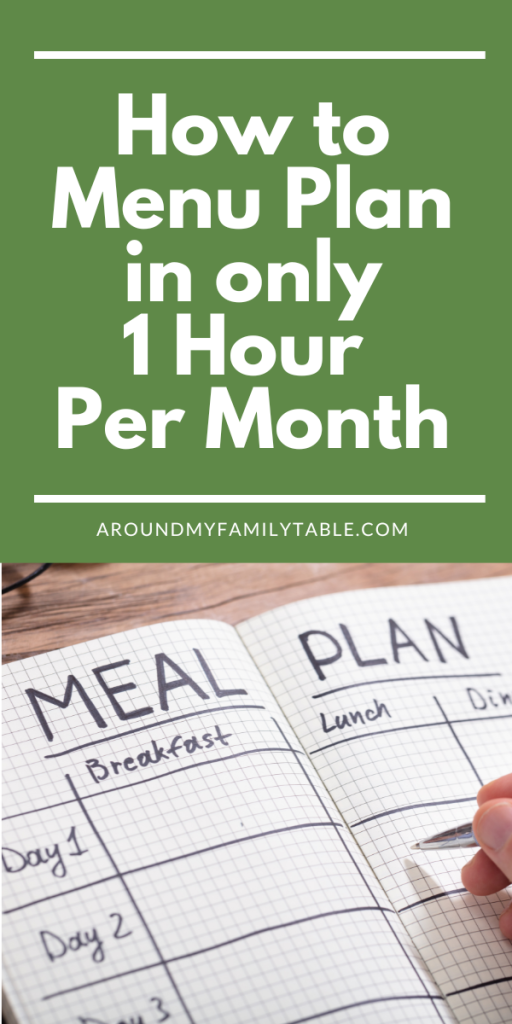 Make sure to grab the printables. Then sit down and go for it! If you are looking for an actual book, check out my Monthly Menu Planner & Pantry Organizer book on Amazon (I've got a tutorial in my Instagram highlights on how I use my planner). It's awesome and has spots for everything you'll want to track to make menu planning easy and simple.
If you have any questions or tips I might have missed or you're struggling with your menu plan leave a comment.