This post may contain affiliate links. Please read my disclosure.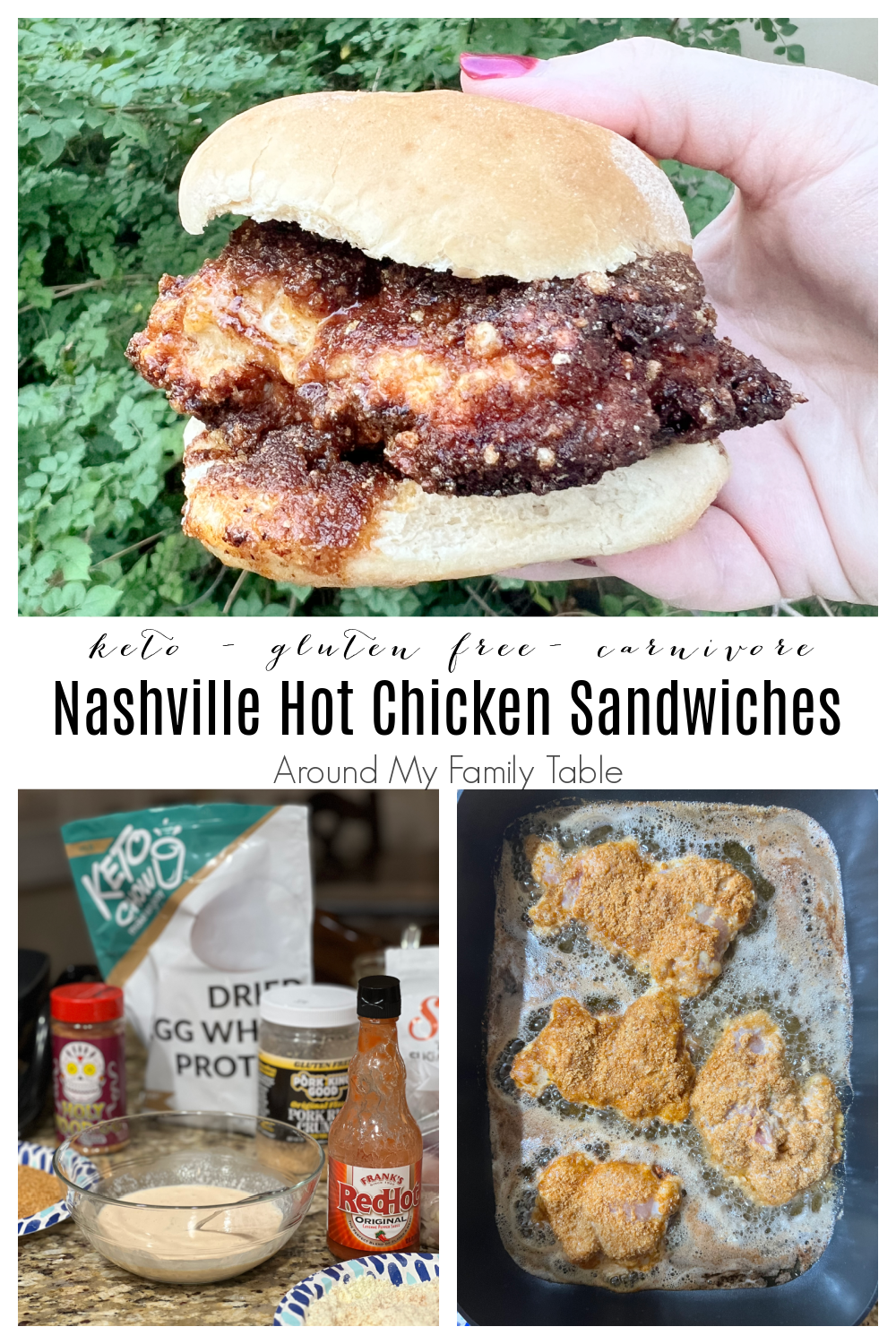 These keto Nashville Hot Chicken Sandwiches are so delicious with the perfect blend of sweet and heat that everyone will love. They are keto friendly, low carb, carnivore, and gluten free.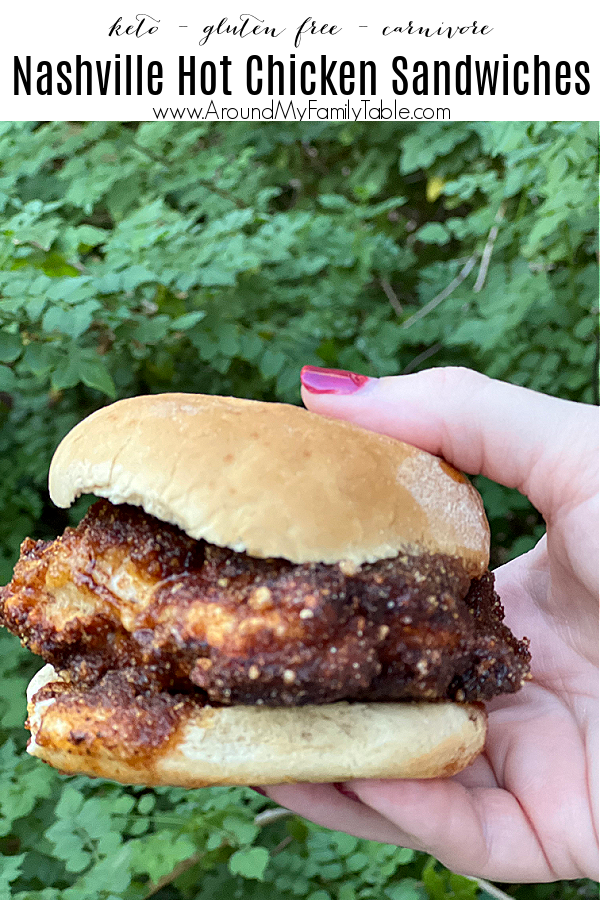 Keto Nashville Hot Chicken Sandwiches
I fell in love with Nashville Hot Chicken Sandwiches several years ago (before I switched to a keto lifestyle) and I've been dying to keto-fy this sandwich for a year and a half now….and I finally did it. While my family knows I switched it up to be keto, they said it tastes just as good if not better than the original they had.
These keto chicken sandwiches are pretty easy to make, they just have a few steps and need time to brine before cooking. So definitely plan ahead.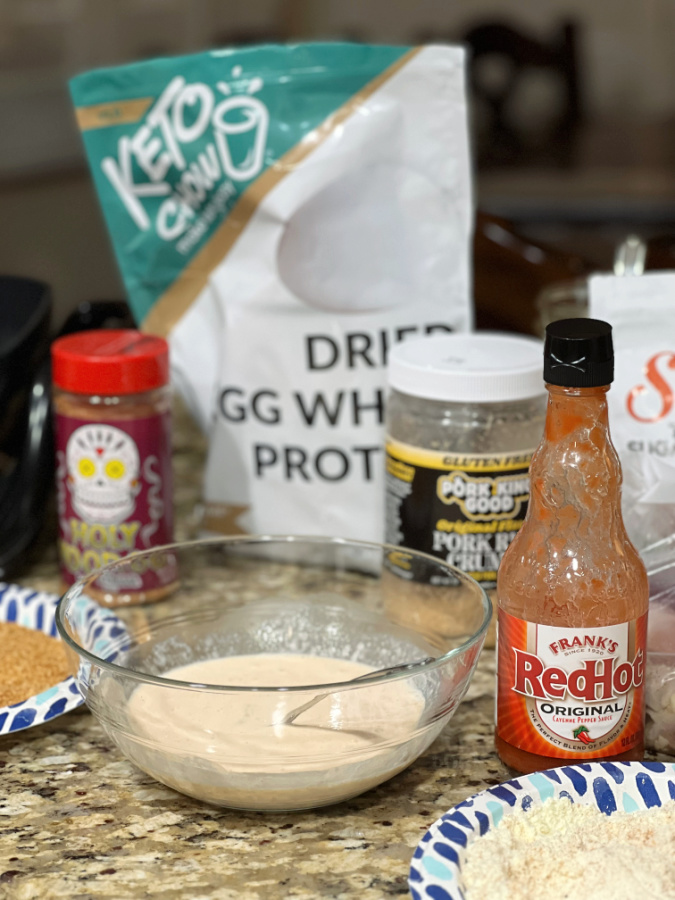 Ingredients for this recipe:
boneless skinless chicken thighs
pickle juice
Voodoo Seasoning Blend (or a cajun blend..see my recipe HERE)
eggs
heavy whipping cream
crushed pork rinds
cayenne pepper
keto friendly brown sugar substitute
tallow or lard for frying
keto friendly buns of choice
What is a Nashville Hot Chicken Sandwich?
A Nashville Hot Chicken Sandwich is basically a fried chicken sandwich that's got a little kick to it. Plus it as a spicy sweet sauce drizzled over the top that takes the flavor out of this world. For my keto version of this sandwich, I swapped the traditional flour dredge for keto friendly ingredients and swapped the sugar too. Trust me…no one will no the difference.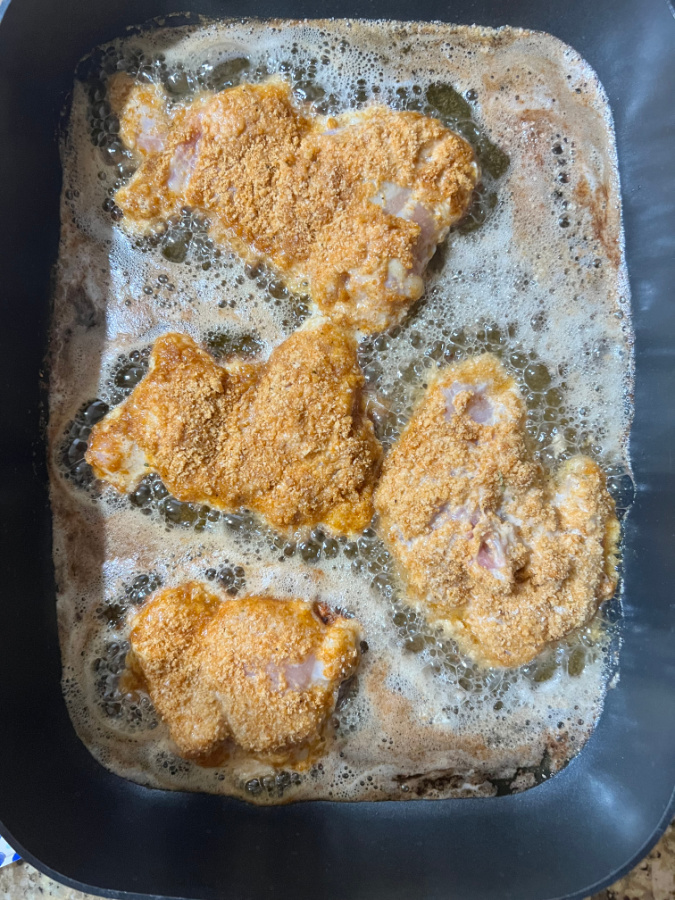 What to kind of oil to fry in?
You can fry any high temperature oil such as avocado, peanut, canola, sunflower, or sesame oil. However, I prefer to use lard or tallow for frying. Use whatever works for you.
How Spicy is a Nashville Hot Chicken Sandwich?
You can adjust this sandwich to be as spicy or as tame as you'd like. The cayenne pepper and hot sauce are what give it the majority of the heat. Add these ingredients slowly, taste, then decide if you want more. It's easier to add more spice than it is to take it away.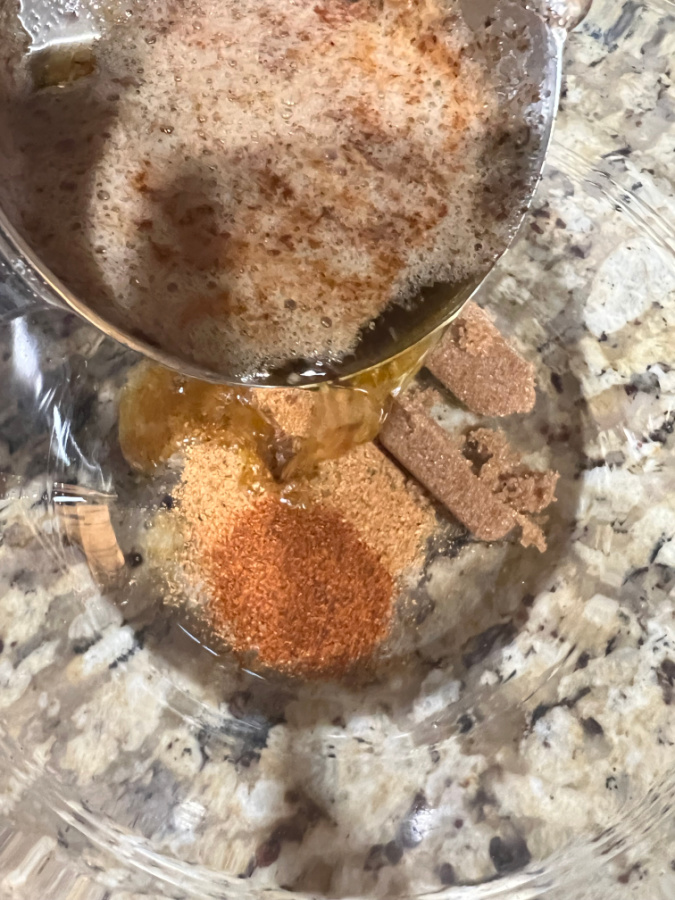 What can I use instead of Keto Chow Dried Egg White Protein Powder?
I love using Keto Chow Dried Egg White Protein Powder for dredging meat to fry. It works beautiful. But you really could use any plain (unflavored) egg white protein powder, just make sure there are no crazy ingredients. The other option I've used is Keto Chow Savory Chicken Soup. It's super versatile to have on hand.
Can I substitute the heavy whipping cream?
Sure thing. If you want to make this dairy free just use your favorite unflavored and unsweetened milk alternative. Or feel free to replace the heavy whipping cream with whatever milk product you have on hand.
Carnivore Chicken Sandwiches
The best part about this sandwich is that it's almost 100% carnivore. Leave off the bun and omit the sugar depending on how strict your carnivore diet is. You could also use cloud bread buns. I found some at my local Fry's, but I've heard Costco sells them in other parts of the country. Or make your own cloud bread buns to really keep it carnivore.
February 2023 Keto Chow myChow Surprise Kit
My Keto & Weight Loss Journey
I've lost over 90 pounds in one & a half years on a Keto-friendly diet. Read about my weight loss journey here. I'd love to have you join my new Facebook group, Everything Keto with Wendy (no keto police allowed). And join my Keto/Low Carb newsletter too.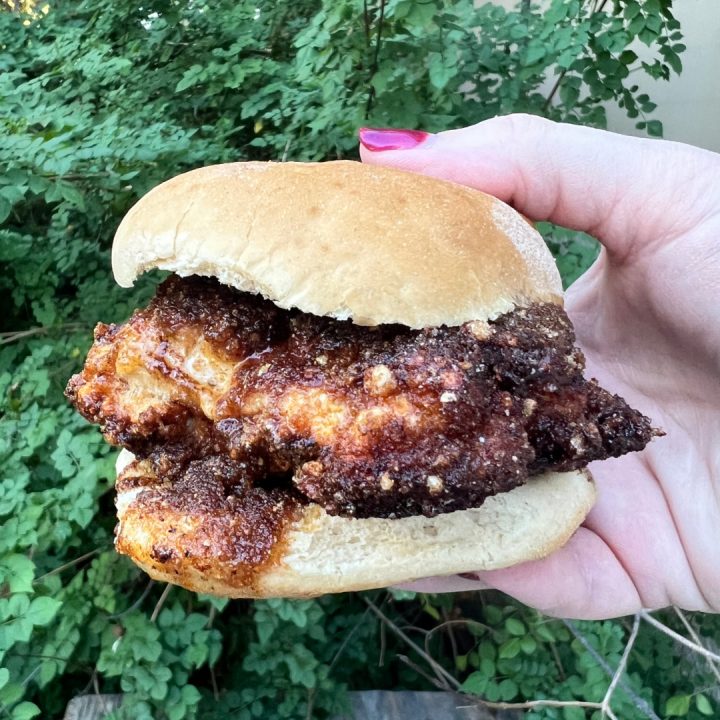 Keto Hot Nashville Chicken Sandwiches
These keto Nashville Hot Chicken Sandwiches are so delicious with the perfect blend of sweet and heat that everyone will love. They are keto friendly, low carb, and gluten free.
Ingredients
4 chicken thighs, trimmed
2 cups pickle juice (or enough to fully cover chicken)
1 cup Keto Chow Dried Egg White Powder
2 large eggs
1 cup heavy whipping cream
1 tablespoon Frank's Red Hot Sauce (or your favorite hot sauce)
1-2 cups finely crushed pork rinds
1/2 cup hot frying oil (use this from your pan after you fry)
2 tablespoons cayenne pepper (adjust to your preference)
1 tablespoon keto friendly brown sugar
4 keto friendly buns, mayonnaise, sliced pickles if desired
Instructions
Place chicken thighs in a gallon sized zip-top bag. Add the pickle juice and 1 tablespoon Voodoo seasoning and let brine for at least 2-3 hours in the fridge. Turn bag every 30-60 minutes. Remove the chicken from the brine and pat dry with paper towels.

Prepare your fryer, electric skillet. or deep cast iron pan with tallow (or lard or whatever oil/fryer method you prefer). You will need at least 1 inch of fat (or oil) for frying in the bottom of your desired pan. Heat oil to medium-high temperature.

Prep three medium bowls or rimmed plates for dredging the chicken thighs. In bowl 1 place egg white powder. In bowl 2 combine eggs, heavy cream, and hot sauce and mix well. Bowl 3 is crushed pork rinds and 2 tablespoons Voodoo seasoning. Take each piece of chicken and coat both sides well in the egg white powder. Then soak it completely in the egg mixture. Finally, coat it thoroughly in the pork rind mixture.

Next slowly place the chicken thighs into the hot fat and fry until golden brown, turning halfway through the cooking time. Chicken is done when the internal temperature reaches at least 165 F. Remove the cooked chicken from the oil and place on a paper towel lined plate to absorb excess oil.

While the chicken drains, mix hot oil (yes really), cayenne pepper (to your preference), keto brown sugar, and 1 tablespoon Voodoo seasoning in bowl. Be very careful as this oil mixture is extremely hot. Remove paper towel from under draining chicken and spoon oil mixture over each piece of chicken.

Serve chicken on a keto friendly bun of your choice with a little mayonnaise and a couple sliced pickles (or a lot of pickles if you're like me).
Recommended Products
As an Amazon Associate and member of other affiliate programs, I earn from qualifying purchases.
Pin this recipe to your favorite Pinterest board: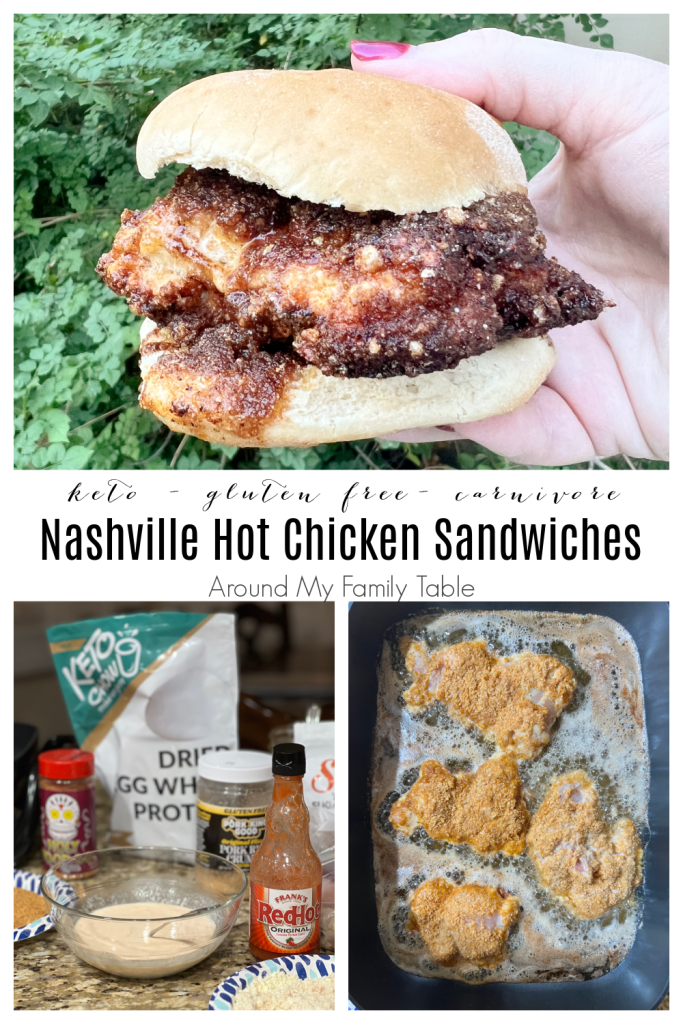 Recent Recipes you may have missed….