This post may contain affiliate links. Please read my disclosure.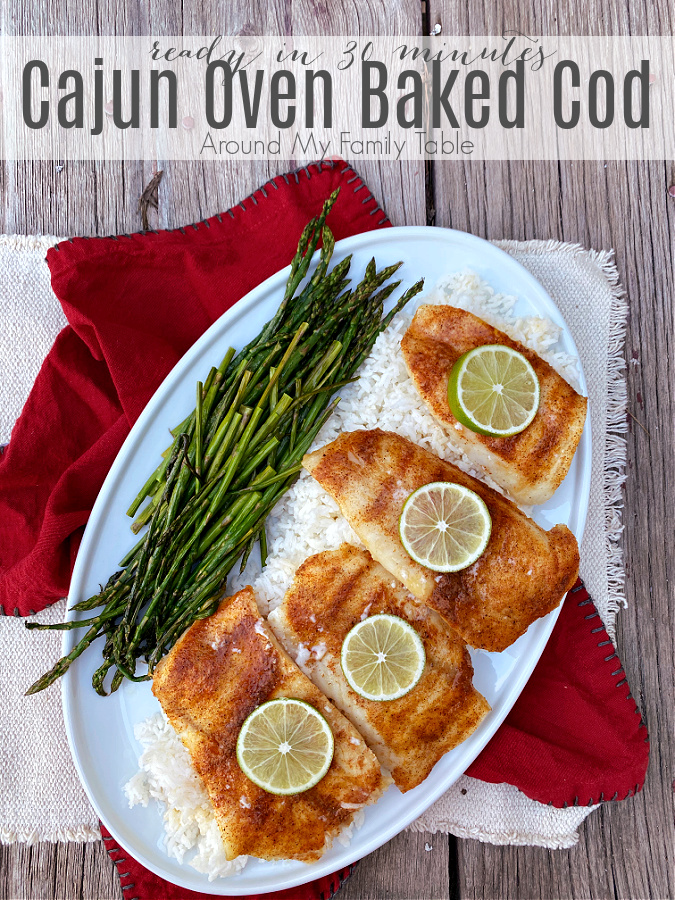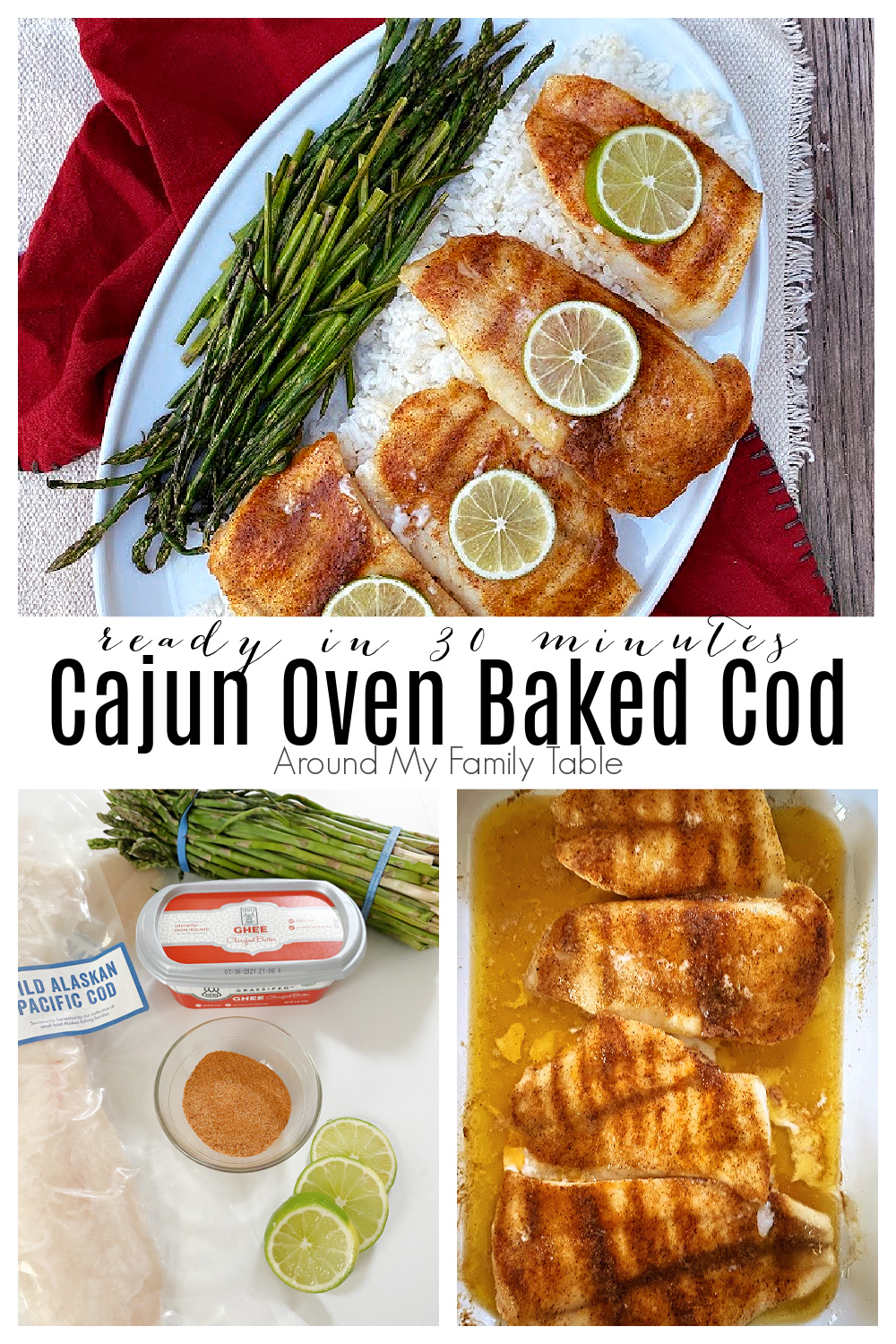 This is a sponsored post written by me on behalf of Truly Grass Fed. All opinions are 100% mine.
Cajun Oven Baked Cod is ready in under 30 minutes and perfect for a quick weeknight supper (including sides). Homemade cajun seasoning and ghee, gives the cod so much flavor that the whole family will love it.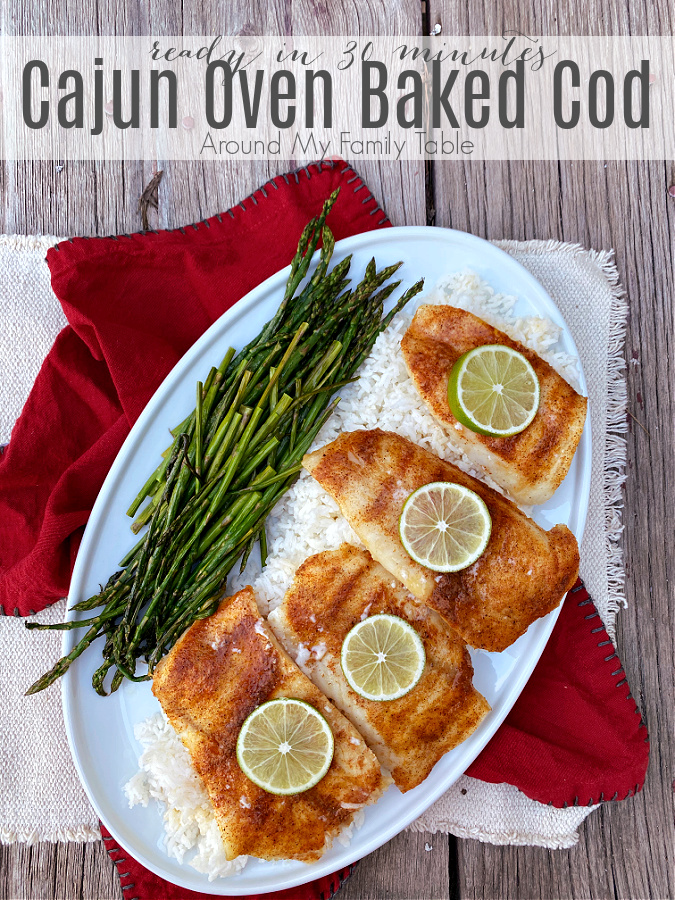 Cajun Oven Baked Cod
I always thought cod was a boring, flavorless fish. Actually, it is…but with the help of just a couple ingredients I was able to give it so much flavor that I'm totally a cod lover now. I can flavor it however I want and that's what shines.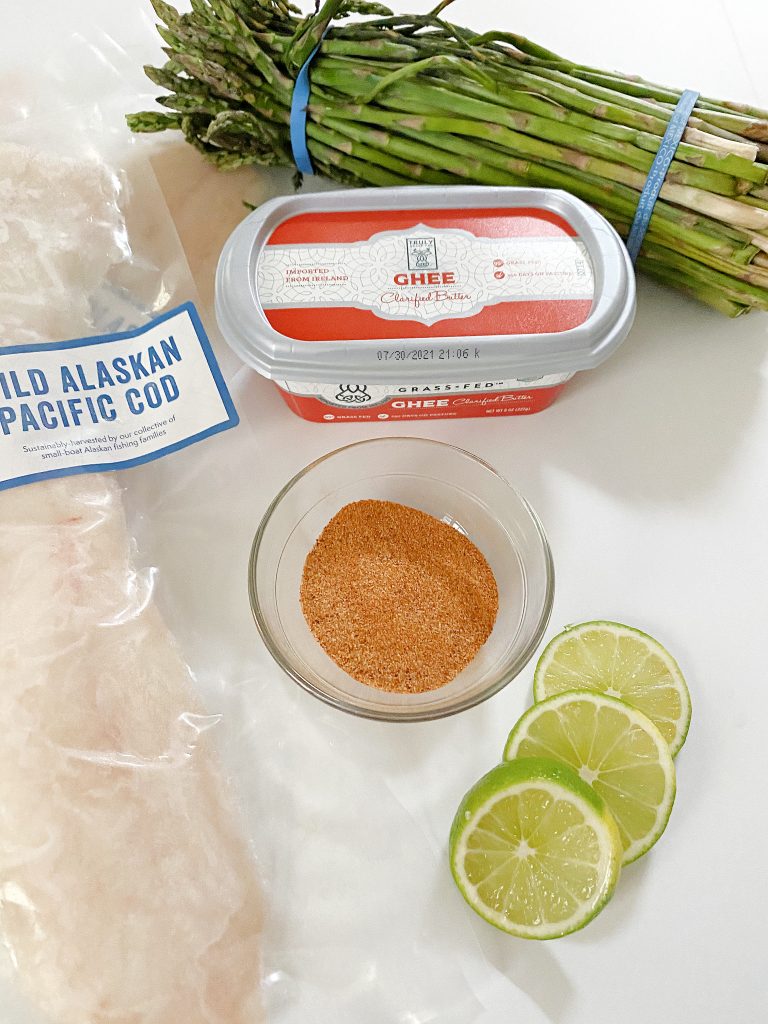 Using ghee and my homemade cajun seasoning was the best decision for supper. I love the sweet, nutty flavor of ghee. It really imparts so much flavor. And cajun seasoning is definitely a family favorite. There are loads of store bought blends, but I prefer to make my own so I can control the heat and salt level. I still have one kid that doesn't like things too spicy, so I am able to still cook with cajun seasoning and the whole family loves it.
Ingredient notes and substitutions:
cod fillets
cajun seasoning (use your favorite brand or my homemade blend recipe in the recipe notes)
How Long to Bake Cod?
Cod cooks up so fast in the oven. It's one of my favorite ways to cook cod. Cod bakes beautifully at 350F and usually around 15-20 minutes. But the time also depends on how thick the fish fillet is. It's always wise to use an instant read thermometer to make sure. Cod should be cooked to an internal temperature of 145F and until flesh is opaque and separates easily with a fork.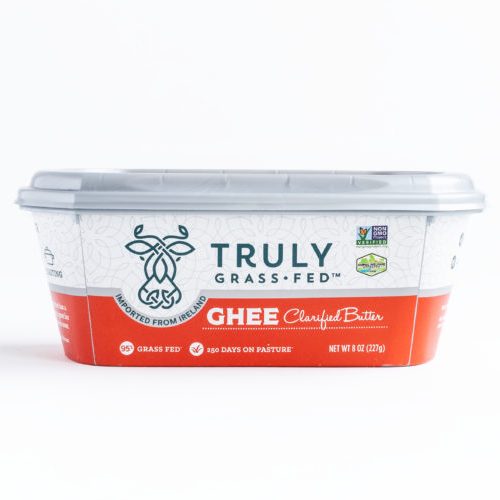 What is Ghee?
Ghee is a type clarified butter. It's butter that has been simmered to filter out the milk solids and water. It's delicious and it's great for those who are lactose intolerant because the milk solids have been removed. Even some with dairy allergies can tolerate ghee. It's great for special diets like Whole30, Paleo, and Keto. The best part is that it's delicious.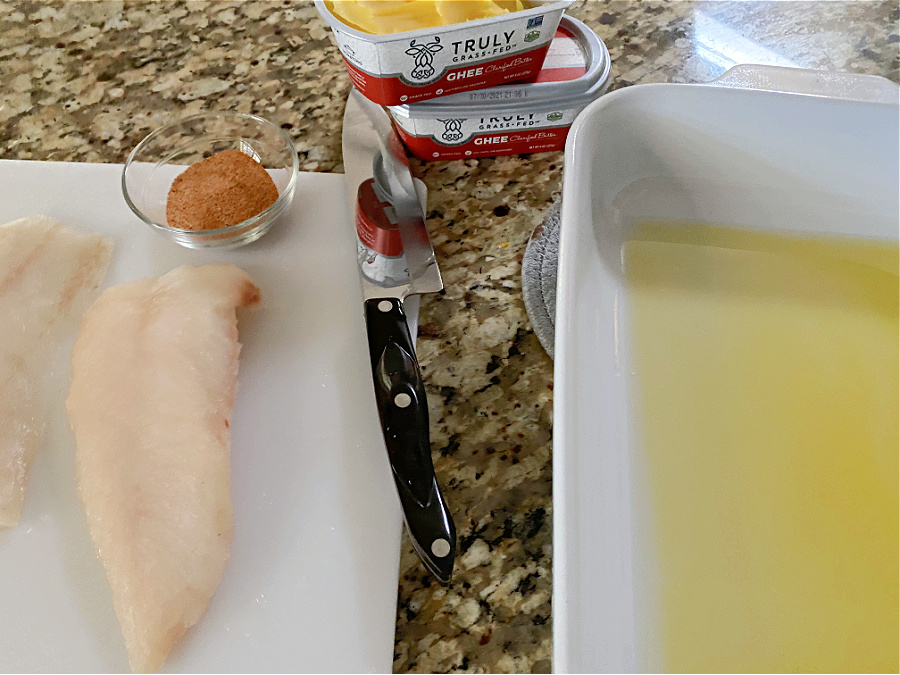 My favorite brand is Truly Grass Fed. The products come from approximately 3,000 farms located across Ireland and the farmers share deep bonds with their herds, with sustainability and animal welfare always at the top of their minds. Each farm has an average of one cow for every two acres. They adhere to the highest standards of nutrition, flavor and quality, always non-GMO, growth hormone rBST-free and antibiotic free. Products include: natural sharp cheddar cheese, natural aged cheddar cheese, naturally creamy butter salted, and naturally creamy butter unsalted. Click to find the nearest store: Truly Grass Fed Store Locator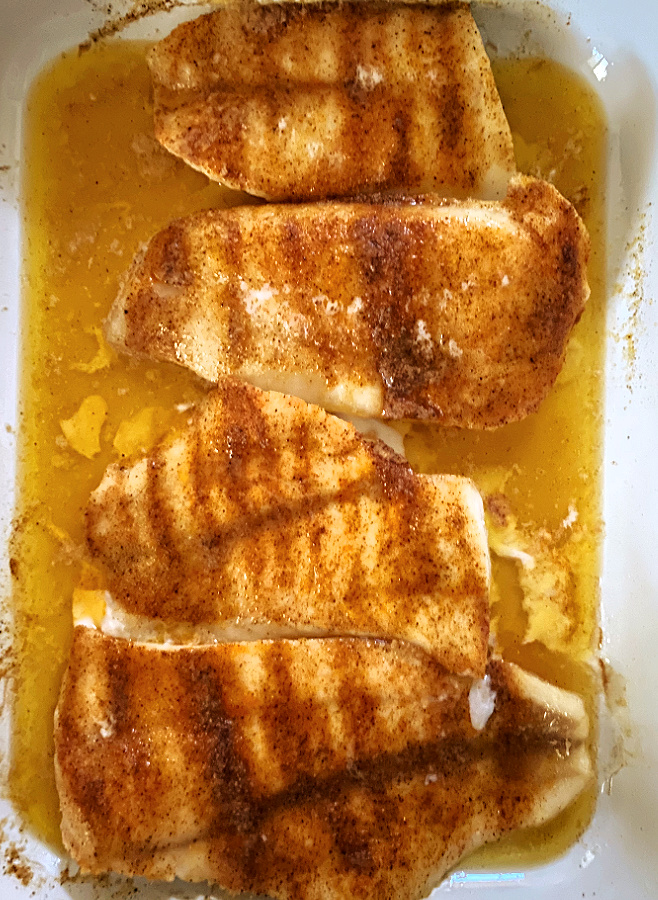 How to Use Ghee
Ghee is a great swap for butter in a lot of dishes. It's used a lot in Indian cuisine too. It would be great on:
popcorn
other seafood (cod, tilapia, shrimp, scallops)
pasta
eggs
swap for vegetable oil or coconut oil in baked goods or
use for sautéing and deep-frying
Ghee is very versatile in day to day cooking.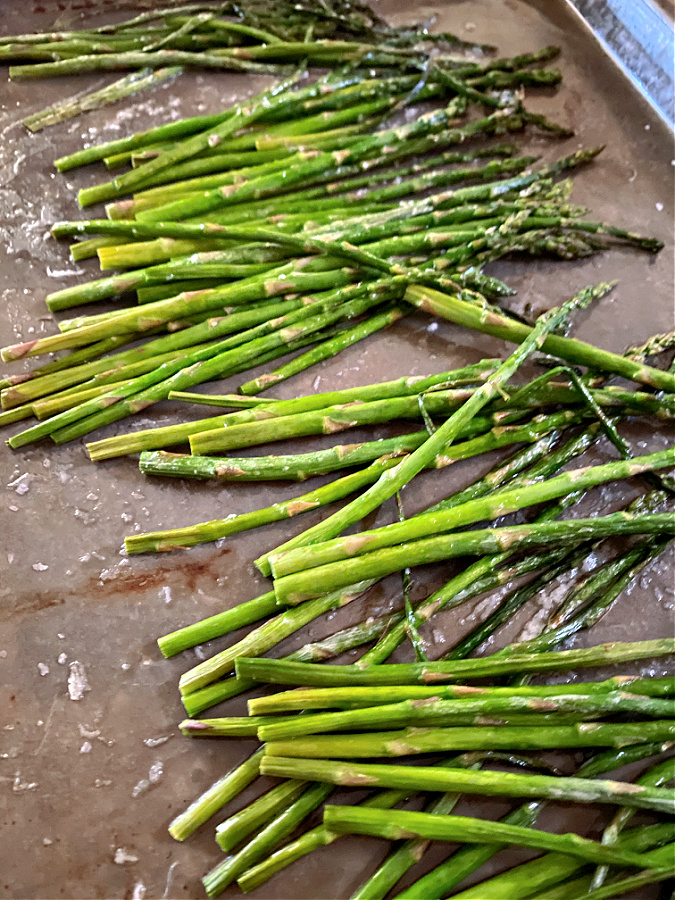 Make it a 30 Minute Meal
Y'all…this is so easy to turn into a complete meal in under 30 minutes. Hey, that's faster than takeout!
Start your rice (stovetop or in a rice cooker) first. It can sit and stay warm while everything else is cooking. Then get the ghee melting and prep the fish. Prepare the fish and have it ready to go. Then prep the asparagus by washing, cutting off the ends, placing on a baking sheet then add a drizzle of olive oil and a sprinkle of coarse Kosher salt. Put the fish and the asparagus in the oven at the same time (different racks).
Both the fish and asparagus take about the same time to cook. Toss the aspargus about halfway through the cooking time though. If it needs to cook a little longer after the fish is done, pull the fish out and put a foil tent over the fish to keep it warm.
Bam! Dinner in 30 minutes!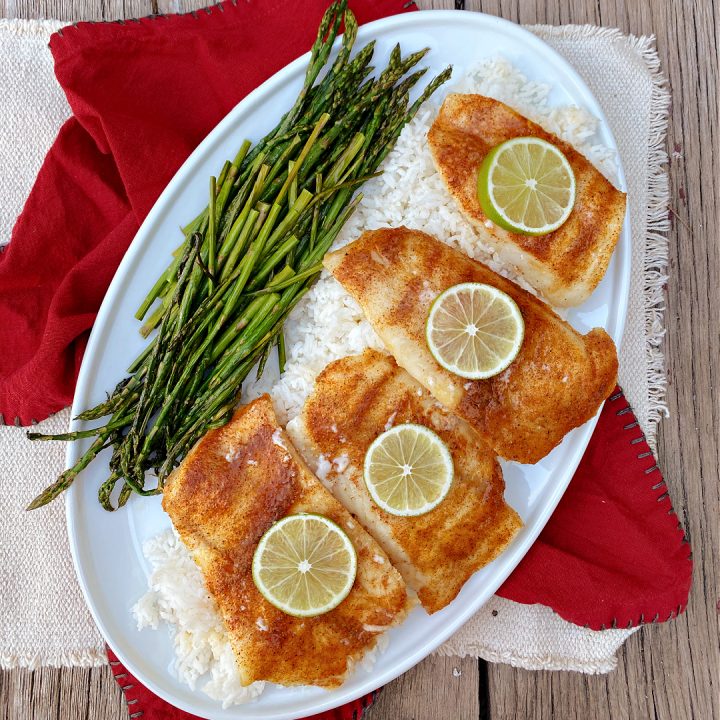 Cajun Oven Baked Cod
Cajun Oven Baked Cod is ready in under 30 minutes and perfect for a quick weeknight supper (including sides). Homemade cajun seasoning and ghee, gives the cod so much flavor that the whole family will love it.
Ingredients
4 Cod fillets
3 tablespoons Truly Grass Fed Ghee Clarified Butter
2-3 tablespoons cajun seasoning (recipe below or use a store bought blend)
Instructions
Preheat oven to 350F.
Add ghee to 9x13 inch dish and place in the oven for 5-10 minutes to melt the ghee. Remove from oven.
Dip each cod fillet into melted ghee, then flip and coat the bottom side in the ghee. Leave cod in the pan.
Heavily sprinkle the cod with the cajun spice mixture.
Bake in 350F for 15-20 minutes or until cod is opaque and flakey and reaches an internal temperature of 145F.
Serve over rice and spoon extra ghee from the baking dish over cod and rice for serving.
Notes
Homemade Cajun Seasoning
2 teaspoons coarse Kosher salt
2 teaspoons garlic powder
1 1/2 teaspoons onion powder
1 ¼ teaspoons dried oregano
1 ¼ teaspoons dried thyme
1/2 teaspoon ground black pepper
1 teaspoon cayenne pepper
½ teaspoon red pepper flakes
Recommended Products
As an Amazon Associate and member of other affiliate programs, I earn from qualifying purchases.
Nutrition Information:
Yield:

4
Serving Size:

1
Amount Per Serving:
Calories:

225
Total Fat:

5g
Saturated Fat:

2g
Trans Fat:

0g
Unsaturated Fat:

2g
Cholesterol:

107mg
Sodium:

2578mg
Carbohydrates:

2g
Fiber:

1g
Sugar:

0g
Protein:

41g
This nutritional information is an estimate may vary, depending on brand and type of ingredients used. It is not intended to replace the advice of a licensed dietician or physician.
Pin this recipe to your favorite Pinterest board: