This post may contain affiliate links. Please read my disclosure.
This post is in partnership with KC Steaks.
Celebrate any day with a delicious grass-fed filet mignon drizzled with a rich goat cheese sauce for a truly decadent meal.
Be sure to sign up for my email list….seasonal recipes in your inbox every week!
When it's my turn where we go for date night, I almost always pick a steak house. The quality of a steakhouse steak is unreal…so tender, juicy, and melts in your mouth. Plus there is almost always a selection of "fancy sauces" as we call them to dress them up.
But why do we spend a $150 to go out for a date night when I know I can grill a steak and make something just as good at home…dare I say it's even better than going out. Once I learned how to master my gas grill and my charcoal grills there was really no reason to go out any more.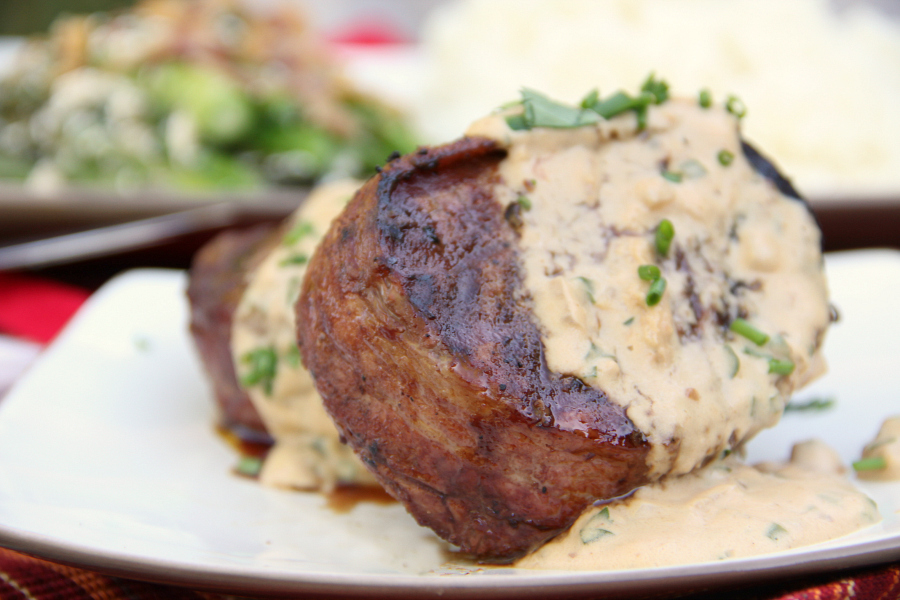 I've had my share of quality steaks and different brands, but my favorite are the steaks from Kansas City Steaks. Honestly, these aren't my every day steaks, but the ones I choose 100% of the time for special occasion meals like Father's Day, our anniversary, Valentine's, and date night.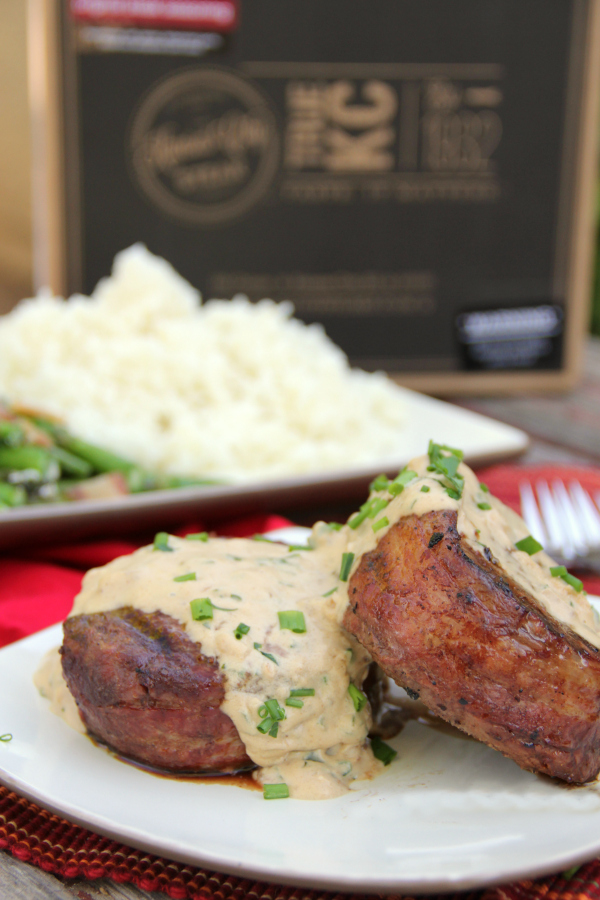 I love these steaks because they are from grass fed cows with perfect marbling and even have the American Heart Association certification. KC Steaks are hand-trimmed USDA beef, aged for 28 days, and have the most amazing flavor. And they are totally worth every penny.
A word of caution, please read the info packet that comes with the steaks as cooking a grass fed steak is a little different from a corn-fed steak and I'd hate for you to over cook one of these.
Learn More about Grilling with my How To Grill Series, 10 BBQ Grilling Tips, and How to Clean your Grill posts.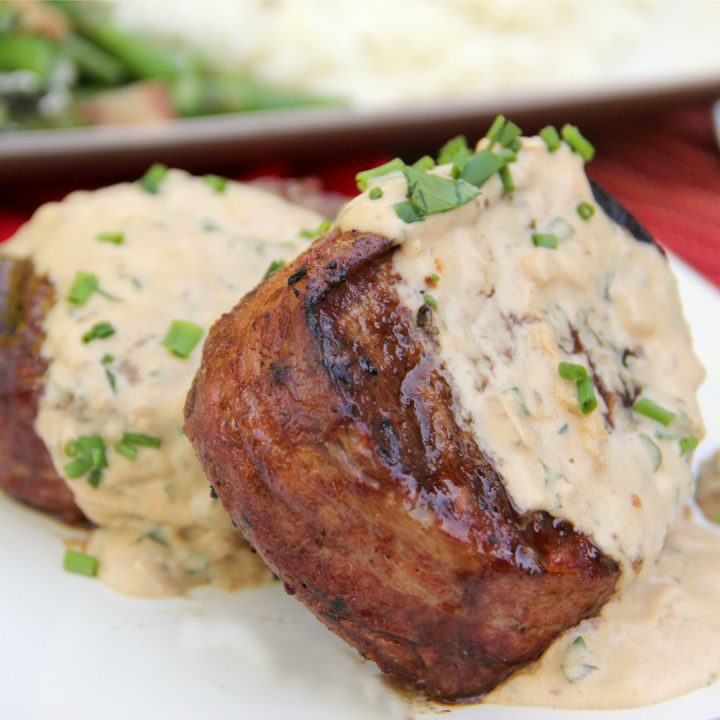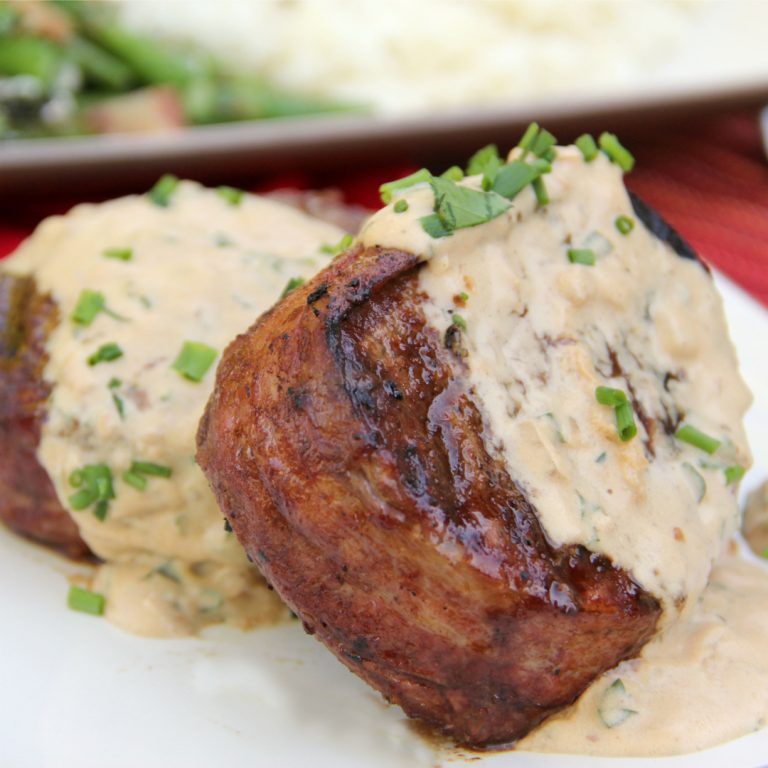 Filet Mignon with Goat Cheese Sauce
Celebrate any day with a delicious grass-fed filet mignon drizzled with a rich goat cheese sauce for a truly decadent meal.
Ingredients
4 (8oz) Kansas City Steaks Filet Mignons
1 tbls salt
1 tbls pepper
1 tbls garlic powder
1 tbls olive oil
1 shallot, fincely minced
3 cloves garlic, minced
1/2 tsp ground cumin
1 cup milk (almond, soy, cow)
3 oz crumbled goat cheese
1 tbls chopped fresh chives
1 tbls chopped fresh parsley
Instructions
Thaw steaks and set grill direct grilling over medium high heat. Season steak with seasoning packet or sprinkle evenly with salt, pepper, and garlic powder on both sides.
Cook steaks according to KC Steaks grilling chart or for about 6 minutes on the first side, 4 minutes on the second side, and finally turn steaks on their sides for a quick 1-2 minutes to crisp up the bacon. This should be about medium rare-medium doneness.
While the steaks cook, saute the minced shallot and garlic in olive oil over medium high heat until tender, stirring often, about 5 minutes. Add in the cumin and cook for another minute. Lower temperature to low and stir in milk, turn back up the temperature to medium high and bring to a boil. Stir in goat cheese and let simmer until thickened. Finally, stir in chives and parsley right before serving.
When steaks are fully cooked, remove from heat and let them rest 5-10 minutes. Serve with warm goat cheese sauce.
Nutrition Information:
Serving Size:

1
Amount Per Serving:
Calories:

815
Total Fat:

49g
Saturated Fat:

20g
Cholesterol:

204mg
Sodium:

2907mg
Carbohydrates:

22g
Sugar:

15g
Protein:

65g
Be sure to follow me on Instagram and tag #amftrecipes when you share one of my recipes….so I can see all the wonderful recipes YOU make!
Connect with Around My Family Table!
Make sure to follow me on social media, so you never miss a post!
Facebook | Twitter | Pinterest | Instagram | Bloglovin' | Google+
Sign up to receive seasonal recipes once a week or
receive an email in your inbox for each new recipe: