This post may contain affiliate links. Please read my disclosure.
I'm currently snacking on these tangy little morsels as I type this. Crumbs trailing from my plate to the keyboard. And I don't even care.
And P.S. they are DE-LIGHTFUL with a mug of hot tea. It's been quite rainy and overcast here in Arizona lately, so I've been trying to bake and cook up some sunny recipes over at Nosh and Nurture to entice Spring. I love this time of year, when it's still a little cool and you can picnic and go hiking before the state turns into a 115 degree inferno.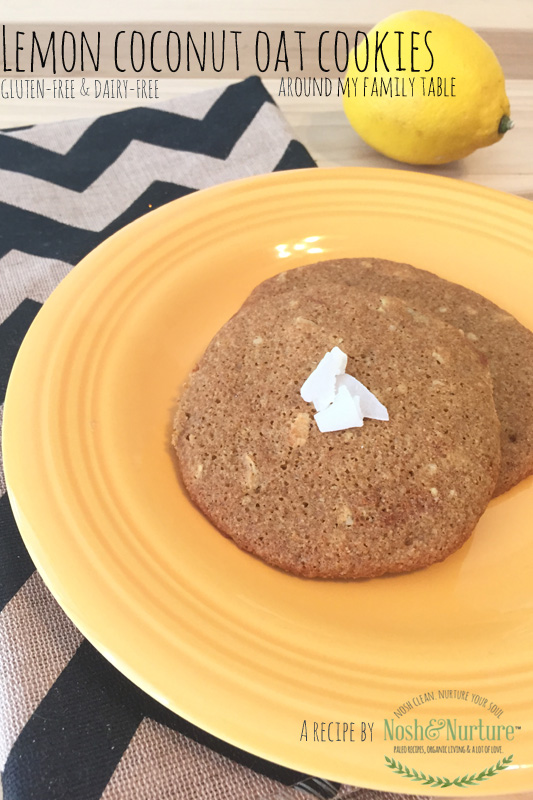 It's a funny story how I stumbled upon making these cookies. I was grocery shopping the other day and I came across an ADORABLE ceramic berry basket. It was a cheerful shade aqua blue, (one of the primary colors of my kitchen) and I had to have it. A total impulse buy. But when I got it home I realized I didn't have any berries to put in it so I filled it with lemons. Lemons that had no set plan for where they would end up, as I'm usually not big on citrus. Squeezed over a grain-free chow mein dish perhaps? Added to a smoothie? And then, as I was up late writing last night I got an intense craving for COOKIES.
And the fruit had found it's home. It took some experimenting as I turned my kitchen into cookie bake-off central. I used various flours to try to find the right combination and in the end my gluten-free oat flour took the cake… er, cookie.
The end result is a soft, zesty cookie that is naturally sweet with a citrus kick. If you like your cookies crunchy, pop them in the fridge to set for a while before enjoying. If you aren't a huge citrus fan, check out these scrumptious Coconut Chocolate Chip Oatmeal Cookies….they're gluten free too!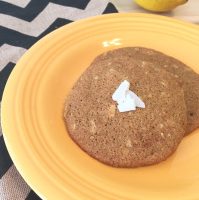 Lemon Coconut Oat Cookies
These allergy-friendly cookies are Gluten-Free, dairy-free, refined sugar-free, nut free, and soy free.
Ingredients
1 Cup Gluten-Free Oat Flour
3 Tbsp. Fresh Organic Lemon Juice
1 Tbsp. Fresh Organic Lemon Zest
1/4 C. unsweetened coconut flakes
3 Tablespoons of softened dairy-free, soy-free butter
Dash of Sea Salt
1/2 Tsp. Baking Soda
1 Organic Egg
1/4 C. Raw Honey (I used Bee Free Apple Honey)
1 Tsp. Organic Vanilla
Instructions
Preheat oven to 350 degrees. Line cookie sheet with parchment paper. (This step is crucial because the cookies are thin!)
Mix all ingredients in a medium sized bowl until well mixed. A spoon should suffice.
If batter is too thin, add more flour, although 1 C. was plenty for me.
Drop batter onto cookie sheet with a teaspoon and spread to make a circle. It should be thin but not to where the batter becomes transparent. You want them to be able to bake up a little in the center.
Bake for 10-12 minutes until golden.
Let cool and gently remove from parchment with a spatula.
Enjoy soft from the oven or refrigerate for a crispy cookie.
Nutrition Information:
Yield:

12
Serving Size:

1 cookie
Amount Per Serving:
Calories:

92
Total Fat:

3g
Saturated Fat:

2g
Trans Fat:

0g
Unsaturated Fat:

1g
Cholesterol:

18mg
Sodium:

83mg
Carbohydrates:

14g
Fiber:

1g
Sugar:

8g
Protein:

2g