This post may contain affiliate links. Please read my disclosure.
Cool and creamy Lime Mint Frozen Dessert…just like those yummy jello cool whip pies, but a little healthier!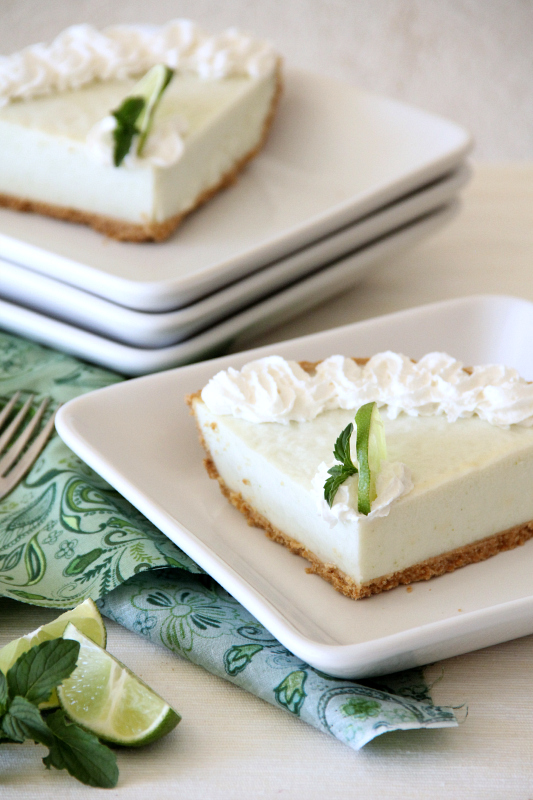 Do you remember those super yummy cool and creamy Jello Cool Whip Pies? Of course you do…there is something that screams summer about them…plus they are just so darn easy to throw together! But they are full of dyes, chemicals, and weird ingredients. What if I told you you could make your own with no dyes, no jello and no cool whip! It's just as cool and creamy as the original and you can certainly change up the flavors, but I think you will love the grown up lime mint flavor in this pie.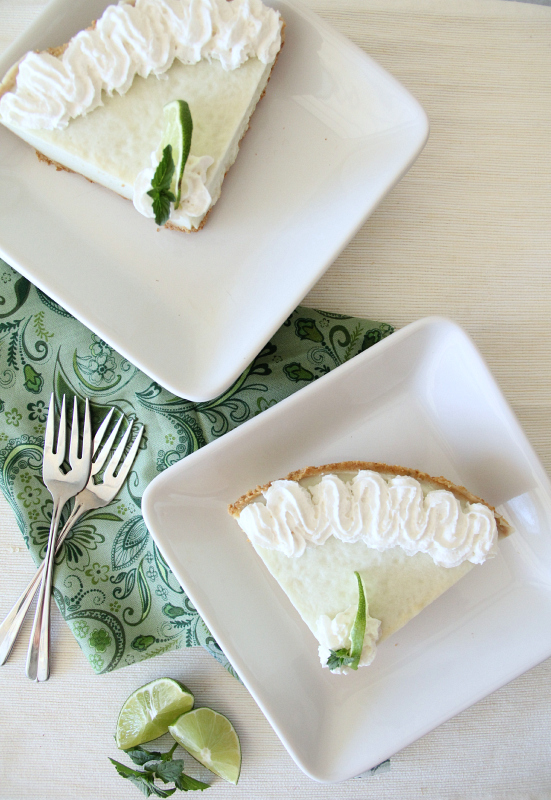 I've been growing mint in my garden this summer and my friend has a beautiful lime tree so I snagged some of her limes. I love using ingredients that I've grown or that come from a friend's garden…it just makes every taste so much better. If I can grow some things here in the hot AZ desert then I'm sure you can grown some fresh herbs where you are.
If you can't get a hold of limes right now or they are too pricey, try key limes…that would be amazing. Of course you could easily substitute other fruits for the lime/mint. I'm thinking strawberry/mint, peach/thyme, or even something crazy like lemon/basil would be good. Or just stick with fruit if you think the kids won't like it; however, my kids both loved the lime/mint combo. The mint flavor is very mild but adds just a little something else to the flavor.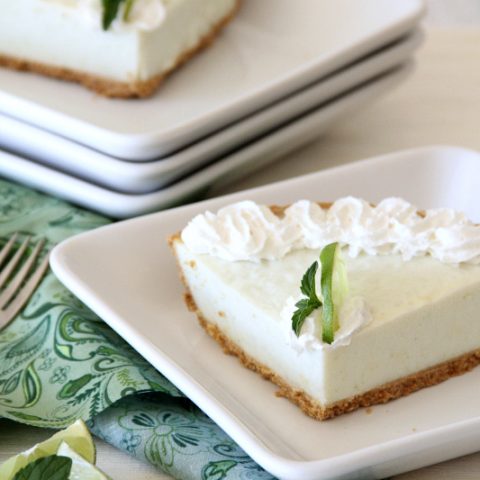 Lime Mint Frozen Dessert
This frozen dessert is perfect for summer. Creamy, cool, coconut-lime flavor and if you use a prepared graham cracker crust, it's a no-bake dessert!
Ingredients
1 1/2 packets unflavored gelatin (I used Knox brand)
¼ cup water
13.5 oz unsweetened coconut milk (1 can)
1 cup lime juice (freshly squeezed)
zest of 1 lime
4 mint leaves
1/2 cup agave syrup
8 ounces gluten-free graham crackers*
3 tbsp butter substitute, melted (I used Earth Balance)*
Instructions
To prepare the pie crust, preheat oven to 325F.
Process graham crackers into fine crumbs using a food processor with a metal blade. Slowly add the melted butter and process until the mixture is slightly damp and holds together when squeezed.
Press the crumbs into a 9 inch pie pan and bake for 7-8 minutes or until the crust is lightly golden.
Remove from oven and cool the crust on wire rack.
Once the crust is cooled, prepare the filling. In a small bowl sprinkle the gelatin over water. Stir briefly to make sure all the gelatin gets wet and then set aside for about 5 minutes before using.
Meanwhile, place the coconut milk, lime juice, mint leaves, and honey into a blender and process until completely smooth. Set aside.
Place the bowl of soaked gelatin in your microwave and with 10-15 second bursts on high power, melt until it turns into a crystal clear liquid. Watch closely so it doesn't bubble over. Add gelatin to the blender while it's slowly running. Blend on medium high for a minute to make sure every thing combined.
Pour filling into the cooled pie shell. Chill pie in refrigerator for 4-6 hours or overnight. Top with whipped cream of choice and serve chilled.
Nutrition Information:
Yield:

8
Serving Size:

1 slice
Amount Per Serving:
Calories:

229
Total Fat:

8g
Saturated Fat:

4g
Trans Fat:

0g
Unsaturated Fat:

4g
Cholesterol:

11mg
Sodium:

173mg
Carbohydrates:

37g
Fiber:

2g
Sugar:

17g
Protein:

4g