This post may contain affiliate links. Please read my disclosure.
We love Disney, especially anything related to Mickey Mouse. I wanted to share some Mickey inspired treats that you could make for a party or any other fun Mickey themed day. Sometimes it's fun to make a cute treat and watch a Mickey cartoon or movie with the kids. My new favorite is the "Get a Horse!" short before Frozen. Modern and classic Mickey. It reminds me of another favorite, "Building a Building" when Mickey works at  a construction site and Minnie sells him a box lunch. Feel free to share your favorite Mickey below. I hope you enjoy this round-up of 30+ Mickey inspired treats!
Mickey Food
Turkey Mickey Meatloaf with Carrot Ketchup (pictured)
More Sandwiches with Minnie Ideas (pictured)
Very Veggie (and Fruity) Disney Treats
Mouse-ke-dillas (pictured)

Desserts
Minnie Mouse Cupcake (pictured)
Ear-resistable Macarons (pictured)
Mickey Donuts (pictured)
Minnie Mouse Oreo Cookie Heads (pictured)
Mickey Cake Pops (pictured)
Mickey Pops
Cake Pops (pictured) in Spanish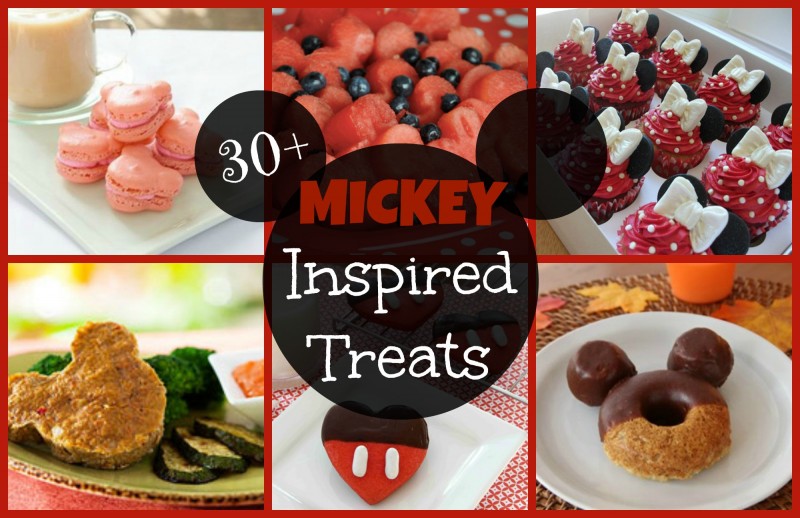 Party Ideas
Minnie Mouse Pool Party (pictured)
Minnie/Mickey Mouse Birthday Party Decorations, Cake, Ears, and More
Holiday Ideas
Mickey's Chocolate-Dipped Valentine Cookies (pictured)
Valentine Mickey Meringue Cookies Dipped in Chocolate
Not So Scary Halloween Cupcakes
Mickey and Minnie Peppermint Swirl Cookies
Wanting to take a Disney Vacation but worried about the cost? Check out my tips for how to plan a trip to Disney on Budget.
Join the Club!
Get delicious recipes delivered straight to your inbox each week! Plus learn how to take back suppertime in your home.

And get started with my NEW Take Back Suppertime 5-Day Jump Start Guide.