This post may contain affiliate links. Please read my disclosure.
Visiting Disney on a Budget isn't hard, as long as you do a bit of planning and preparation before you leave home. We've got the tips and tricks to help see the most for your money!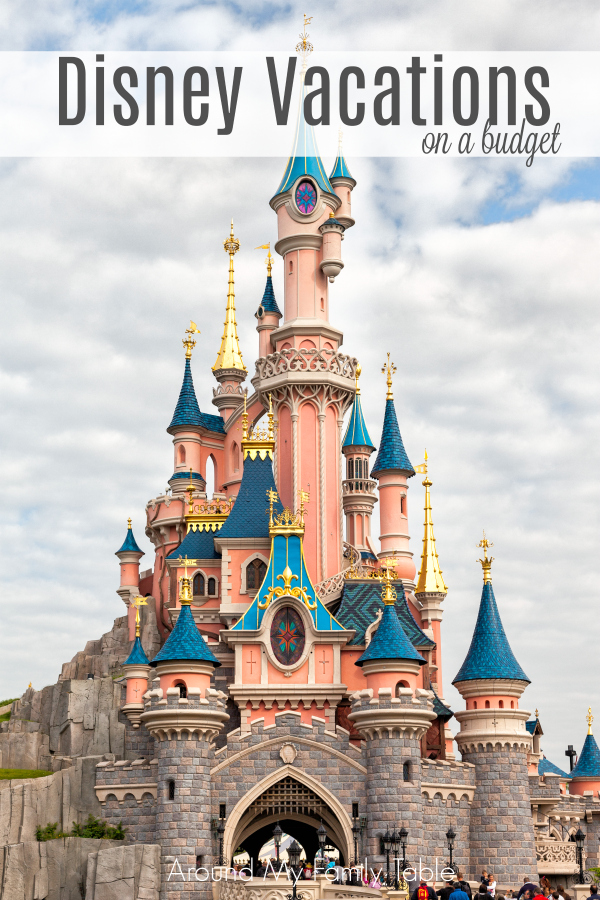 How to go to Disney on a Budget
Our family loves Disney! (Who doesn't, right?) Something I don't love, though is worrying about money on a family trip or vacation. The best way to enjoy Disney with your family is when you have worked out the nitty gritty ahead of time and can just let go and have fun. It may seem like a trip to Disney is out of the question when money is tight. Vacations are not necessities, they are a luxury, but Disney on a budget is doable if you are farther in the steps and are able to save so you can pay in cash. These tips will tell you how to save money at Disney.
Planning a Disney Trip on a Budget
Don't be afraid to shop around for the best deals. It might be cheaper to book through a vacation broker or not, depending on time of year.
Get Away Today– Guarantees the best price on their vacations, if by chance you find something cheaper, they will not only match it, but they will beat it by $10! They also offer layaway packages so you can make payments up to two weeks before your visit. This may be a great option to save and have everything pretty much paid for before your trip. Also, if you book a Southern California vacation, be sure to use promo code FamilyTable to save $10 on your hotel and tickets package.
Costco Travel– Exclusive to Costco members, similar discounts and packages.
AAA– Exclusive to AAA members, offers a number of vacation packages.
Grocery Stores- Did you know that many grocery stores offer Disney Park tickets and gift cards? A great idea for saving up for a trip. Say you are planning a trip in 6 months- every month as part of your budget, you can buy a gift card and tuck it away. When your trip comes, you already have your tickets and spending money taken care of.

Disney gift cards can be used at Disney Stores across the U.S., online at DisneyStore.com, as well as select locations at Walt Disney World Resort, Disneyland Resort and Disney Cruise Line. We bought several cards before our trip and used the grocery fuel rewards we accrued for gas when we were traveling. They limit your spending so you don't go over budget. You can also charge to the room at the park if you are staying at a Disney Resort hotel and pay off your room charges with the cards.

Disney Resort hotels offer the magic hour where you can get into the park an hour earlier than general admission. This may help you plan your day if one park opens earlier. You can also send souvenirs purchased in the park to your hotel so you don't have to carry it all day! They also have great pools and fun activities. Consider spending some of your trip relaxing if you are staying several days. It might be nice to break up your stay.


Freebies and Cheaper Alternatives
There are many tricks and tips you can learn that will really pay off. Did you know you can bring your own food into Disney? A picnic lunch or packing snacks to minimize your spending inside the park can really save you money. Here are some other things to plan for:
Before your trip:
To build excitement and help plan your trip, request a free vacation planning DVD from Disney and also free customized park maps.
Start a Disney Money Jar or "sinking fund" (where you sink money from your budget in this fund to make it grow before your trip). You can even make it an incentive for kids to do extra chores, etc.
Get your gear ready beforehand. This includes princess dresses, pirate costumes, and Mickey shirts. Buy from your local Disney Store or DisneyStore.com on sale before you go. The last time we went, I found some clearance Mickey shirts at Target for $6, and $5 for little ones. It was perfect because then I could coordinate our outfits each day, too.
Save on souvenirs in the same way. I surprised my kids by placing Disney stuffed animals and goodies in the room while we were out. I bought it all before our trip and payed a lot less! The pressed penny machines are also a fun souvenir and only cost .51 a piece. Save quarters in a container before you go.
Sign up for birthday rewards. Many restaurants are included in the Patina Restaurant group and several are located in Downtown Disney. By registering your email, they will send you a coupon valid within 60 days of your birthday for $30-$50 off your meal. We had one night where we splurged and ate at a fancier restaurant- I saved $50 with my coupon code! You can also make a reservation at any of these restaurants.
During your trip:
Use the FASTPASSES wisely. Plan your day a little and save your place in line while you enjoy other attractions.

Look for the FASTPASS Distribution sign near the entrance of an attraction.
Check the Return Time displayed on this sign.

Order from the kids menu or split an entree. Larger portions makes sharing enjoyable.
PhotoPass Cast Members will take (free!) photos of you with your camera. That said, it is usually a good idea to use the PhotoPass.
Free water cups are offered at all the food service locations that carry soda.
Guest relations will give you a button if it is your first trip, birthday, or anniversary. Great for making celebrations extra special.
Do you have allergy restrictions? Check out my post on allergy friendly dining at Disney.
Look for the custodians in white- they have park maps and free pins for trading.
Send a postcard. It will be post marked with Disneyland or DisneyWorld and is a great cheap souvenir. You can even sign it from your child's favorite character, or better yet ask the character to autograph it!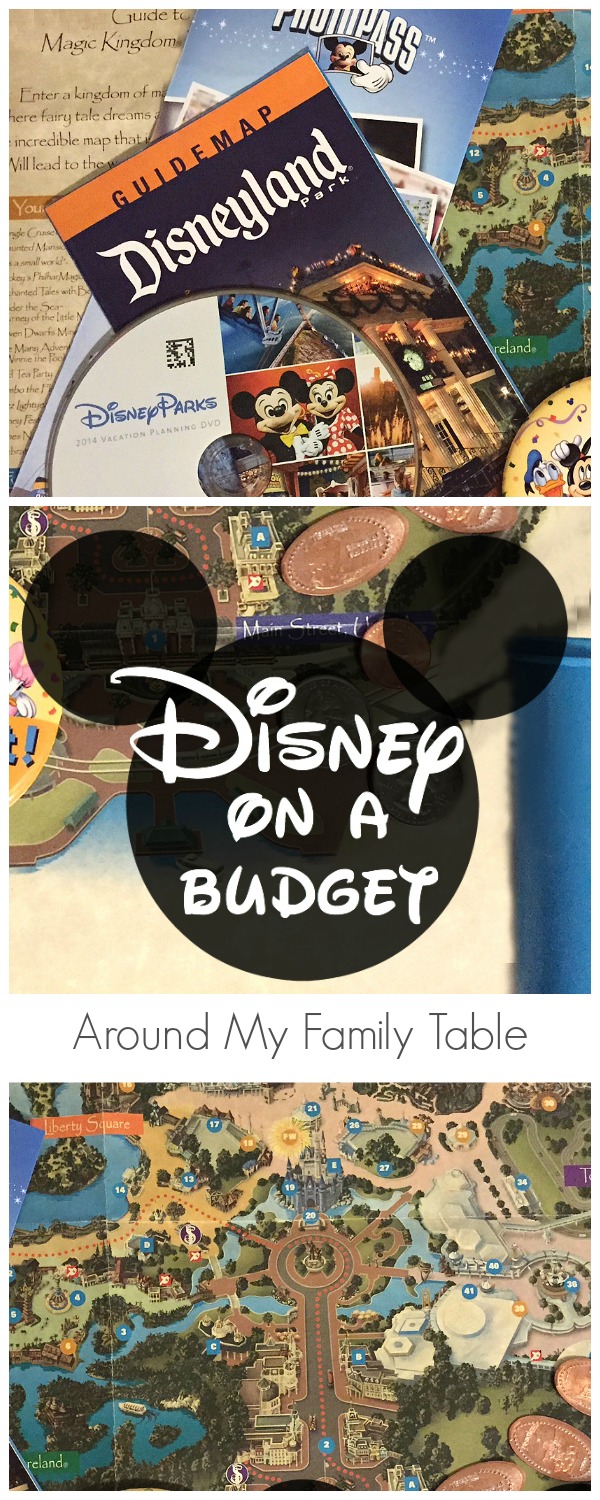 Disney on a Budget
Disney offers a special kind of magic. Here are a few tips to maximize the magic and avoid meltdowns.
Have a little one under 3? FREE! I heard an employee say that many parents bring kids right before their third birthday.
Know your child's height before you go. They will measure several times, but it can help prepare your child. Another suggestion is to divide and conquer (one adult goes with the older child and one takes the smaller child on another ride).
Baby Care Center- An adorable little store with baby supplies like extra diapers for about a dollar or so each, they also have changing tables, smaller toilets for those potty training, and a quiet place to nurse. A very welcoming sight for those with smaller children!
If you don't see your stroller right away, it was probably moved by a cast member. Consider placing something on the stroller that will stand out. At night, glow sticks are a nice option.
Rider Switch- This is the BEST thing if you have smaller ones with you. Rider switch allows one adult to stay with an infant or smaller child while the other enjoys the ride. (Make sure to ask at the start of the line for the rider switch.) The attendant will hand you a ticket (similar to a fast pass) that allows you to switch places with the other adult and bypass a portion of the line. Brilliant!
Disney employees will replace popped balloons, spilled drinks, dropped ice cream, etc. No cry guarantee!
Keep receipts for your souvenirs- you can exchange them if you have the receipt and your child changes his or her mind later.
If you have really small ones, California Adventure has A Bug's Land and it is AWESOME for little ones. Consider taking older ones in the lines for Tower of Terror and the other adult can hang out in A Bug's Land with the little ones. Then use the rider switch!
Expect the Unexpected
Don't forget to budget for the unexpected: you may end up forgetting the sunscreen or some other necessity and have to buy it there. There is a higher price for not remembering the essentials. Including a little wiggle room is worth it so you don't have to stress. You may want to book through a vacation broker that offers insurance so you are not paying a premium if you have to cancel or change any details of your trip.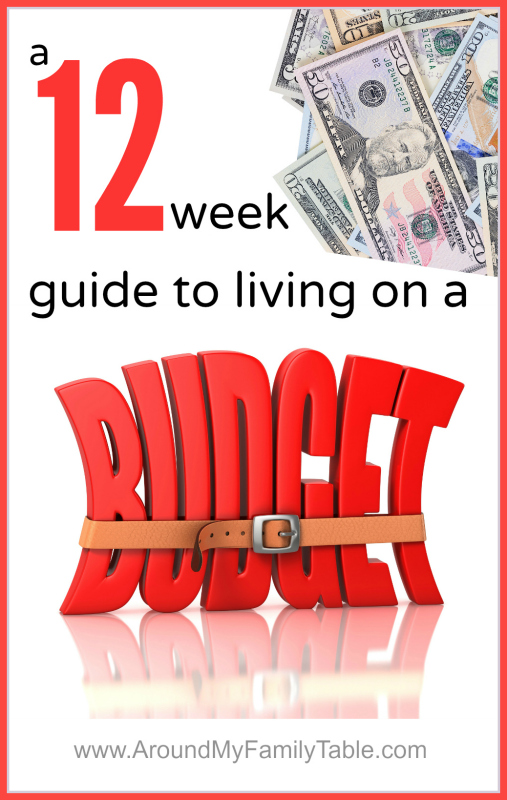 Don't forget to check out the other On a Budget posts.
Holiday Decorating on a Budget
How to Plan a Trip to Disney on a Budget
Party Favors on a Budget
Family Vacations on a Budget
31 Recipes on a Budget
Feeding a Family on a Budget
Having Fun on a Budget
Snack Ideas on a Budget
Groceries on a Budget
Military Living on a Budget
Cooking Healthy on a Budget
Menu Planning on a Budget
Dinner Party on a Budget
updated 8/13/18