Sponsored post written by me on behalf of Smithfield® Prime Fresh Pork. The opinions and text are all mine.
We fire up the grill all year long for easy suppers.  Pork Chops are great year round on the grill with just some simple seasonings, but making these Grilled Pork Chops with Cranberry Applesauce takes supper to a whole new level and turns it into a delicious holiday meal.
Be sure to sign up for my email list….seasonal recipes in your inbox every week!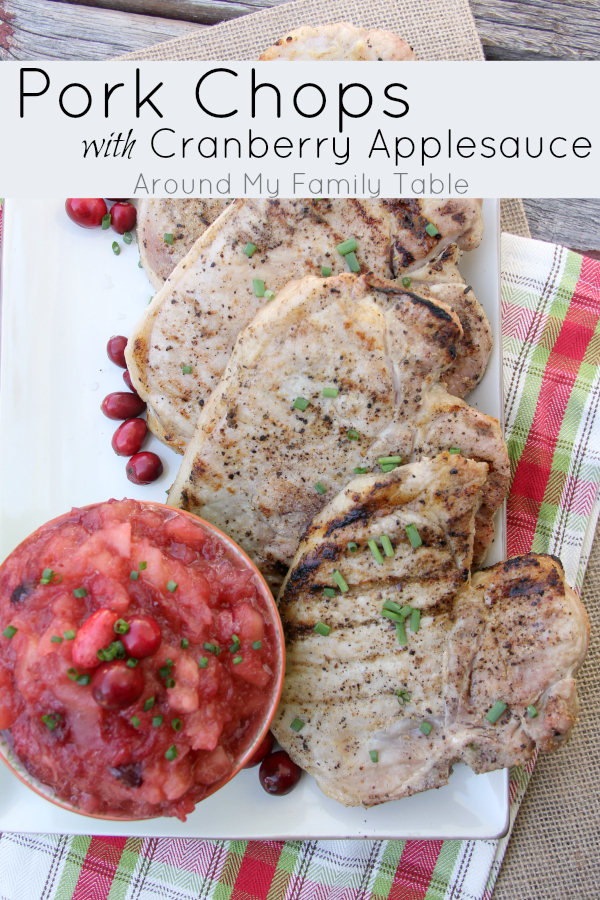 Adding in seasonal fruit and vegetables to your regular meals is such a great idea to keep things interesting and to make them feel like special holiday meals.  And even though the seasoning on these Smithfield Prime Bone In Thick Cut Pork Chops is super simple, once it's paired with this simple homemade cranberry applesauce it will rock your taste buds.
I almost always make my own applesauce when we have pork for supper.  It's just so easy and simmers away while I get the rest of the supper prepped and cooked.  The flavor of homemade applesauce doesn't compare to store bought and can be changed up for the season.  Grill up these pork chops in the summer and add strawberries to your applesauce.  It's totally customizable.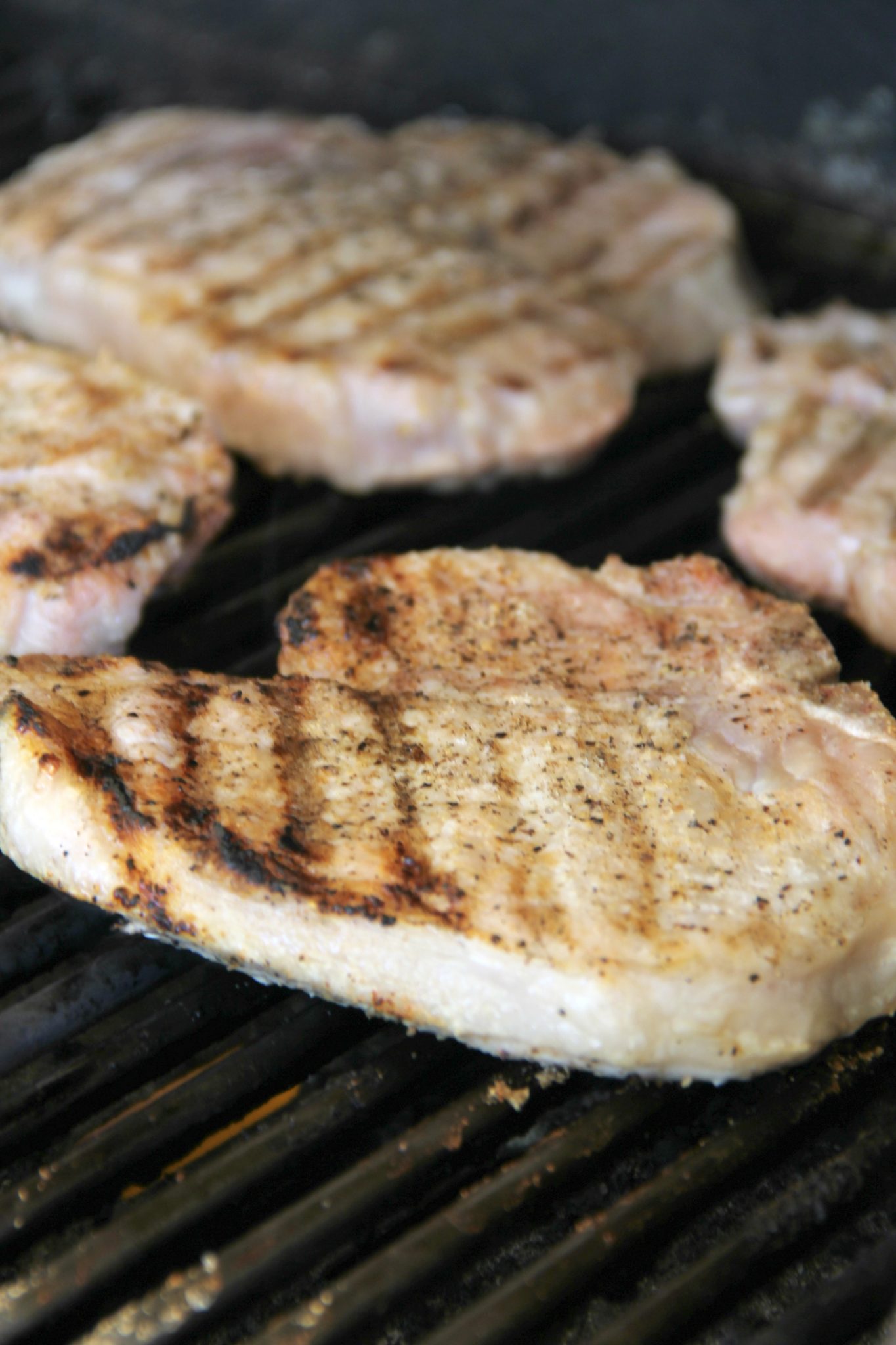 Need help with your grilling skills?  Check out my How to Grill Series which includes more info on how to perfectly grill pork than this post goes into.
These Smithfield Prime Bone In Thick Cut Pork Chops are totally the star of the supper!  They have so much flavor that I can't bring myself to do anything more than a simple salt, pepper, and garlic seasoning.
I have to say supper was a HUGE success.  There was not a bite left. The kids gave it 2 thumbs up each and hubbyman declared it a winner.  It's awesome when everyone in the family loves supper and begs for more.  In addition to the cranberry applesauce, I grilled up a big basket of asparagus with just a little olive oil and kosher salt.
Suppers don't have to be hard or time consuming, especially this time of year when everyone is so busy with holiday shopping, parties, and more.  The longest part of this meal is peeling the apples, but even with that, it was ready and on the table in about 45 minutes.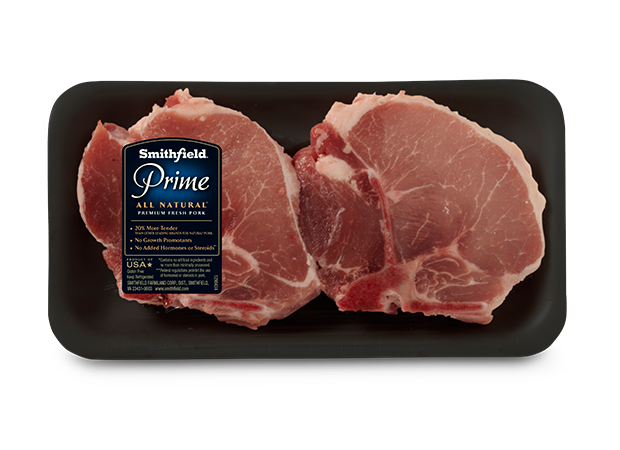 'Tis the season of pork with Smithfield Prime Fresh Pork.  Not all pork is created equal and Smithfield Fresh Pork is 20% more tender than other leading brand for Natural Pork.  There are no growth promotants, no added hormones or steroids (Federal regulations prohibit the use of hormones or steroids in pork), it's a product of the USA, and gluten free.  My favorite reason for buying Smithfield Fresh Pork is that it doesn't contain any artificial ingredients and is only minimally processed.  This makes me feel good about serving it to my family for a delicious holiday meal that is perfect for any night of the week (or anytime of year).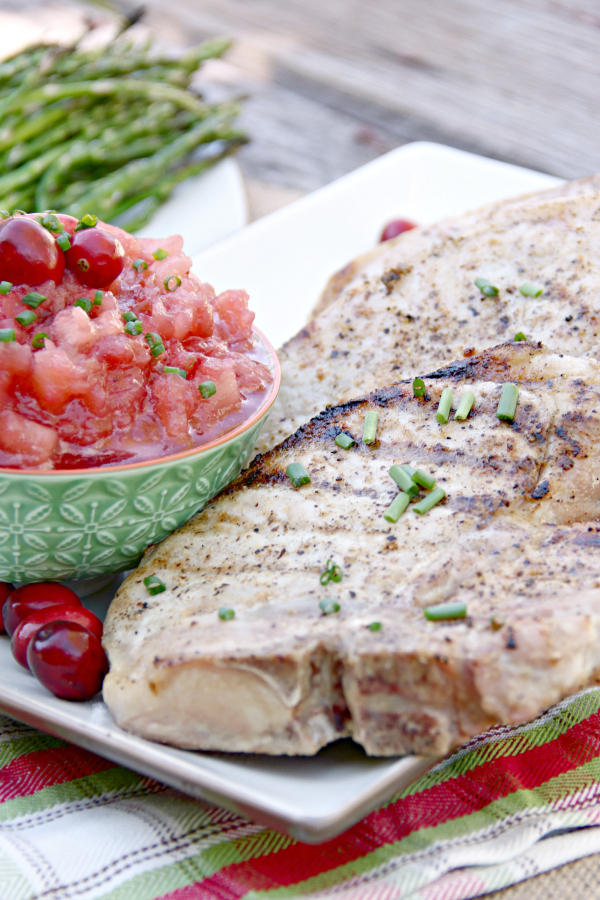 Seriously, how good does this supper look!?!??! It makes me hungry just thinking about it. My kids begged me to make this supper again later this week to use up the rest of the applesauce.
Give it a try now!  I picked it up in the fresh meat department at my local Bashas' supermarket.  Click to download a $1 off 1 Smithfield Fresh Pork Item (available from 11/14 – 12/3).
Smithfield Prime Pork | Recipes | $1 off Coupon
Be sure to follow on Instagram and tag #amftrecipes when you share one of my recipes….so I can see all the wonderful recipes YOU make!
Connect with Around My Family Table!
Make sure to follow on social media, so you never miss a post!
Facebook | Twitter |  Pinterest | Instagram | Bloglovin' | Google+ 
Sign up to receive seasonal recipes once a week or
receive an email in your inbox for each new recipe:
Grilled Pork Chops with Cranberry Applesauce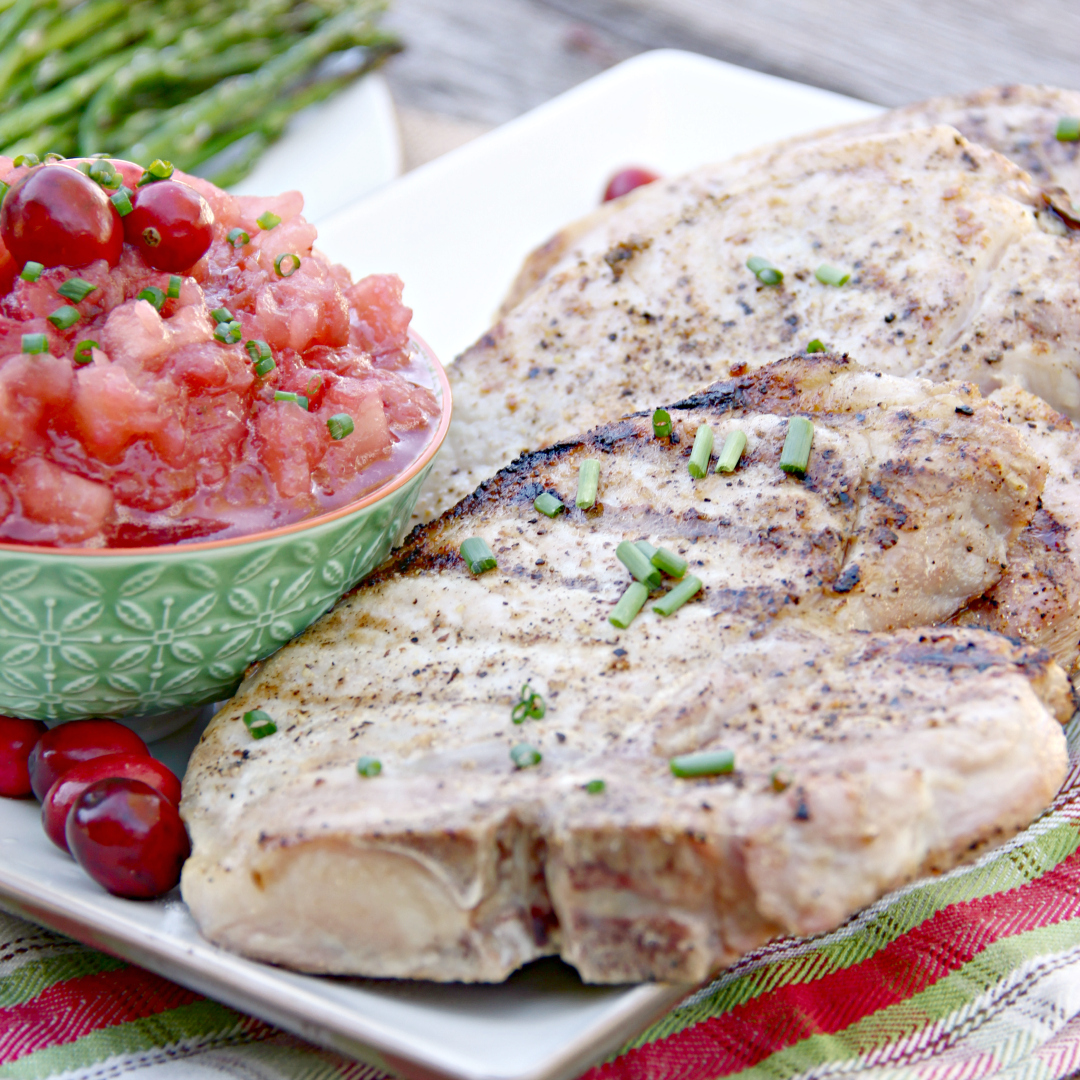 4 Smithfield Prime Bone In Thick Cut Pork Chops
Salt, pepper, garlic powder
3 pounds apples, peeled, cored, and cut into 1/2-inch-thick slices (try Gala, McIntosh, or a combo)
1 1/2 cups fresh or frozen cranberries
1/2 cup sugar
1/8 cup brown sugar
1/2 tsp ground cinnamon
3/4 -1 cup water
Pinch of salt
2 tsps freshly squeezed lemon juice
Preheat grill for medium high direct heat.
Season Smithfield Prime Bone In Thick Cut Pork Chops with salt, pepper, and garlic powder on both sides. Grill for 7-9 minutes on each side until internal temperature is 150F (a tiny bit of pink is okay). Allow pork to rest 3-5 minutes after cooking (don't cut it right away or all the juices will run out onto the cutting board).
In a large saucepan, combine apples, cranberries, cinnamon, sugar, salt and 3/4 cup water; bring to a boil. Reduce the heat; cover, and simmer. Stir occasionally to break up apples, until apples are tender (about 30 minutes). If sauce is too thick or sticks to the bottom of the pan, add additional water a tablespoon or two.) Remove pan from heat and stir in lemon juice.
If you prefer a smooth sauce, use an immersion blender to puree until smooth.
7.8.1.2
549
https://www.aroundmyfamilytable.com/pork-chops-with-cranberry-applesauce/
I do have one slight confession.  I didn't tell the kids that there were cranberries in the applesauce.  I said the red color was from the apple peel.  My kids can be picky sometimes.  Let me just say that my fib totally worked.  They LOVED dipping their pork chop bites into the Cranberry Applesauce.  Shhhh….don't tell my secret.  Promise!

Disclaimer: This post is a sponsored post written by me on behalf of Smithfield® Prime Fresh Pork. The opinions and text are all mine.
.

Join the Club!
Get delicious recipes delivered straight to your inbox each week! Plus learn how to take back suppertime in your home.

And get started with my NEW Take Back Suppertime 5-Day Jump Start Guide.