This post may contain affiliate links. Please read my disclosure.
Skip the store bought canned pumpkin and make your own roasted pumpkin. Learning How to Roast Pumpkin is easy and you get to control what goes into your pumpkin. Did you know a lot of canned pumpkin at the store, isn't pure pumpkin? It's a mixture of winter squash. Shocking I know…so make your own!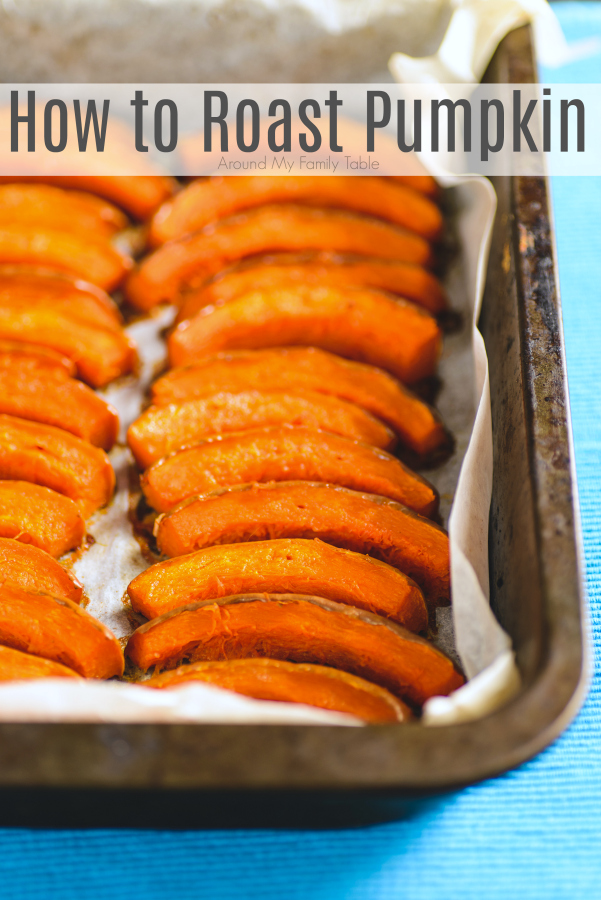 I love fall. Partly because my birthday is coming up this week and partly because I love the change in the air, leaves, and food. Every October, I buy a couple large pumpkins and make enough roasted pumpkin and pumpkin butter to last through the fall and winter. I use it a lot and give it away to friends and family too!
You don't have to can it, but I do. You could just as easily freeze it in quart sized freezer bags for when you need it.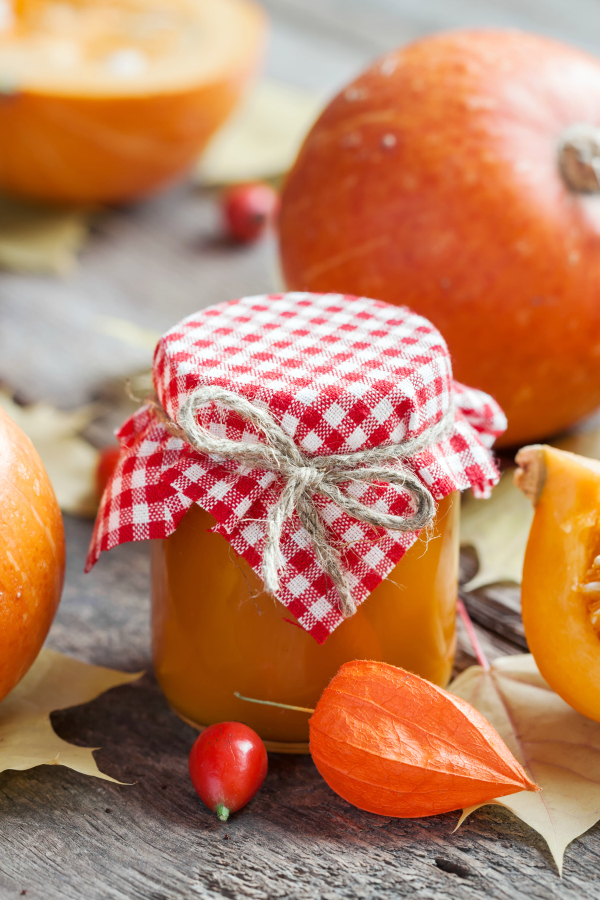 How to Roast Pumpkin
I love to flavor that roasting my pumpkin before using it gives to recipes. It's not a hard job to roast pumpkin, but I figure if I'm going to all the trouble of doing it I might as well do a whole bunch at once.
Roasting pumpkin is really as simple as washing, cleaning (save the seeds for this roasted pumpkin seed recipe), slicing, and roasting. Easy Peasy!
Canning Cubed Pumpkin
Once my pumpkins are roasted, I process them for use later in the season. I dice some for canning so they last longer and for gifts. And some I puree for freezing.
I've been canning pumpkin that has been pureed for decades. And I probably shouldn't admit that I still do it because the USDA came out several years saying that it's not safe to do it that way. I try to remember to cube my pumpkin for canning, but I don't always do it. (Be safe and do what's right for your family…I don't want y'all getting sick!)
Canning cubed pumpkin (or pureed…shhhh…I didn't say that) requires a pressure canner. So unless you have a pressure canner then it might be best to skip the canning and just freeze your roasted pumpkin.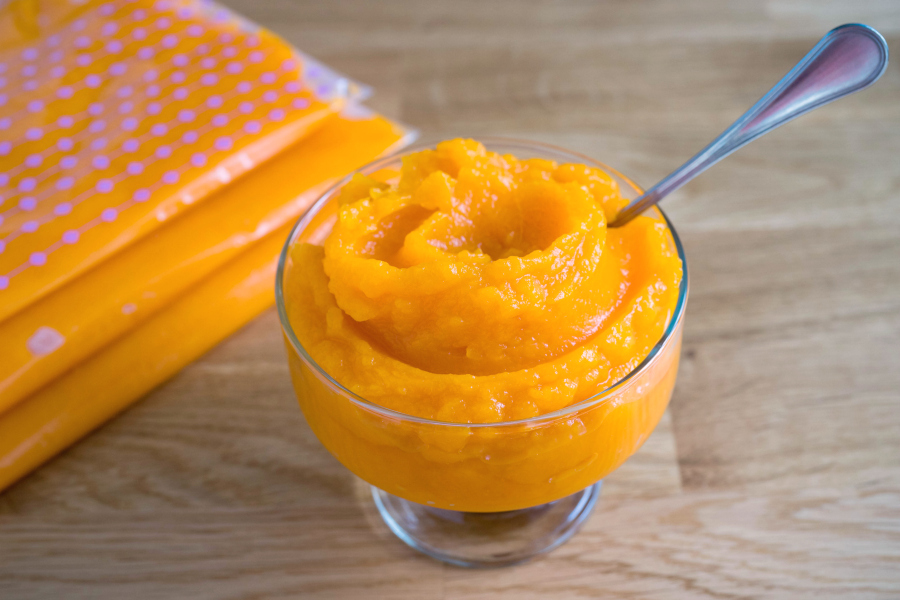 Can you Pressure Can In Your Instant Pot?
Sadly, no! You can't pressure can your roasted pumpkin in that glorious Instant Pot. The Instant Pot cannot be used for pressure canning. However, you can use your instant pot for regular water bath canning of other foods.
How to Freeze Roasted Pumpkin
If you aren't a fan of canning, but still want to batch cook some pumpkin, you can totally freeze roasted pumpkin! After it's been pureed, place the pumpkin in freezer safe ziptop baggies. Squish out all of the air and seal. Label the bags and lay flat in the freezer. Use within 3 months.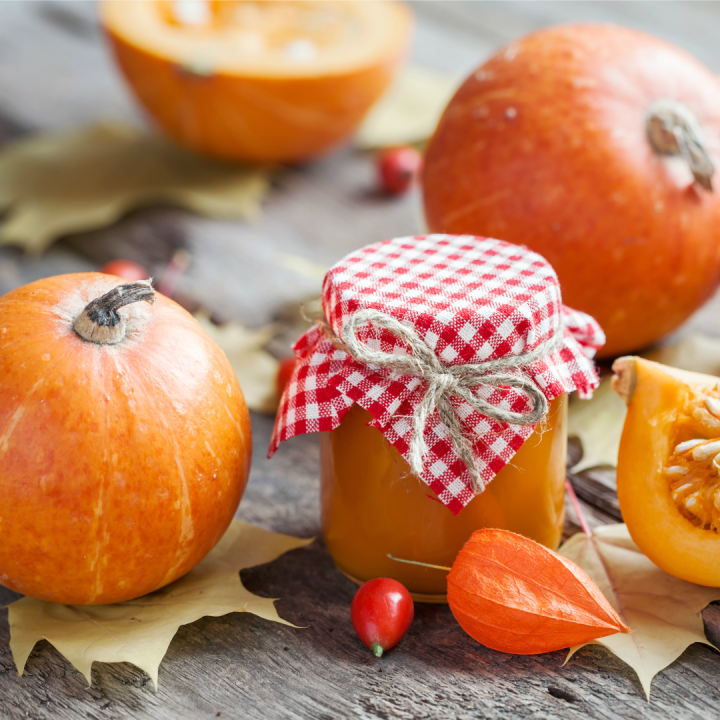 Roasted Pumpkin
Total Time:
1 hour
30 minutes
Roasted pumpkin is so easy to make! You can make this pressure canning recipe using pie pumpkins or carving pumpkins. Pie pumpkins will have a sweeter flavor and be less stringy in texture.
Instructions
Preheat oven to 400 degrees F. Wash pumpkin, carefully cut in half. Scoop out all the stringy insides (saving the seeds in a separate bowl and discarding the rest).
Cut pumpkin into strips or quarters, place cut side down on to baking sheets. Bake for about 1 hour (this really depends on the size of your pumpkin).
Pumpkin is done when you can pierce it with a fork or knife easily. Remove from the oven and cool slightly. Remove the outer skin/peel.
Once the peel is removed, chop into large chunks for canning and puree in a food processor (or with an immersion blender or even a potato masher) for freezing in bags. Or use immediately in desired recipe. (I can mine, so I put it in my slow cooker to keep it hot while my canning jars are prepped).
Pressure Canning: Prepare pressure canner. Heat jars in simmering water until ready for use, but do not boil. Wash lids in warm soapy water and set bands aside.
Pack hot pumpkin into hot jars, leaving 1-inch headspace. Add 1 tsp salt to each quart jar or 1/2 tsp per pint jar, if desired.
Ladle boiling water over pumpkin, leaving 1 inch headspace. Remove air bubbles with a butter knife and then wipe rim. Place hot lid on jar, apply band and adjust until fit is fingertip tight.
Process filled jars in a pressure canner at 10 pounds pressure for 55 minutes for pints and 90 minutes for quarts. Remove jars and cool. Check lids for seal after 24 hours. Lid should not flex up and down when center is pressed. If any don't seal, place them in the fridge for immediate use.
Freezing: After pureeing pumpkin, place desired amount into a freezer safe bag. Squish out all the air and lay flat to freeze. Use within 3 months.
Use this in place of canned pumpkin in any of your recipes that call for plain ol' canned pumpkin (aka most recipes involving pumpkin).
Notes
Tip: Freeze/Can in amounts that you would normally buy pre-canned from the store (16oz, 32 oz, etc)...It will make using it much easier.
Nutrition Information:
Yield:

16
Serving Size:

1 cup
Amount Per Serving:
Calories:

28
Total Fat:

0g
Saturated Fat:

0g
Trans Fat:

0g
Unsaturated Fat:

0g
Cholesterol:

0mg
Sodium:

1mg
Carbohydrates:

7g
Fiber:

2g
Sugar:

3g
Protein:

1g
This nutritional information is an estimate may vary, depending on brand and type of ingredients used. It is not intended to replace the advice of a licensed dietician or physician.
A Note about Canning Pumpkin
**Since I first wrote this post, the USDA has changed their minds and says it is unsafe to can pureed pumpkin. Use your own judgment if you decide to do it. I have been doing it for years and I will probably continue to do it…just wanted to give you all the info.**