This post may contain affiliate links. Please read my disclosure.
I love making a whole chicken for supper and special occasions. One it is so much cheaper than pre-cut chicken, the presentation is pretty, and my family of 4 will get at least 3 meals out of this one bird. I have exactly one bazillion and one recipes for cooking a whole chicken and this is probably one of my family's favorites.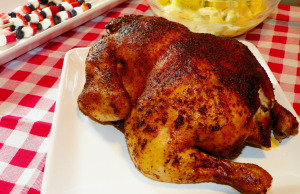 Hubbyman says it is similar to a rotisserie chicken (that's a bonus if you don't have a rotisserie) and the meat is super moist and practically falls off the bone. Don't let the cayenne fool you…it's not a spicy dish, but feel free to cut back the cayenne to 1/2 tsp if you are worried. The dry rub can be made in bulk. Store it in a cool dry place and it should last about 6 months.
This is the last post in my 4th of July picnic series. I hope you found something new to try this holiday. Check back on Monday for a way to use up any chicken leftovers.
Roasted Sticky Chicken
3 tsps salt
2 tsps paprika
1 tsp cayenne pepper
1 tsp onion powder
1 tsp dried thyme
1 tsp white pepper
1/2 tsp garlic powder
1/4 tsp black pepper
1 large roasting chicken
1 large onion, peeled and halved
1 garlic clove, slightly smashed
Preheat oven to 300 degrees. Remove neck and other organs from the body of the chicken. Wash and pat dry. Combine all dry ingredients in a small bowl. Mix well to combine. Sprinkle over chicken, gently rubbing it in. Don't forget to sprinkle some inside the cavities.
Prepare a roasting pan with tin foil and place bird breast side down into pan. Stuff main cavity of bird with onions and garlic. Place in oven and bake for about 3 hours. (Yes, 300 degrees for about 3 hours or until the chicken reaches 180 degrees.) I know this is different, but it makes a tender juicy chicken. After one hour, baste chicken (if no there are no drippings add 1/4 cup water to pan and baste). Baste every 30 minutes until done.
Remove from oven and allow to rest for 10-30 minutes before carving.
Note: You can even roast the chicken for 4-5 hours at 25o degrees.