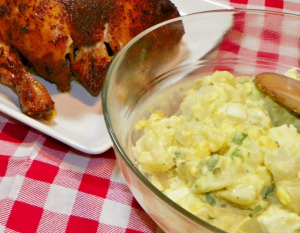 I love mustard potato salad and this is, by far, my all time favorite recipe.  It's a got a secret ingredient in it that makes all the difference!  This salad gets better the longer it sits in the fridge, so feel free to make it a day in advance.  If you don't want to make it that far ahead, plan well because it does need some chilling time.
Classic Mustard Potato Salad
2 cups Idaho potatoes, cooked, peeled, and diced (about 1 inch chunks)
2 eggs, hard boiled and finely diced
1/2 cup sweet onions, finely diced
1/4 cup celery, finely diced (about 2 stalks)
1/4 cup dill pickles, finely diced (or use dill pickle relish)
1/2 cup mayonnaise
1 tbls yellow mustard
1 tbls pickle juice
1/2 tsp kosher salt
1/8 tsp black pepper
1/2 tbls sugar
In a large bowl, combine the onion, celery, pickles, mayo, mustard, pickle juice, salt, pepper, and sugar.  Stir well to combine.  Add in potatoes and eggs.  Stir gently until well coated.
Cover and refrigerate at least 3 hours or up to overnight.  Keep this in the fridge until ready to use and make sure it doesn't sit out too long during the party!
Join my Weekly Newsletter
And get my Free Slow Cooker Resource Guide! It's full of recipes with 5 or fewer ingredients plus plenty of slow cooker tips!

Plus, you'll get access to my free EXCLUSIVE downloads & printables for newsletter subscribers.