This post may contain affiliate links. Please read my disclosure.
I love this SAUSAGE & TATER TOT BREAKFAST CASSEROLE! It's super easy to throw together and let bake while everyone gets ready for the day.
I think I've mentioned before that hubbyman loves a hearty breakfast on the weekends. This is one of those hearty dishes that he loves…and it's super easy to throw together and let bake while everyone gets ready for the day. It's great for Sunday's when everyone is rushed to get ready and out the door, but you still want a good breakfast!
Last weekend, I decided to have my parents and family over for holiday brunch to meet our new puppy, Kirby, and see the kids. Yes, the pug puppy was the major draw for the breakfast. LOL! He is really cute! But it was really nice to get together for a relaxing brunch before the crazy holiday season starts.
If you need this to go together super fast, cook up the sausage the night before or use leftover sausage from a previous breakfast. Otherwise, that's the hardest part of this meal….I'm telling you, it's so easy. Just throw it all in the pan and bake!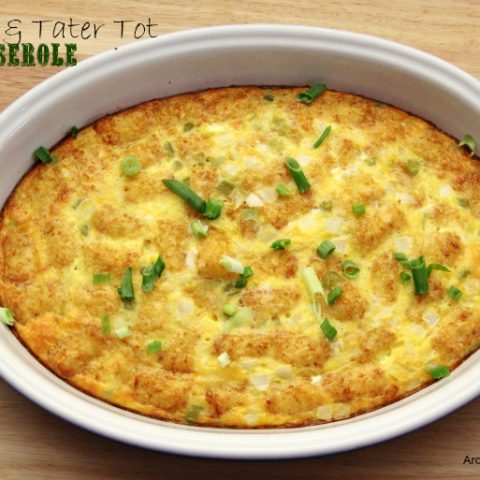 Sausage & Tater Tot Breakfast Casserole
Ingredients
6 sausage links, cooked & cut into thirds
1/2 bag frozen tater tots (~16oz)
8 eggs, lightly scrambled
1/2 cup shredded cheddar cheese
1 clove garlic, minced
2 oz diced green chiles (~1/2 a can)
1/2 small onion, finely chopped
1/2 cup milk
Instructions
Preheat oven to 375F. Spray casserole dish with non-stick cooking spray.
Put sausage and tater tots in a casserole dish.
In a medium bowl, combine remaining ingredients and mix well. Gently pour over the tots and sausage.
Cook for 45-50 minutes or until eggs are fully cooked. Garnish with a little chopped green onion, if desired.
Join the Club!
Get delicious recipes delivered straight to your inbox each week! Plus learn how to take back suppertime in your home.

And get started with my NEW Take Back Suppertime 5-Day Jump Start Guide.