This post may contain affiliate links. Please read my disclosure.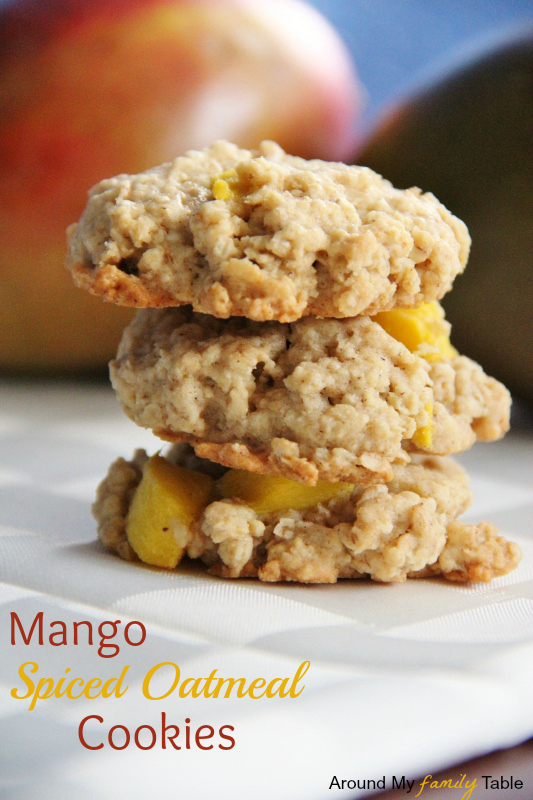 I really enjoy oatmeal cookies, but I am so tired of the normal oatmeal raisin cookies. So when I got a box of beautiful perfectly ripe mangos I knew I had to turn them into cookies! Oatmeal Cookies! So, I enlisted the help of my 3yo, grabbed the mangos, and my new fav…Irish Oatmeal…and started baking!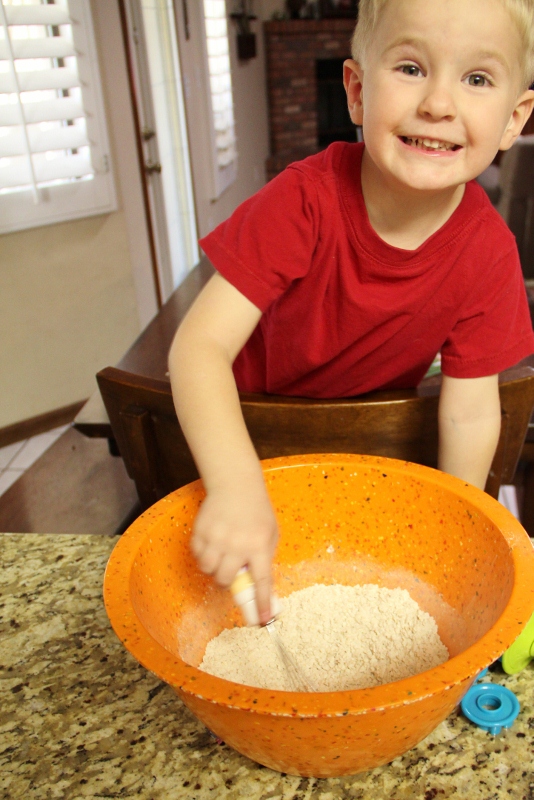 That's my happy helper for the day! It was actually his first time helping make cookies. He was so excited to cook with mommy and try out the new Lil' Kitch products from Joie. They are the perfect size for his little hands. I love that they stand up when they aren't being used…keeps G from accidentally putting them down in a dirty spot. Besides being super cute, they actually work! Joie has a ton of fun products…check out my recipe using one of their other products…Steak Tampico.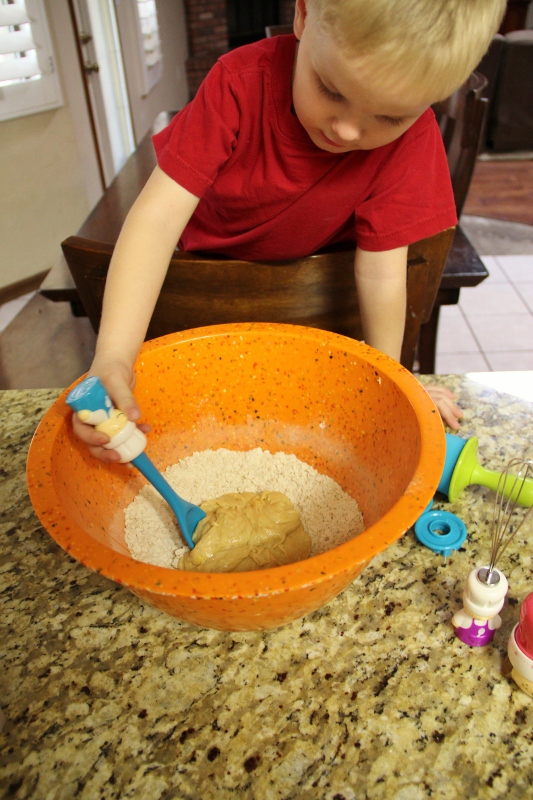 He worked so hard blending up all that Irish Oatmeal with his little hands and new kitchen tools. I have to tell you that hubbyman and I recently gave some Irish Oatmeal from Flahavans a try. It is so good and has a slightly different taste and texture than the traditional rolled oats that most of us use. Luckily, they work just about the same in baked goods, so it's easy to swap out in your favorite recipe that uses rolled oats.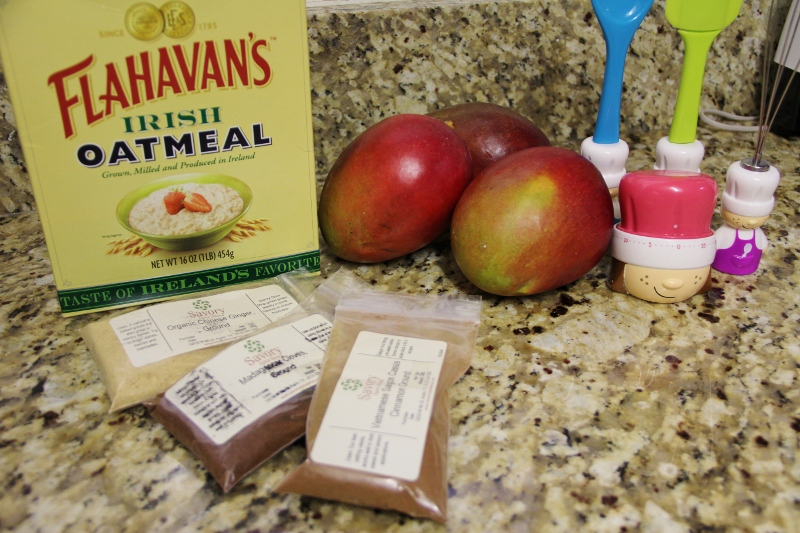 Let's get back to the cookies, shall we! Instead of just cinnamon, I thought adding in some cloves and ginger too would be nice. The additional spices gave the cookies a nice spice and perfect for this time of year. The flavors pair nicely with the mango too…trust me and then try my Sweet Chipotle Salmon with Mango Salsa. So good.
Although, after all the work, G did not care for the spiced up cookies. So I made a small batch of with just the cinnamon and he preferred those…that's a 3yo for ya! He also loves my Coconut Chocolate Chip Oatmeal Cookies.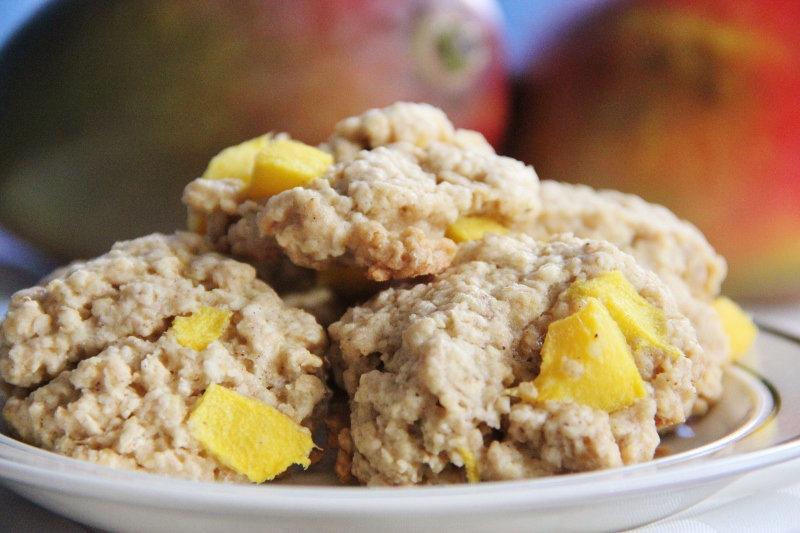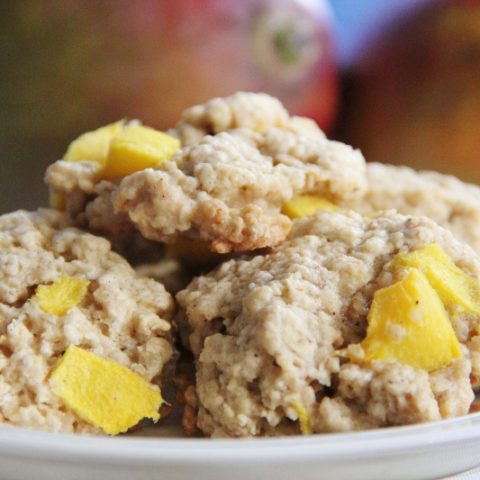 Mango Spiced Oatmeal Cookies
Ingredients
1 1/2 cups old-fashioned rolled oats
3/4 cup flour
1 tbsp cornstarch
1/4 tsp cinnamon
1/4 tsp ground cloves
1/4 tsp ground ginger
1/2 tsp baking powder
1/4 tsp salt
1/2 cup butter, softened
1/3 cup granulated sugar
1/4 cup brown sugar
1 large egg
1 tsp vanilla
1/2 cup diced mango (about 1 mango)
Instructions
Preheat oven to 350 F.
Mix the oats, flour, cornstarch, spices, baking powder, and salt in a large bowl
In a separate bowl, mix butter and sugars with a wooden spoon until light and fluffy. Add in egg and vanilla; mix until well combined.
Add the wet mixture into the oat mixture and stir until combined. Gently fold in the diced mango.
Scoop out about 1 and 1/2 tablespoons of mixture, form into a loose ball, and place cookie dough balls on an ungreased cookie sheet. Repeat until dough is gone.
Bake at 350° F for approximately 15 minutes or until golden brown. Remove the cookies and place them on a cooling rack. Makes about 2 dozen cookies.
Nutrition Information:
Yield:

24
Serving Size:

1 cookie
Amount Per Serving:
Calories:

92
Total Fat:

4g
Saturated Fat:

3g
Trans Fat:

0g
Unsaturated Fat:

2g
Cholesterol:

18mg
Sodium:

69mg
Carbohydrates:

12g
Fiber:

1g
Sugar:

5g
Protein:

1g
Check out the other great gift ideas on my 2012 Holiday Gift Guide!
Disclaimer: I was given oats from the Irish Food Board, Lil' Kitchen Products from Joie, and Mangos from the the Mango Board to facilitate my review and to create a recipe. I was not compensated for this post; all opinions are my own.