This post may contain affiliate links. Please read my disclosure.
Delicious and rich Slow Cooker Lamb Barbacoa is a perfect supper for busy days, but I think it would make a great main dish for a dinner party.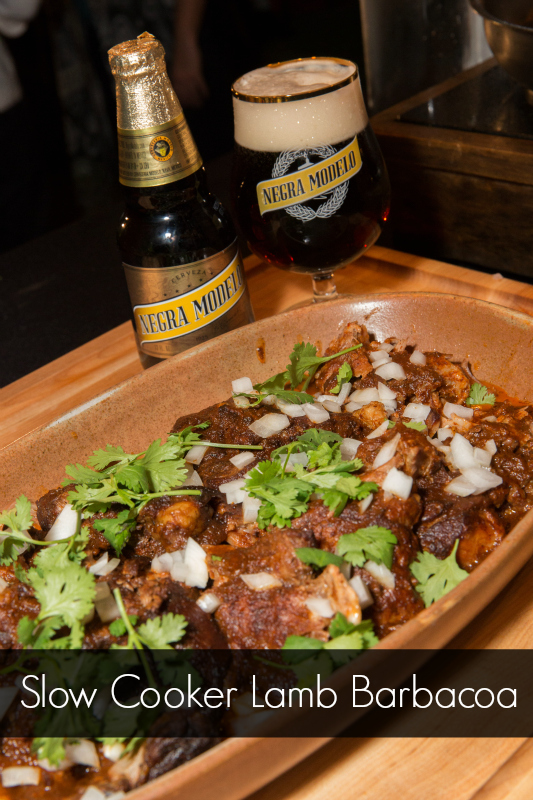 I've been a huge fan of Chef Rick Bayless, so I was extremely excited to attend an event hosted by Negra Modelo featuring Chef Bayless recently in Phoenix. I attended the media meet & greet (before the event)…let me tell you that meeting someone that you'd never dream of meeting and being able to have several conversations with him was a dream come true.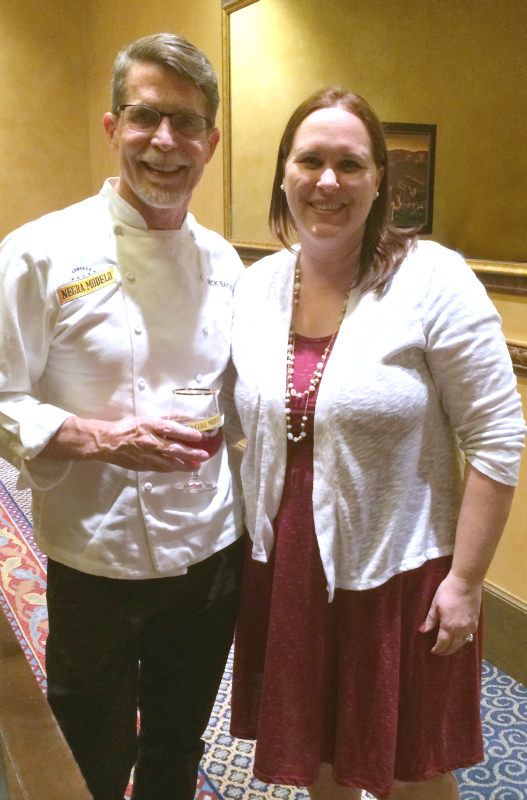 Chef Bayless cooked this Slow Cooker Lamb Barbacoa for the crowd of attendees at the Negra Modelo event. The barbacoa is rich and full of the most amazing flavor. I've never had meat cooked like this with the use of beer, but it was so good. I am a huge fan of traditional barbacoa too, but I loved this version. I can't wait to make this recipe at home for my family and friends. There was just so much flavor and it came together really fast that I know it will be good for home cooks.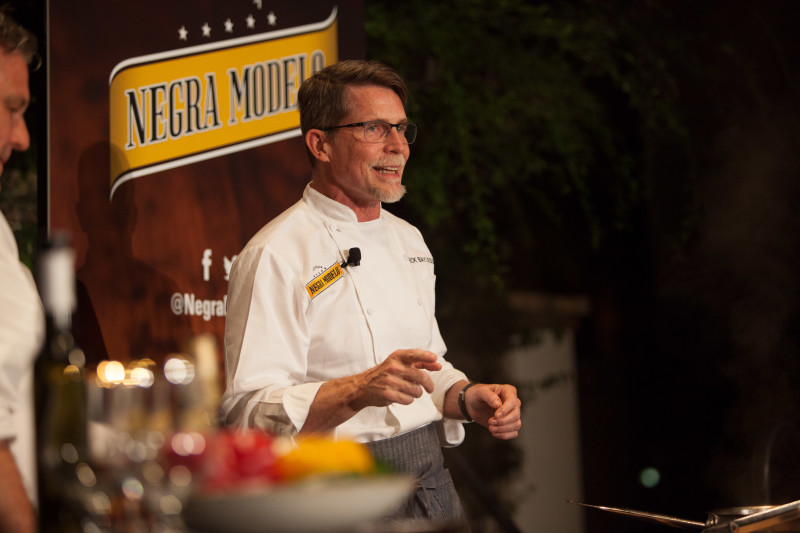 Don't let the list of ingredients or instructions scare you…I promise it's easy!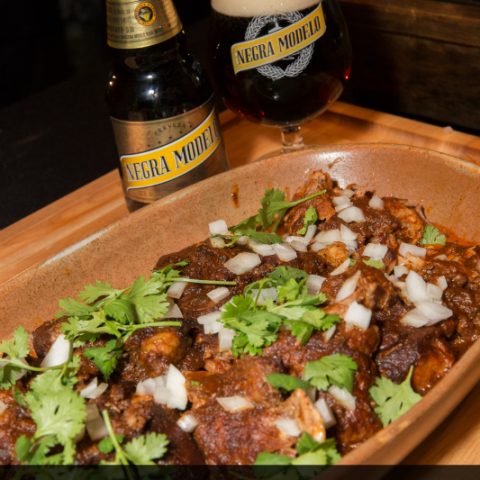 Slow Cooker Lamb Barbacoa
Total Time:
7 hours
30 minutes
Delicious and rich Slow Cooker Lamb Barbacoa is a perfect supper for busy days, but I think it would make a great main dish for a dinner party.
Ingredients
FOR THE LAMB:
A 12-inch chunk of an agave leaf (penca de maguey) or 1 large banana leaf, optional
2 tablespoons vegetable oil
3 pounds boneless lamb shoulder
1 12-ounce bottle of Negra Modelo
Salt
FOR THE MARINADE:
2 guajillo chiles, stemmed, seeded and torn into large pieces
2 ancho chiles, stemmed, seeded and torn into large pieces
3 garlic cloves, peeled and roughly chopped
1 tablespoon cider vinegar
1 tablespoon dark brown sugar
1 teaspoon salt
1 canned chipotle in adobo
1/4 teaspoon ground cinnamon, preferably Mexican canela
1/2 teaspoon Mexican oregano
FOR SERVING:
Your favorite hot sauce or salsa
A little chopped white onion
A handful of cilantro leaves
Instructions
Roast the agave leaf (being careful not to touch the exposed flesh of the agave) over an open flame, turning every few minutes until pliable and charred, 10 to 15 minutes, depending on the thickness. (If using a banana leaf, run it briefly over an open flame to soften it.) Cut into 3 pieces.
In the stovetop-safe insert of your slow cooker or in a very large (12-inch) skillet, heat the oil over medium-high. Pat the lamb dry with a paper towel, sprinkle generously with salt and lay it in the insert of skillet. Cook, turning occasionally, until richly brown on all sides, about minutes. Fit the insert into the machine or transfer the meat to the slow cooker.
Combine all the marinade ingredients in a blender with 2 cups of water and blend to a smooth puree. Pour through a medium mesh strainer into the slow cooker. Nestle the pieces of agave leaf or banana leaf under and around the meat, if you are using them. Cover and turn on the slow cooker to high.
Your barbacoa will be done in about 6 hours, though you can hold it for longer. (My slow-cooker can be programmed to switch from high after 6 hours to a "keep warm" temperature for up to another 6 hours. Some slow cookers click to "keep warm" automatically; others need to be switched manually.)
When you are ready to serve, coarsely shred the lamb and arrange it on a warm platter. Skim any fat from the sauce that remains in the slow cooker, and then taste it. If you feel it would be better with a more concentrated flavor, pour it into a medium saucepan or remove the insert and set it over high heat. Boil for a few minutes to reduce that quantity, then taste and season with salt if it needs it. Spoon as much as you like over the lamb or beef. (I like to sprinkle coarse salt over the meat at this point.) Serve the barbacoa with the hot sauce or salsa, onion and cilantro. Grab some tortillas, if you like, and you're ready to make some delicious tacos.
NO SLOW COOKER?
In a large (6- to 8-quart, at least 12 inches in diameter) heavy pot (preferably a Dutch oven), combine the ingredients as described. Set the cover in place and braise in a 300-degree oven for about 3 hours, adding water occasionally if necessary to ensure the liquid stays at about the same level. Finish as described.
Negra Modelo
is an imported, dark lager characterized by it's slow roasted caramel malts, a hint of sweetness, and it's signature reddish color. Only the finest hops and exceptional yeast give it a balanced flavor and smoothe taste.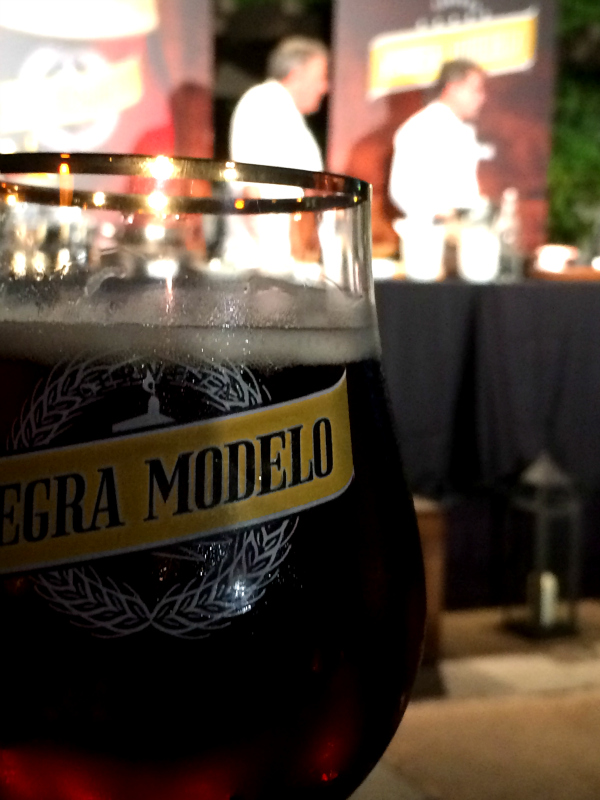 Disclaimer: I was a guest of Negra Modelo USA for the event and compensated for my time and promotion.