This post may contain affiliate links. Please read my disclosure.
Looking for an easy chicken recipe? This Slow Cooker Pizza Chicken will be a new family favorite and you probably already have these 5 ingredients in the house already.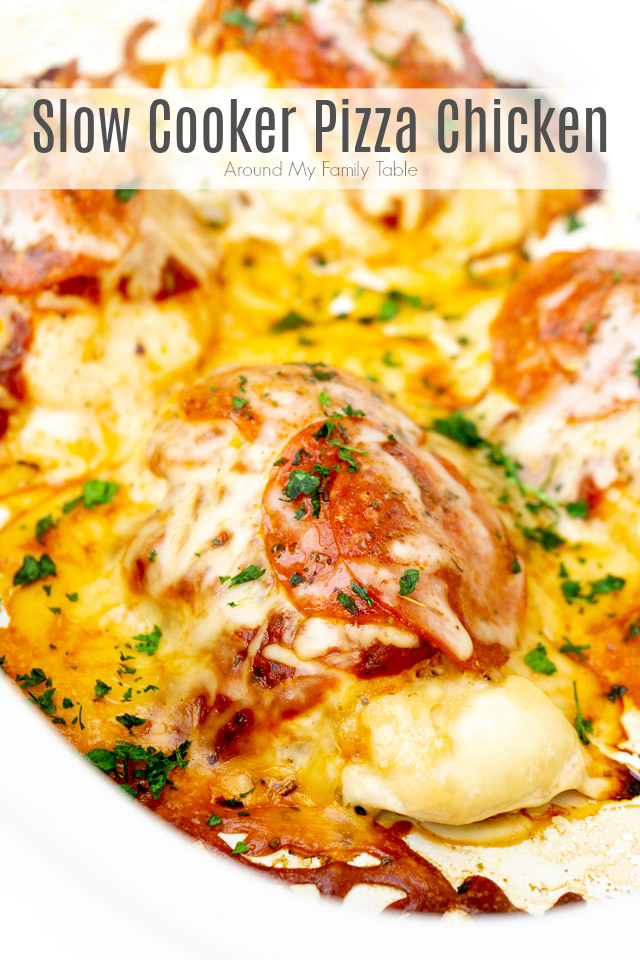 Slow Cooker Pizza Chicken
Y'all, this Slow Cooker Pizza Chicken recipe has gone crazy on my Instagram Stories. I came up with this recipe one day when I hadn't been to the grocery store and needed an easy dinner idea and shared it while I put it together.
I dug through my fridge and freezer and found some frozen boneless skinless chicken breasts and leftover pizza supplies in the fridge. I found half a jar of pizza sauce, have a bag of mozzarella cheese and just a few remaining pepperonis. Feel free to add your favorite pizza toppings if pepperoni isn't your thing.
And if the slow cooker is your thang…check out my two other family favorites: Slow Cooker Chicken Pot Pie and Easy Weeknight Slow Cooker Lasagna.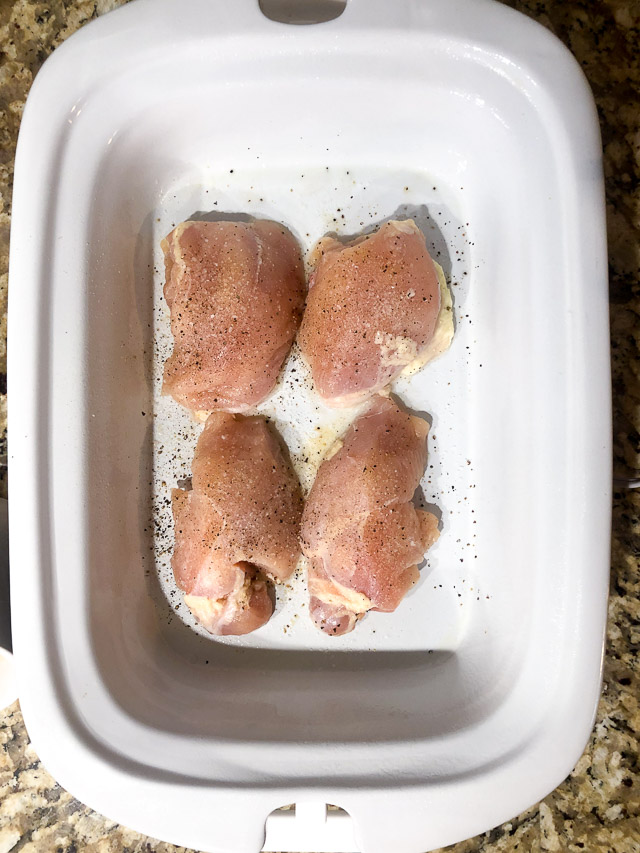 Easy Pizza Chicken
I pulled out my slow cooker and got to work. (side note: I love this casserole slow cooker because it has more flat surface to cook on). It took less than 20 minutes to throw this together at lunch time and cooked for about 5 hours total on high.
This slow cooker pizza chicken would be perfect to start before church on Sunday and have it ready just in time for lunch or start it at lunch time for a quick supper on a busy weeknight.
Seriously, this dinner is a delicious and cheesy pizza chicken dish that the entire will love. Whenever the kids (heck, even hubby too) finds out we are having this they get so excited. I serve it with a simple green salad or ceasar salad and everyone is happy.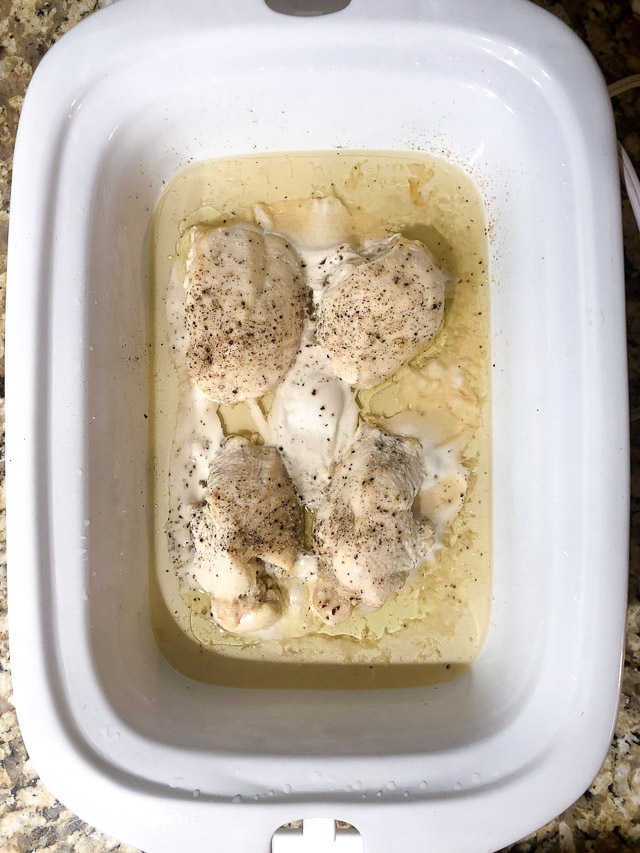 Slow Cooker Chicken Help
Did you know you can throw frozen boneless skinless chicken breasts in the slow cooker? I almost always forget to thaw my chicken. In a slow cooker, chicken will take about 4-5 hours on high and 6-8 hours on low depending on how big the chicken pieces are. Chicken is cooked when it's no longer pink and juices run clear.
For this recipe, no water or liquid is needed. In fact, before you top with sauce and cheese you'll drain all the liquid out of the slow cooker with a turkey baster.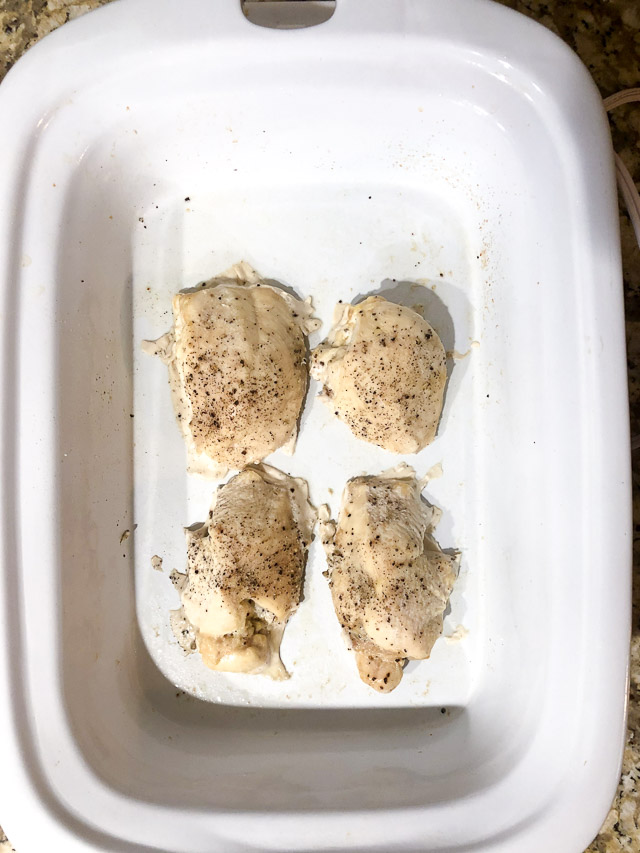 Keep your slow cooker chicken from drying out by not overcooking. It really only takes about 5 hours total for this recipe. Four hours to cook the chicken on high and then drain the liquid, add the toppings and let it go for another hour to melt the cheese and heat the sauce.
While I haven't yet tried this recipe on a low setting, I worry that the chicken cooking without liquid for 7 hours or so on low would dry it out. And since the chicken is the star of the recipe, you don't want it to end up dry or overcooked.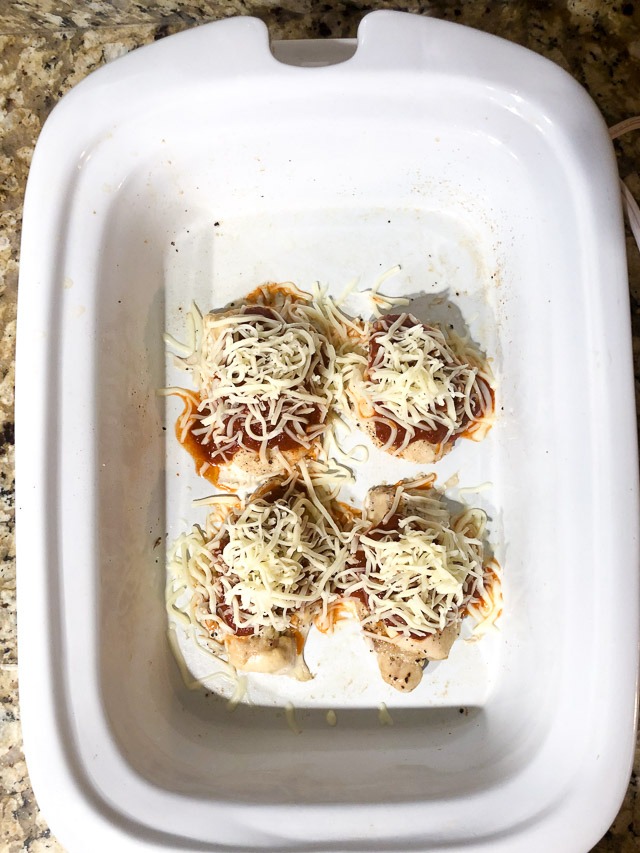 Slow Cooker Pizza Chicken for 2 or a Crowd
This slow cooker pizza chicken is easily scalable for fewer people or a crowd. You are only limited by the space in your slow cooker. One IG story viewer made it for her family of 12..she just used two slow cookers.
I have this giant BBQ Pit Slow Cooker (that I make brisket in sometimes) and it is huge…It would totally work for making 8-10 servings.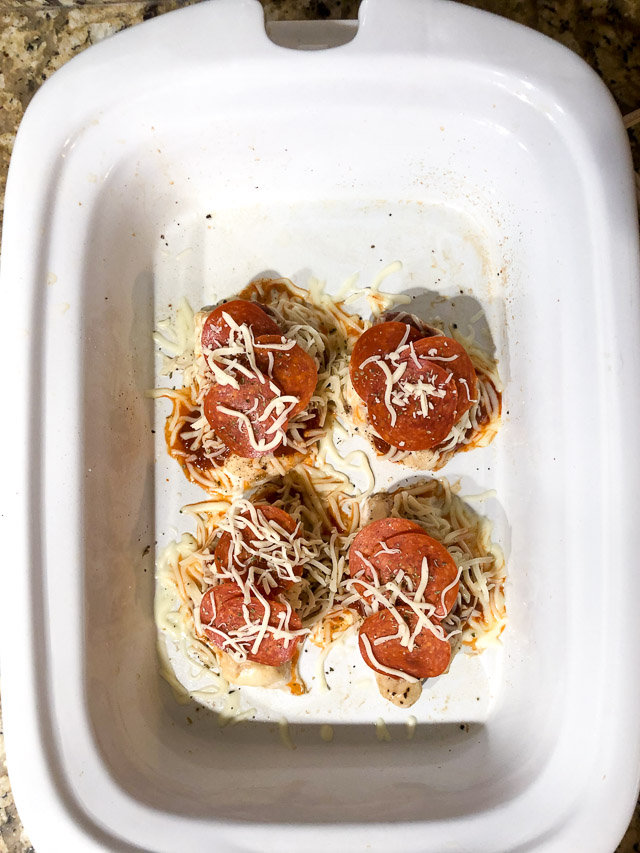 Pizza Chicken Bake
I know there will be questions about making this in the oven. It will totally work in the oven. Place chicken on a baking sheet, cook at 350 for 25-30 minutes or until 165F internal temperature. Then add toppings and put under the broiler for 4-5 minutes until everything is hot and melted.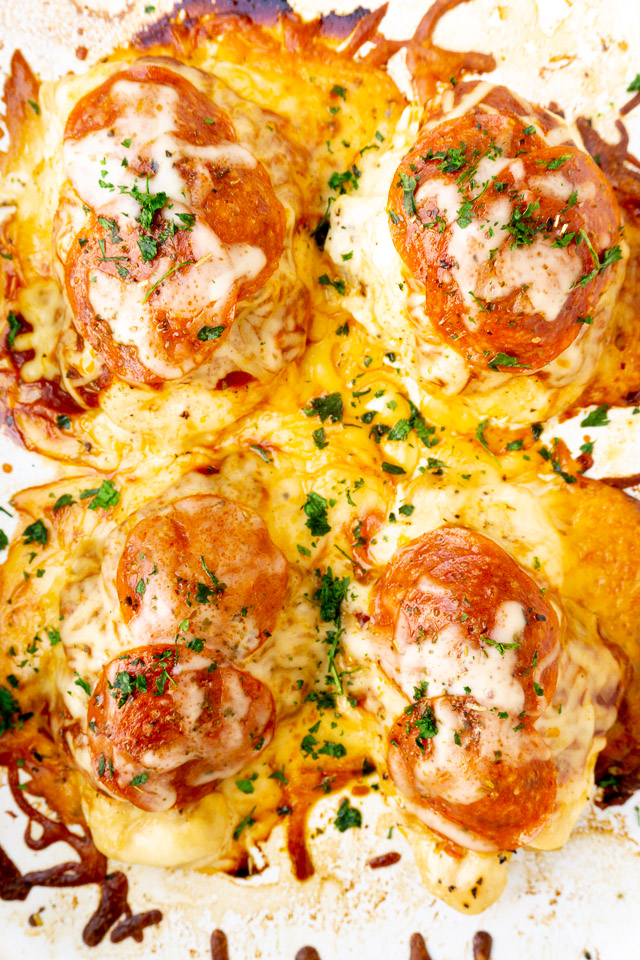 I love using my slow cooker for easy meals. Don't you?!?!!?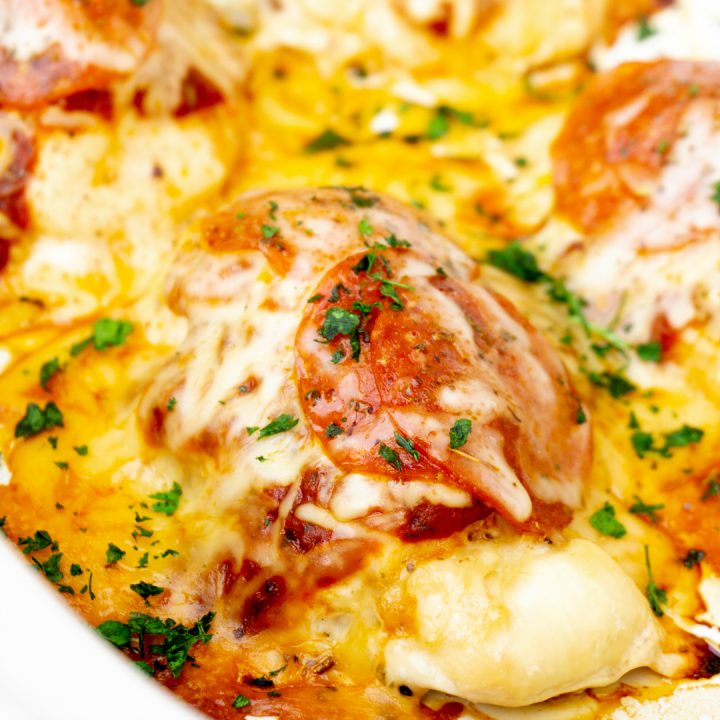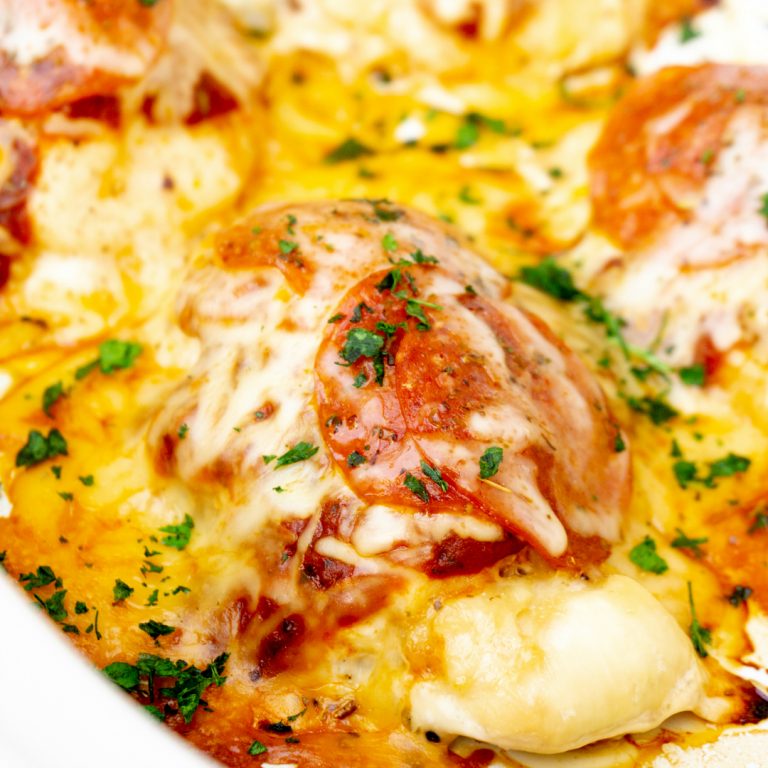 Slow Cooker Pizza Chicken
Total Time:
5 hours
20 minutes
Looking for an easy chicken recipe?  This Slow Cooker Pizza Chicken will be a new family favorite and you probably already have these 5 ingredients in the house already.
Ingredients
4 boneless, skinless chicken breasts (frozen or thaw)
1 tablespoon coarse Kosher salt
2 teaspoons freshly ground black pepper
2 teaspoons garlic powder
1 cup pizza sauce or marinara
1 cup mozzarella cheese
12 pepperoni slices
Other pizza topping as desired
Instructions
Spray slow cooker crock with non stick cooking spray. Place chicken breasts in a single layer in the slow cooker and season both sides evenly with salt, pepper, and garlic.
Cover and turn on slow cooker to high. Cook on high for 4 hours.
Remove lid and remove any liquid with a turkey baster. Pour 1/4 cup of sauce over each chicken breast, top with 1/4 cup of cheese, and a few pepperonis or other desired toppings. Return lid, but leave a space for the steam to escape by placing it slightly off center. Cook for one more hour or until cheese is melted and sauce is hot.
Serve with a green salad.
Nutrition Information:
Yield:

4
Serving Size:

1
Amount Per Serving:
Calories:

442
Total Fat:

17g
Saturated Fat:

8g
Trans Fat:

0g
Unsaturated Fat:

8g
Cholesterol:

135mg
Sodium:

2470mg
Carbohydrates:

19g
Fiber:

3g
Sugar:

5g
Protein:

50g