Lasagna made in a slow cooker is just as delicious as any baked lasagna recipe, but with only 3 ingredients and a few hours without the oven on, this hot Easy Weeknight Lasagna in the Slow Cooker will be your new favorite go-to slow cooker recipes on busy nights! If you're new to slow cooking, be sure to check out my slow cooker user's resource guide for great slow cooking tips and even more delicious slow cooker recipes!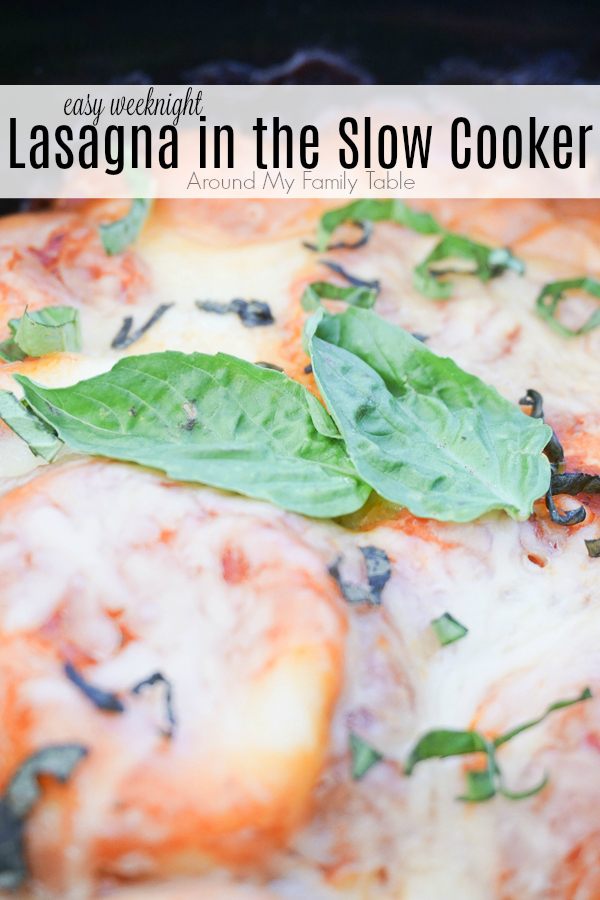 Lasagna in the Slow Cooker
I love, love, love lasagna.  But I hate how long it takes to make it, especially on our busy weeknights.  A couple days ago, I was really craving lasagna, but I didn't have the time and I didn't have all the ingredients either.  No time to hit the store, so I started rummaging around the pantry and freezer and this is what I came up with. I found a couple packages of frozen cheese raviolis, a jar of spaghetti sauce, and a package of shredded mozzarella.  That's pretty much what's in lasagna, right?!?!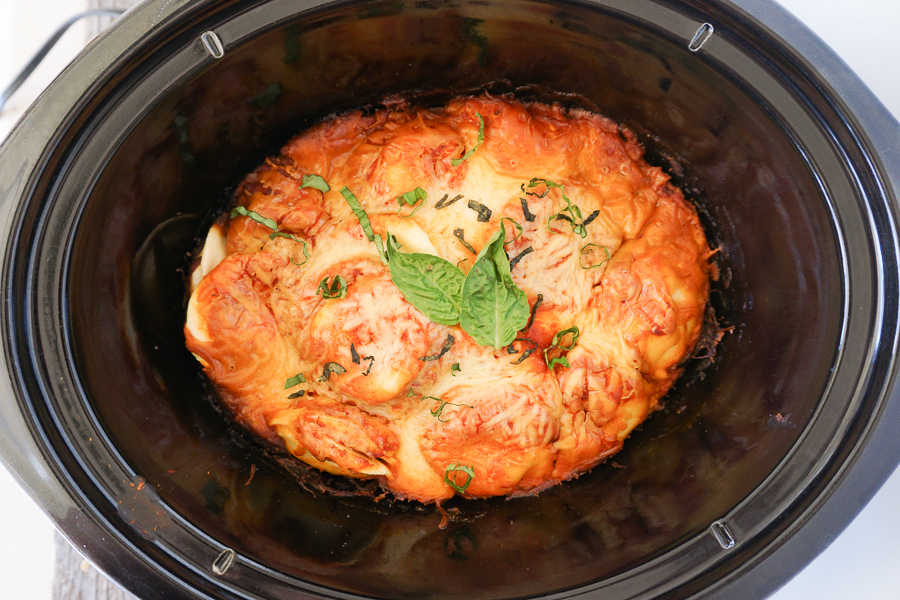 Not only is it an easy supper, it only took about 3-4 hours in the slow cooker, it is the perfect Sunday lunch.  Put it in before church and it will be ready when you get home.  I do this often and because it only takes 5 minutes or so to throw together it really is the perfect lunch for after church….even when the morning is hectic I still have time to throw this together in my slow cooker.
I had planned on having this for lunches the following day, but my family ate the entire pot.  Apparently it was a huge hit!  This really isn't lasagna, but it tastes like it.  And the recipe is more of a guideline…you can adapt it easily to fit your family's preferences.  Use any type of ravioli that you like…meat, seafood, cheese and use your favorite jarred sauce or your homemade marinara sauce…really the sky's the limit here.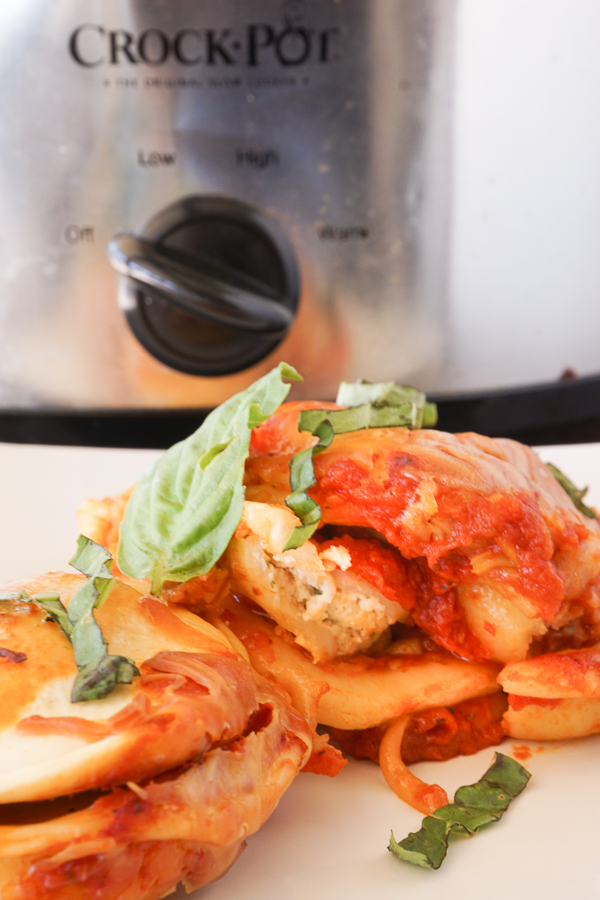 If you are fan of using your slow cooker, then check out my Slow Cooker Chicken Pot Pie and all of my other slow cooker recipes.
How to Make Lasagna in the Slow Cooker
Easy Weeknight Lasagna in the Slow Cooker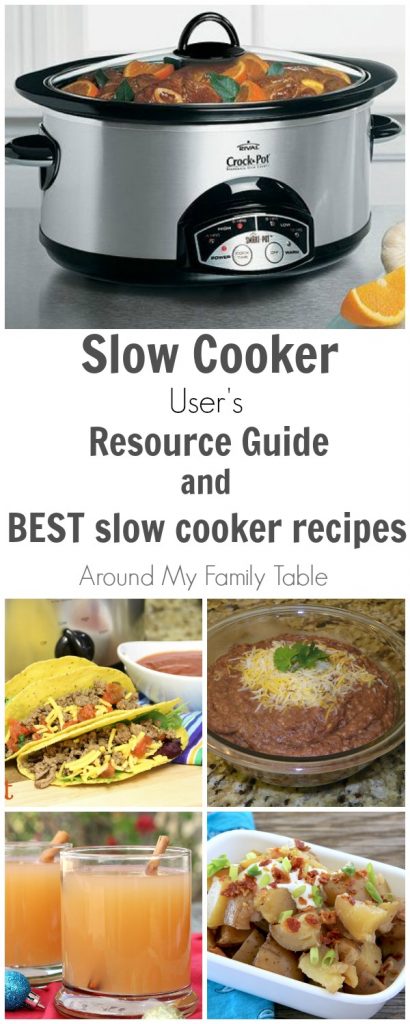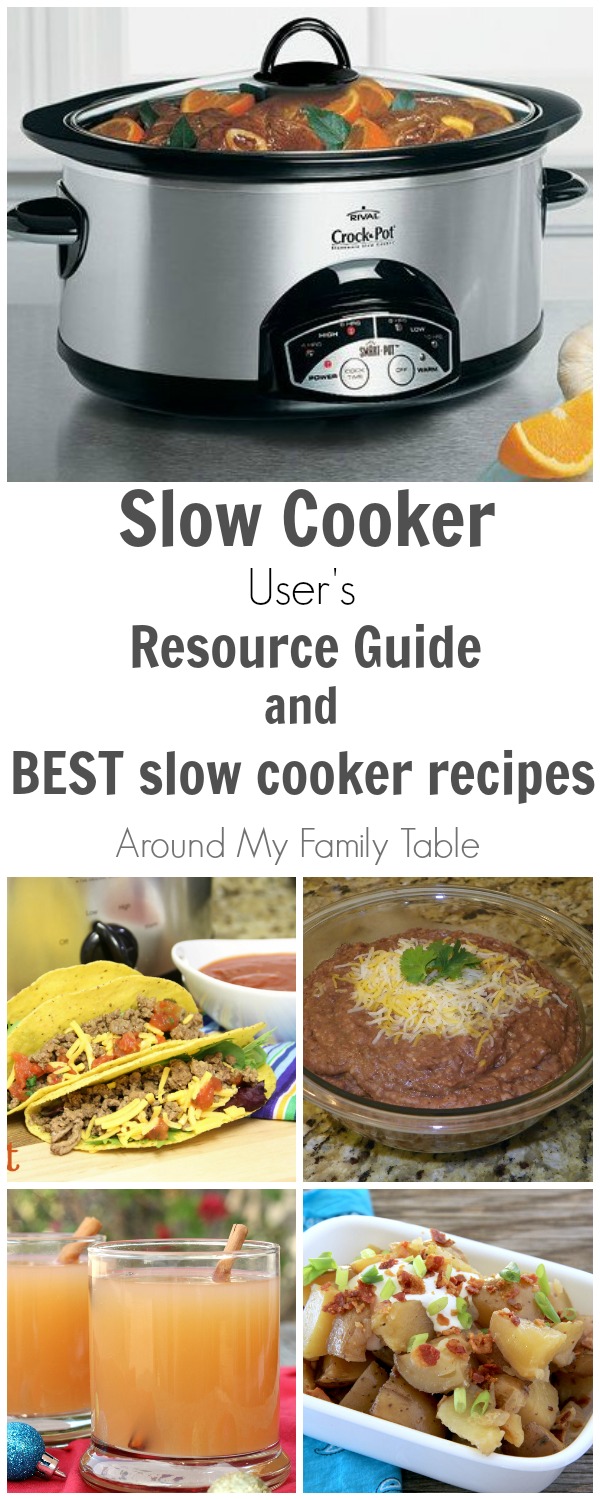 Originally published: 3/4/11        Recipe and Photos Updated: 2/12/18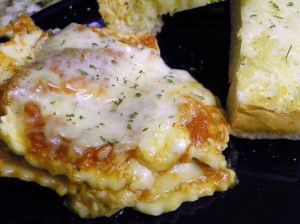 Join my Weekly Newsletter
And get my Free Slow Cooker Resource Guide! It's full of recipes with 5 or fewer ingredients plus plenty of slow cooker tips!

Plus, you'll get access to my free EXCLUSIVE downloads & printables for newsletter subscribers.