This post may contain affiliate links. Please read my disclosure.
I love a good Reuben sandwich, especially in the early spring…I think about corned beef a lot and all of the wonderful things I can make with it. My favorite last year was a big plate full of Irish Tacos. Oh my…they were so divine and so is this Stuffed Reuben Pull-Apart Bread!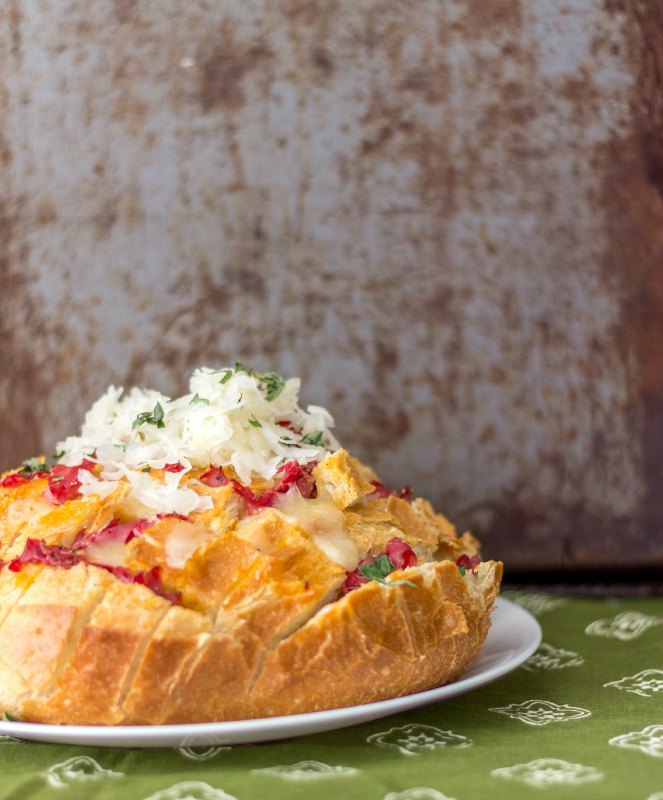 We have a fun time celebrating St. Patrick's Day every year (we're Irish after all) and even though corned beef and cabbage isn't traditional Irish fare for St. Patrick's Day in Ireland it is still delicious so we make it once a year. Although, I usually make a ton so we are guaranteed leftovers.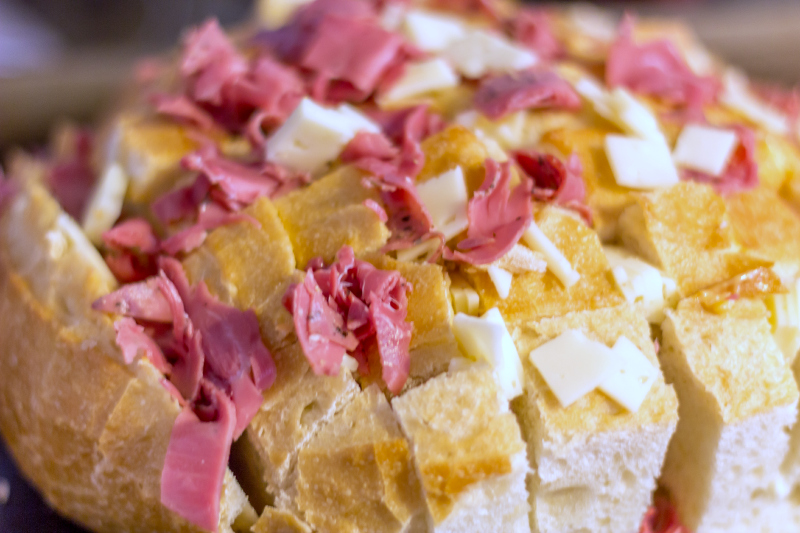 I just love how simple and impressive these stuffed bread recipes are. I've seen a few on other sites, but most are for a pizza pull-apart bread. It sounds amazing, but when I saw one the first time I knew I had to turn my favorite sandwich into the most incredible pull-apart appetizer.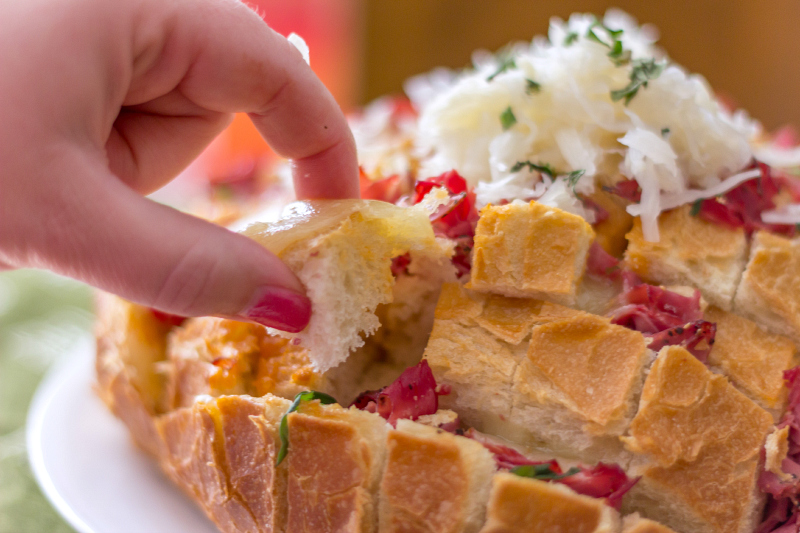 I used sourdough, but I think using soda bread or even a big loaf of marble rye would just send this pull-apart over the top. My store didn't have any when I went shopping but I've seen them before. Other than that, it has all wonderful flavors of the traditional sandwich into one drool worthy appetizer.
It's great for leftovers or you could pick up some sliced corned beef or even pastrami from the deli counter to satisfy your cravings any time of year. Plus, it's just so stinkin' impressive at a party that you will definitely keep this recipe (or better yet this technique) in your recipe box. So pop the Guinness in the fridge and this in the oven and invite your besties over for a drinks and appetizers!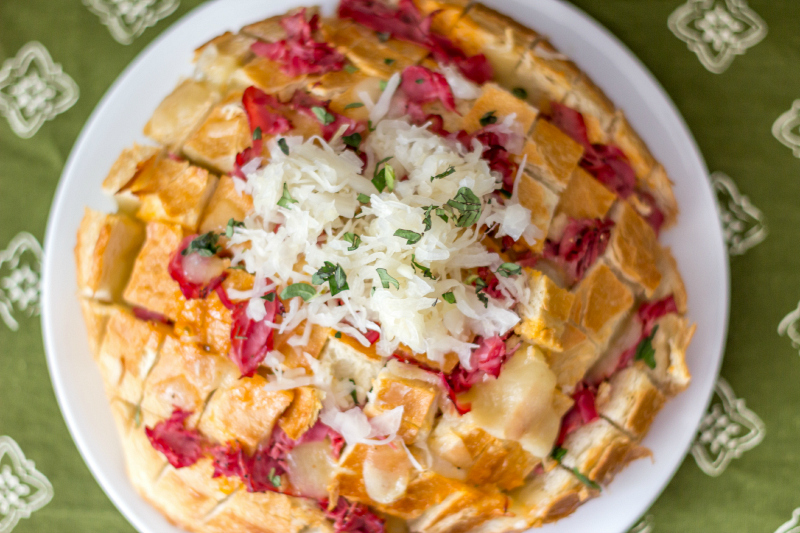 What do you do with leftover corned beef? I'd love to hear your ideas…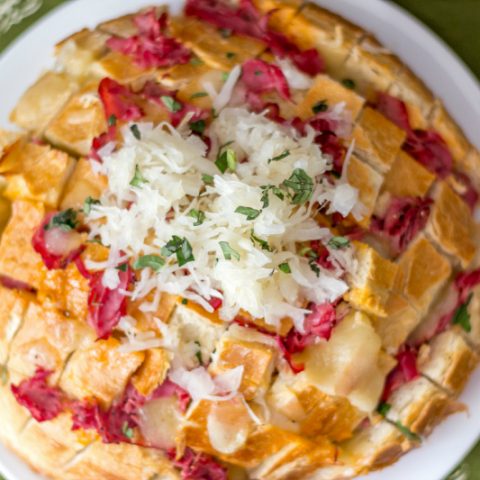 Stuffed Reuben Pull-Apart Bread
This stuffed Reuben pull-apart bread makes a great game day appetizer! All the flavors of a Reuben sandwich baked into a loaf of bread.
Ingredients
1 round sourdough loaf
1/2 lb thinly sliced corned beef or pastrami
8 oz baby Swiss cheese slices
1/4 cup 1000 Island dressing
1/2 cup sauerkraut
Instructions
Preheat oven to 375 F.
Chop cheese and meat into bite size pieces and set aside. Slice bread all the way across every 1 inch, but don't cut all the way through the loaf. Then turn the loaf 90 degrees and do it again...creating a bunch of little square pieces of bread that are still connected at the bottom of the loaf.
Using a basting brush, smear 1000 Island dressing on the inside of the bread and in between all the cuts. Stuff the cheese and meat into all the cuts. Stuff some deep and leave some more toward the top.
Bake at 375 F for 10 minutes or so, until the cheese is hot and bubbly. Top with sauerkraut and serve warm.
© Around My Family Table