This post may contain affiliate links. Please read my disclosure.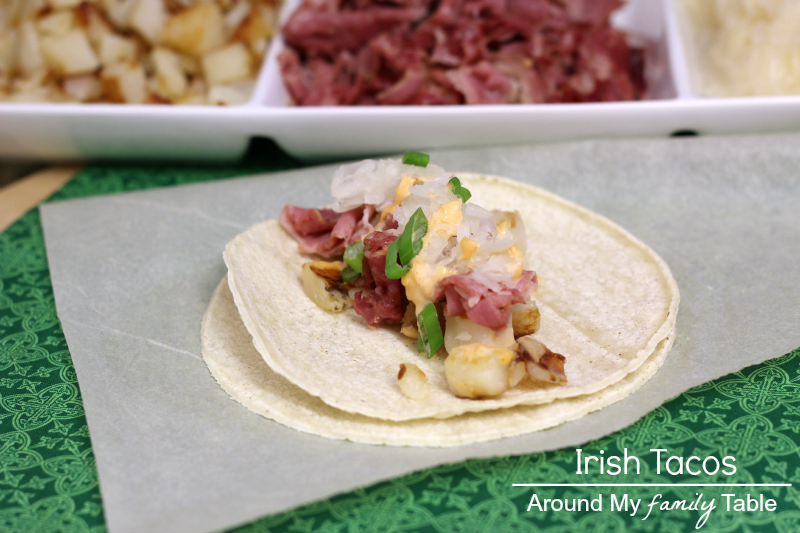 Got leftover corned beef from yesterday's festivities? Honestly, I don't know why you would, but on the off chance that you didn't gobble up all that corned beef, I have the perfect leftover idea. Make Irish Tacos!
Only a girl who is part Irish, who married an Irish man, that lives in the Southwest would think to combine these two. I know it may sound a bit odd, but trust me on this one…I have steered you wrong yet?
I know I have mentioned one too many times that we LOVE St. Patrick's Day at our house. We go all out for the kids and then make a big ol' pot of corned beef and cabbage with a side of soda bread.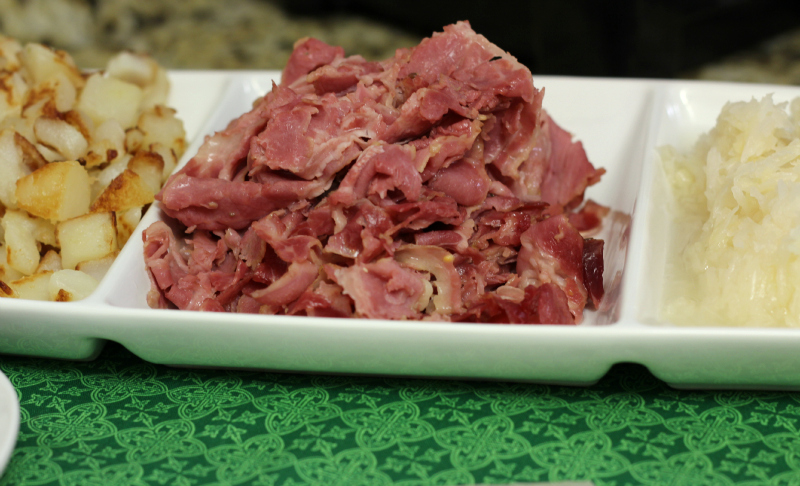 A few fried potatoes, leftover corned beef, sauerkraut (or cabbage…fresh or cooked), Swiss cheese, and a little Russian dressing is all you need besides some corn tortillas. It's almost like a Reuben, but not quite. The corn tortilla and potatoes add a nice twist. I added a few chopped green onions for some freshness and color, but you totally don't have too.
And if you don't have any leftover corned beef or didn't make any…this will be just as tasty with the pre-cooked package of corned beef found in many grocery store deli sections…just heat for about two minutes and you've got yourself a nice bowl of beef!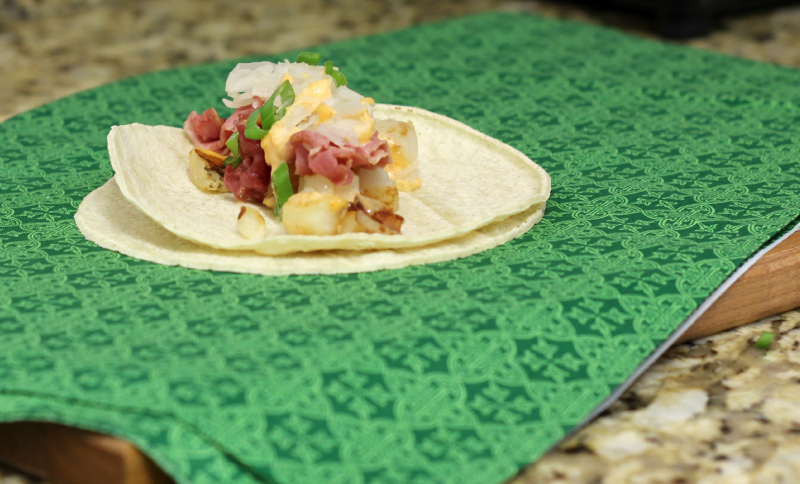 So…I forgot to add the cheese to the pictures, because I had to leave it off my tacos. However, Hubbyman had one with cheese and one without and said it was wonderful both ways. So it's really up to you on how to personalize these tacos.
Other Great Ideas for Leftover Corned Beef
Corned Beef Canapes
Grilled Reuben Sandwiches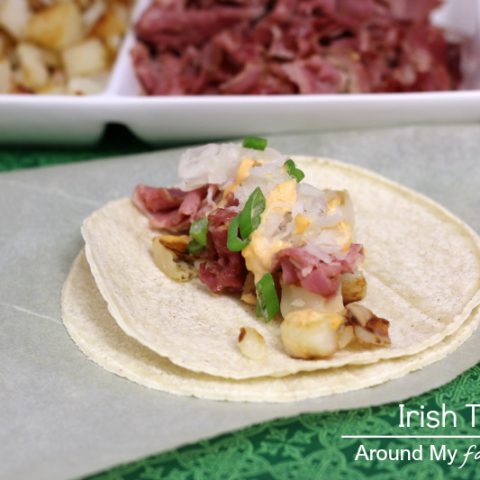 Irish Tacos
These Irish Tacos are a great way to use up leftover corned beef from St. Patrick's Day or for any time you crave a little of that corned beef flavor without a heavy meal!
Ingredients
1 pound corned beef
8 corn tortillas
8 slices Swiss cheese
20 oz package diced potatoes with onion (I use Simply Potatoes brand, or cut up your own potatoes)
1 tbsp oil
sauerkraut*
Russian Dressing
green onions, chopped (opt)
Instructions
Heat oil in 12-inch nonstick skillet over medium heat. Add potatoesand cook 10 minutes without stirring. Turn potatoes, continue to cook 7 to 8 minutes or until potatoes are tender.
Warm leftover corned beef in microwave until heated through. Right before potatoes are done warm tortillas for about 30 seconds in microwave.
On top each tortilla add one slice of cheese, 1/4 cup potatoes, 2 oz meat, and then top with sauerkraut, dressing and green onions.
© Around My Family Table
Notes
* Instead of sauerkraut feel free to try leftover cooked cabbage or even shredded fresh cabbage.
Nutrition Information:
Yield:

4
Serving Size:

2 tacos
Amount Per Serving:
Calories:

573
Total Fat:

25g
Saturated Fat:

11g
Trans Fat:

1g
Unsaturated Fat:

11g
Cholesterol:

52mg
Sodium:

466mg
Carbohydrates:

68g
Fiber:

9g
Sugar:

6g
Protein:

23g