This post may contain affiliate links. Please read my disclosure.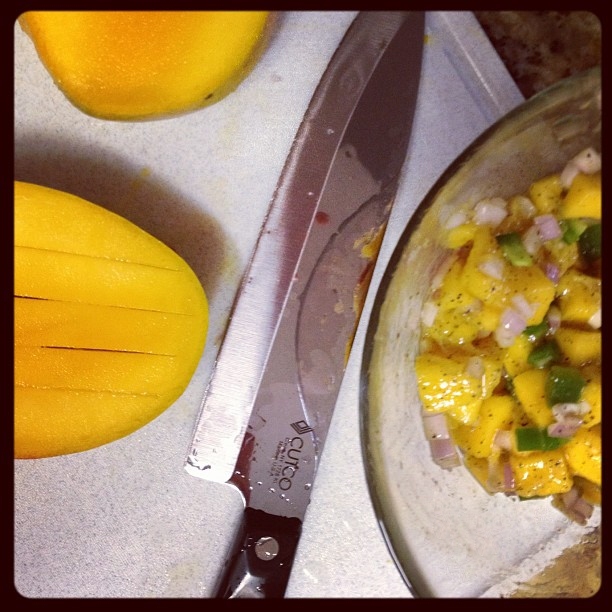 I love mangos. So when we had a little session on mangos at Camp Blogaway I was super excited! I was even more excited when we sampled some mango recipes and were told we would get a box of mangos delivered to our homes! Seriously…you would have thought it was Christmas…well, at least for me!
Before I get to my recipe, I want to share a few things I learned about mangos:
There are 6 varieties; Tommy Atkins is the most common
Color is NOT an indicator of ripeness
Test for ripeness by gently squeezing (ripe=soft like a peach/avocado)
Unripe mangos should be left to ripen on the counter
Ripe mangos should go in the fridge for up to 5 days
1 cup = 100 cal, 100% daily Vit C., 13% daily fiber
Unripe mangos are good for slaw, relish, chutney
Ripe mangos are good for fruit salad, salsa, sauces
Very ripe mangos are good for smoothies, milkshakes, cakes, ice creams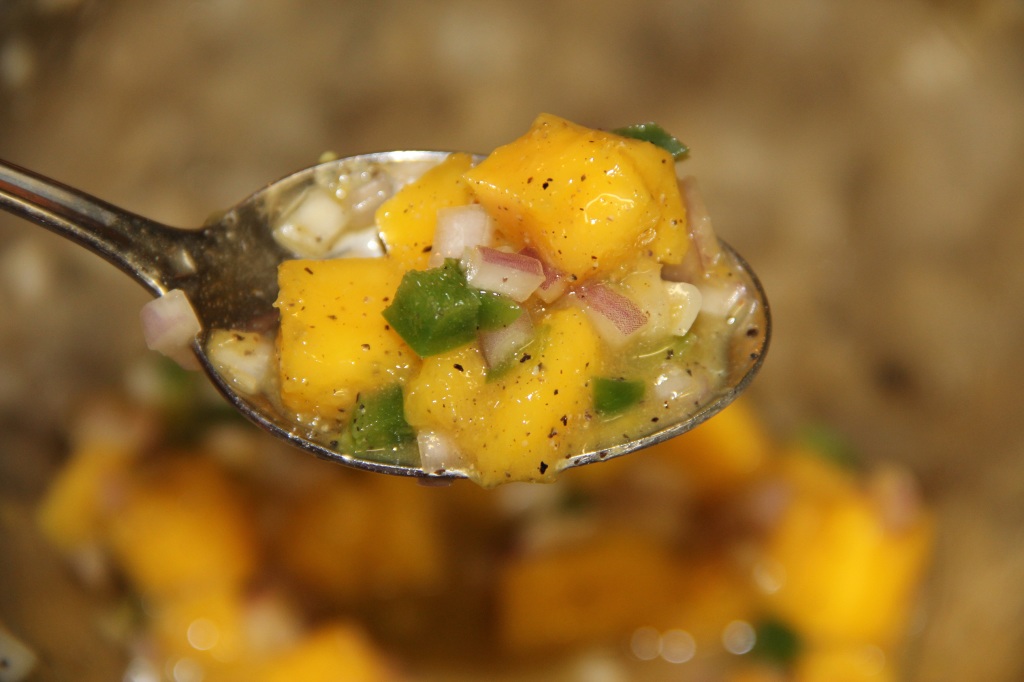 I never knew that unripe mangos were good for certain things, but this recipe is good for an unripe or just barely ripe mango! It is a spin off of one of the recipes that we tried at camp. It's a little sweet but does have a kick! If you aren't a fan of spicy food, then tone down the amount of chipotle powder in the rub and the jalapeno in the salsa. It was perfect for us, but we enjoy food with a little kick.
I had my first mishap with a sharp knife today. Seriously…I made it to 36 without a major incident with a knife. All I have to say is YOWSERS!!!! It hurts and is still bleeding a little after several hours. Have you ever cut yourself with a knife in the kitchen? I can't believe I did it….I feel like such a dork, but it is a good reminder to be EXTREMELY careful when cutting your mangoes.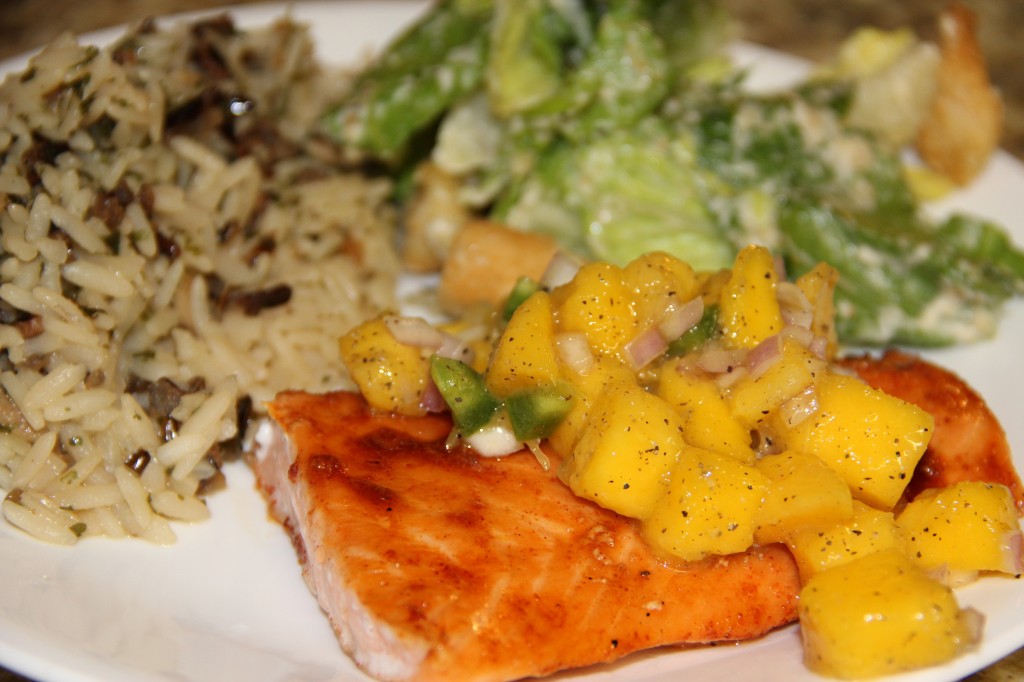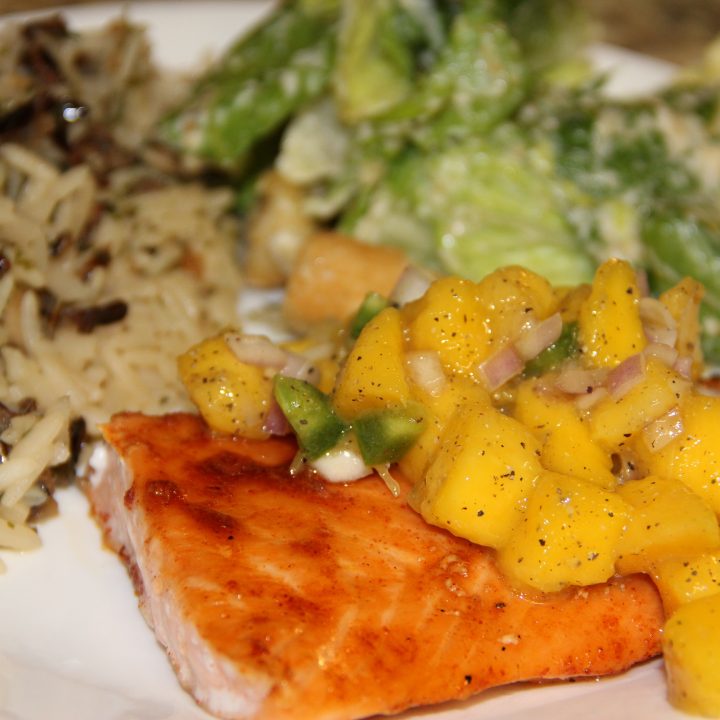 Sweet Chipotle Salmon with Mango Salsa
This chipotle salmon recipe is a delicious combination of sweet and spicy. Chipotle dry rub heats things up and mango salsa sweetens it out!
Ingredients
Dry Rub
3 tbls sugar 
1 tbsp ground chipotle powder* 
1/2 tsp sea salt 
Mango Salsa
2 medium firm, ripe mangos, diced small 
1 large shallot, finely minced 
1 small jalapeno, seeded and finely minced
2 tbsp fresh lime juice (about 1/2 of a lime) 
2 tbsp finely chopped cilantro 
1 tsp coarse sea salt 
1/4 tsp black pepper 
Instructions
Rub: Mix all together and store in an airtight container.
Salsa: Mix together and store in the fridge until ready to use.
Salmon: Preheat grill to medium-high heat. Rub spice mixture on one side of the salmon fillet. Place salmon on seasoned grill** and cook for 4-5 minutes per side. Salmon should be firm but give a little when done.
Serve salmon topped with mango salsa.
Notes
*If you can't find ground chipotle powder, look for dried jalapenos or chipotle peppers and grind your own using a coffee grinder or blender such as a VitaMix. There really isn't a spice that is a decent substitute, but you could try cayenne or maybe cumin or a mixture.
**Season grill well before placing salmon on. Use a paper towel dipped in oil to "grease" the grill several times or use a tin foil boat or grill basket.
Nutrition Information:
Yield:

4
Serving Size:

1 filet
Amount Per Serving:
Calories:

541
Total Fat:

28g
Saturated Fat:

6g
Trans Fat:

0g
Unsaturated Fat:

20g
Cholesterol:

143mg
Sodium:

1013mg
Carbohydrates:

19g
Fiber:

2g
Sugar:

16g
Protein:

51g
Thank you to the National Mango Board for sponsoring part of Camp Blogaway and for the wonderful package of mangos and goodies! Show some love: Website, Facebook, Twitter