This post may contain affiliate links. Please read my disclosure.
When I started supper in the slow cooker the other night I had no idea what I was going to make. All I knew was that we weren't going to eat out and I had pork spare ribs in the freezer. I figured that as long as I got them going I had all day to figure out what to make with them.
So, 5pm came and went and I still had no idea what to make and was totally uninspired. Then it hit me! Sweet Pork! No time to research a recipe…supper needed to be on the table in 15 minutes. How hard could it really be, right?!?!
Turns out, it was super good and easy. The best part was that the kids freaked out over it. They just kept picking at the meat. I don't think hubbyman was too thrilled with a salad for super, but he gobbled it up. As for the kids, they ate their's on a bun.
As for the dressing, I got my inspiration from the concoction I do when we go to Famous Dave's. I almost always get the BBQ salad and instead of their house dressing, I combine their ranch dressing with my favorite BBQ sauce. YUM!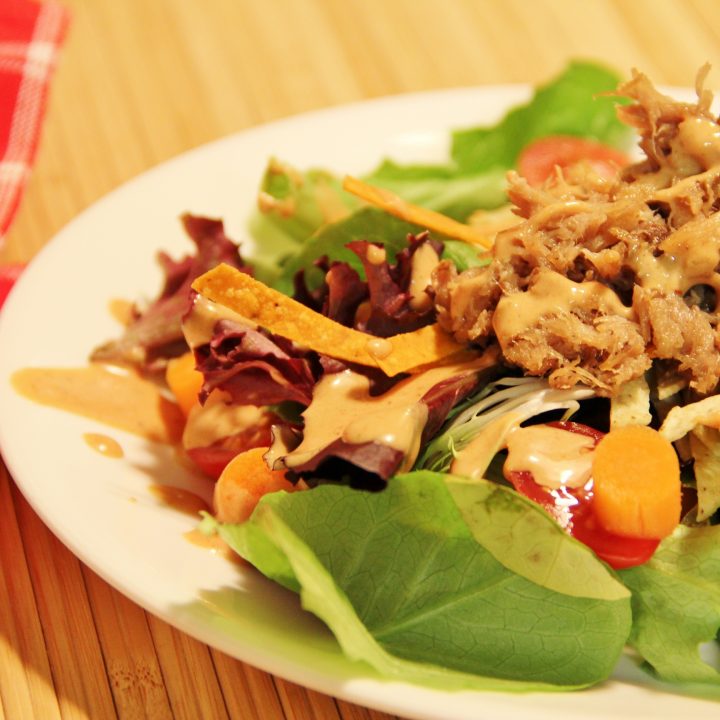 Sweet Slow Cooker Pork Salad with BBQ Ranch
Cook Time:
8 hours
30 minutes
Total Time:
8 hours
45 minutes
This sweet pork salad makes a delicious summer meal. Make the slow cooker pork, shred it up and add it to healthy greens with your favorite salad fixings. Top it all off with a tangy BBQ ranch salad dressing. SO good!
Ingredients
2 lbs pork spare ribs
salt, pepper, garlic powder
4 tbsp brown sugar
1/4 cup ranch dressing
1/4 cup BBQ sauce
salad fixings
crushed tortilla chips
Instructions
Season pork spare ribs with salt, pepper, and garlic powder. Place in slow cooker with 1/2 cup water and cook on high for 8 hours.
Remove ribs from cooker and shred the meat, discarding any fat and bones. Return meat to slow cooker and add brown sugar. Stir well. Taste and adjust salt and pepper as needed. Turn the cooker to low for about 30 minutes.
Prepare salads (baby greens, tomatoes, cucumber, carrots, etc). Combine BBQ sauce and ranch dressing in a small bowl.
To serve: Place greens on a plate, sprinkle on additional salad ingredients, crushed tortilla chips, about 3/4 cup shredded pork, and drizzle with dressing.