This post may contain affiliate links. Please read my disclosure.
I've rounded up 30 of the best cheeseball recipes, from appetizers to desserts, that are all you'll need for the perfect dish for your next party.
Be sure to sign up for my email list….seasonal recipes in your inbox every week!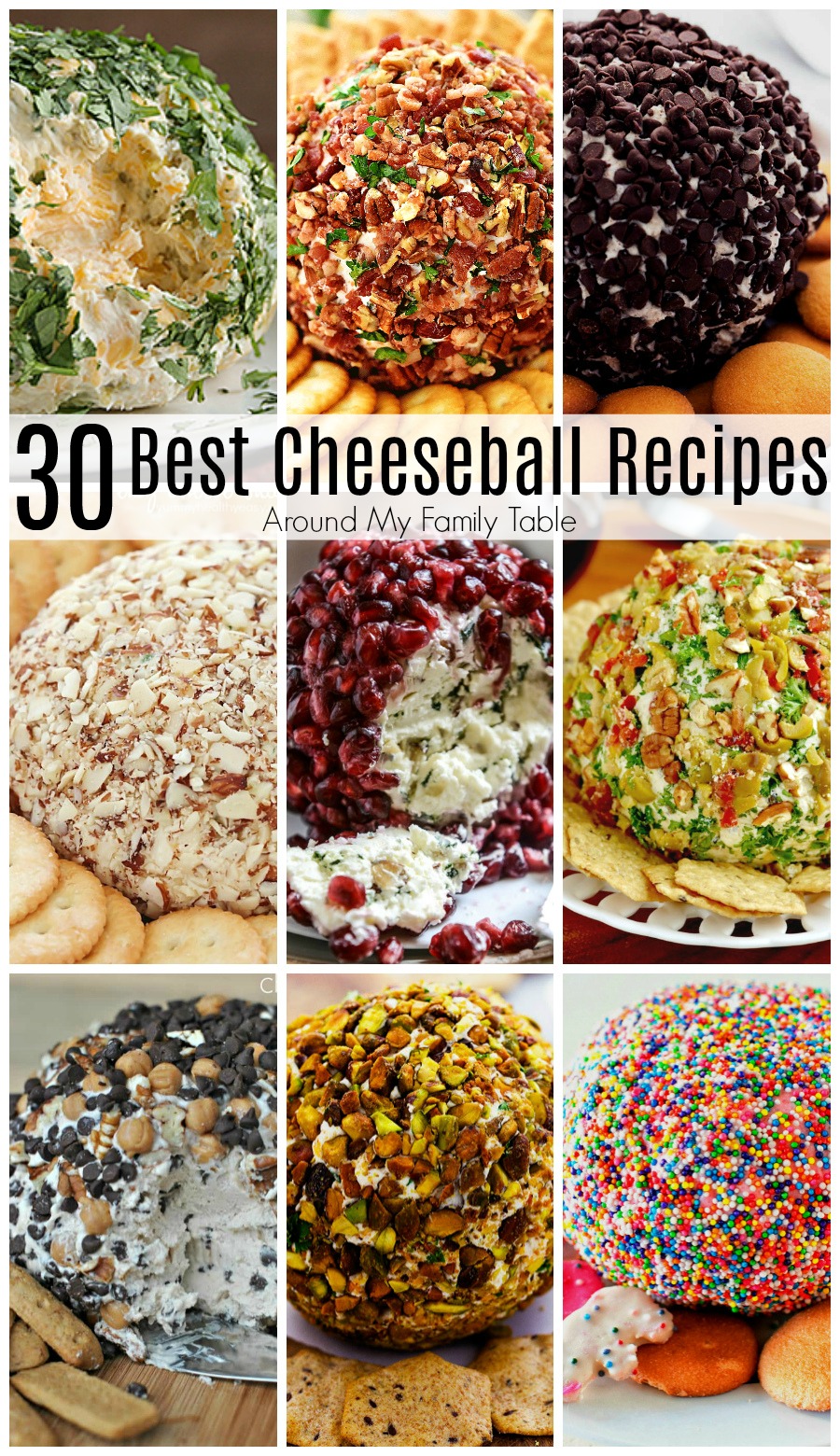 Throughout the year, I'm invited to a ton of parties and events where I'm asked to bring a dish, potluck style. If you're like me, it can be difficult to decide on just the right dish to prepare, especially when you run short of new ideas. Don't worry though. I've got you covered with the perfect idea for almost any occasion and you won't even need to worry about traveling with a crockpot or chafing dish.
Make a cheese ball! They are always crowd pleasers and so easy to make. Plus, there are endless combinations of flavors that you can tailor to fit the event. Hosting a birthday party or holiday celebration? Use colorful jimmies that match the theme. Going to an office party? Bacon and chives. Sharing a dish at a ladies' tea party, brunch, or "coffee"? Chocolate is the answer.
Cheeseballs work well on tablescapes too. When I host a gathering, I like to create a beautiful table full of variety with different tastes, textures, shapes, and flavors. A cheese ball can almost always be found somewhere on my serving table. It's never the main focal point, but always adds to the overall presentation. It gives just enough contrast to make my menu interesting, but still compliments the overall appeal.
This roundup is full of variations. I'm sure you'll find the version for your next event in this list of the best cheeseball recipes.
The Best Cheeseball Recipes
Herb Goat Cheese Ball
Fresh Cherry Cheese Ball
Bacon Ranch Cheese Ball
Easy Cheese Ball
Dill Pickle Cheese Ball
Bruschetta Cheese Ball
Garden Herb Cheese Ball
Bacon Smoked Gouda Cheese Ball
Cheddar Bacon Pistachio Cheese Ball
Bacon Jalapeno Popper Cheese Ball
Cranberry Pecan Cheese Ball
Philly Cheese Steak Cheese Ball
Ham Pineapple Cheese Ball
Crab Dip Cheese Ball
Southwestern Cheese Ball Recipe
Jalapeno Bacon Ranch Cheese Ball
Pomegranate Jeweled White Cheddar Toasted Almond and Crispy Sage Cheese Ball
Roasted Red Pepper and Garlic Cheese Ball
Taco Cheese Ball
Cheese Ball Recipes
Spicy Chili Nut Crusted Cranberry and Orange Cheese Ball
Cheese Ball
Circus Animal Cookie Cheese Ball
Cannoli Cheese Ball
Peanut Butter Cheese Ball Recipe
Coffee and Donuts Cheesecake Cheese Ball
Turtle Cheese Ball
Loaded Pizza Cheese Ball
Olive Cheese Ball
Breakfast Cheese Ball Blackberry Granola