This post may contain affiliate links. Please read my disclosure.
My favorite way to cook in the backyard is with my smoker. I prefer an electric smoker because it's quick and easy, but there are other options. I've written two smoker cookbooks and it's something I'm passionate about sharing. Learn my tips for using a smoker for cooking out all year long. It's part of my Grilling 101 Summer series!
Be sure to sign up for my email list….seasonal recipes in your inbox every week!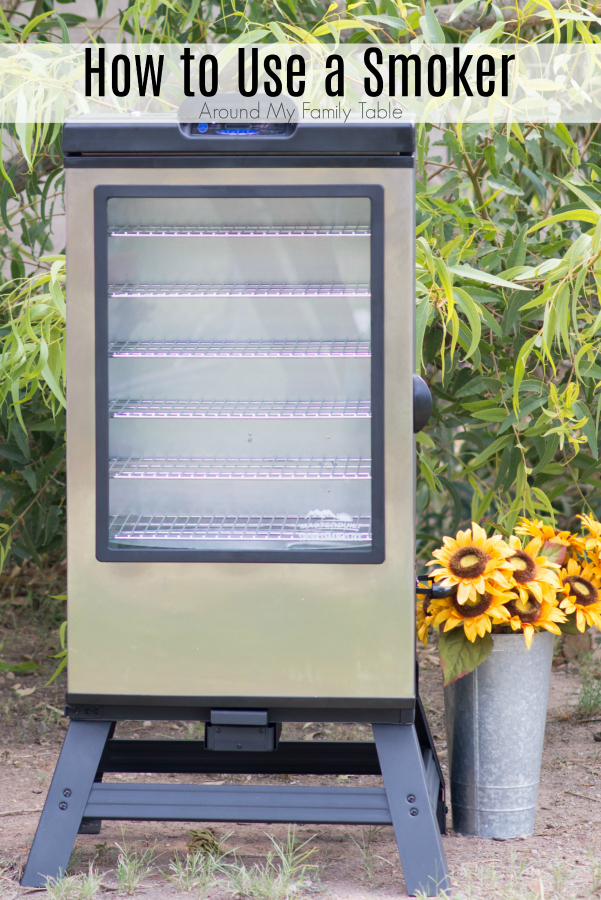 There are a lot of grilling recipes in books and on the internet, but they often don't tell you exactly how to grill or how to use the equipment. I've put together this 9-week summer series, How to Grill, to help teach you what you need to know to get out there and use your grills, smokers, and how to perfectly cook your meats, veggies, and fruits. This post focuses on how to use a smoker (which really isn't grilling at all). We have tons of family and friends who are always asking, "how do I use a smoker?" It's easier than you might think! Keep reading…..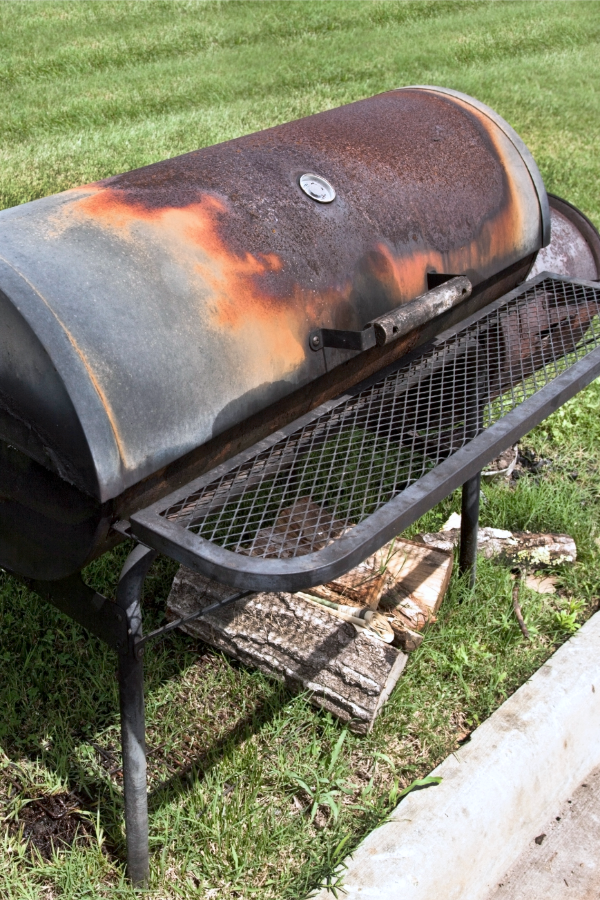 Types of BBQ Smokers
Smoking vs Grilling
Smoking is much different from grilling. Smoking requires a low heat with a much longer cooking time to be successful. The meat is also further away from the heat source than it is in grilling. Typically, grilling is fast with high heat (over 400F). When smoking, temperatures are usually only around 200-275F. For large cuts of meat, plan for about 1 to 1.5 hours of smoking for each pound of meat. Cooking times vary based on the exact temperature and the type of smoker.
Electric vs Charcoal
We've used both types of smokers over the years. While some people swear by a charcoal smoker, it takes a lot of patience and attention….it was perfect for us when we didn't have kids and could just sit around watching our meat cook. However, for the last ten years or so we've used only electric smokers and I have to tell you we prefer it. The taste is pretty much the same because you are infusing your meat with the flavors of the wood chips, not necessarily the charcoal.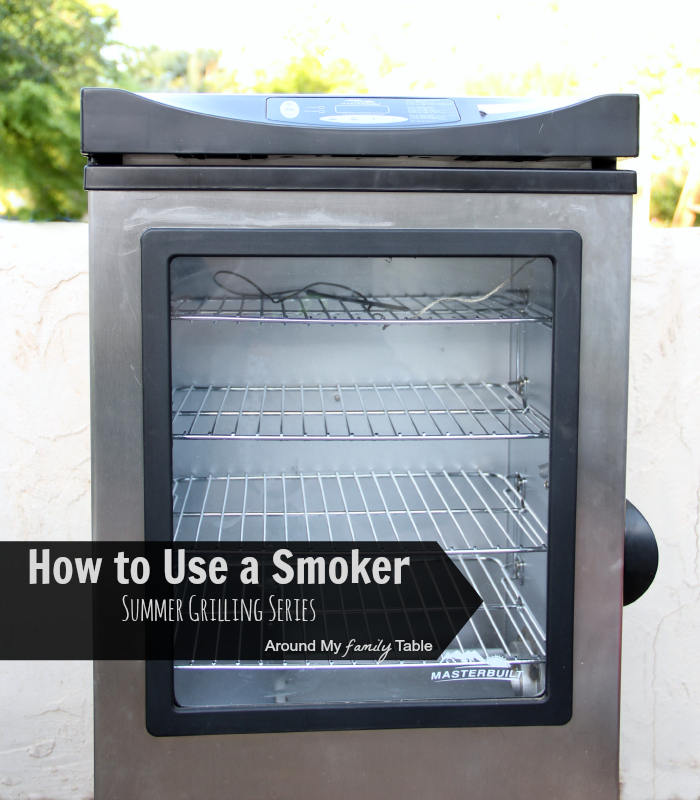 How to Use a Smoker
Become Your Own PitMaster
Hubbyman is usually the pitmaster in our house! He loves getting outside and cooking meat (I think I've heard him grunt a few times like Tim Allen). Besides reading this post, it's a good idea to get a couple of really good cookbooks that focus on smoking (consider this one or this one). Both of these books are great for beginner smokers or those just looking for some new recipes.
Wood Chips
Pecan, cherry, mesquite, and hickory woods are often used in smokers. Soak wood chips for about 30 minutes, drain, and place in the smoker according to your smoker's guidelines. Adding wood chips often through out the cooking time will impart a wonderful, deep flavor.
We love smoking so much that when we were buying trees for our yard, we made sure to buy trees that we could use the wood for smoking. We bought a mesquite tree and dry out the clippings for use in our smoker.
Mesquite and hickory are great all-purpose woods while pecan is excellent with beef and cherry is perfect with pork. Really, feel free to change it with what you find at the store and what ever you like.
Tips for Perfect BBQ in a Smoker
-Only turn the meat one or two times during the cooking cycle.
-Keep the door closed as much as possible so that heat doesn't escape and extend the cooking time.
-Monitor the temperature of the smoker, adding more coals or adjusting the temperature during the cooking process.
-Keep the water pan 3/4 full. You can also add spices, seasonings or marinades to the water pan to add flavor.
-When you cut into to the meat you might noticed a red ring around the outside of the meat. This is the smoke ring and highly desirable….it doesn't mean the meat isn't cooked. A thermometer will help you know the meat is cooked to the proper temperature.
-Only use dry rubs for the majority of the cooking time. Add any liquid marinades or sauces during the last 30 minutes otherwise they will burn.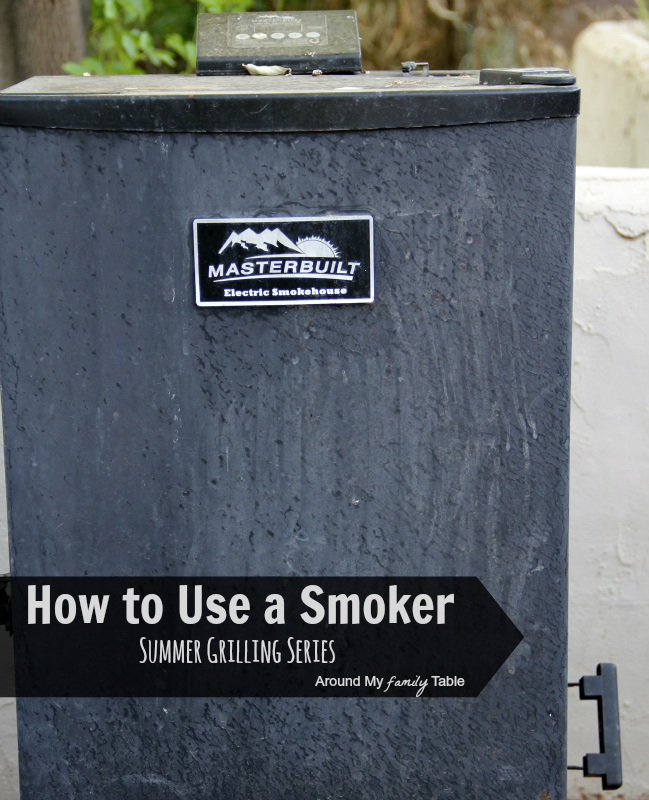 Isn't she such a well loved smoker?
6 Easy Steps for Smoking Meat
Apply dry rub or wet rub to the meat and let it marinate in the refrigerator overnight. If using a wet rub, pat meat dry before adding to the smoker.

Light charcoal and let the fire burn down or preheat your electric smoker. Once the fire is burned down (charcoal only) and smoker is hot, add a handful of your wood chips. Use the vents on your smoker to stabilize the temperate around 225 to 250 degrees.

If using a water smoker, add hot water to the water pan. Add herbs and spices for additional flavoring during the cooking process.

Place items to be smoked in the smoker, with room around the meat. If using a water smoker, place the meat over the water pan so that any drippings will fall into pan.

Maintain the smoker at a temperature between 225 to 250F. You will probably need to add charcoal if smoking more than 4 hours. Wood chips can be added every 45 minutes to 2 hours. You will also need to turn the meat every 2 to 3 hours.

During the final 30 of smoking, apply your favorite barbecue sauce.
Smoking Meat Temperature Guidelines*
Meat
Smoking Temp
Time to Complete
Finished Temp
Wood Chips
Brisket
225°F
1.5 hrs/pound
190° (sliced)
200° (pulled)
any
Beef Ribs
225°F
3-4 hrs
175°
Pecan
Pork Butt
225°F
1.5 hrs/pound
180° (sliced)
205° (pulled)
Cherry
Whole Chicken
250°F
4 hrs
165°
Mesquite
Whole Turkey ~12lbs
240°F
6.5 hrs
165°
Mesquite, Hickory
Turkey Breast
– bone in
240°F
4-6 hrs
165°
Mesquite, Hickory
Breakfast Sausage
230°F
3 hrs
160°
any
Baby Back Ribs
225-240°F
5-6 hrs
Tender*
Cherry, Hickory
Salmon
140-160°F
5-7 hrs
145°
Hickory
Smoked Potatoes
225°F
2 – 2.5 hrs
N/A
any
*These are just guidelines to get you started. Experiment with different woods
and always use a thermometer to check for doneness.
What's your favorite foods to smoke??
Pick up one of my outdoor cooking books on Amazon or in your local Barnes & Noble. Smoke it Like a Pit Master and Smoke it Like a TEXAS Pit Master!
Want to know more? Check out the other posts in this series:
How to Grill: Using a Gas Grill
How to Grill: Using a Smoker
How to Grill: Using a Charcoal Grill
How to Grill Chicken
How to Grill Steak
How to Grill Seafood
How to Grill Pork
How to Grill Vegetables
How to Grill Fruit
How to Clean Your Grill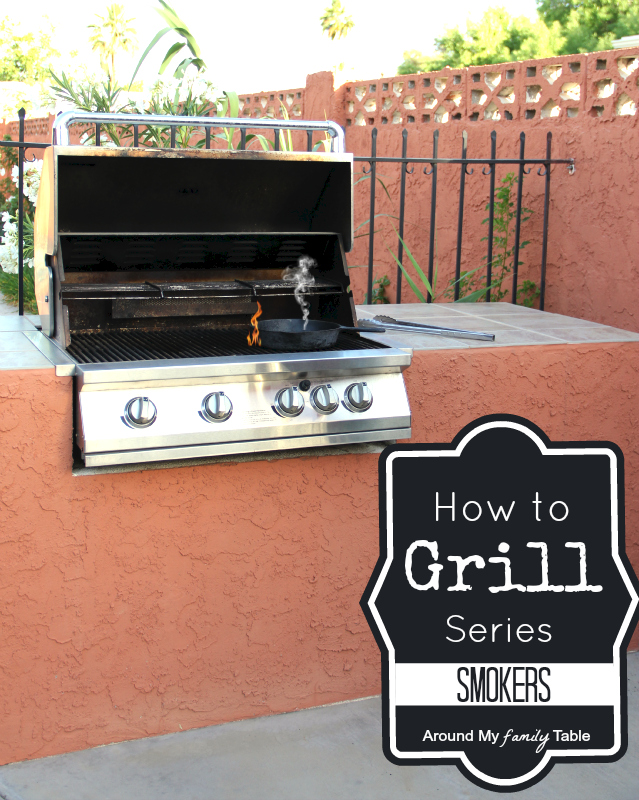 Original Post: 5/23/13, Updated 4/23/18