This post may contain affiliate links. Please read my disclosure.
I love Valentine's Day…maybe because I love chocolate and I have a huge sweet tooth, but the colors of this season are so pretty to me. I love all the pinks, whites, and reds. What about you…don't you just love it? And I just love this super simple valentine bundt cake I made with my kids last weekend to start getting excited about the upcoming holiday.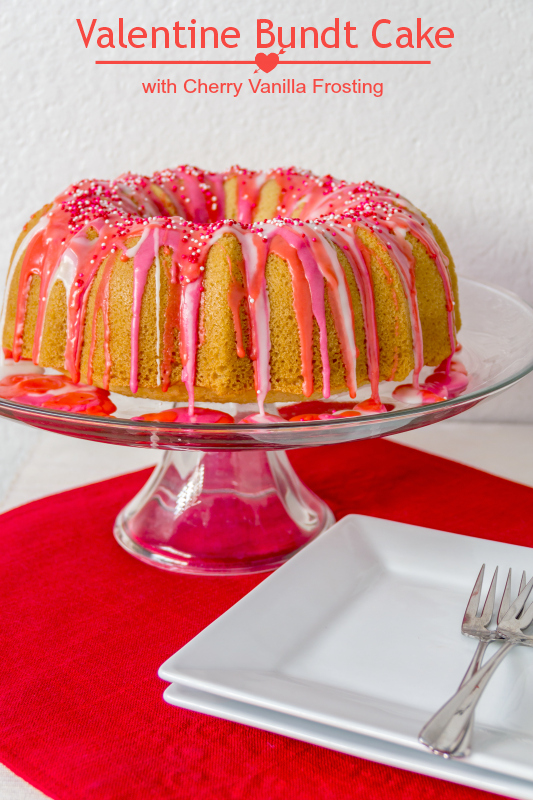 Since I'm not a huge of football fan so we jump from New Year's to Valentine's without really thinking about Superbowl stuff. I know I should care, but I just don't. LOL! In fact, I have no idea who will be playing in the upcoming game and probably won't know until the game starts. We watch for commercials and of course the food!
Let's get back to this delicious cake, shall we? I guess technically you could make it with your favorite team colors and take it to the party, but I think you should surprise your family on Valentine's or let the kids give it a try. I know mine had a blast mixing frosting colors and drizzling over the cake.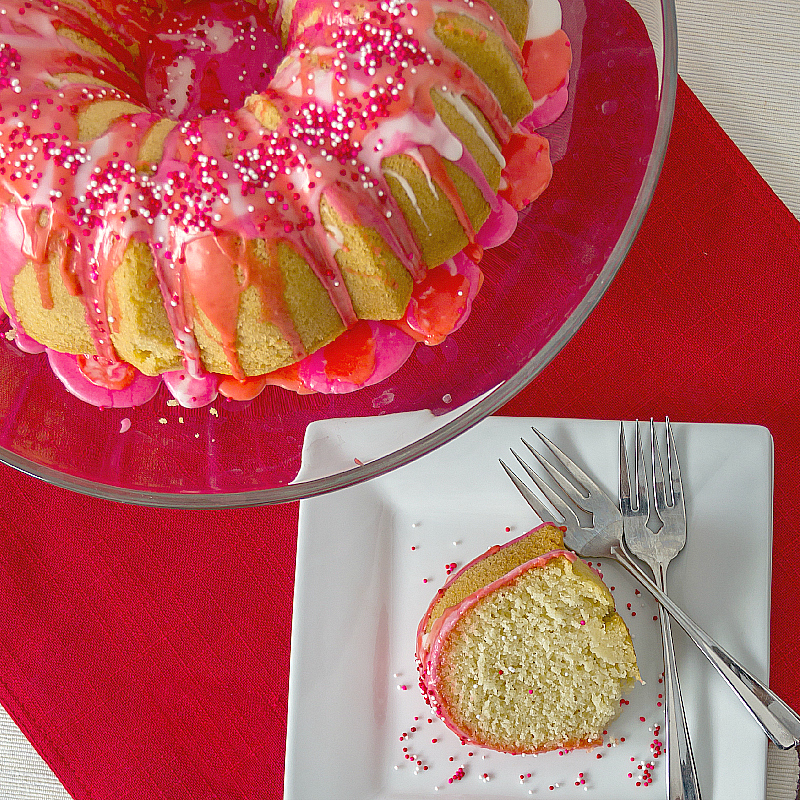 What makes this cake is the cherry vanilla frosting! Yep, Cherry Vanilla Frosting. My mouth is watering just thinking about it again. I bet it would be great on sugar cookies too. I know most people think of strawberries as a valentine's flavor but the cherry is unexpected and delicious!
The other cool thing is that you can make your cake from scratch or use your favorite box mix. I made a gluten free cake, but obviously you can use any cake you want…just use a white or yellow cake recipe. I seriously love how easy this Valentine Bundt cake turned out…plus it was scrumptious!!!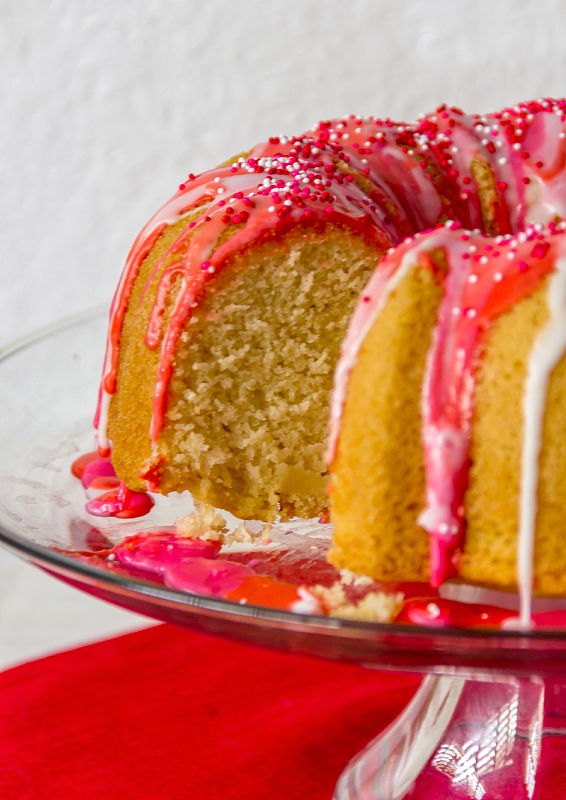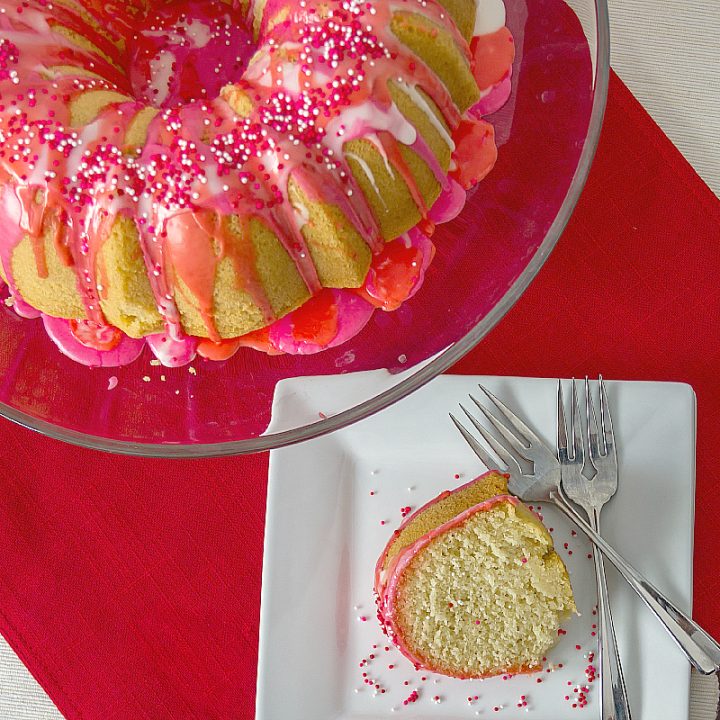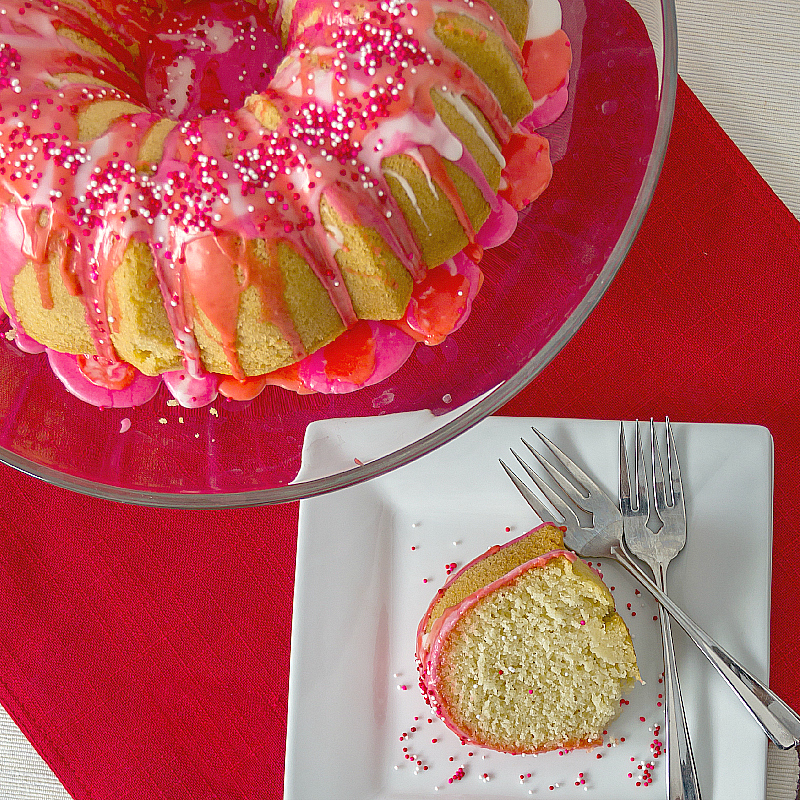 Valentine Bundt Cake with Cherry Vanilla Frosting
Total Time:
1 hour
5 minutes
This Valentine bundt cake can be made with your favorite homemade cake recipe, or make things easy and use a boxed cake mix!
Ingredients
Favorite Cake Mix or boxed cake mix
1 cup powdered sugar
4-5 tbsp milk of choice (plus more for thinning)
1 tsp pure vanilla extract
1/8 tsp cherry extract
red and pink food coloring
Instructions
Prepare cake as directed and cook according to instructions. Let cool completely so that frosting will stay on cake when drizzled on.
Combine powdered sugar, milk, and extracts and smooth. (Adjust extract flavoring to taste.) Add additional milk by the tablespoon until the frosting can be easily drizzled over cake. Divide frosting into three bowls. Color one red, one pink, and leave one white.
Take turns drizzling various colors over the cake.