This post may contain affiliate links. Please read my disclosure.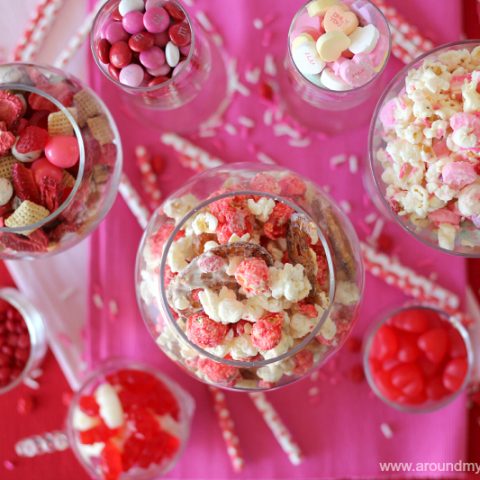 Valentine's Cinnamon Snack Mix
A twist from traditional Valentine's treats, this Valentine's Snack Mix is sure to please your special Valentine!
Ingredients
3 cups popped popcorn, divided
1/2 cup butter (Earth Balance or regular butter)
1/4 cup corn syrup
1 cup red hot cinnamon candies, divided
1 cup pretzels (I prefer Glutino Gluten Free Pretzels)
1/4 cup slivered almonds
1 cup white chocolate chips (I use vegan white chocolate chips)
1 tsp coconut oil
Instructions
Preheat oven to 250F. Line a baking sheet with parchment paper.
Combine butter, corn syrup, and 3/4 cup of cinnamon candies in a bowl over medium heat. Bring to a boil, and cook for 5 minutes, stirring often.
Pour the hot syrup over the popcorn in a large, heatproof bowl, and stir to cover the popcorn. Spread the popcorn out onto the prepared baking sheet and bake until the candy coating is set (~30 minutes). Let cool completely.
In a large, heat proof bowl, melt white chocolate chips with coconut oil in 30 second bursts, stirring between each burst. When chocolate is melted and smooth, let cool for 1 minute. Add in remaining popcorn, pretzels, red hot candies, almonds and stir to coat well. Add in cinnamon popcorn and stir to mix in.
Pour out onto parchment paper to cool.
Notes
Don't want to make your own cinnamon popcorn? You can buy cinnamon popcorn from various online popcorn stores
Disclaimer: Glutino sends me a box of gluten free products every month or so to try. I'm not required to post about them, but since I love their products and would use them anyway I love sharing them with y'all.