This post may contain affiliate links. Please read my disclosure.
Whole Wheat Dinner Rolls…they are so light and fluffy and simple enough for any supper, but fancy enough for a holiday meal too!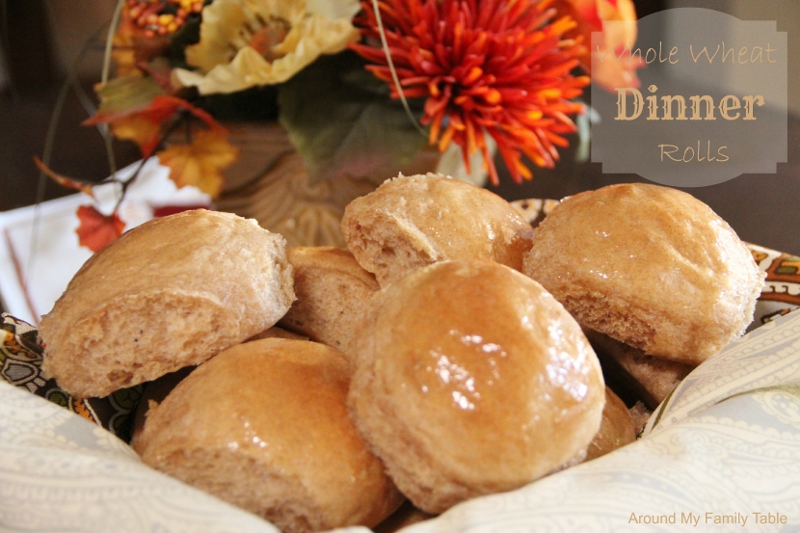 I shared these rolls over on the Bob's Red Mill website. But, I just had to share them here too because they are just too good not to share.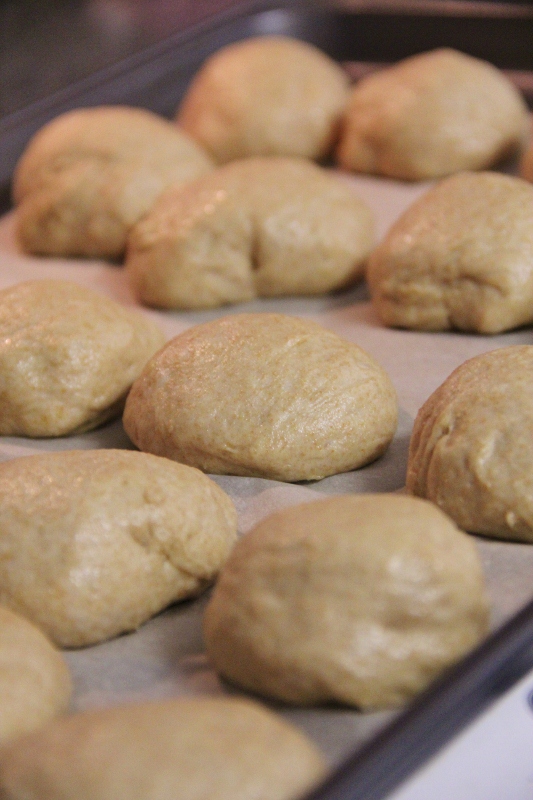 Homemade bread has been a part of my family's holiday meals for the last 15-20 years. It started off with my father-in-law's basic white bread in the bread machine. It was so good, but as I've learned more about cooking and the benefits of whole grains, I added this easy and feather light whole wheat dinner roll to our family's meals. Everyone loves it around here, so now I make them all year long!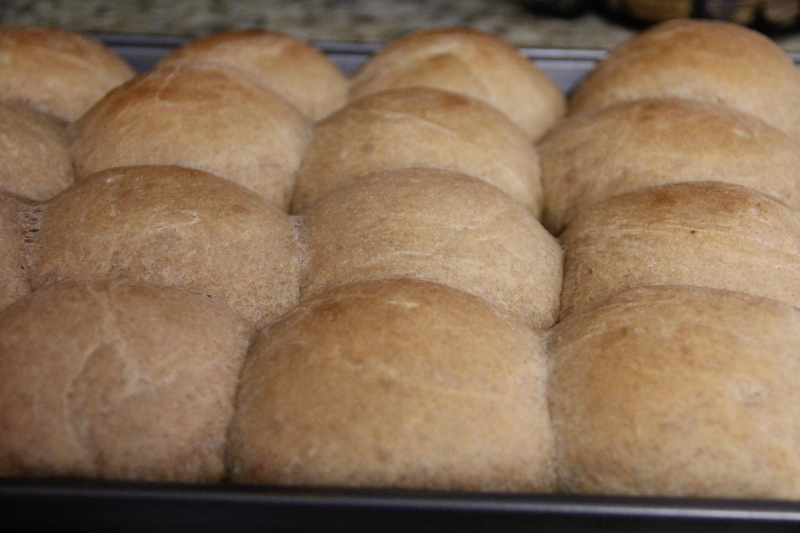 I'm sure you are thinking that these rolls will be really heavy and dense; however, they are just the opposite! Using whole grain flours correctly (and using a premium product) are a must. Cheap "whole wheat flour" is not true whole grain flour. Please don't buy the cheap stuff at the grocery store. Splurge for a good brand or grind your own. I love grinding my own…I actually prefer it, but when I can't, I honestly buy Bob's Red Mill (or one other brand…email me and I will tell you if you are dying to know).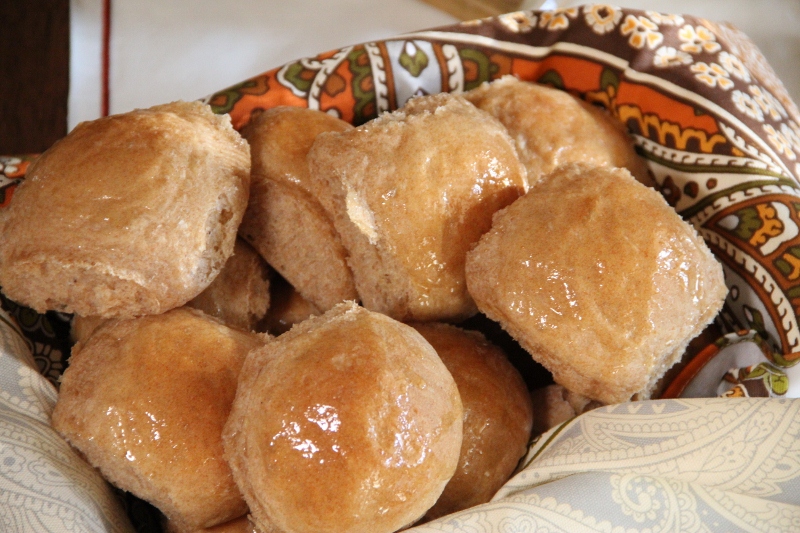 Have you ever baked from scratch? Do you use whole grains? How does it turn out…I'd love to hear from you.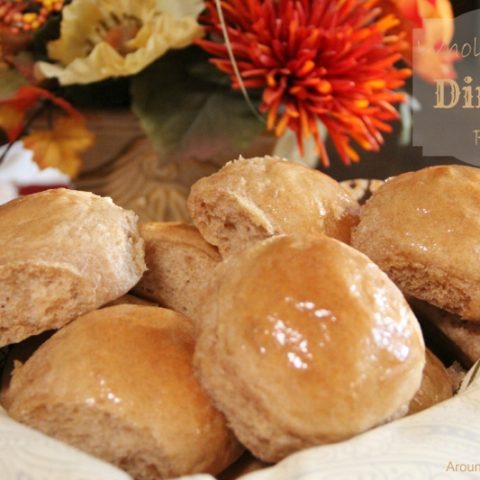 Whole Wheat Dinner Rolls
Total Time:
1 hour
15 minutes
These Whole Wheat Dinner Rolls are so light and fluffy! Simple enough for any supper, but fancy enough for a holiday meal too!
Ingredients
3 1/2 cups whole wheat flour (plus 2 cups more)
1/4 cup unbleached white flour (plus 1-2 cups more)
1/4 cup powdered milk
2 1/2 tbsp active dry yeast
2 cups warm water
1/2 cup canola oil
1/3 cup honey
3 eggs
1 tbsp sea salt
1/4 cup butter, melted
Instructions
In a Bosch* mixer, combine flours, powdered milk, and yeast. Turn on mixer for about 30 seconds to combine ingredients.
Add water, oil, and honey to dry ingredients and mix for 1 minute. Let mixture sit for 10-15 minutes in the bowl to bloom.
Add in the eggs and salt and mix until well combined. Dough will be very loose, so more flour needs to be added. Add in whole wheat flour by the 1/4 cup full (up to 2 cups). Dough should begin to pull away from sides of bowl, but not pick up from the bottom. At this point, if more flour is needed, add only unbleached white flour. (Usually after the bloom, it takes about 3 cups of additional flour). Continue to mix for 5 minutes or until gluten fully develops. (*If not using a Bosch, then the dough will need to rest until doubled in size.)
Lightly flour the counter and using oiled hands, dump the dough onto the counter. Gently knead the dough for about 1 minute. Cut dough into quarters. Each quarter will make approximately 10 dinner rolls.
Line an 11x15 sheet pan with parchment paper. Form dough into golf ball sized rolls and place on the sheet pan. One sheet will hold 20 rolls. Allow the rolls to rise until they at least doubled in size or they touch each other and fill the pan. About 30 minutes.
Heat oven to 350F and bake for 15-20 minutes. Allow to cool and brush top of rolls with melted butter.
Notes
If you aren't using a Bosch mixer, in step #3 of the recipe instructions, you need to allow the dough to rise until doubled in size.
Nutrition Information:
Yield:

40
Serving Size:

1
Amount Per Serving:
Calories:

91
Total Fat:

5g
Saturated Fat:

1g
Trans Fat:

0g
Unsaturated Fat:

3g
Cholesterol:

17mg
Sodium:

192mg
Carbohydrates:

11g
Fiber:

1g
Sugar:

3g
Protein:

2g
Disclaimer: Bob's Red Mill sent me a box of goodies to use in my recipe development. All opinions are my own.