This post may contain affiliate links. Please read my disclosure.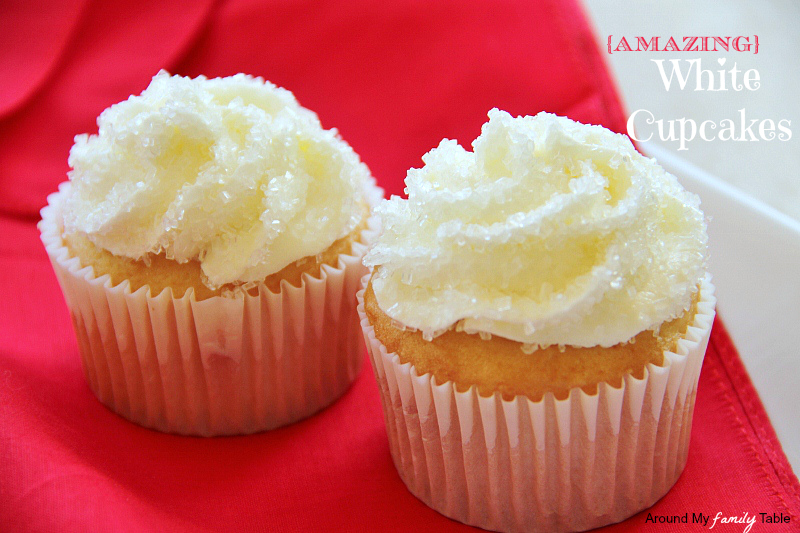 I enjoy baking from scratch and always make my kids a fancy schmancy cake for their birthdays. Everyone raves about my white cake and I have several friends (ahem…Janice) who has complained on several occasions that my white cake recipe is not on AMFT. Well…here it is…my Amazing White Cake recipe. It's pretty fail proof and and has a great crumb.
For my daughter's birthday last August I made "princess" cupcakes. They really weren't anything special except I added course sugar on the top of the frosting in different colors and the kids loved it. Check out these recipes if you get a chance….Princess Sparkle Cupcakes and How to Make Colored Sugar! I made these special for my daughter because she can't have the dyes, but she was happy that all her friends were able to have fun colored cupcakes!
I was calling these my snow white cupcakes, but figured every one would wonder why Snow White was not part of the recipe. So I renamed them. LOL!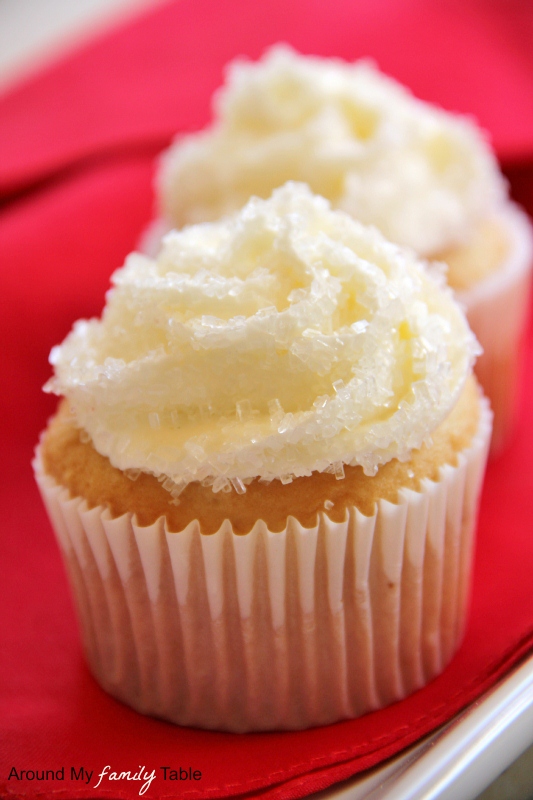 Do you bake from scratch or from a boxed mix? I don't think there is anything wrong with either. I prefer from scratch..if you couldn't tell.
I really enjoy it. It gives me great pleasure to know that I created something for my family and I know what went into it. I do take short cuts every so often when we are super busy or not feeling well, but I honestly can't wait to get back into the kitchen to CREATE something. It's almost therapeutic
Except the dishes…I hate that part!
Amazing White Cake
2 3/4 cups AP flour
1 1/2 cups, plus 2 tbls sugar
1 tbl baking powder
12 tbl butter, softened
4 large egg whites + 1 large egg
3/4 cup sour cream
1/4 cup water
2 tsps real vanilla extract
1 tsp almond extract
Preheat oven to 350F.
Mix all the dry ingredients in a mixing bowl fitted to an electric mixer. Add softened butter and combine on low speed.
Add egg whites, one at a time, then beat mix in whole egg.
Gently stir in sour cream, water, and extracts, beating to keep the mixture fluffy.
Grease and flour pans of choice: 2-8″ or 9″ round or square cake pans, 1-9″x13″ pan, or 24 cupcake tins (using papers).
Bake at 350F. Bake for 18 minutes, then check every few minutes (5 minute intervals at the most) for cupcakes or layer cakes, 30 minutes for 9″x13″.
!Gluten Free/Vegan Option:
Use my [GF flour blend|https://www.aroundmyfamilytable.com/2013/03/the-best-gluten-free-flour-blend/] (or one that subs cup for cup) plus 1 1/4 tsp xantham gum, use dairy free/vegan options for the butter and sour cream, sub 3 servings egg replacer for the eggs.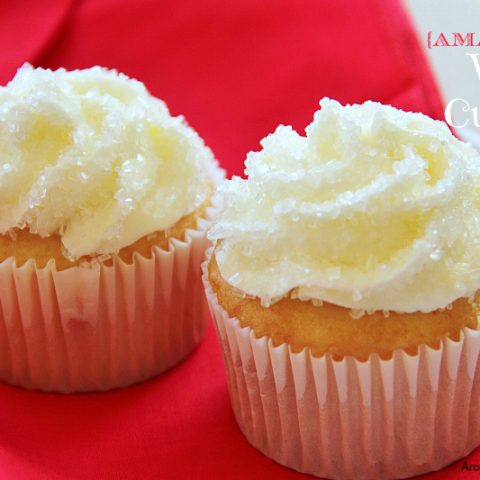 White Almond Buttercream Frosting
This fluffy white almond buttercream frosting is delicious! It's stable enough to use as a filling between layers of a cake or to frost the top of cakes and cupcakes.
Ingredients
1/2 cup butter, softened*
1/2 cup shortening
2 tbsp warm water (2-3)
1 tsp almond extract
1 lb confectioners sugar
Instructions
Beat together butter, shortening, 1 tbsp of warm water, and almond extract until smooth and creamy. Beat in the sugar gradually on a low setting. Scrape sides of bowl as needed.
Mixture will be very thick. After all sugar is incorporated, add 1-2 more tbsp. of warm water and beat at medium/medium-high speed for 1-2 more minutes. Adding more warm water will continue to thin the frosting consistency and bring down the sweetness even more. Add as much as you like to get the appropriate flavor and consistency. Be careful because a little goes a long way.
The frosting can also be made several days in advance and stored in an airtight container in the refrigerator. Bring to room temperature, then mix well before using. Leftovers should be refrigerated.
Get the look by using Decorating Tube 1M fitted into a piping bag.
Notes
* To make this frosting dairy free, use all butter flavored shortening