This post may contain affiliate links. Please read my disclosure.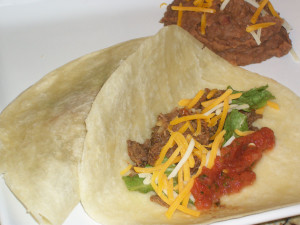 Pot Roast leftover idea #2 comes from my Mother-in-Law. I feel in love with it the first time she made it, so I demanded asked for the recipe. I have no idea where she got it, but I do know that it was meant to be used on an entire roast. I've halved it so that it works with my leftover shredded roast.
I also end up making this dish to use up leftover unfried beans and my homemade salsa. It is true leftover meal…using up all sorts of odds and ends. One note of caution, make sure you leave a cup or two of meat from this meal for the next leftover idea…coming Friday!
Spicy Taco Meat
2 1/2 lbs roast, cooked and shredded
1 1/2 tbls oil
1 onions, diced
1/2 can chopped green chilies (4 oz)
1 jar green chili salsa (7 oz )
1/8 teaspoon garlic powder
2 tbls flour
2 tsp salt
1/2 tsp cumin
tortillas/taco shells
Opt toppings: cheese, lettuce, salsa, sour cream
In a large pan add oil, onions, green chilies, and sauté for 1 minute. Add salsa, garlic powder, flour, salt, and cumin; cook 1 minute.
Stir in shredded meat and cook 5 minutes until thick. Make into tacos or burritos.
Store leftovers in the fridge.