This post may contain affiliate links. Please read my disclosure.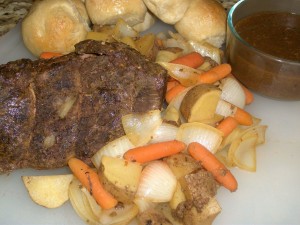 On really busy weeks, I look for recipes that can be easily turned into leftovers. However, I really hate leftovers that taste and look exactly the same as first night…so I have to be able to make something totally new out of the leftovers.
This easy 3 Packet Pot Roast does the trick! It has tons of flavor, but the flavors won't compete when you turn this dish into leftover meals all week long. So, today I will share this family favorite meal and the rest of the week will be the different meals I made with the leftovers. Sometimes, if the roast is really big, we can make all these things. Sometimes, I make two roasts just for the leftovers and sometimes I just play it by ear.
My 3 packet pot roast was inspired by Stephanie of A Year of Slow Cooking's 3 Packet Pot Roast. Of course, I changed it up just a bit to fit my family's tastes! You will have to come back all week to see what we made out of our leftovers!
3 Packet Pot Roast
3 lb chuck roast
1 packet ranch salad dressing and seasoning mix
1 packet Italian salad dressing mix
1 packet McCormick Grill Mates Peppercorn & Garlic
1 cups water (1 to 3)
veggies of choice
Trim the roast of any visible fat and place it in a slow cooker. Dump in the packets of seasoning and add 1 cup of water. Cook on low for 8 hours, or on high for 4-5. (The meat will be more tender if you cook it on low.)  About 2 hours before you want to eat add in whatever veggies you want (chopped potatoes, an onion, carrots, or celery). 20-30 minutes before eating, add about 2 more cups of warm water to the slow cooker and turn to high.
Drain the juice from the slow cooker and skim off the fat. Add a corn starch slurry (1 tbl corn starch to 1/4 cup water) to the juice and warm on the stove until it starts to thicken. It makes a wonderful a gravy. (Reserve at least half of the juice for the leftover meals.)
To prepare the leftovers: let the roast cool slightly while you eat supper. Shred the rest of the roast (unless you need a slice for a sandwich the next day). Once shredded, store in the fridge for up to a week or in the freezer for a couple months.
Join the Club!
Get delicious recipes delivered straight to your inbox each week! Plus learn how to take back suppertime in your home.

And get started with my NEW Take Back Suppertime 5-Day Jump Start Guide.