This post may contain affiliate links. Please read my disclosure.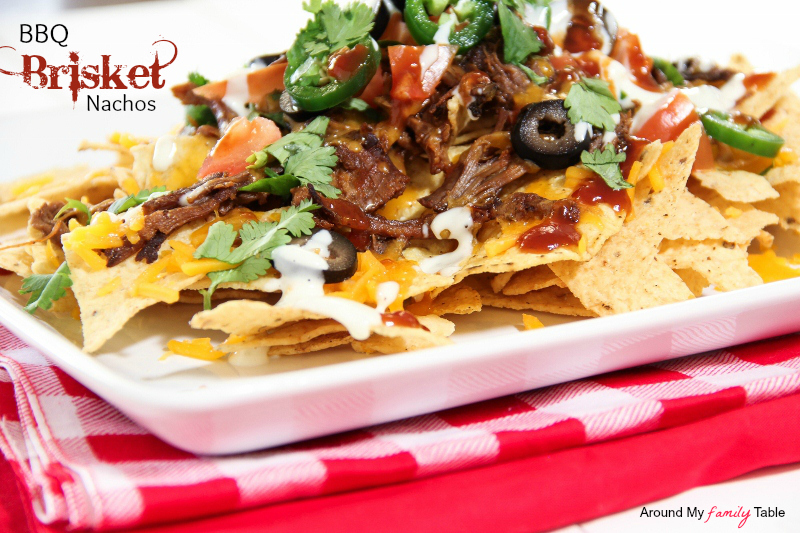 When I was in my high school marching band, we played an old "cowboy" song that was the current theme song for the Beef Council. Yes, I'm a band geek and I loved every minute of it. I remember all the songs we marched to and I can't plate up a nice piece of beef without singing that song. Do you remember it? The line at the end was, "Beef, It's Whats For Dinner!" Of course I sang this song while creating this plate of total awesomeness which has become known as BBQ Brisket Nachos.
It was actually my attempt to use up some brisket that we had cooked the previous weekend, but it ended up the favorite meal of the week! We have actually been trying to eat healthier this month (ya know…New Year Resolutions and all) and so I was happy to learn that beef (my beautiful brisket included) can be part of a healthy diet. Did you know that there are 29 lean cuts of beef? I knew a few of the steaks that were on the list like sirloin, flank steak, and tri tip, but didn't realize there were 29 lean cuts.
I know what you are thinking. Really, I do! You're thinking nachos aren't healthy. But the the brisket adds so much intense flavor that there is not much cheese on these nachos. It really not needed! I promise, you won't miss it!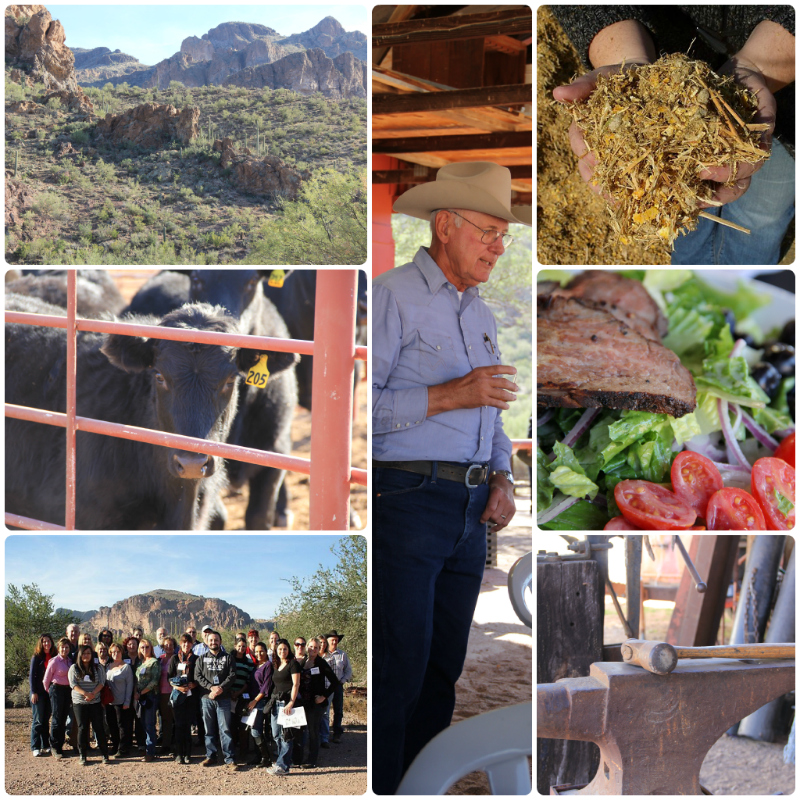 Last month, I had the chance to go on a tour with the AZ Beef Council and see where our AZ beef comes from, how it is raised, and had a beautiful steak lunch at a ranch in the beautiful AZ dessert. There really is so much involved in the process of raising beef cattle; I had no idea. One thing I can say with certainty is that it's not like what you hear on the news or in those documentaries that bash the food industry. Every thing was clean and organized and so much thought put into everything. The rancher that we had lunch with said something that really stood out to me. He said, "[The majority of cattle ranchers] wouldn't be in this business if they didn't love what they were doing."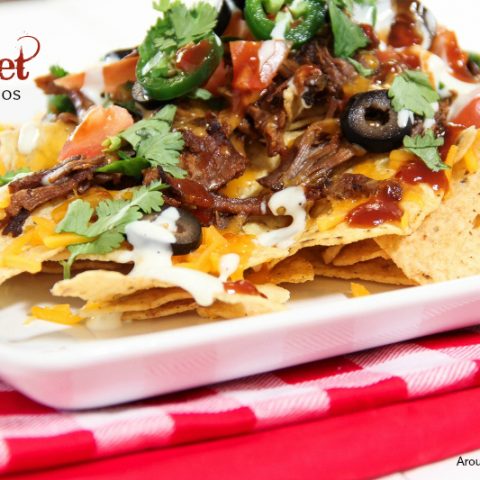 BBQ Brisket Nachos
Total Time:
8 hours
15 minutes
BBQ Brisket kicks up traditional nachos to a whole new level that is out of this world! Beg, borrow, or steal some brisket or make your own in the slow cooker.,
Ingredients
Brisket:
5-10 lb beef brisket, well trimmed of visible fat
2 cups BBQ sauce
salt and pepper
Nachos
3 cups tortilla chips
1 cup cooked and shredded brisket
1/4 cup BBQ sauce
1/2 cup shredded sharp cheddar cheese
1/4 cup blue cheese dressing
2 large tomatoes, seeded and chopped
1/4 cup chopped cilantro
1/2 cup sliced black olives
3 jalapenos, sliced (remove seeds to reduce spiciness)
Instructions
Brisket:
Trim brisket of all visable fat and place in a large sheet of tin foil. Sprinkle with salt and pepper, then cover in BBQ sauce. Wrap foil around brisket and place in a large slow cooker. Cook on low for at least 8 hours.
Let rest at least 10 minutes before slicing. Slice against the grain for a tender slice of meat or shred meat with two forks while still warm.
Note: If brisket is too large for your slow cooker, cut it into several smaller pieces and wrap it up together.
Nachos:
On a microwave safe dish (or a small jelly roll pan for the oven) layer first 4 items in order listed. Microwave for 1-2 minutes or heat in a 350F oven until cheese melted. Add remaining toppings and enjoy.
© Around My Family Table
Nutrition Information:
Yield:

6
Serving Size:

1
Amount Per Serving:
Calories:

358
Total Fat:

23g
Saturated Fat:

8g
Trans Fat:

0g
Unsaturated Fat:

13g
Cholesterol:

62mg
Sodium:

465mg
Carbohydrates:

20g
Fiber:

2g
Sugar:

6g
Protein:

18g
Nutrition shown is only for the nachos, not for the entire brisket.
Disclaimer: This post is part of my relationship with the AZ Beef Council. Nutritional facts provided by the council; however, recipe, opinions, and images are my own.