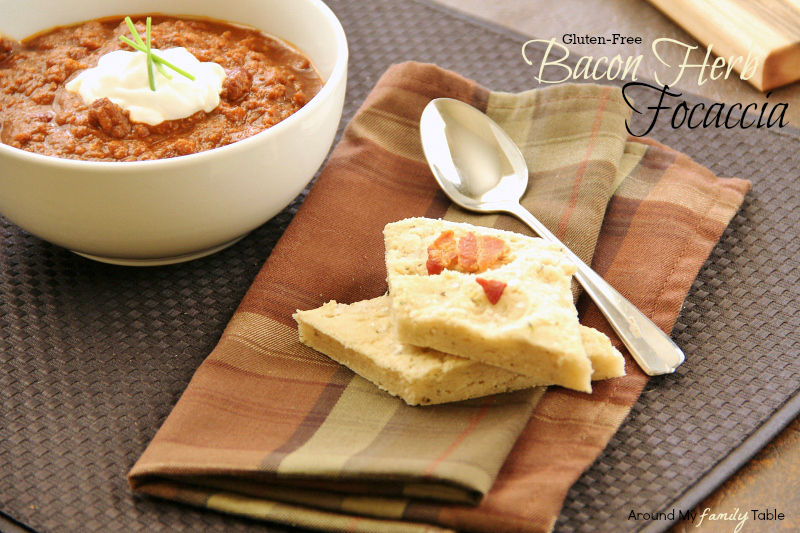 I have been super busy trying to come up with fun recipes for my Super Bowl party this year and I've been having fun sharing them with y'all. Check out my Fire Cracker Chicken Skewers, Buffalo Meatballs, and BBQ Brisket Nachos for more game day must haves!  This gluten free bacon-herb focaccia bread will be the perfect addition.   We had it with a big bowl of chili for supper last week, but I can totally see making the leftovers into a sandwich or just serving it up as an appetizer.
This bread is so perfect for game day because it is portable and no one will miss any of the action (or commercials in my case).  It's also so versatile that guests can just much on it or stuff it full of cold cuts.  I'm all about double (or triple duty) foods and this one doesn't disappoint!
Speaking of the Super Bowl….I really only watch for the commercials.  It's only a couple days before the big game and I have no idea who is playing.  Kind of sad, isn't it?  I only watch two games a year…the Super Bowl and when my alma mater (Arizona State) plays our rivals (Univ of AZ).  That's it!
At the end of the day homemade, from scratch, foods taste best and are better for you.  This bread is no exception and can easily be made a day in advance for easy game day party planning!  I love cooking and baking from scratch when I can, it's really the way I learned to cook (thank you Mom).   I love knowing that I can control the quality of ingredients in the foods I feed my hubby and kids.  It just makes me feel good.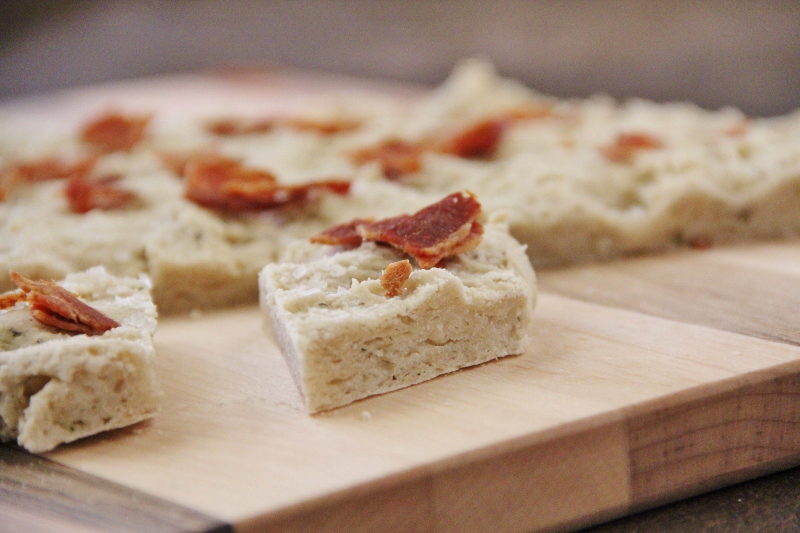 What yeast do you use for making bread?  I've been using Fleischmann's Yeast for as long as I can remember.  I love the convenience of the individual, perfectly measured, packets.  It works perfectly every time!   They have been around for over 140 years and are known for their quality and reliability.  They have a ton of recipes to get you started on their website, Bread World.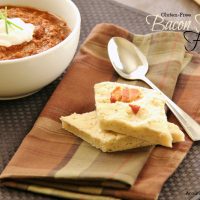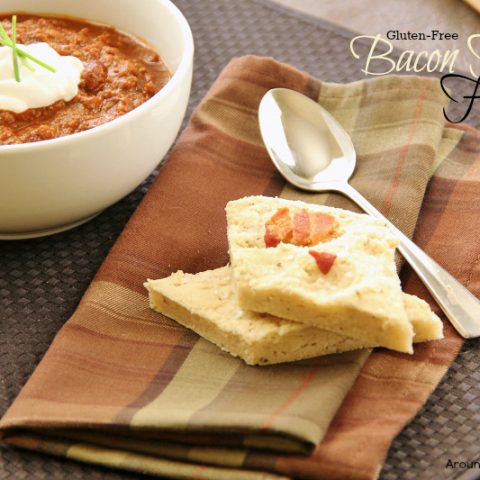 Gluten Free Bacon-Herb Focaccia Bread
Salty bacon and herbs really add a punch to this easy gluten free focaccia bread.
Ingredients
2 1/2 cups King Arthur Gluten Free Multi-Purpose Flour (or your favorite blend)
1 tsp xantham gum
1 envelope Fleischmann's RapidRise Yeast
1 tsp Italian Herb Seasoning (such as Spice Islands)
3/4 tsp salt
2 cloves garlic, minced
1/2 cup plus 2 tbls water
2 tbls olive oil
2 eggs (or equivalent egg replacer)
5 slices cooked bacon, coarsely chopped
coarse Kosher salt and olive oil for topping (opt)
Instructions
Combine 2 1/4 cups flour, undissolved yeast, Italian herb seasoning, salt, and garlic in a large mixer bowl. Heat water until very warm (120° to 130°F); gradually add water and oil to flour mixture. Beat 2 minutes at medium speed of electric mixer, scraping bowl occasionally. Add eggs and remaining flour (if needed); beat 2 minutes at high speed.
Spread dough on greased 15 x 10-inch jelly roll pan. Drizzle with olive oil and sprinkle with Kosher salt. Sprinkle with crumbled bacon. Cover; let rise in warm, draft-free place until puffy, about 30 minutes.
Bake at 375ºF for 25-30 minutes or until done. Remove from pan and cool on wire rack. Serve as strips or squares as an appetizer or side dish to hearty soups or chili. Or slice and use for sandwiches.
© Around My Family Table
My Gluten Free Bacon-Herb Focaccia Bread is inspired by this recipe from BreadWorld.
Disclaimer: This recipe is part of my partnership with Mom Central Consulting for ACH. I received a promotional item as a thank-you for participating.
Join the Club!
Get delicious recipes delivered straight to your inbox each week! Plus learn how to take back suppertime in your home.

And get started with my NEW Take Back Suppertime 5-Day Jump Start Guide.