This post may contain affiliate links. Please read my disclosure.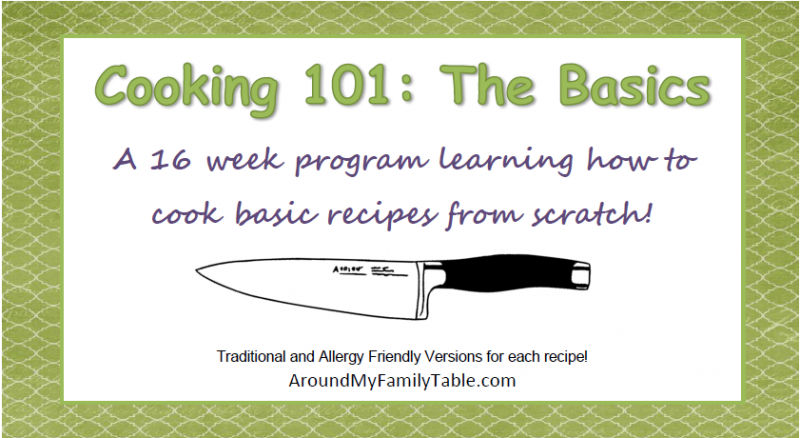 How To Sign Up:
If you'd like to join the cooking classes challenge, sign up by joining the Cooking 101: The Basics group on Facebook. Over there you can ask questions, post tips and recipe photos, and help each other along the way.
Please Grab a Button:
If you are following along, the please grab a class button. Put it on your sidebar and/or in your recipe posts you link up (just link it to my home page). I'd love for you to share the classes with your family, friends, on Facebook, and on Twitter!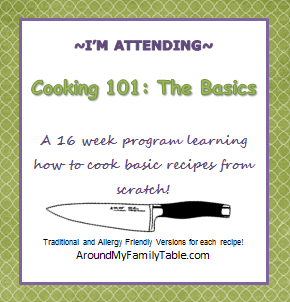 How the Classes and Challenge Work:
Cooking 101: The Basics is a 16 week class on Wednesdays. I will post a new recipe with tips on getting great results along with pictures. It's like your own personal online cooking school! Take as long as you need, but once you make the recipe (or a similar version) come back and add your link to the post to share with everyone. No blog…no worries…add your pictures to the Facebook group, we'd all love to see them!
Got questions? Email, leave a comment, but the best place will be the facebook group!
Grab your aprons and let's get cooking!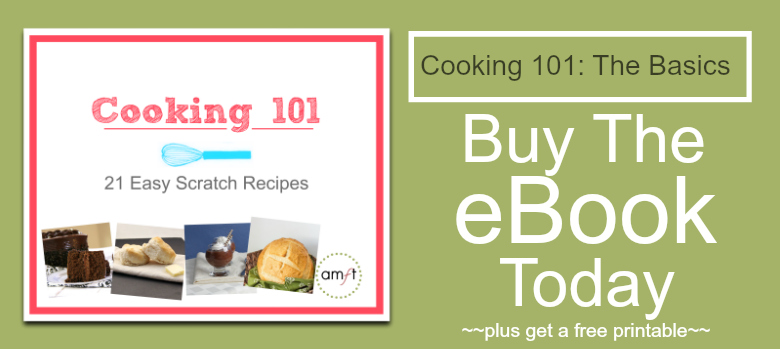 WEEK #15 – BISCUITS
I can't believe this series is almost over. Next week is the final week…have y'all enjoyed it? I hope you have enjoyed these back to basic recipes. They are no frills, just good ol' home cooked recipes.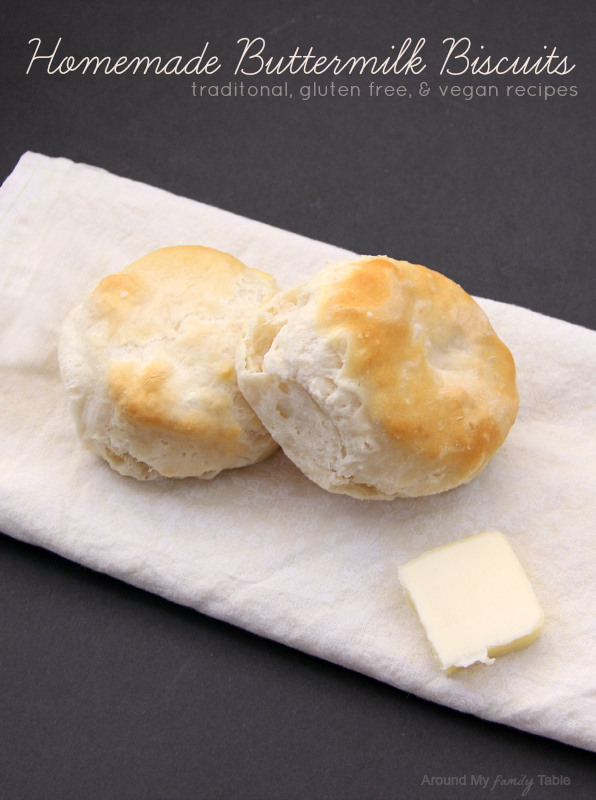 This week was a challenge for me. I'm still new to cooking gluten free and dairy free, so developing a biscuit recipe for myself and others that have these allergies was hard. Sure, I can make a regular biscuit and I have been for 20 years (yikes…that sounds like I'm really old). Here's what the gluten free, vegan look like…not quite a pretty, but totally delish (and they were awesome with gravy and reheated).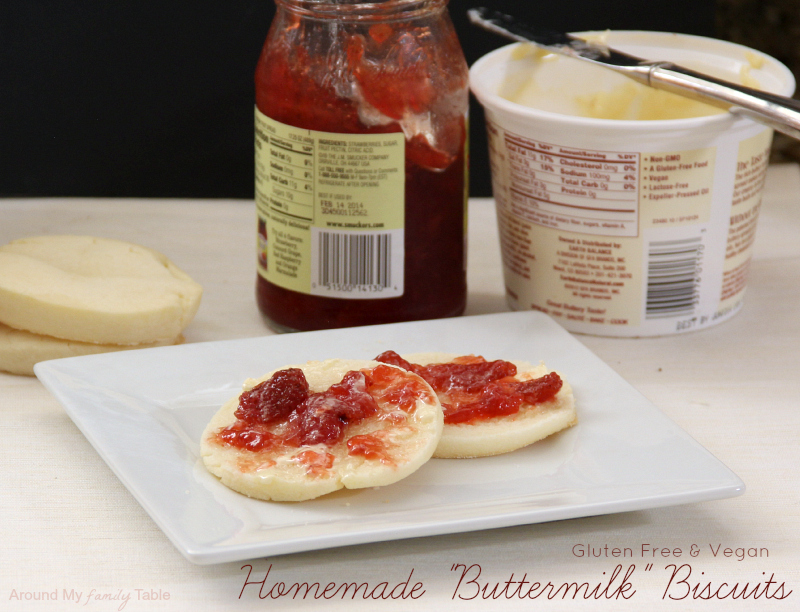 Biscuits are comfort food in my home. Had a hard day…here's some biscuits and gravy, Need a hearty breakfast…have some biscuits, It's a Holiday…have some biscuits. We eat them all the time. However, 99% of the time, I don't roll out and cut biscuits….I use the good ol' drop biscuit method. Nothing in the recipe is different except you skip all that rolling and cutting. Just scoop out a blob (yes that's the official word) and drop it on the baking sheet! Easy!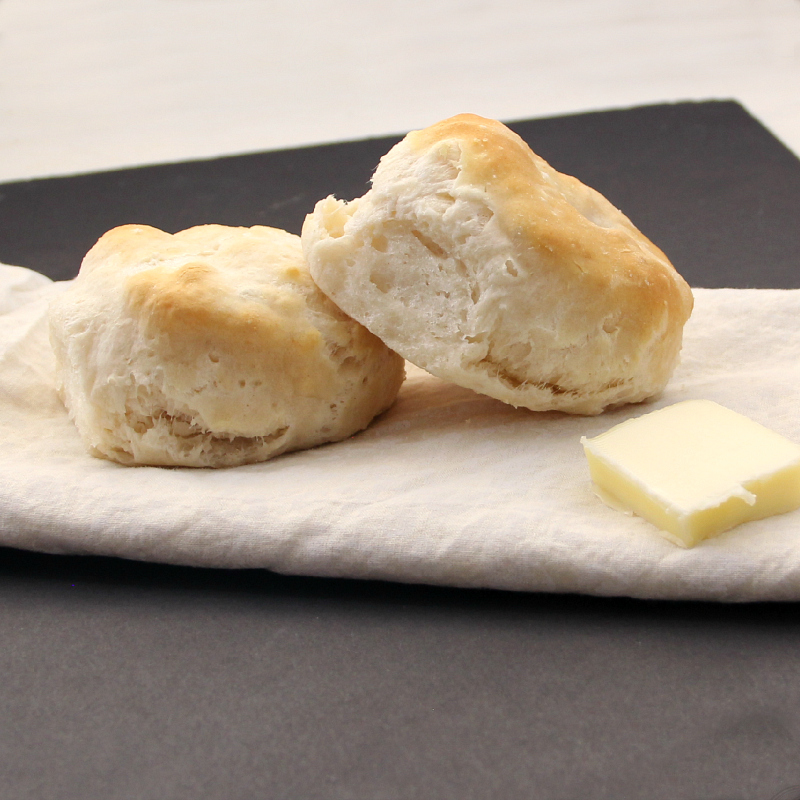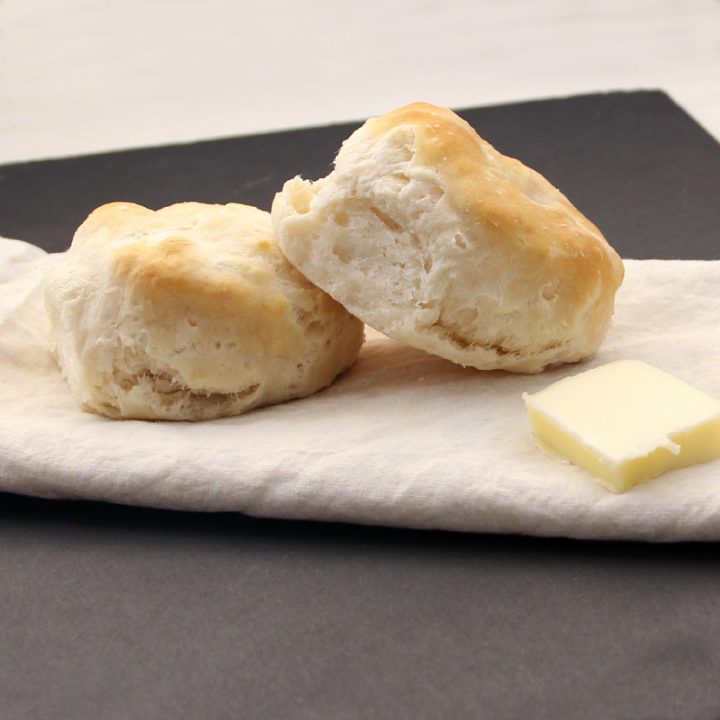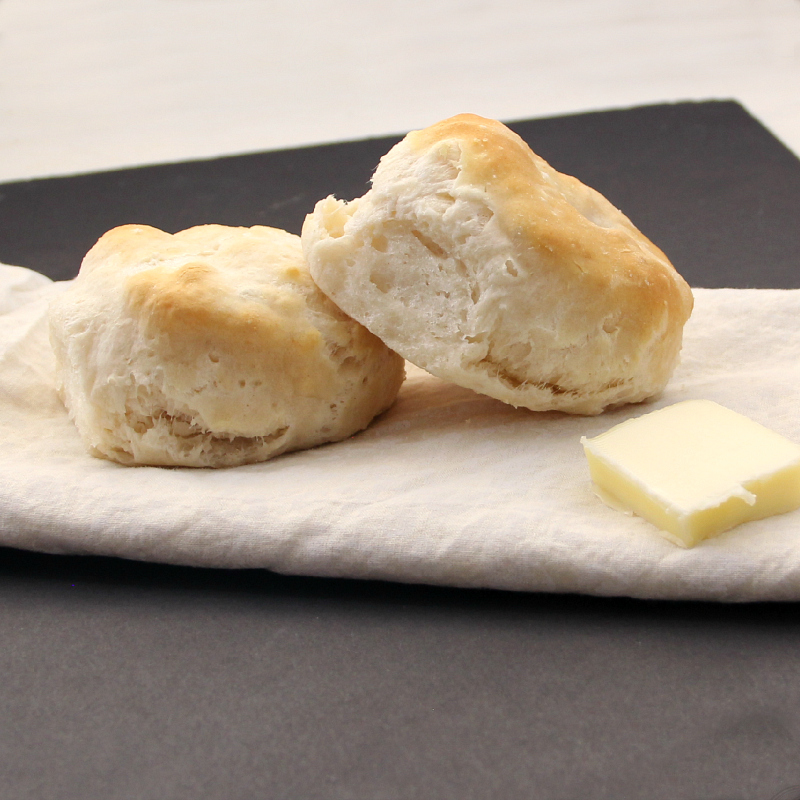 Biscuits from Scratch
Flaky buttermilk biscuits from scratch make any breakfast better! See Notes for gluten free and dairy free biscuit recipe.
Ingredients
2 cups AP flour, plus more for dusting the board
1/4 tsp baking soda
1 tbsp baking powder
1 tsp salt
6 tbsp butter, very cold and cut into small chunks
3/4 cup buttermilk
Instructions
Preheat oven to 450 F. and prepare baking sheets with non-stick cooking spray.
Combine dry ingredients into a large bowl and stir just to mix up a bit. Cut in butter with two forks or a pastry cutter until butter pieces are about the size of peas. Slowly add in buttermilk until dough forms.
Turn dough out onto counter that has been lighly dusted with flour. Roll to about 1/2 inch thick and cut with a 2in biscuit ring or a drinking glass. Gently transfer to prepared pan.
If you're making gluten free or dairy free biscuits, REDUCE OVEN HEAT to 400 F.
Cook for 10-12 minutes or until they are a light golden color and cooked all the way through. GF/DF biscuits should cook at 400F for 17-20 minutes.
Notes
Gluten Free Biscuits
Use 1 1/2 cups sweet rice flour plus 1/2 cup potato starch (not potato flour)
Dairy Free / Vegan Biscuits
Use soy baking sticks instead of butter and use 2 teaspoons lemon juice plus dairy free milk of choice to equal 3/4-1 cup buttermilk
GF/DF biscuits should cook at 400F for 17-20 minutes.
Nutrition Information:
Yield:

15
Serving Size:

1 biscuit
Amount Per Serving:
Calories:

107
Total Fat:

5g
Saturated Fat:

3g
Trans Fat:

0g
Unsaturated Fat:

1g
Cholesterol:

13mg
Sodium:

334mg
Carbohydrates:

14g
Fiber:

0g
Sugar:

1g
Protein:

2g
{Last week: Pasta Next Week: Pie Crust}