This post may contain affiliate links. Please read my disclosure.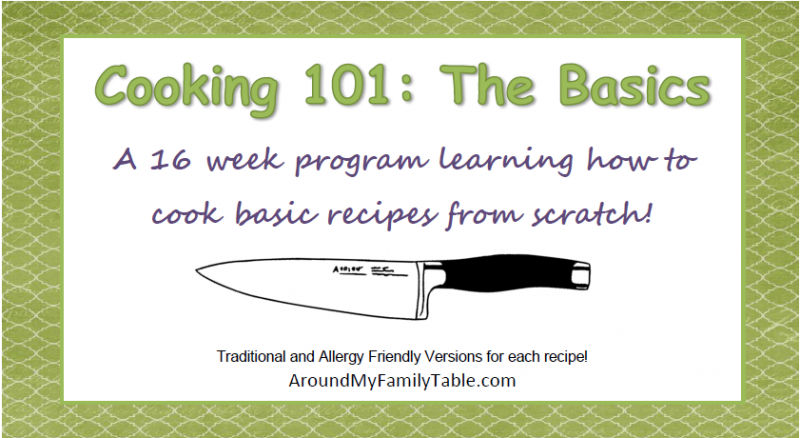 How To Sign Up:
If you'd like to join the cooking classes challenge, sign up by joining the Cooking 101: The Basics group on Facebook. Over there you can ask questions, post tips and recipe photos, and help each other along the way.
Please Grab a Button:
If you are following along, the please grab a class button. Put it on your sidebar and/or in your recipe posts you link up (just link it to my home page). I'd love for you to share the classes with your family, friends, on Facebook, and on Twitter!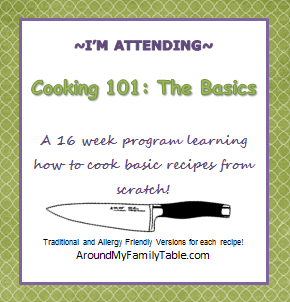 How the Classes and Challenge Work:
Cooking 101: The Basics is a 16 week class on Wednesdays. I will post a new recipe with tips on getting great results along with pictures. It's like your own personal online cooking school! Take as long as you need, but once you make the recipe (or a similar version) come back and add your link to the post to share with everyone. No blog…no worries…add your pictures to the Facebook group, we'd all love to see them!
Got questions? Email, leave a comment, but the best place will be the facebook group!
Grab your aprons and let's get cooking!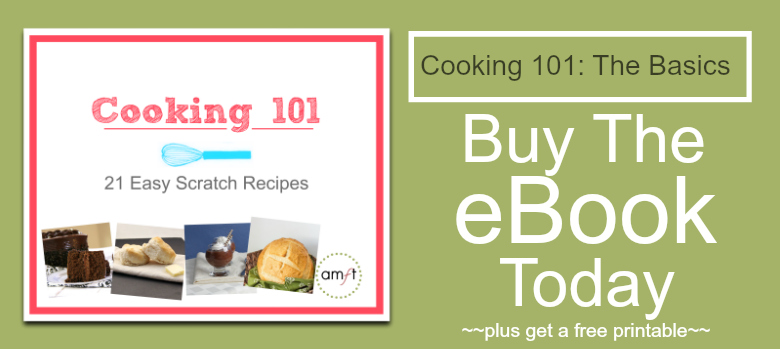 WEEK #14 – PASTA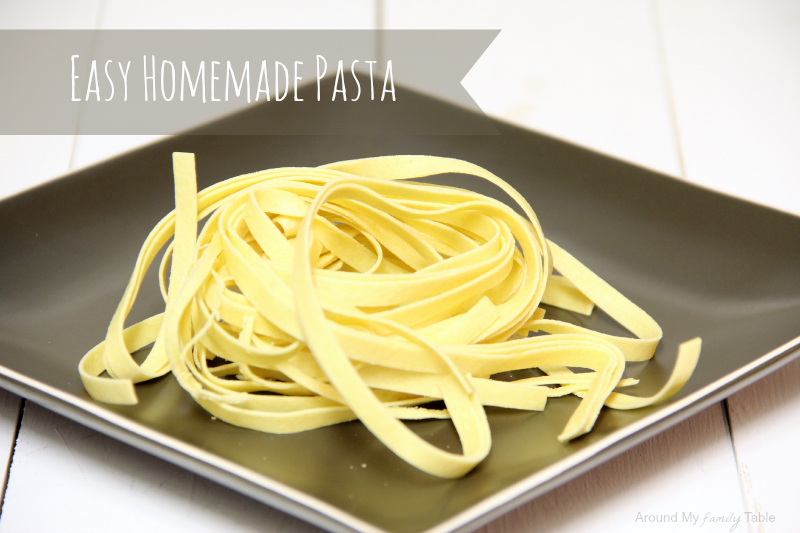 For the longest time I thought making pasta was too hard and too time consuming. I even tried it once a long time ago using an attachment on my mixer, but it didn't work…it just fell apart. I was so disappointed in myself…why couldn't I do this? I could make and decorate wedding cakes, but I couldn't make pasta! So frustrating.
As I attempted to make it again, I realized that I wasn't adding enough water. I just blindly followed the recipe I was given and assumed it would work. However, some recipes always need to be tweaked depending on your humidity, heat, feet above sea level. Seriously…it was an ah-ha moment for me!

If you make start to roll out your through the machine and it just crumbles and falls apart then put it back into the pile of dough and add water by the teaspoon full. Work it in and try again. If you make it enough you will get a feel for what it should feel like when you knead it.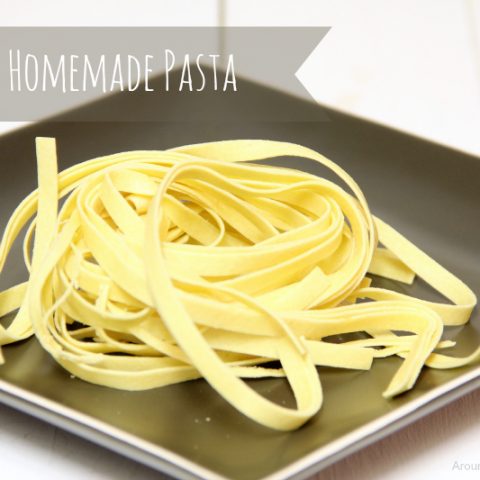 Homemade Pasta
Homemade pasta isn't difficult to make as long as you have the proper tools by your side. Once you taste fresh pasta, you'll never want boxed pasta again!
Ingredients
1 1/2 cups all-purpose flour or gluten free flour such as my recipe
1 egg (or 1 tbsp egg replacer plus 1 1/2 tsps water)
1/2 tsp salt
6 tbsp water
Instructions
On a clean surface, measure dry ingredients into a large mound and then make a well. Pour the egg and some of the water into the well and start to incorporate some of the flour into the liquid, being careful not to break "the well wall". (This is going to get messy...just go with it.) Gradually add more water as needed to moisten all the flour. This dough should not be sticky or soft and it will feel like you don't have enough water.
Use your hands to knead the dough and it start to stick together, but it will still feel dry compared to other doughs. Let the dough rest by wrapping in plastic wrap and sitting it on the counter for about 20-30 minutes.
Divide the dough in eight sections. Roll out one section at a time (into a square or recangle shape) with a rolling pin. It should thin enough to feed into the pasta machine on its largest setting. There will be lots of cracks and uneven edges. Feed dough through machine on largest setting (see note below). Take the first rollout and fold over in thirds. Turn 90 degrees and feed into the roller again. Do this several times, adjust the thickness level one level thinner and repeat until you reach the desired thickness.
Toss noodles with a little extra flour and place in small batches on a baking sheet to dry.
To cook the noodles immediately, bring a large pot of water to a boil, salt the water, and cook the pasta 4-5 minutes To dry: lay the pasta over a clothes drying rack, coat hangers, or a broom handle proped up on two chairs and let air dry until completely brittle. Store in an airtight container for several weeks. To freeze: freeze flat in the basket-shape on a baking sheet until completely frozen. Once frozen, gather baskets and place in an airtight container and freeze for up to three months. Dried and frozen noodles may need an extra couple minutes to cook.
Nutrition Information:
Yield:

4
Serving Size:

1
Amount Per Serving:
Calories:

194
Total Fat:

2g
Saturated Fat:

1g
Trans Fat:

0g
Unsaturated Fat:

1g
Cholesterol:

61mg
Sodium:

316mg
Carbohydrates:

36g
Fiber:

1g
Sugar:

0g
Protein:

7g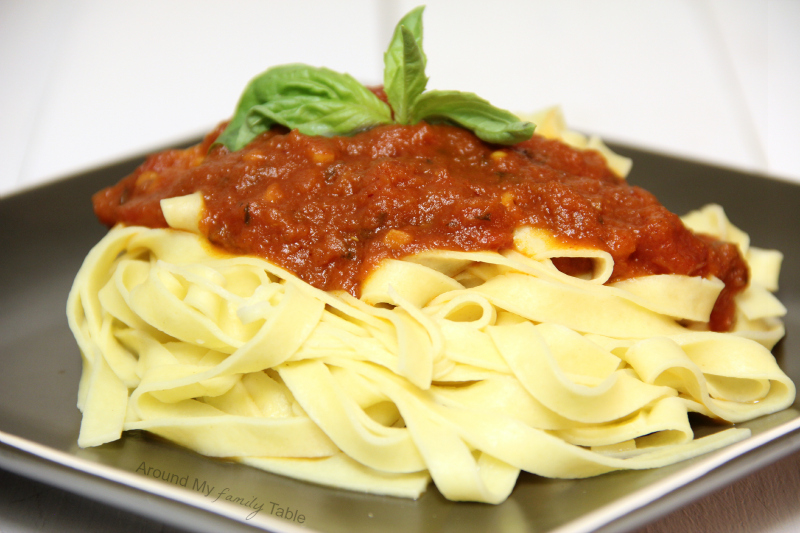 Try it with my Homemade Marinara Sauce from Cooking 101 Week 5!
{Last week: Pancakes Next Week: Biscuits}