This post may contain affiliate links. Please read my disclosure.
Cake truffles are an easy holiday dessert made with a boxed cake mix and store bought frosting. You can also make them using homemade cake and buttercream frosting made from scratch.
For my long time fans, you might remember that I wrote about my Cake Balls (ummm…Cake Truffles are the fancy way to say cake balls) last year. These are the same thing, but with a fancy name. However, I have a new version that is probably a better version for beginners. It is very easy and forgiving. No need to worry about thinning the chocolate or coming up with the perfect flavor combo (although, check out the Cake Balls recipe if you want some ideas for a more "gourmet" cake ball). The names should probably be reversed…oh well.
I seriously get requests for these cake truffles from all over the country, though I haven't mastered the shipping aspect. And local family and friends beg me to make them. Really it's super easy, but isn't it always better when someone makes your favorite treat for you.
Here is the cute little goodie bag I made for the Ladies Holiday Treat Exchange at church. Trust me…two cake truffles was enough, they are super rich and sweet! Want to know what was in the other bag? Peppermint Chex Mix.
**Want to make the cute colored drizzle? Use these Decorating Squeeze Bottles
and melt the colored candy melts
in the bottles using a bowl of hot water. Easy!**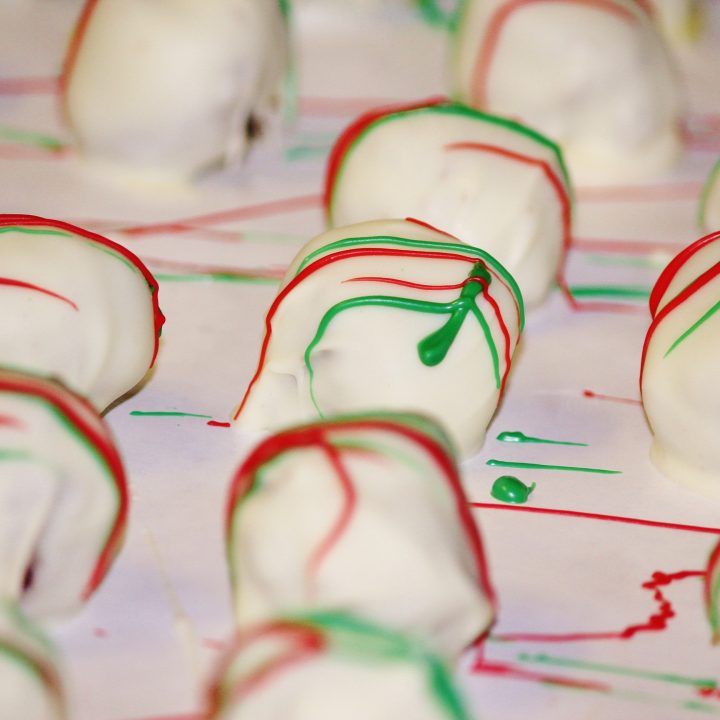 Cake Truffles
These easy cake truffles are made with a boxed cake mix and store bought frosting. Feel free to make them using homemade cake and buttercream frosting made from scratch.
Ingredients
1 9x13 cake, any flavor, baked from scratch or a box mix
2 cups buttercream frosting (1 can)
2-3 packages candy melts for dipping (additional colors for drizzling, optional)
Instructions
Crumble baked cake into a large mixing bowl, add 1/2 container (1 cup) of frosting, and mix well. You should be able to form a ball when gently squeezing a handful of cake together (like the way wet sand does).
Using a cookie dough scoop, portion out cake and roll into balls. Place onto a parchment paper lined sheet pan and freeze for at least 1 hour.
Meanwhile, melt candy melts in a deep medium sized, microwave safe bowl.
Use two forks to dip frozen cake balls in melted candy, then place on waxed paper. For easier dipping, keep balls frozen until ready to dip.
Store in an airtight container in the the refrigerator for up to a week.
Notes
**Balls can be made ahead of time and stored in the freezer for up to 6 months. Dip as needed.
Join the Club!
Get delicious recipes delivered straight to your inbox each week! Plus learn how to take back suppertime in your home.

And get started with my NEW Take Back Suppertime 5-Day Jump Start Guide.