This post may contain affiliate links. Please read my disclosure.
Do you remember that delicious, chocolatey cookie bark that I made for Valentine's Day? I promised some more recipes for cookie barks, so I decided to make this roundup of 40 Crazy Delicious Cookie Bark Ideas.
Be sure to sign up for my email list….seasonal recipes in your inbox every week!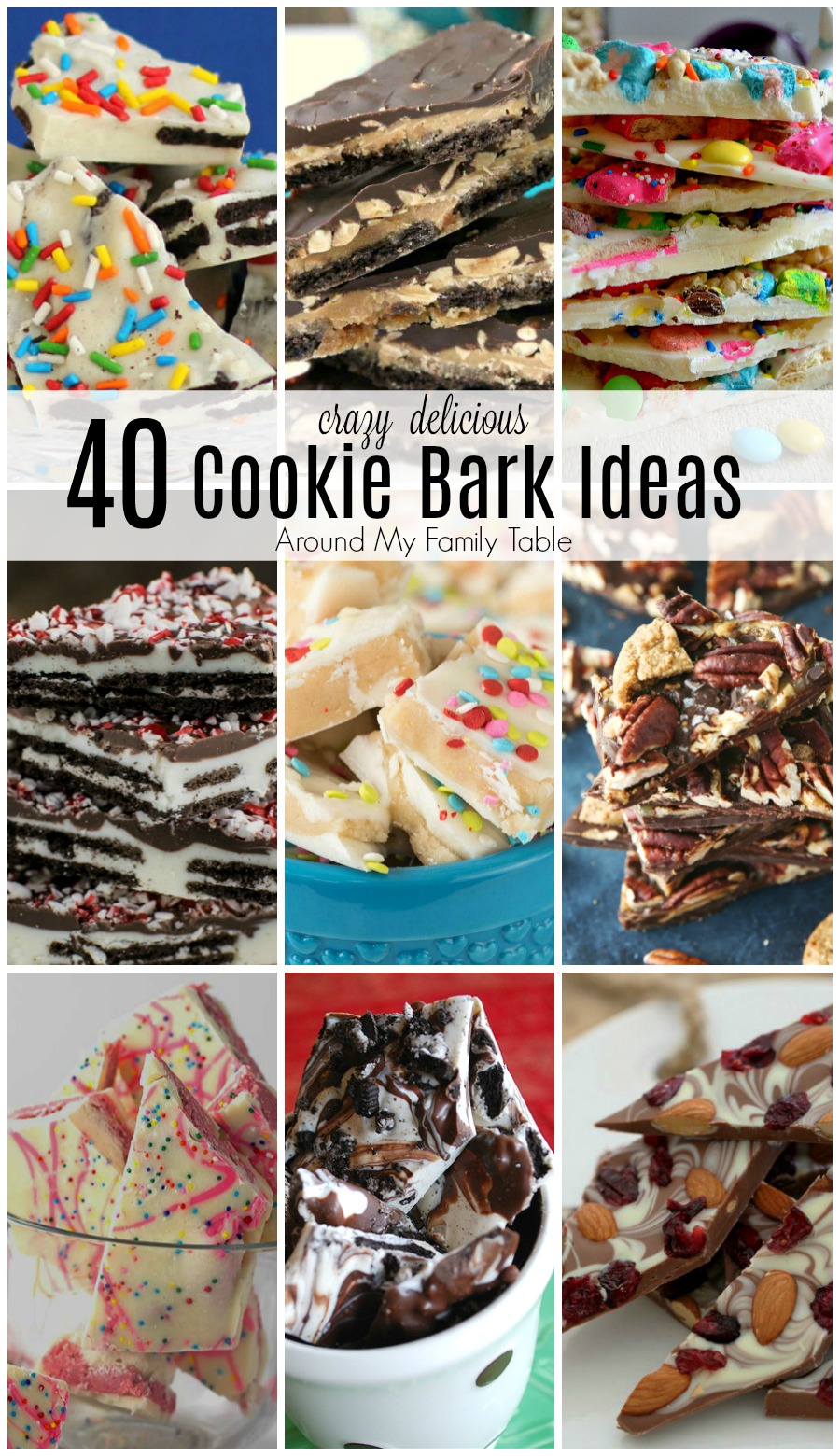 I think most people make cookie bark to give as holiday gifts or as "thank you" gifts. It sure does look pretty sitting in a small basket or a pretty metal tin. And the recipient is always so thrilled that it really does make a great gift.
But there are other ideas for cookie bark too. Several years ago, we were stuck inside on a rainy afternoon and my daughter was going stir-crazy with cabin fever. I was running low on ideas of activities to entertain her. As I was about to resort to turning on another movie, she asked for a snack. It hit me. We would cook an easy treat together since she loved helping in the kitchen so much. I knew the perfect thing to cook too…cookie bark. It's probably the easiest treat to make. It literally takes only a few minutes to throw together and it is just about impossible to mess up. It makes a perfect "mom and me" cooking lesson.
We tied up our aprons, washed our hands, and talked about the endless options she could add to her cookie bark creation. She decided that she wanted pink and purple sprinkles with Oreo cookies mixed into white chocolate. No problem. We mixed it up, spread it out on the pan, and let it cool. We each ate a piece with a tall glass of milk, then saved the rest to share with the rest of the family.
The next day, she asked to make more. We didn't eat them though. Instead, we packaged them up in a pretty metal tin and gave them to our elderly neighbor as a "thinking of you" gift.
I just know you'll enjoy this list of cookie bark recipes. I'm sure it will inspire you.
Crazy Delicious Cookie Bark Ideas
Shark Bark Candy
Valentine Cookie Bark
Jelly Bean Cookie Bark
Chocolate Chip Cookie Bark
Cookies and Cream Bark
Cookies and Cream Candy Bark
Cookie Dough Bark
3 Ingredient Chocolate Almond Bark Recipe
Toffee Brownie Bark
Cookie Butter Bark
Sugar Cookie Bark
Low Carb Peanut Butter Bark
Frosted Animal Cracker Bark
Eggnog Cookie Bark
Peppermint Sugar Cookie Bark
Loaded Reeses Peanut Butter Cup Bark
Crack Bars Recipe
Mint Oreo Cookie Bark
Smores Bark
Pecan Pie Bark
Gingerbread Cookie Bark
Birthday Cake Bark
Brownie Bark
Salted Caramel Bark
Bunny Cookie Bark
Cookie Monster Candy Bark
Sugar Cookie Chocolate Bark
Cookies-N-Cream Funfetti Bark
Butterfinger Pretzel Bark
Leprechaun Cookie Bark
Easy Peppermint Bark
Chocolate Almond Bark
Unicorn Poop
White Chocolate Cranberry Pistachio Bark
Candy Corn Cookie Bark
Pecan Pie Cookie Bark
Lucky Rainbow Bark
Peppermint Oreo Bark
Samoa Cookie Bark
Chocolate Pretzel Bark