This post may contain affiliate links. Please read my disclosure.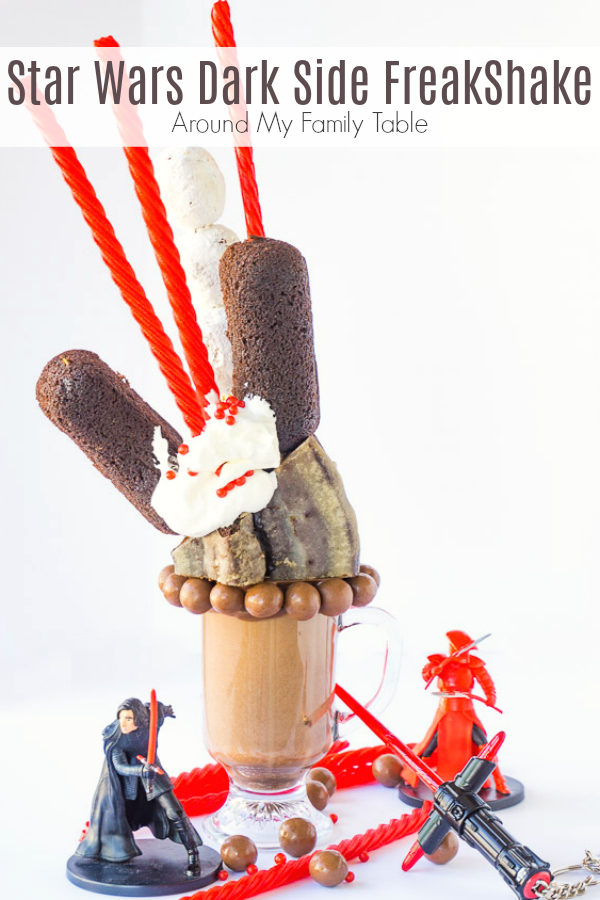 Creating a themed freakshake is so fun, but they are definitely for sharing. Take a sip of the dark side with my Star Wars Dark Side Freakshake….a chocolate malt milkshake topped with lots of chocolate sweets.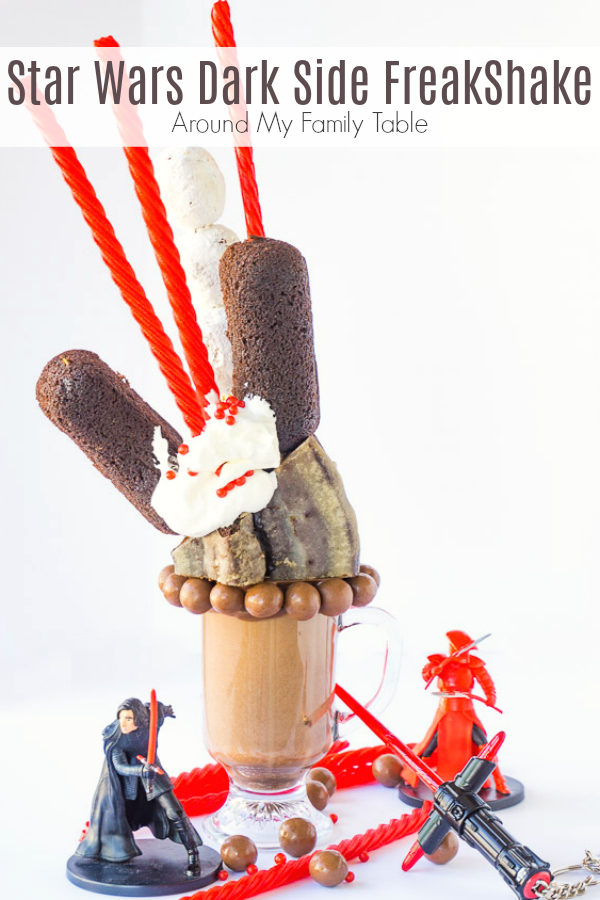 Star Wars Dark Side FreakShake
Freakshakes are taking social media by storm these days, so a few friends and I got together to create freakshakes based off some of our favorite Star Wars characters. I picked the dark side because everyone on the dark side are my son's favorites. He loves Kylo Ren, Darth Vader, Darth Maul…all of them! So this shake has my son's name written all over it.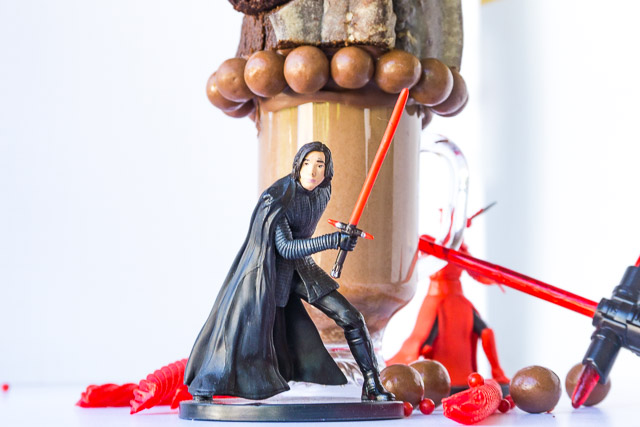 The base of this freakshake is my delicious Darth Malt Milkshake that starts with a ton of malt balls, vanilla ice cream, and tons of chocolate. So yummy…especially if you are malt fan. And if you are a fan of freakshakes…you need to check out my Incredibles Freakshake and my Big Thunder Mountain Freakshake…they are definitely over the top.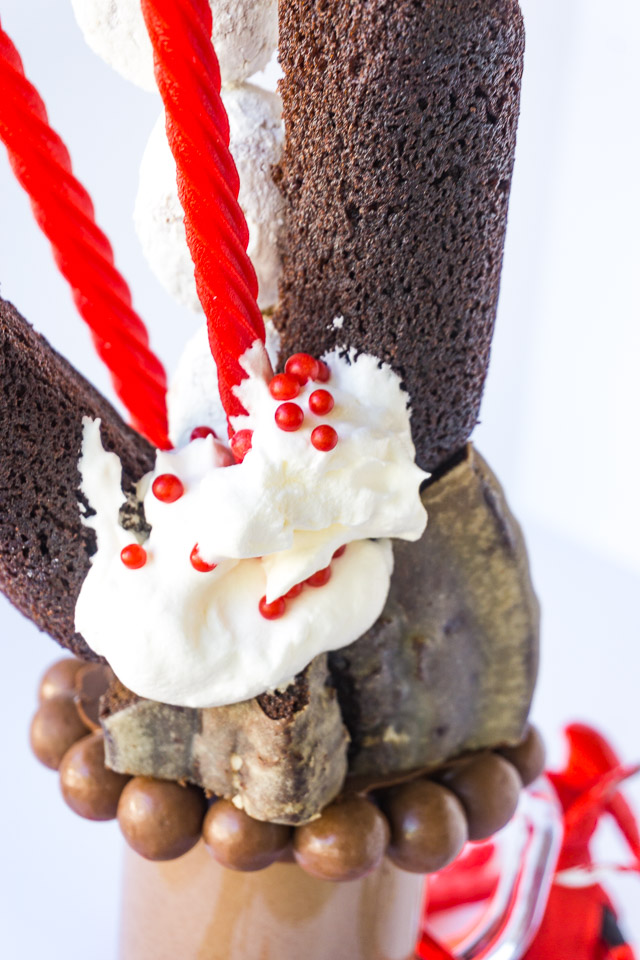 How to Make Freakshakes
Freakshakes are actually quite easy to make. They look big in pictures, but they are usually small and they are totally meant to be shared.
A small milkshake glass is best because with all the other treats you won't want a huge milkshake.
Use melted chocolate (white, milk, dark, etc) to attach candies to the rim of the mug.
A giant piece of cake or a large donut placed on top of the mug so that the other treats have some support.
Skewers will help to stand treats up or stack them up to create differing heights.
To keep it interesting use different colors, textures, and heights.
Top with whipped cream and sprinkles and drizzle with chocolate, caramel, or any other sweet liquid to finish off the milkshake.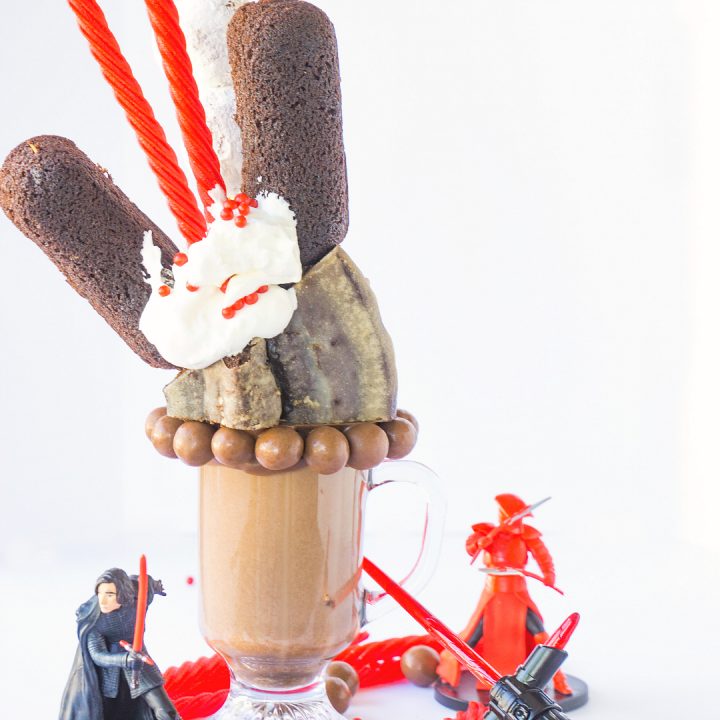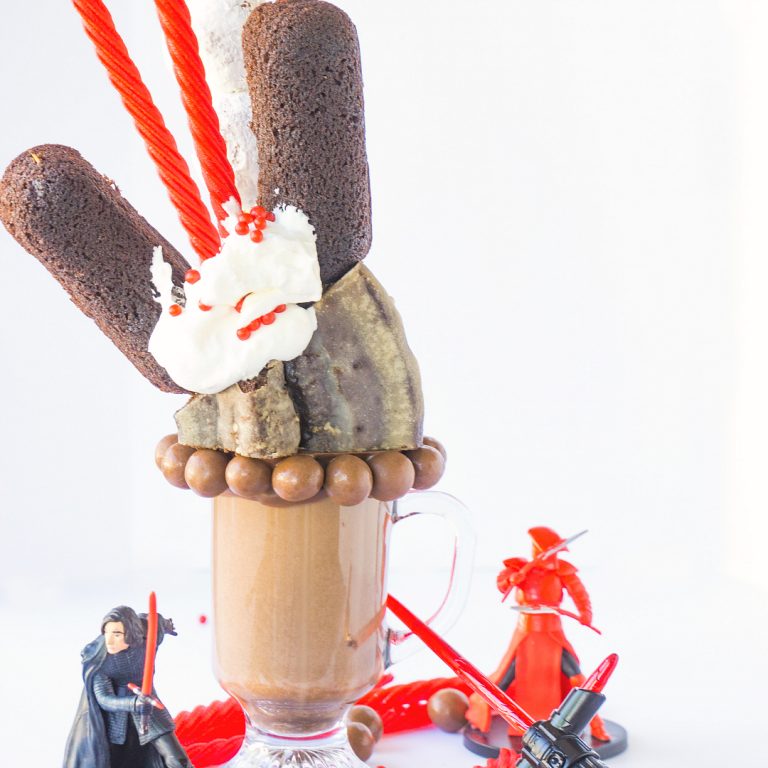 Dark Side FreakShake
Take a sip of the dark side with my Star Wars Dark Side Freakshake....a chocolate malt milkshake topped with lots of chocolate sweets.
Ingredients
3 red licorice sticks
4 powdered sugar donut holes
2 chocolate Twinkies or HoHos
6 bamboo skewers
1/2 cup chocolate chips
1 tsp shortening
1 small box malt balls
1 recipe Darth Malt Milkshake
1 slice chocolate cake
whipped cream
red sprinkles
Instructions
Cut off one end of each piece of licorice and slide each onto a skewer. Do this for all three pieces of licorice. Thread 4 powdered sugar donut holes onto one skewer. Thread Twinkies on skewers. Set skewered items aside.
Melt chocolate chips in a small bowl with shortening. Microwave for one minute, stir and then microwave in 30 second bursts while stirring between each one until chocolate is melted and smooth.
Dip rim of milkshake mug into the melted chocolate. Turn mug upside down and place on a piece of wax paper. While chocolate is still hot, place malt balls around the entire rim. Let the chocolate cool completely before gently removing wax paper from the mug.
Make milkshake according to directions. Depending on the size of your glass, you may need more or less of the milkshake. Gently pour the milkshake into the mug without disturbing the chocolate and malt balls.
Work quickly to set a wedge of chocolate cake on the mug and insert the skewers of treats into the cake and push all the way to the bottom of the mug to keep things upright. Add a dollop of whipped cream and some red sprinkles to complete the look.
Notes
Get creative with your Dark Side Freakshake. Use anything chocolate or red to really keep with the theme. Just use this recipe as a launching point.
I've partnered up with some of my favorite Disney-loving bloggers to bring y'all freakshakes to celebrate Star Wars, especially the new
Star Wars: Galaxy's Edge (Star Wars lands)
opening at Disneyland and DisneyWorld soon.
Yoda Freakshake from Liz on Call
Dark Side Freakshake from Around My Family Table
BB8 Freakshake from Mom Endeavors
Leia Freakshake from Pink Cake Plate
Storm Trooper Freakshake from Make Life Lovely
Blue Milk Galaxy Freakshake from All For the Memories
Boba Fett Freakshake from A Night Owl Blog
Chewy Freakshake from I Love My Disorganized Life