This post may contain affiliate links. Please read my disclosure.
Whip up this Earl Grey Cake with Vanilla Bean Frosting for a stunning and delicious dessert perfect for a tea party or weeknight dessert.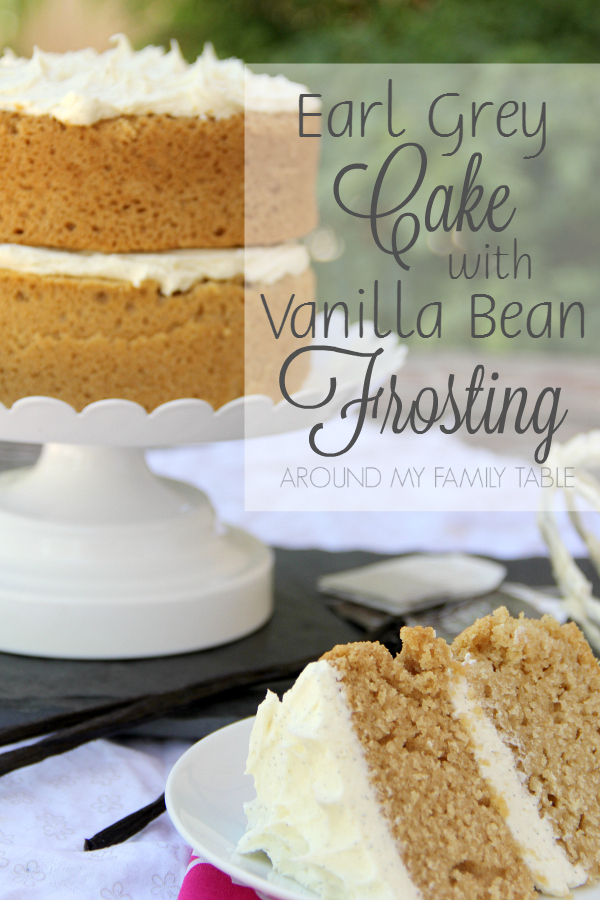 This Earl Grey Cake with Vanilla Bean Frosting is a simple and elegant addition to your next party. I love the look of this cake, don't you? It's a little rustic and super easy to whip up. You can see the spongey cake and specks of vanilla bean in the frosting. The frosting to cake ratio is perfect- not too sweet and overly done.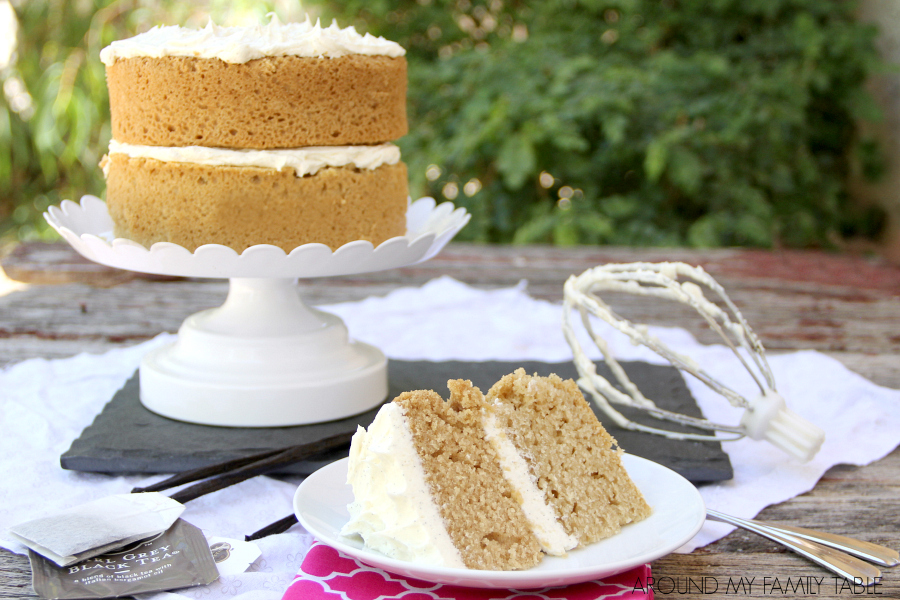 I created this cake to celebrate Alice Through the Looking Glass. The beauty of a cake that is unfrosted on the sides (naked cake) is perfect accompaniment for Alice. She is unpretentious and her natural curiosity is a wonder in itself. That's what makes her Alice and sets her apart. The same can be said for this gorgeous cake- we see it's flaws, and therein lies the beauty.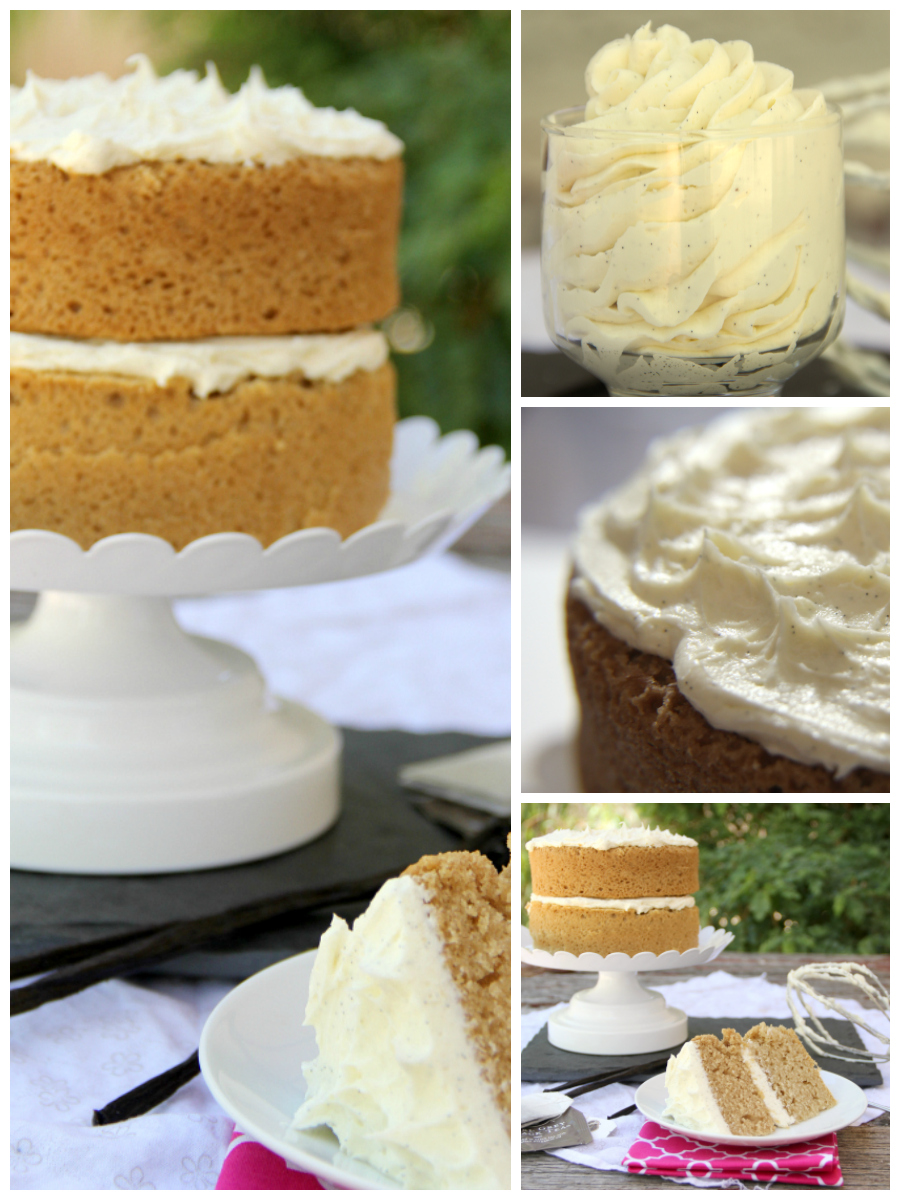 My family was invited to a media screening of Alice Through the Looking Glass as part of the Disney Social Media Moms Celebration this year. The movie is amazing and I think, it's even better than the first. Johnny Depp is the perfect actor to play the Mad Hatter. Sacha Baron Cohen's Father Time character is unbelievable and of course Mia Wasikowska, Anne Hathaway, & Helena Bonham Carter are just as good as they were in the first movie. I promise…no spoilers….but you will come away with a new love for Mad Hatter and the Queen of Hearts.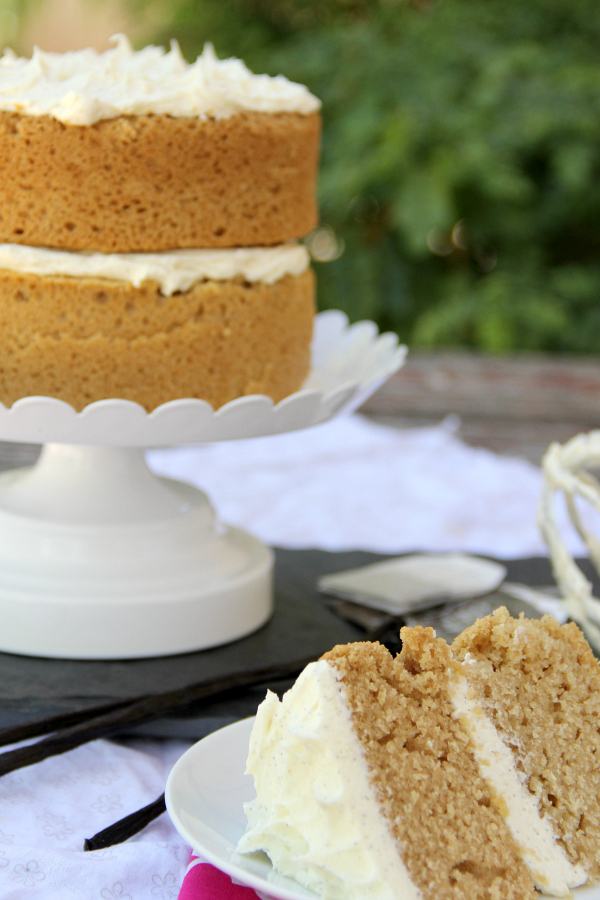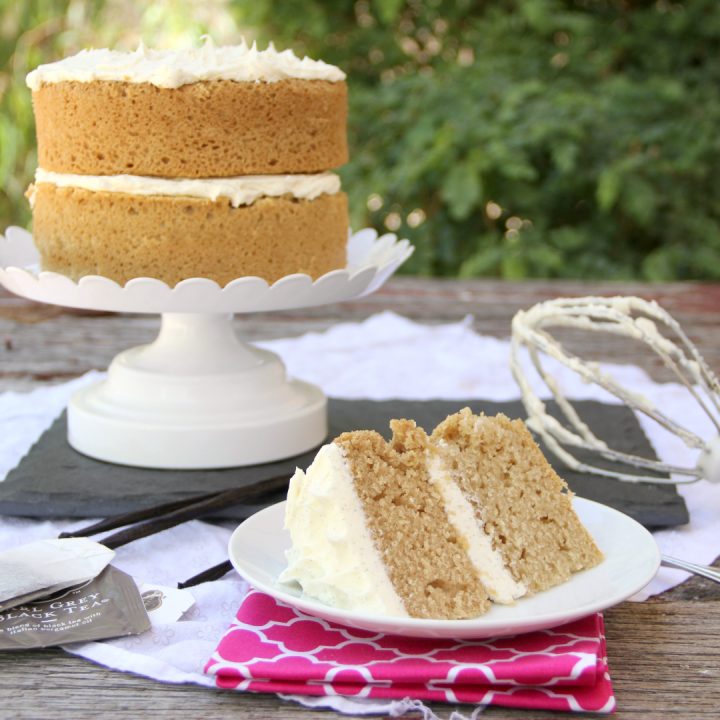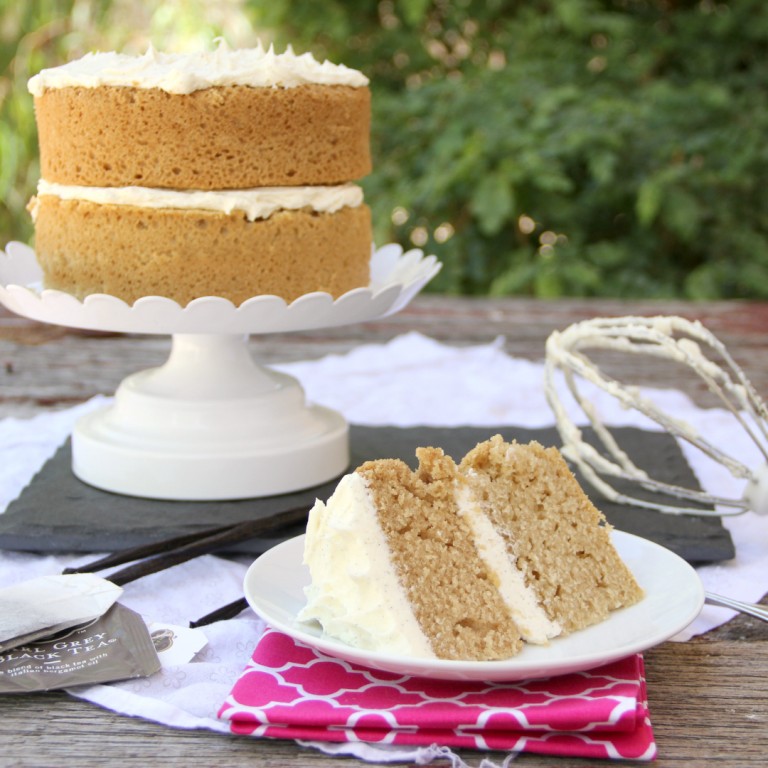 Earl Grey Cake with Vanilla Bean Frosting
Decorating Time:
15 minutes
Total Time:
1 hour
10 minutes
Whip up this Earl Grey Cake with Vanilla Bean Frosting for a stunning and delicious dessert perfect for a tea party or weeknight dessert.
Ingredients
Cake
1 yellow cake (box mix, homemade, or gluten free box mix
2-4 Earl Grey Tea Bags
Frosting
1 whole vanilla bean pod
1/2 cup butter, softened*
1/2 cup shortening
2 tbls warm water (2-3)
1 lb confectioners sugar
Instructions
Preheat oven according to your cake recipe. Spray 2 6-inch cake pans with non stick cooking spray and set aside.
Brew a double strength cup or two of Earl Grey tea (enough to replace the liquid in your cake mix or recipe).
Prepare cake as directed, but replace any liquid (milk, water, etc) in recipe with double strength tea and continue according to your recipe. Divide batter evenly into prepared pans and bake according to recipe.
When cake is fully cooked and toothpick inserted in to the middle comes out clean remove from oven and let cool 10 minutes before turning out onto a cooling rack. Let cakes cool completely before frosting.
While cakes cool, split vanilla pod and scrape out all the beans with a sharp knife.
Beat together butter, shortening, 1 tbsp of warm water, and vanilla beans until smooth and creamy. Beat in the sugar gradually on a low setting. Scrape sides of bowl as needed.
Mixture will be very thick. After all sugar is incorporated, add 1-2 more tbsp. of warm water and beat at medium/medium-high speed for 1-2 more minutes. Adding more warm water will continue to thin the frosting consistency and bring down the sweetness even more. Add as much as you like to get the appropriate flavor and consistency. Be careful, because a little goes a long way.
The frosting can also be made several days in advance and stored in an airtight container in the refrigerator. Bring to room temperature, then mix well before using. Leftover frosting should be refrigerated.
Frost cake as desired or fill center and then frost only the top to get the naked cake look.
Notes
*For dairy free cake, use all butter flavored shortening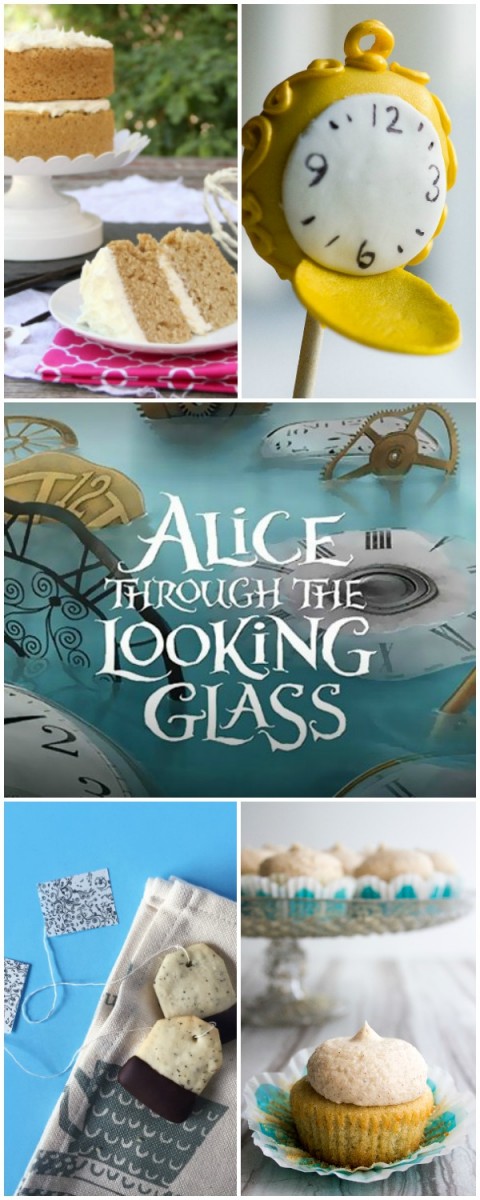 More Alice Through the Looking Glass Tea Party Ideas
Earl Grey Cake with Vanilla Bean Frosting from Around My Family Table
Chai Latte Cupcakes from Bread Booze Bacon
Pocket Watch Pops from Ashlee Marie
Beginner's Guide to Tea from Celebrating Family
Queen of Hearts Tomato Tart from A Savory Feast
Asparagus Ricotta Puff Pastry Tart from A Joyfully Mad Kitchen
Earl Grey Shortbread Cookies from Feast + West