This post may contain affiliate links. Please read my disclosure.
Peach cobbler is one of my favorite desserts of all time. It reminds me of happy family reunions. It reminds me of the simple, carefree summers of my childhood. I can't wait to try all these Easy Peach Cobbler recipes this summer!
Be sure to sign up for my email list….seasonal recipes in your inbox every week!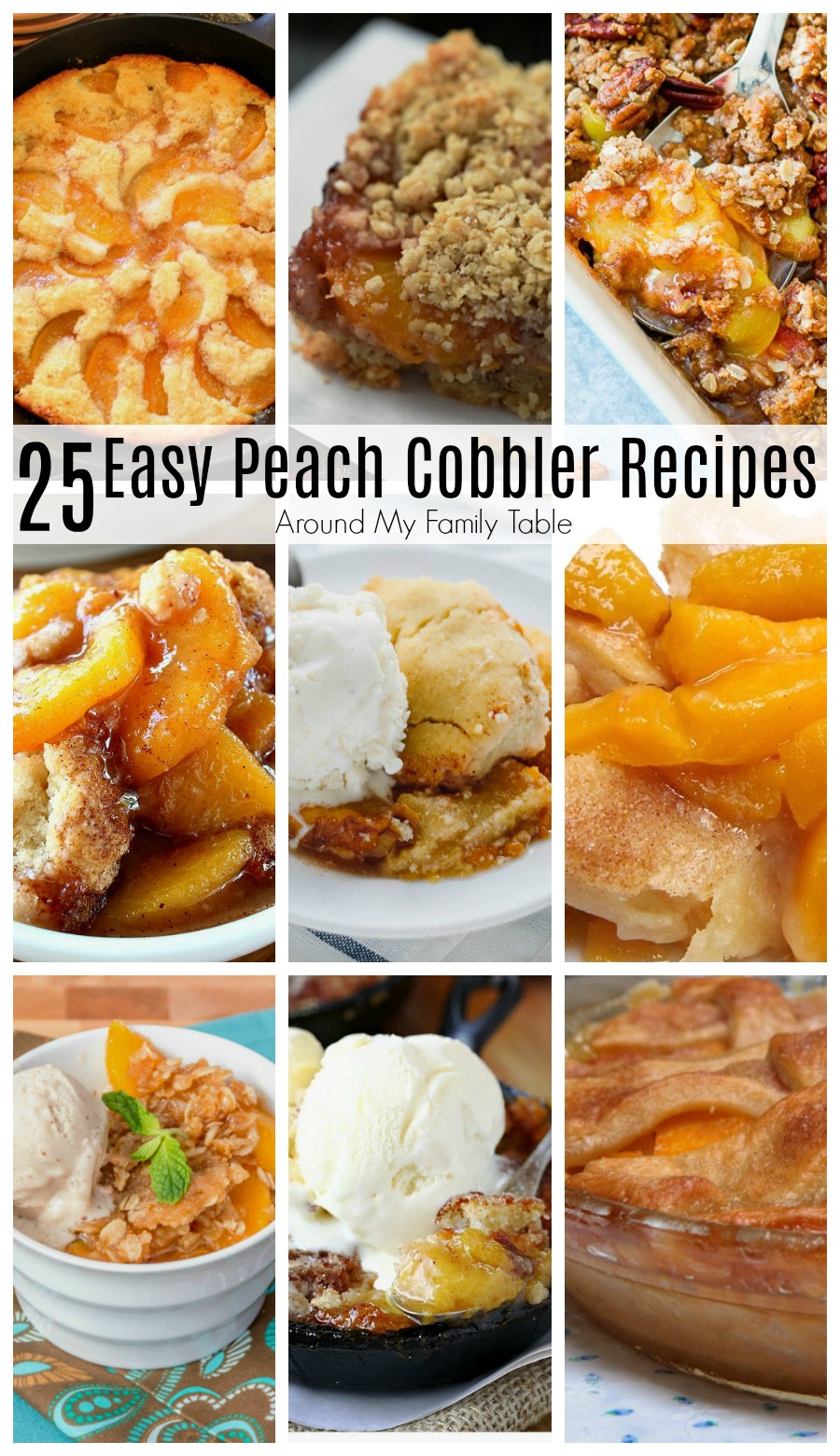 Growing up, we spent every summer vacationing at my grandparents' lake house with all my cousins. My grandfather, who we called "Bobo," would take us out on the water almost every day. Occasionally we would go fishing, but most of the time we took the boat out for some knee boarding and waterskiing. Lunches were always fast, so we could get back to the fun on the water. My mom would pack turkey and ham sandwiches with "Bobo beans" on the side. That's what we used to call a can of pork and beans because we always ate them with Bobo.
The days were long and jam-packed with a lot of excitement. By the end of the afternoon, we would be completely exhausted and extremely hungry. Granny and Mom would fill us up with a large family meal. Then, after we ate dinner, there was a hot peach cobbler waiting. It was made from scratch with fresh fruit from the peach tree in my grandparents' backyard. I would peer over table in awe of the bubbly hot peaches covered with the golden-brown crust perfectly latticed across the top. It was the best thing I'd ever tasted, and I looked forward to it every summer.
Because it was my favorite, it was also the first dessert that I learned to cook completely by myself. Granny taught me step by step, starting with kitchen safety and kitchen math to learn simple conversions. My love of cooking had been sparked.
This list of easy peach cobbler recipes (and peach crisps) is sure to help you satisfy your sweet tooth.
Easy Peach Cobbler Recipes & Peach Crisps
Aunt Janet's Peach Crisp
Peach Almond Crisp With Gingersnaps
Old Fashioned Peach Cobbler
Peach Cobbler Dump Cake
Peach Pecan Crisp
Brown Butter Skillet Peach Crisp
Peach Crisp
Slow Cooker Peach Crisp
Raspberry Peach Crisp
Peach Crisp Shortbread Bars
Peach Crisp Cookie Cups
Easy Peach Crisp Vegan
Super Easy Peach Cobbler
Butterscotch Peach Cobbler
Peach Cobbler Cheesecake
Peach Cobbler Bread Pudding
Mini Peach Cobblers
Peach Cobbler In A Cast Iron Skillet
Easy Southern Peach Cobbler
Vegan Blueberry Peach Crisp
Fresh Peach Cobbler
Country Blues Peach Cobbler
Slow Cooker Coconut Peach Cobbler
Three Ingredient Peach Cobbler
Cracker Barrel Peach Cobbler