This post may contain affiliate links. Please read my disclosure.
I recently made a homemade ice cream for my family using cake mix and of course it was full of dairy. All I could think of was that it was so not fair that they got to have that while I sat by and watched. So I started thinking…it really wouldn't be all that hard to make me my own batch of gluten free, vegan cake batter ice cream. Before the family was allowed to dig into their ice cream, I made my own batch.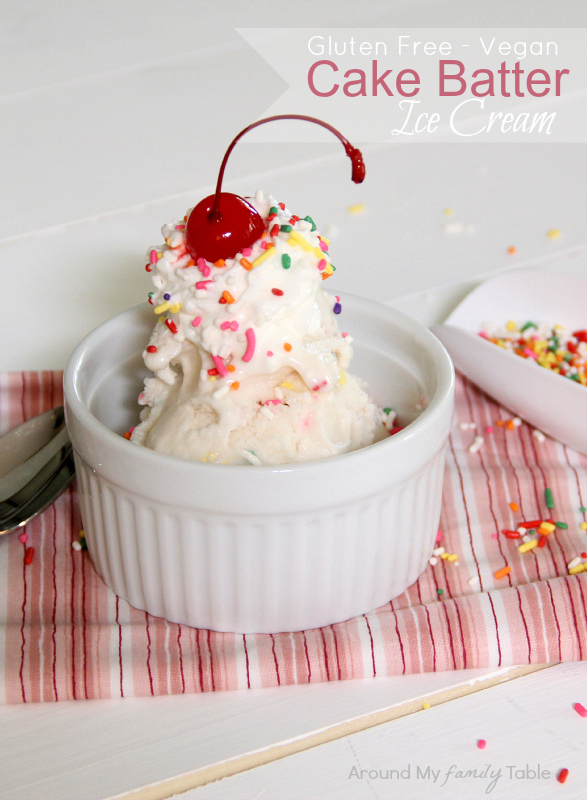 Do you ever have pity parties for yourself? Just me? Well, for the past 7 months or so, I have had enough pity parties for myself that it's not even funny. I can't stand watching cooking shows anymore (Hubbyman is probably happy about that), I don't enjoy going to parties or eating out, and just the thought of going to the grocery store makes me cringe. Food was such a huge part of my life, all my friends know that I love to cook and bake and throw parties.
I've mentioned before that my new food allergies have caused great sadness for me, but I think I'm finally on the uphill slope. Yeah me! It's still a struggle to do all those things I mentioned, but I don't feel sorry for myself any more. Sure, I'd love to be able to order whatever I wanted and not play 1000 questions with a restaurant before ordering, but I've never felt better. WOOHOO!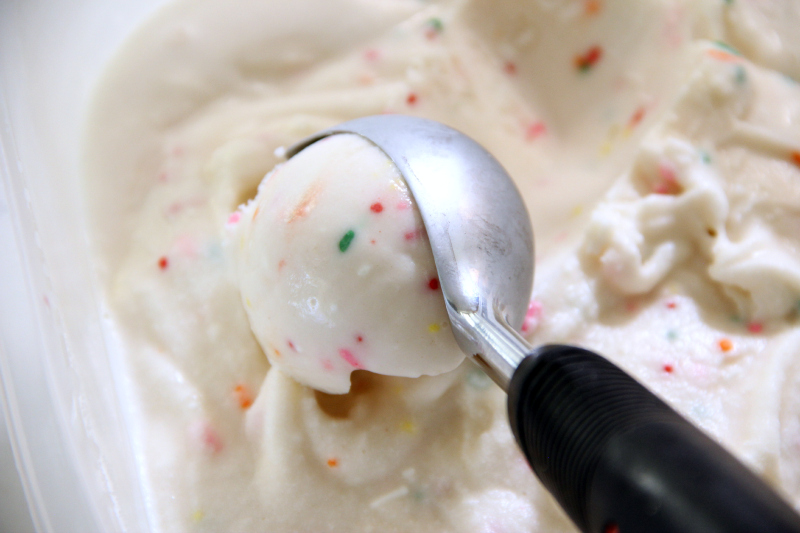 I'm learning to take favorite recipes and adapt them to be what I need. I'm not a vegan, but by default all of my desserts will be vegan. Since removing dairy from my diet, I've zero asthma attacks, zero seasonal allergies, and I feel great. If only I could also drop some pounds. LOL! Honestly, I been filling my food void with way too many ice cold Cokes.
Apparently, this post has turned into a confessional, so let me confess…this ice cream was A.M.A.Z.I.N.G! After the family devoured their traditional they began attacking me for mine. They loved it and no one could tell it was different. Now, I'd say that's a good thing.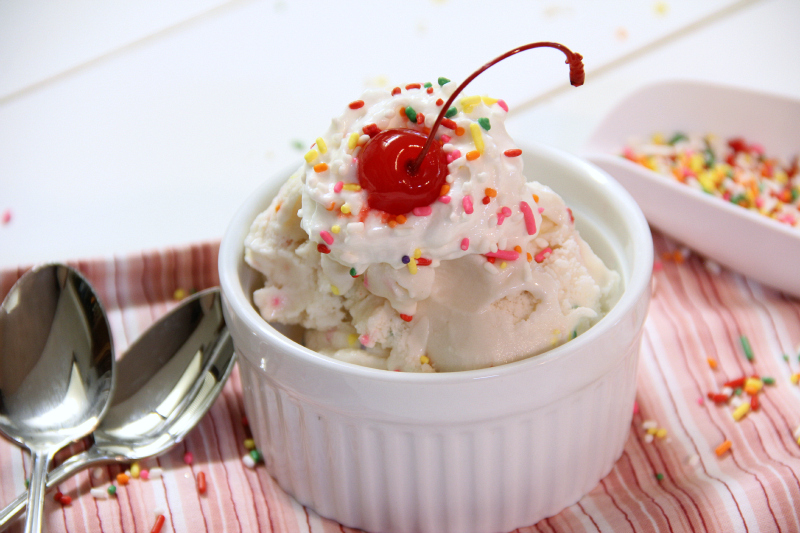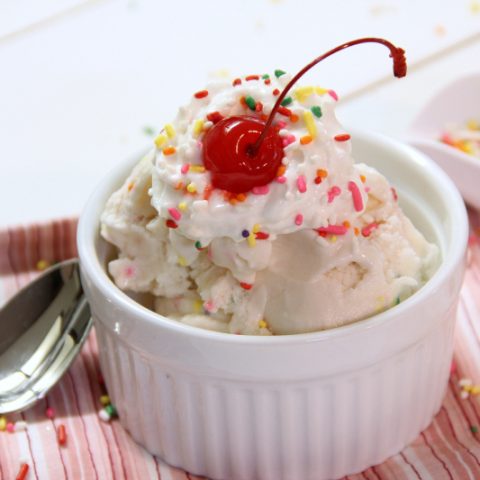 Gluten Free-Vegan Cake Batter Ice Cream
This cake batter ice cream makes the perfect gluten free and vegan dessert. Perfect for birthday parties!
Ingredients
1 cup vanilla soy milk, well chilled
1/2 cup granulated sugar
2 cups soy creamer, well chilled
2 tsps pure vanilla extract
3/4 cup gluten free cake mix Make sure it's vegan, too
1/4 cup rainbow sprinkles
Instructions
Place freezer bowl of ice cream maker into the freezer. Freezer for 12-24 hours.
In a medium bowl, whisk the milk, sugar, creamer, and vanilla until the sugar is dissolved. Stir in cake mix, making sure there are no lumps.
Pour mixture into the freezer bowl and let mix until it has thickened (about 25-30 minutes). During the last 5 minutes, pour in rainbow sprinkles.
Remove ice cream from freezer bowl and place into a separate container. Place ice cream into the freezer to further harden for several hours or overnight.
©Around My Family Table
Nutrition Information:
Yield:

4
Serving Size:

1 cup
Amount Per Serving:
Calories:

472
Total Fat:

20g
Saturated Fat:

2g
Trans Fat:

0g
Unsaturated Fat:

9g
Cholesterol:

32mg
Sodium:

219mg
Carbohydrates:

67g
Fiber:

0g
Sugar:

50g
Protein:

3g