This post may contain affiliate links. Please read my disclosure.
We are jumping back into the grilling series with tips on how to grill seafood. As you know, there are a lot of grilling recipes in books and on the internet, but they often don't tell you exactly how to grill or how to use the equipment. I've put together this 9-week summer series, How to Grill, to help teach you what you need to know to get out there and use your grills, smokers, and how to perfectly cook your meats, veggies, and fruits.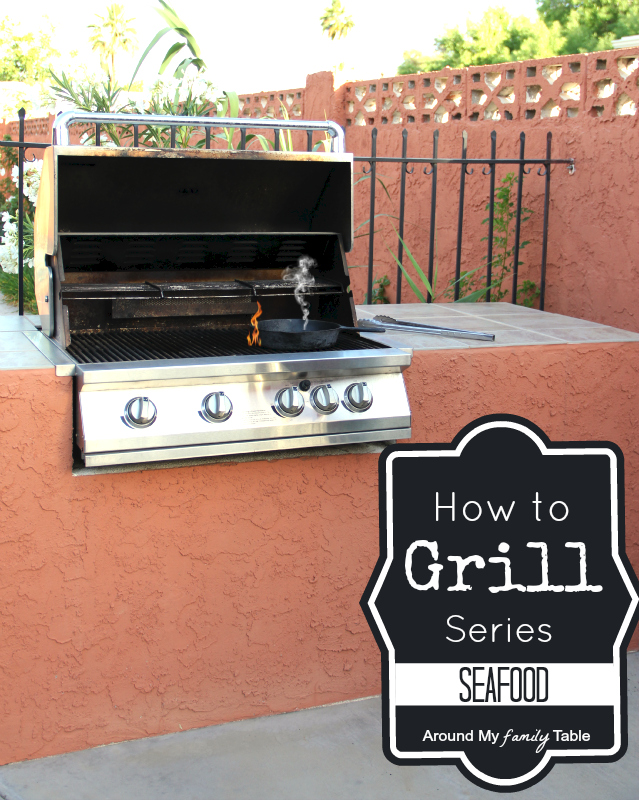 I'm not a huge seafood fan, but my family loves it! Since, I'm not a huge fan I don't like the way it smells up the house when I cook it in the oven, so I take it to the grill. Okay…hubbyman is the grill master in our house and after some trial and error we've found some fail-proof ways to grill seafood. It's not as hard as you'd think.
Using a charcoal grill for your seafood will impart the most flavor. It's not a must, but certainly a bonus if you want to add extra flavor. Also adding a marinade or rub prior to grilling is a great idea. However, any marinades with an acid (citrus juice, vinegar, etc) should only sit for 30-60 minutes so that it doesn't end up "cooking" the seafood…you'd end up with ceviche. Sugary marinades should wait until cooking is almost finished.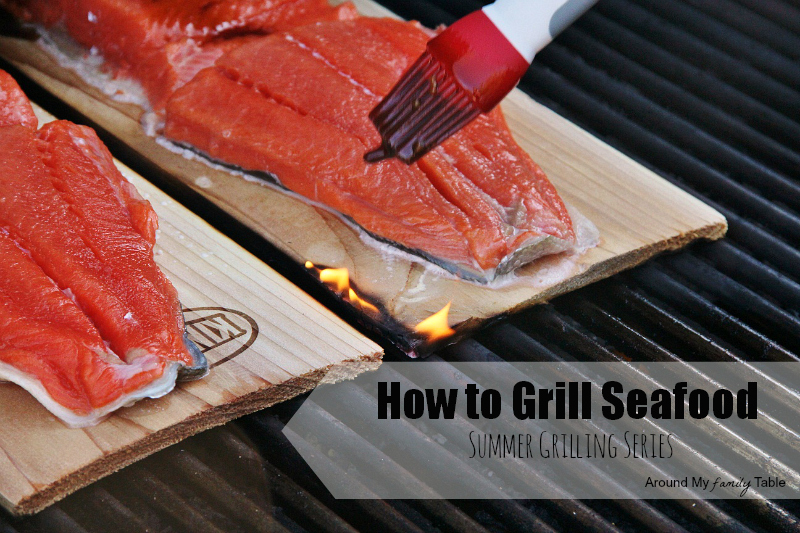 How to Grill Seafood
Clean your grill rack prior to cooking the seafood. Fish and shrimp will stick to a dirty rack and will make flipping the fish difficult.
After you clean the grill rack, oil the rack after the grill is hot. Fold a paper towel and grab with long thongs. Dip paper towel in a high-temperature oil, such as grape seed, peanut, or plain olive oil, then rub it on the grill several times before adding the seafood.
Cook over med-high or high heat. Having a hot fire is important as you want to cook seafood quickly. Cooking it quickly retains the natural juices and flavor.
Cook fish with the skin side up first, if cooking directly on grill. The result will be a more moist fish plus the skin will help hold the fish together for turning.
Flip fish as little as possible. Having two thin spatulas will help with the flipping.
Use cedar planks or tin foil boats to help with grilling as well. Cedar planks give a wonderful flavor (soak them well before grilling). Spray tin foil boats for non-stick cooking spray and poke a few holes in foil.
Grill fish for about 10 minutes per inch of thickness (measured at the thickest point.). If you have a one inch thick fillet, grill it for about 6 minutes on one side, then flip it and cook for 4 more minutes.
If using a marinade with a lot of sugar (teriyaki or bbq) add it at the end or it might burn.
Just like baking, fish is fully cooked when it starts to flake and is opaque in the center.
Some great fish for grilling are barramundi, halibut, mackerel, mahi mahi, salmon, sea bass, swordfish, trout, tuna, and yellowtail.
Shrimp takes almost no time at all on the grill. Use a grilling basket or skewers (presoak bamboo skewers before putting on the grill to keep them from burning). Just a couple minutes on each side, brushing any sugary marinade half way through cooking.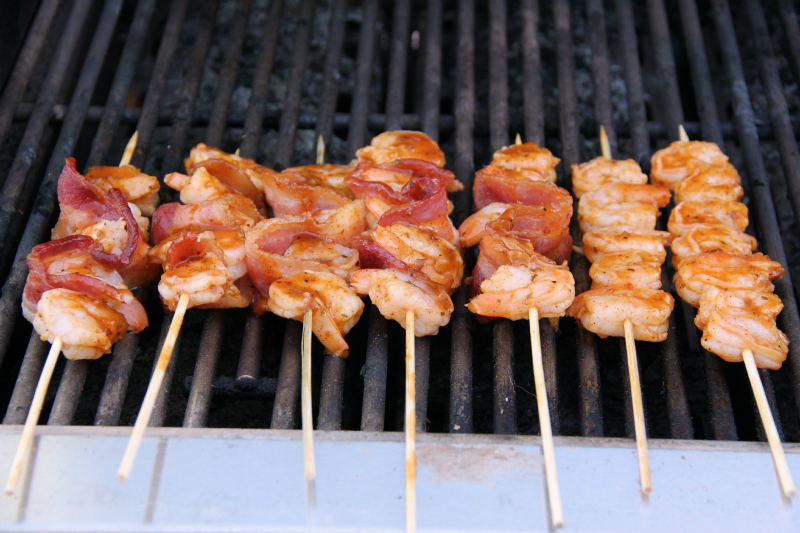 Recipes for Fish and Grilled Shrimp
Salmon BLT
Shrimp & Bacon Kabobs
Sweet Chipotle Salmon with Mango Salsa
Cedar Planked Salmon
Sweet Asian Grilled Shrimp
Applewood Smoked Trout
Spicy Shrimp Alfredo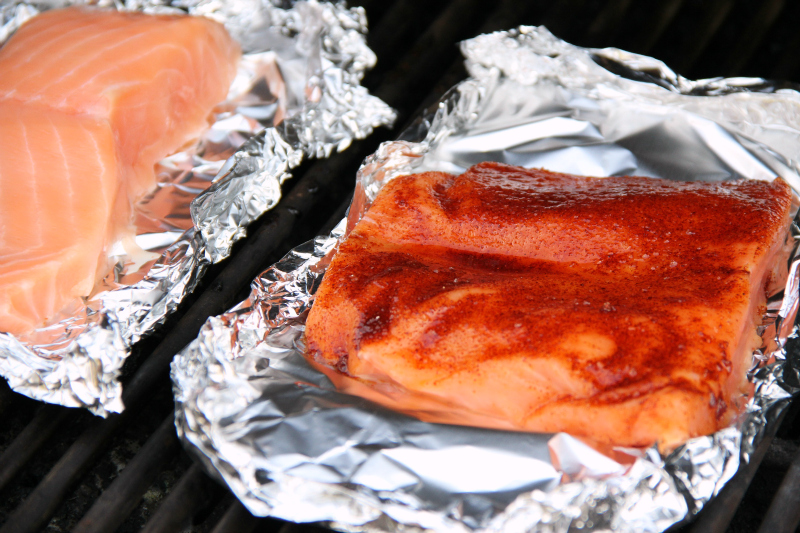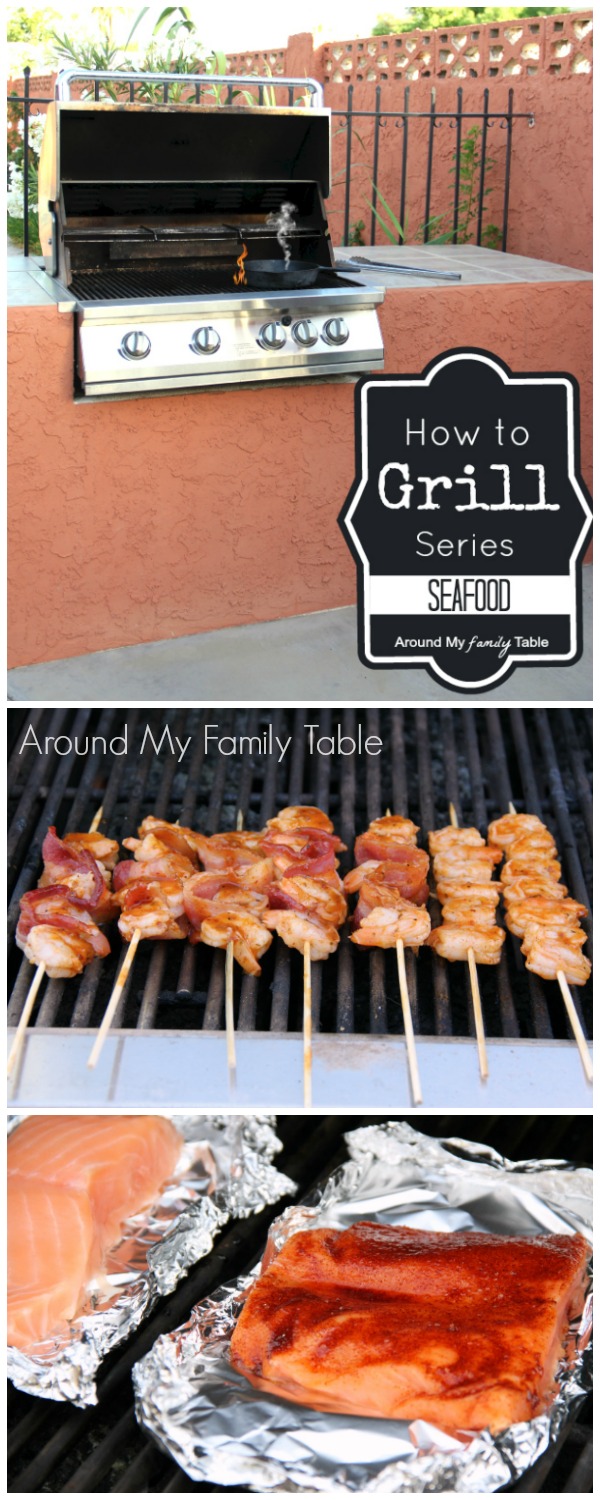 Want to know more? Check out the other posts in this series:
How to Grill: Using a Gas Grill
How to Grill: Using a Smoker
How to Grill: Using a Charcoal Grill
How to Grill Chicken
How to Grill Steak
How to Grill Seafood
How to Grill Pork
How to Grill Vegetables
How to Grill Fruit
Coming Soon….How to Grill eBook!