This post is in partnership with HemisFares.
The subtle flavors of healthy green tea really give a delicious flavor to white fish.  You'll love this Green Tea Poached Tilapia, it's divine and it's ready in about 15 minutes.
Be sure to sign up for my email list….seasonal recipes in your inbox every week!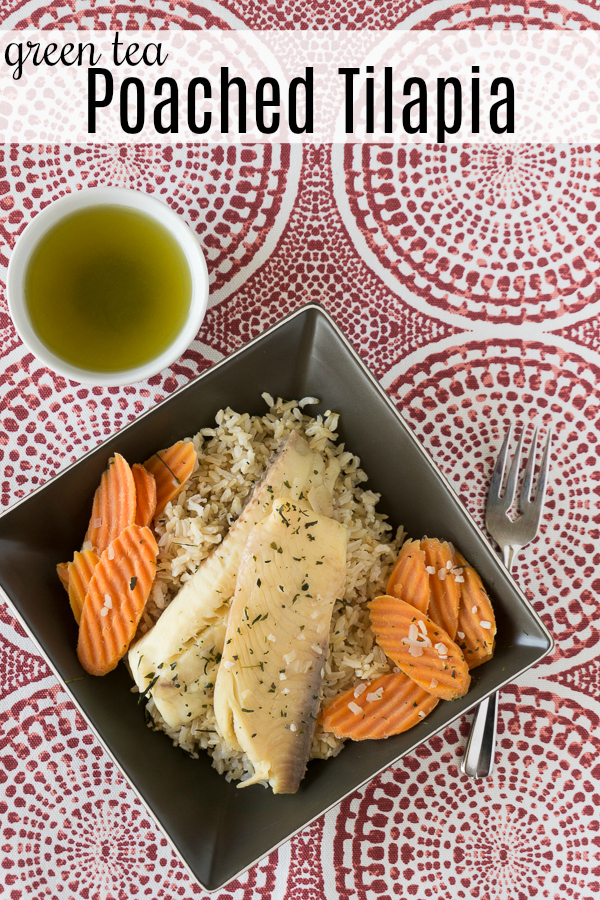 My family loves fish, especially tilapia.  We have it at least once a week, usually with brown rice and green veggie like broccoli or asparagus.  I grill it, bake it, smoke it…you name it, but this poached tilapia has got to be one of the easiest way I prepare it.  I literally throw it all in the pan with the liquid and let it bubble away.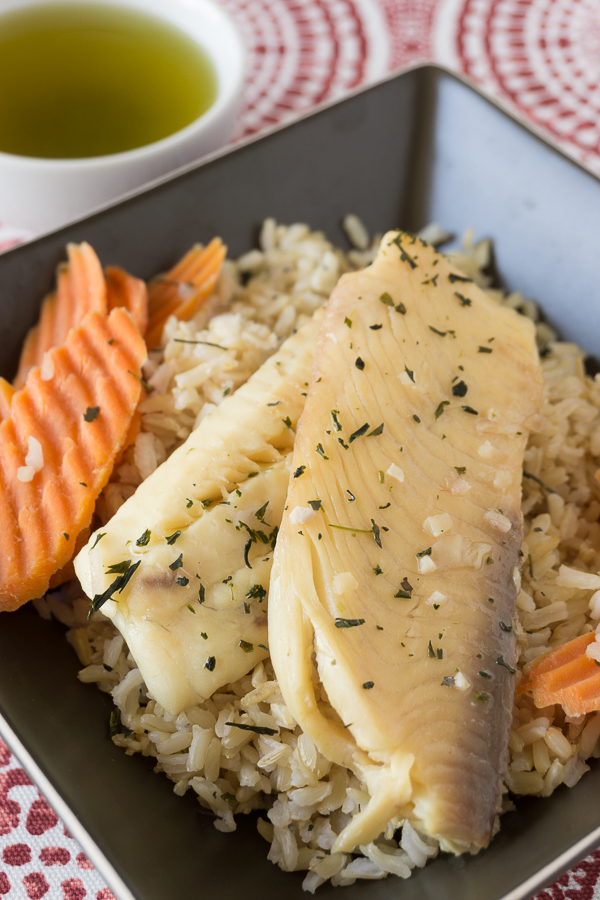 I can't quite call it a one pot dish because the rice cooks in it's own pot, but it's close to one pot…the veggies and the tilapia cook together in the green tea poaching liquid.  And let me tell you about my new favorite green tea, HemisFares Sencha Green Tea.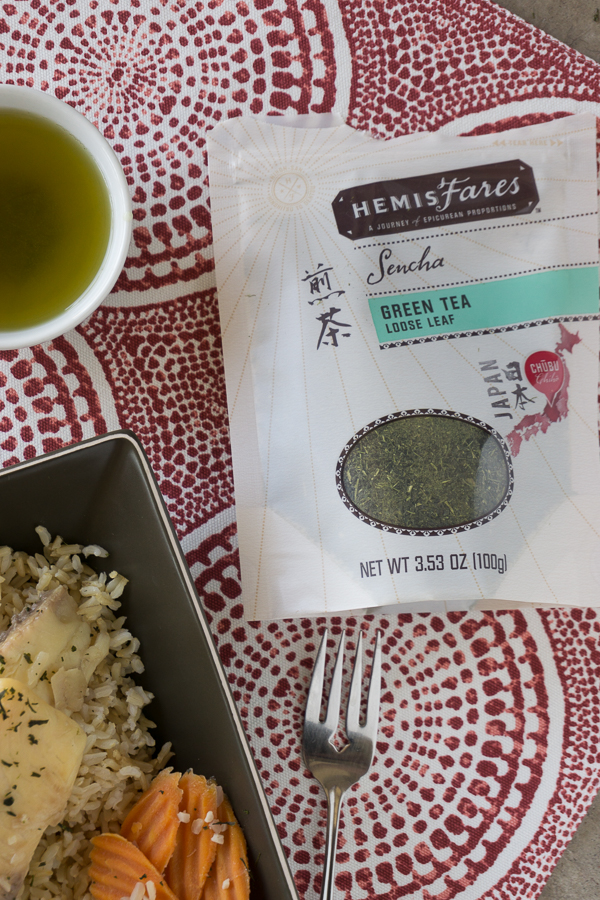 Y'all, each variety of HemisFares green tea is made with regional Japan ingredients. The products in this new line at Kroger are individually sourced, crafted, and imported from the country of origin and sealed with a unique "find number." All of the products sound amazing and I can't wait to try them all. Today I'm using  HemisFares Sencha Green Tea — FIND NO. 61.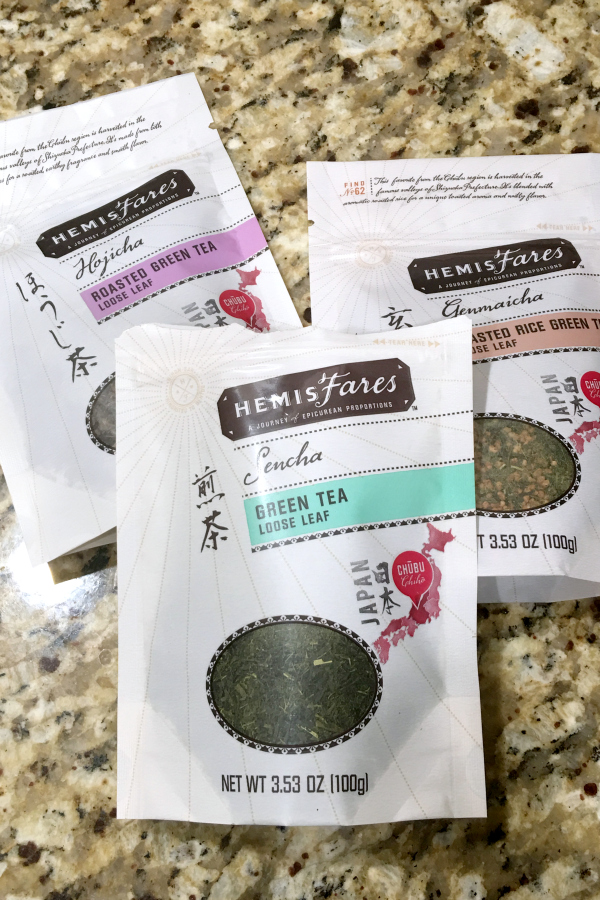 Shizuoka Prefecture, Japan is known as the green tea capital and Sencha Green Tea is Japan's most popular variety so using this delicious Sencha Green Tea is a no-brainer and makes this poached tilapia earthy and delicious.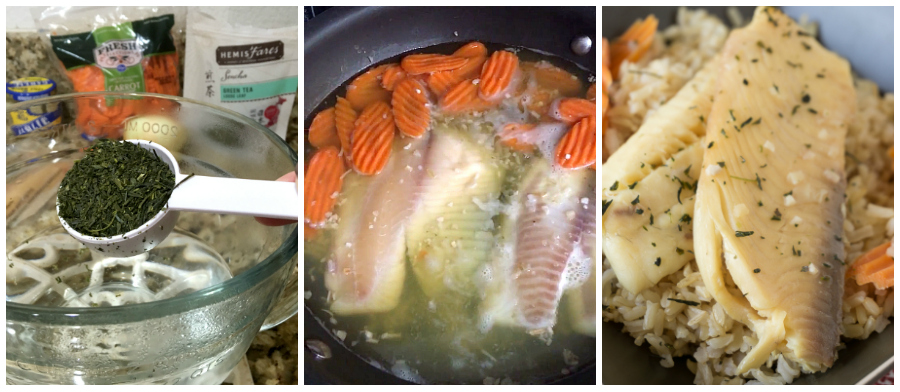 For more information on HemisFares you can check out the website HemisFaresFinds.com or facebook.com/Hemisfares.
Green Tea Poached Tilapia
Ingredients
5 cups water
1/2 cup HemisFares Sencha Green Tea (loose leaf green tea)
1 cup brown rice
1 medium onion, chopped
2 cloves garlic, finely minced
1 cup of sliced carrots
4 tilapia filets
Coarse salt and freshly ground pepper
Directions
In a medium stock pot, bring water to a boil. Add tea leaves, gently stir, and let steep 2 minutes. Strain 2 cups of the tea into a medium pot and pour 1 cup of tea into a large skillet. Turn the heat up to high on the medium pot with 2 cups of tea and bring to a boil. Add the brown rice to the pot, cover, and reduce the heat to a simmer and cook for 45-55 minutes or until tea is fully absorbed and rice is tender.
Meanwhile, add onion, garlic, and carrots to the skillet of tea and bring to a boil. Season tilapia with salt and pepper. Gently place tilapia filets to the skillet, reduce heat to low and simmer until the tilapia is cooked through and a thermometer inserted into the thickest part reads 145F degrees, about 5-7 minutes.
Remove tilapia from poaching liquid and serve immediately over cooked brown rice with cooked carrots.
Note: The tilapia doesn't take long to cook, but the brown rice takes almost an hour. So plan ahead or switch to white rice (1 cup white rice and 1 1/4 cup tea....takes only about 20 minutes on the stovetop).
Loading nutrition data...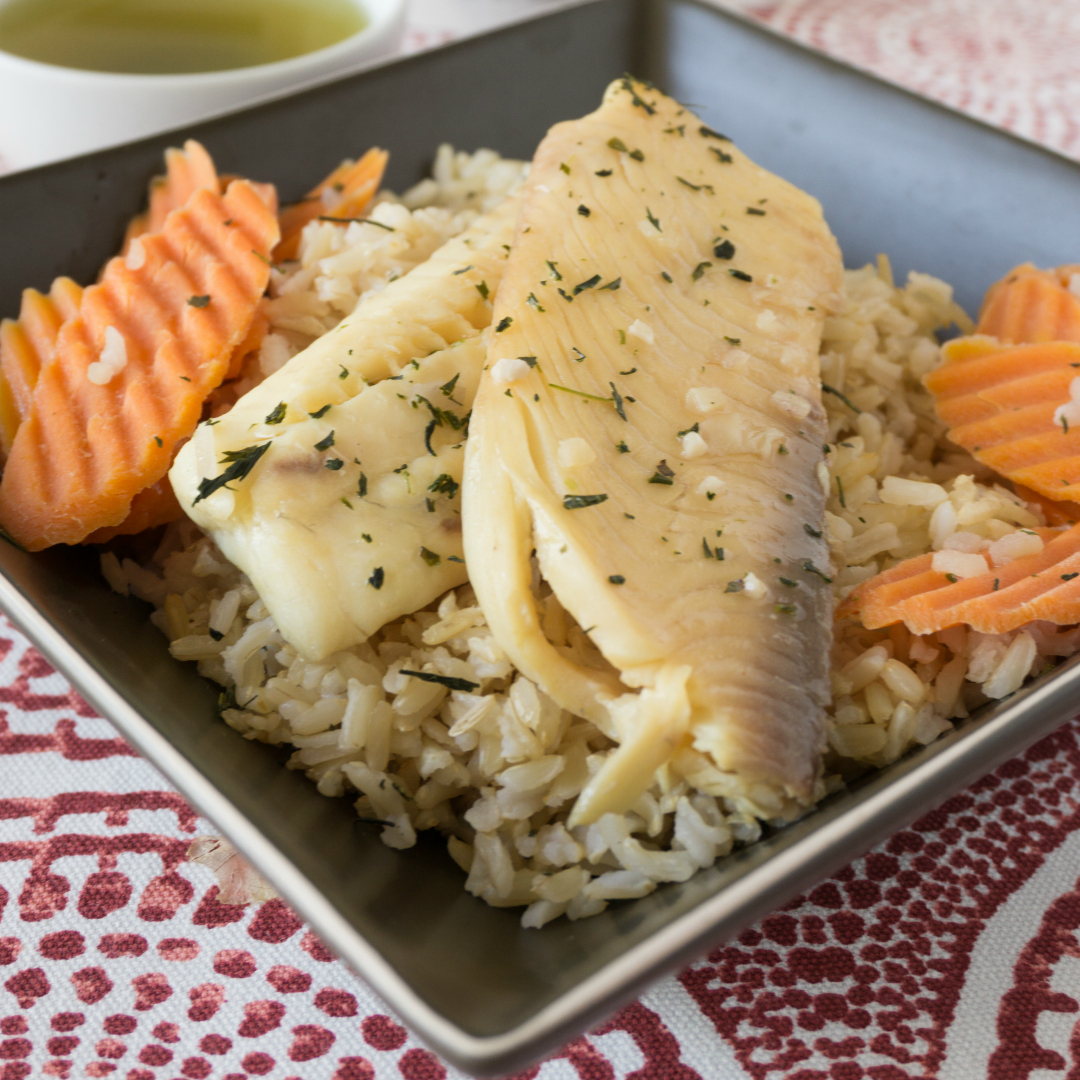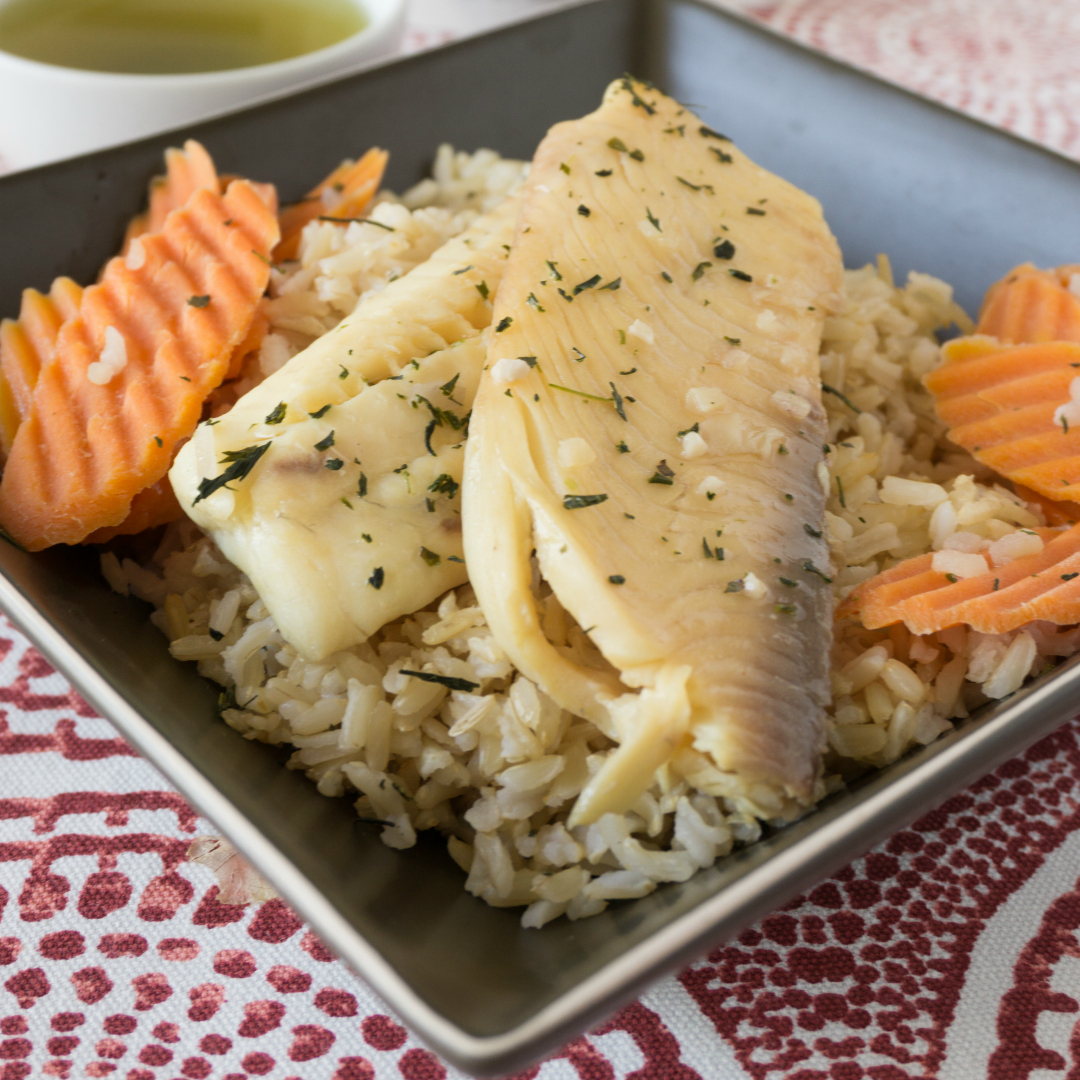 Did you make this recipe?
Leave review!

Disclaimer: This is a sponsored post for HemisFares™ brand that is available exclusively at Kroger family of stores.  All opinions are honest and 100% my own.
Don't Miss A Recipe!
And get my Free Slow Cooker Resource Guide! It's full of recipes with 5 or fewer ingredients plus plenty of slow cooker tips!

Plus, you'll get access to my free EXCLUSIVE downloads & printables for newsletter subscribers.